The Scoop Solar project management software helps solar energy and other renewable companies manage projects, installations, and service visits, as well as streamlining your resources, documents, and communication.
Interested in making life easier for yourself and your solar business, installers, subcontractors, and other teams? These six features of Scoop's solar project management software will likely do the trick.
Solar Project Management Software for Field Teams
An effective solar project management system has a variety of capabilities to help manage solar projects, view real-time progress and reporting, create automated workflow tasks, and streamline your operations. To empower your team and easily collaborate with subcontractors, consider features such as work order management, integrated dispatch and schedules, mobile app development, customer relationship management (CRM), solar reporting, and whether the software integrates with your existing tools.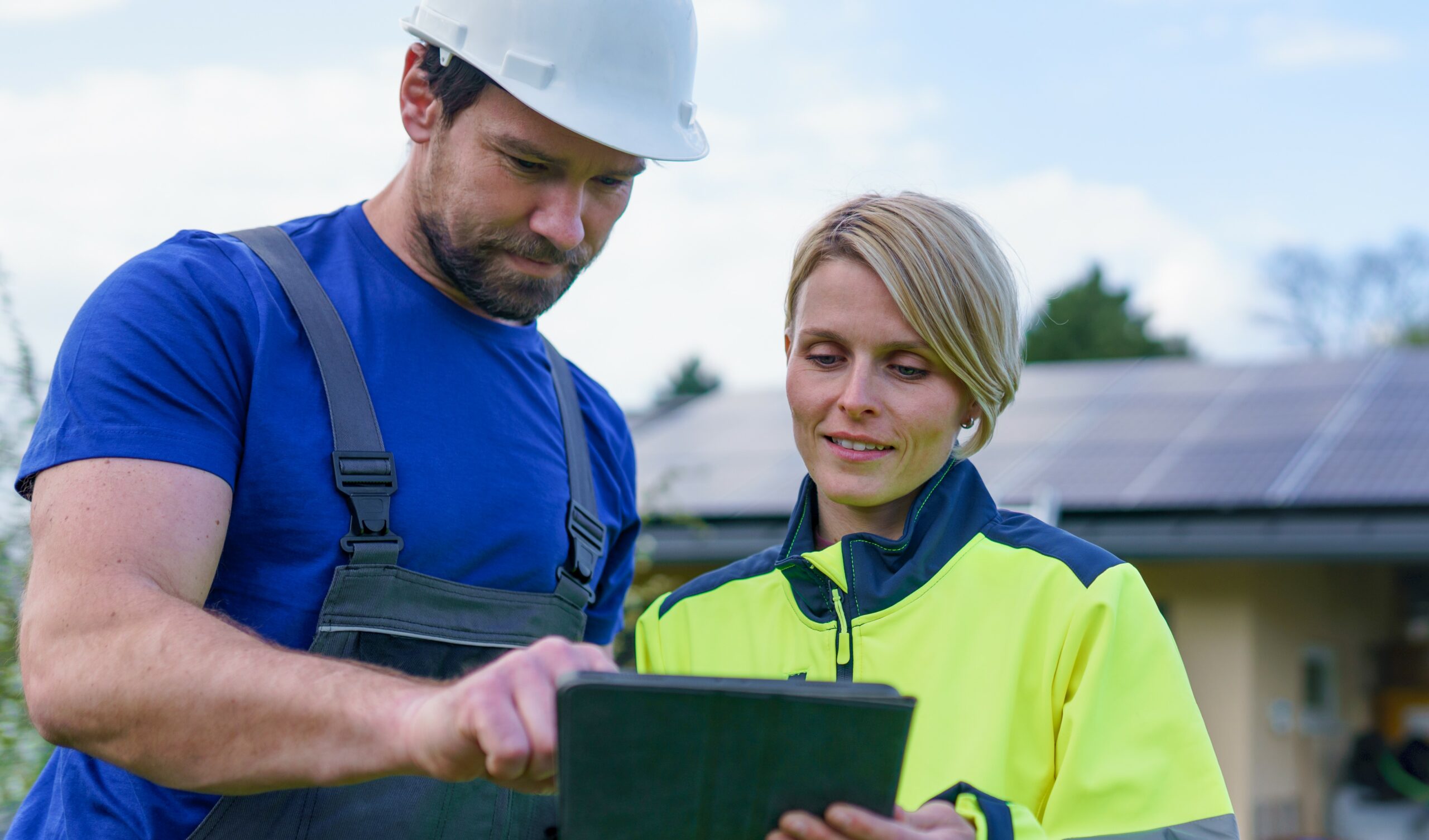 6 Key Solar Project Management Features
The difference between office-based and field-based software boils down to only a handful of features, but these can make a world of difference in improving communication and efficiency for your team.
1. Manage Lead & Customer Data
How do you choose the best CRM for solar project management? For starters, your solar software should have the ability to add, track, process, and maintain lead and customer data, everything from client name, site addresses, job history, upcoming installation and service dates, the assigned technician, and more.
Scoop allows your solar sales team to create leads and opportunities while ensuring that relevant client, industry, and technical data is collected every time, including photo capture during in-person sales visits. With the ability to create regular follow-up tasks with each contact or company, Scoop also facilitates nurturing of clients and customer support for your internal teams.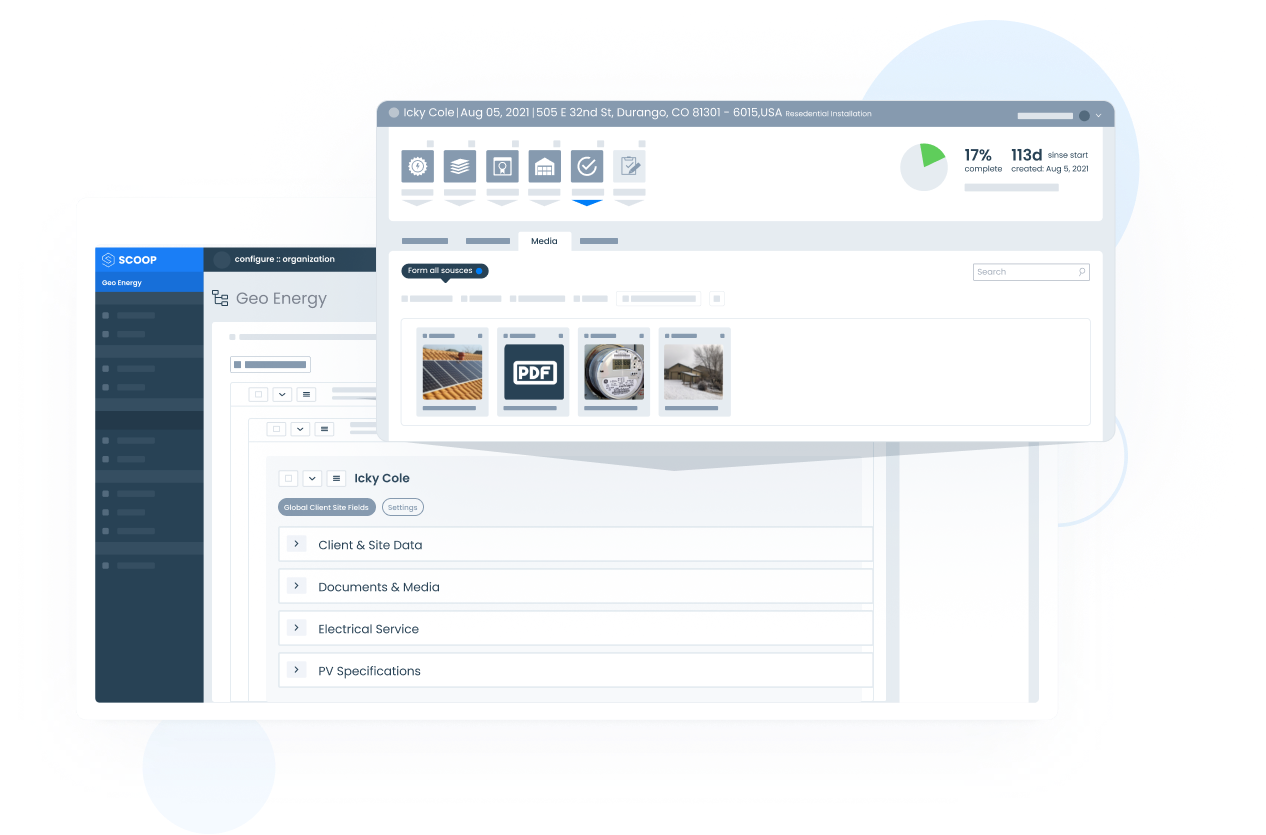 2. Mobilize Project Management
A solar project management mobile app leads to up-to-date project statuses, improved data quality, and a reduction in missing data fields. By focusing on solar installation compliance and moving processes and checklists into a standardized and mobile-friendly workflow, you can empower your solar project manager, not to mention reduce costs from additional labor hours and time wasted by your solar sales team, field technicians, office personnel, and other teams.
The Project Tracker Live™ feature is an automated and real-time dashboard that makes monitoring and managing projects, installations, and service visits simple. The dashboard is completely customizable, allowing your team to configure project cards, phases, and at-a-glance data fields. Filter projects by team, installation phase, industry, location, field managers, and more.
3. Organize Solar Documents
As your projects and teams scale, project document management can become quite a challenge. Scoop's Global Fields™ make project management easy by organizing data and processes, as well as allowing your team to auto-populate data, media, and documents as projects progress through various stages, while Smart Forms™ provide you with the flexibility to add text, dropdown, numeric, address, signature, and other types of content within your work orders and project forms.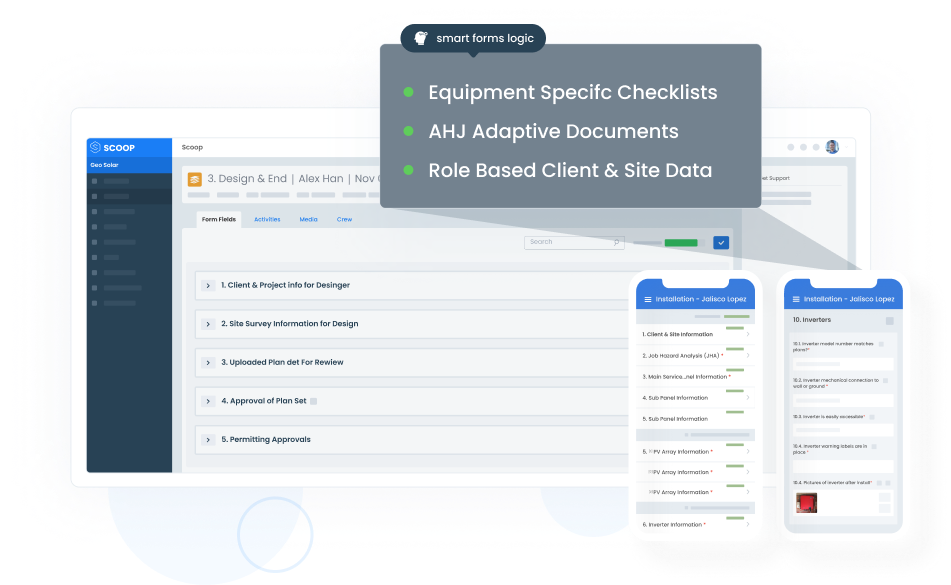 4. Schedule and Dispatch Jobs
An essential feature of solar project management software is the ability to dispatch jobs. The calendar and scheduling features of the Scoop platform are fully integrated and make monitoring multiple user schedules easy. Your project managers can access client details, project progress, solar design and proposal documents, and other resources from your project management software.
Assign an administrative or scheduling user to grant a specific employee access to all calendars across your organization. Users with these permissions can view free and busy time slots, schedule hourly or multi-day projects for others, as well as view the status of work as it is completed.
5. Report on Project, User, and Organizational Performance
Scoop's reporting and analytics platform enables growing solar energy companies to visualize everything from deals and contract value in various stages of your pipeline, sales rep monthly commission reports, number of service visits in a given time period, invoicing timelines for each project, and more. Drag and drop reports make it fast and easy for your teams to leverage multiple insights in order to make more informed decisions surrounding your projects, tasks, resource management, user schedules, and more.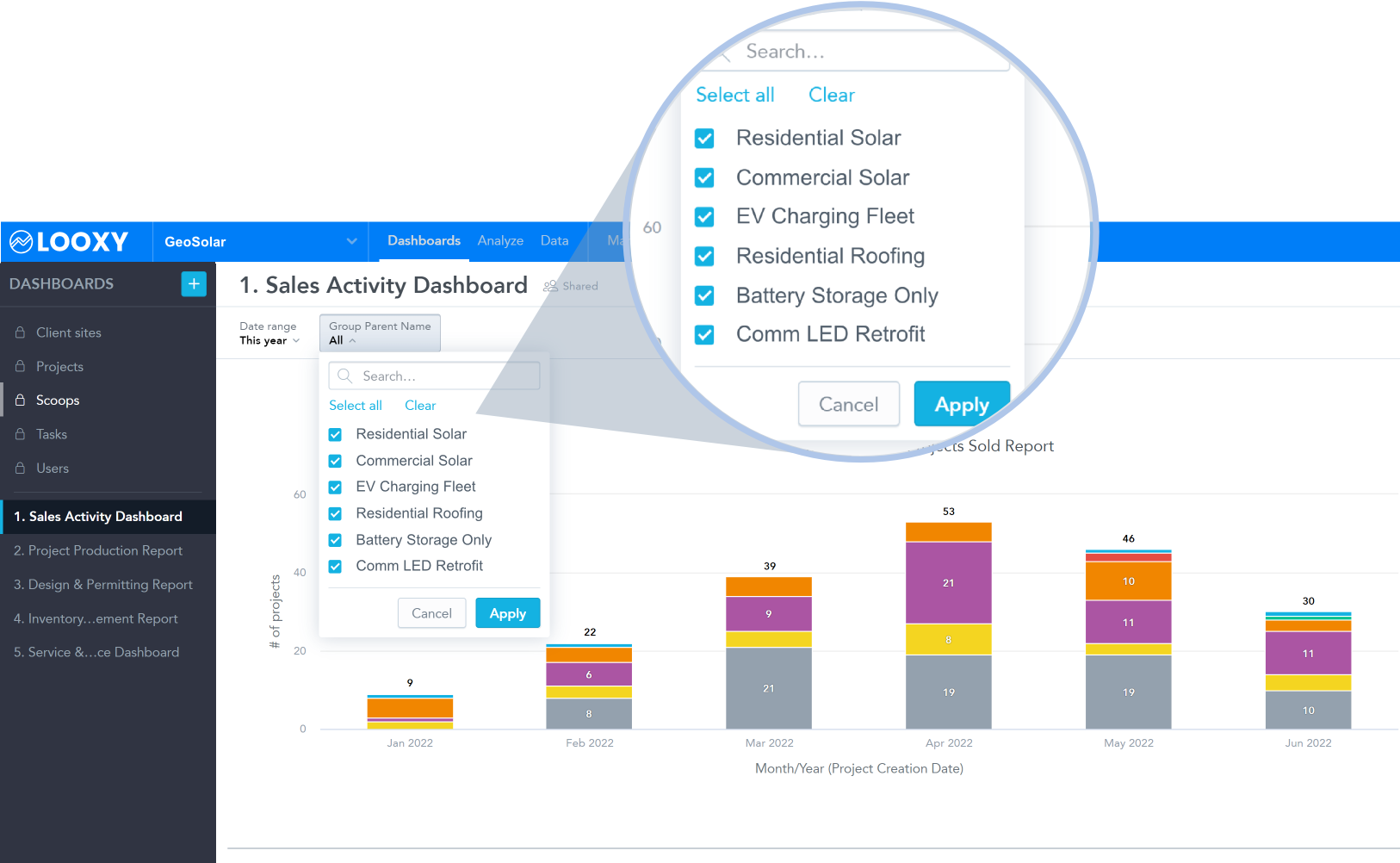 6. Integrate with Other Solar Software
It is very likely that your solar project management software is not the only platform used by your business and therefore, you want to ensure any software systems are able to integrate with one another. GLOO is a fully managed integration service that integrates your tools and improves efficiency across your business by populating data, documents, and tasks in multiple tools. This approach grants your business access to the unique features of each platform while maintaining control of how data is used and shared.
Scoop's solar project management software helps renewable energy companies manage projects, resources, and tasks, while providing improved project monitoring and powerful progress reporting. Thanks to powerful integrations, Scoop provides end-to-end solar project management, from lead and proposal generation to project completion.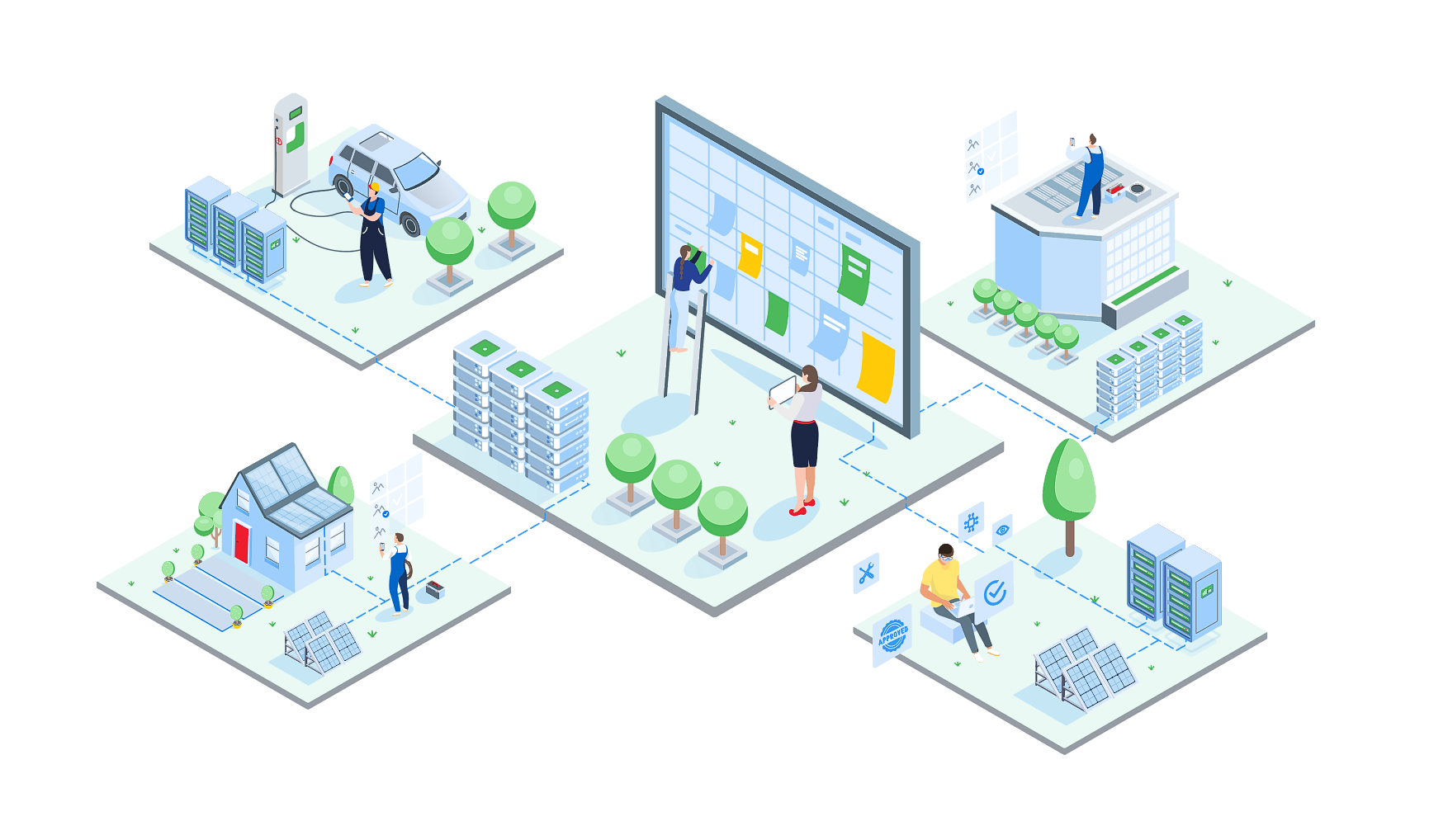 Solar Project Management Software FAQs
What is solar project management software?
Solar project management software is a type of project management platform that facilitates the various project phases and workflows of a solar energy company, contractor, or installer.
Can you use solar software in the construction industry?
Since both solar energy and construction industries rely on field services, there is overlap in many of the features. For example, construction businesses also require a sales CRM to manage customers and their information, a method of tracking open and upcoming work orders, document and proposal generation, and scheduling field workers.
Can you use project management software for inventory management?
Through Scoop's GLOO integration service, you can connect your solar project management and solar inventory management systems and increase visibility on historical and current inventory levels, as well as upcoming requirements.
What are the different types of solar software companies?
There are a handful of solar software types. Scoop Solar is the solar project management software for planning projects, scheduling employees and tasks, and managing resources, documents, and data. There are also solar sales tools such as Solo, solar design platforms like Aurora Solar and OpenSolar, photo capture with SiteCapture, and solar referral platforms such as Bodhi.
Related:  Streamline Renewable Operations with These 5 Solar Software Companies