powering 125,000+ project sites worldwide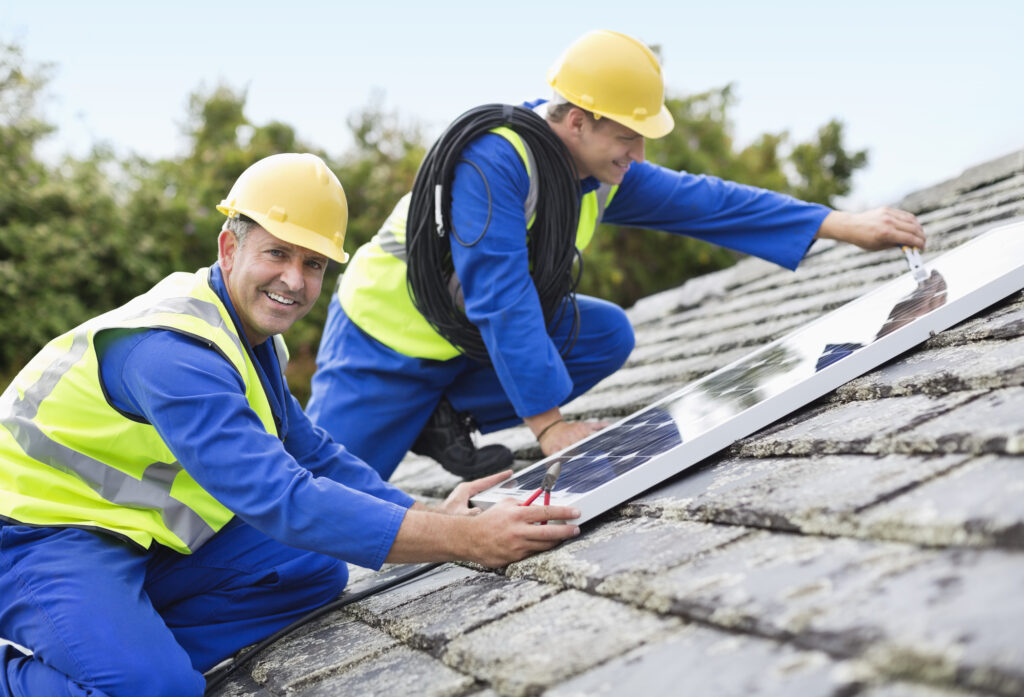 5 ways roofing contractors are set up to install solar panels
Did you know that many roofing companies are already setup to install solar? From equipment to insurance, here are five ways that residential and commercial roofing project management overlap with solar.
Easily Track Roofing Installations
The Scoop platform makes roofing project management simple. The Project Tracker Live™ provides instant visibility to multiple concurrent construction projects, allowing roofing teams to view both high-level and detailed information on upcoming and completed jobs. All pricing plans come with unlimited users and storage to enable collaboration with installation partners and contractors.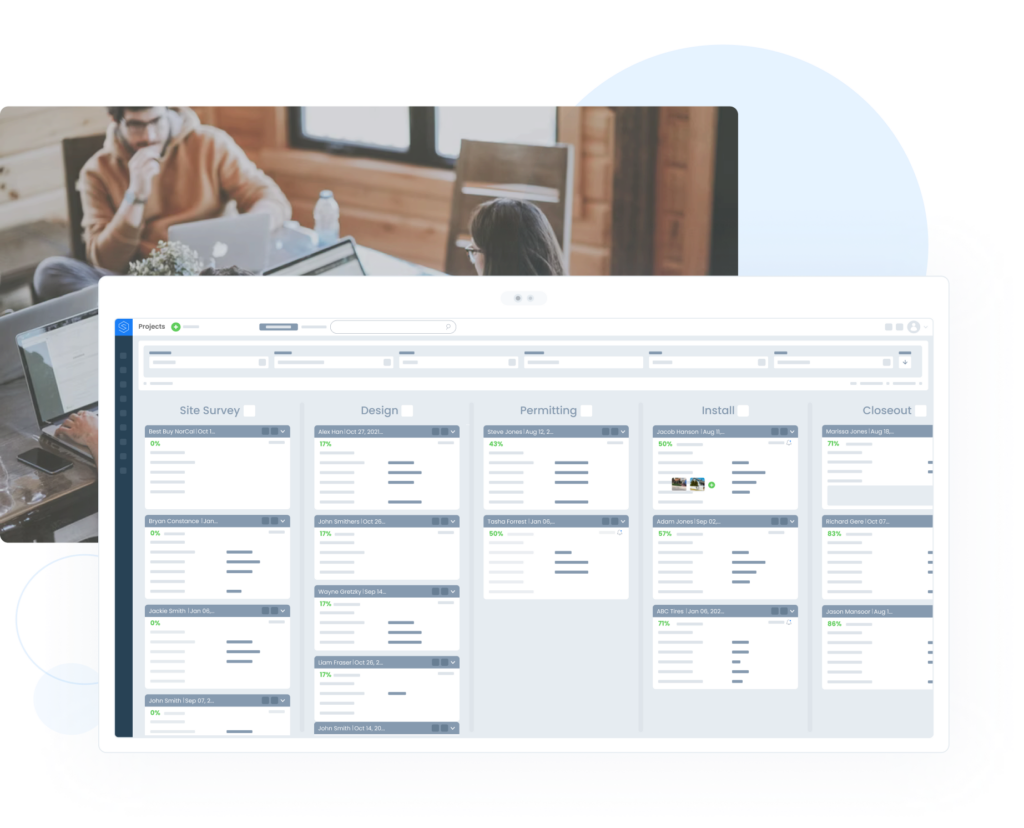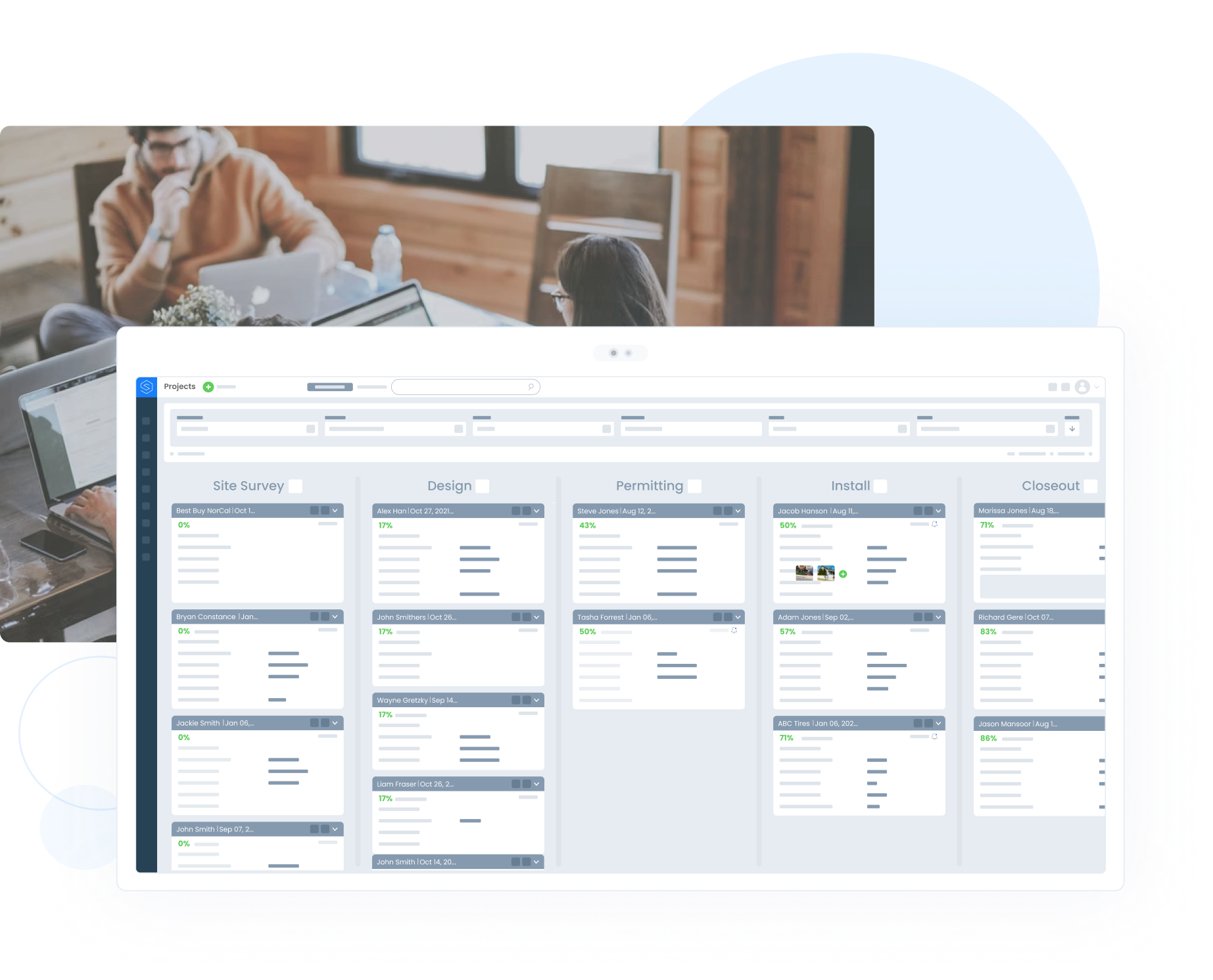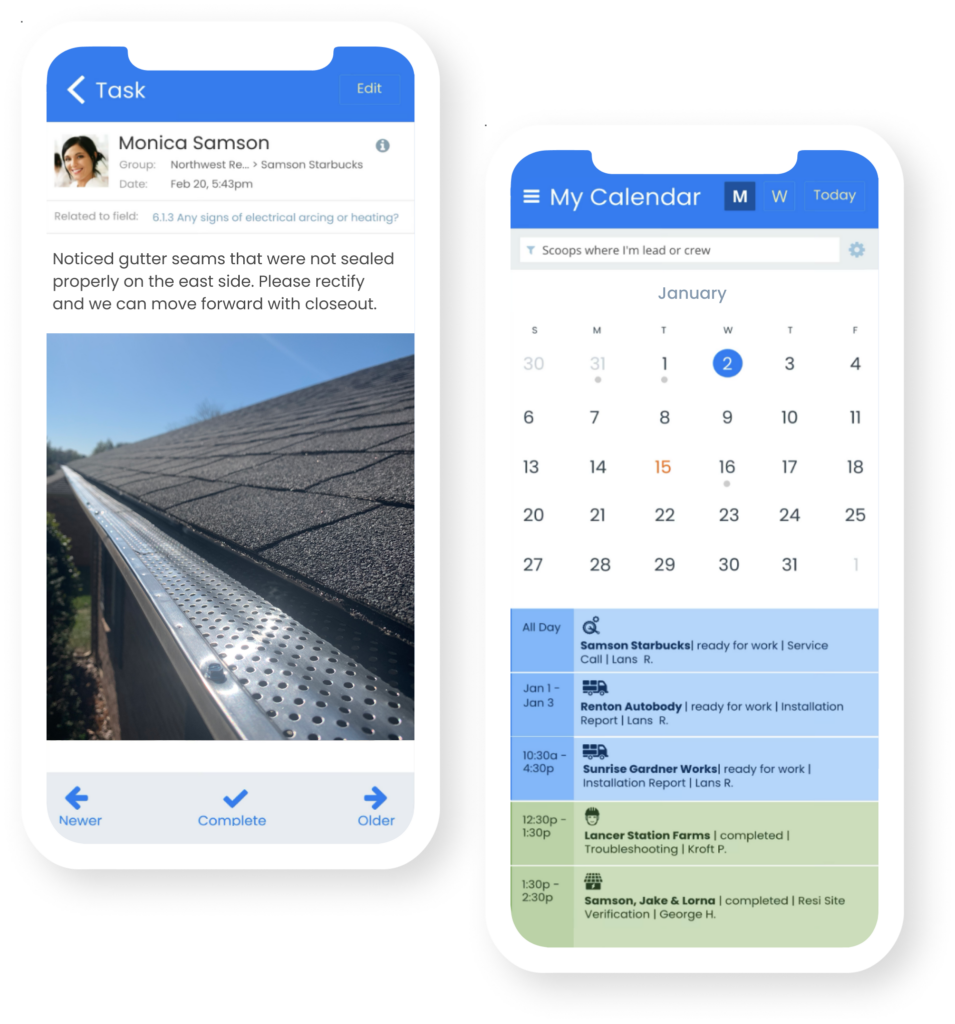 Empower Field Crews Through Mobile
As roofing teams work remotely and move between job sites and the office, the Scoop mobile app ensures the availability and consistency of data. Work Apps™ provide clear instructions, checklists, tasks, media, and documents, to help guide project managers and others responsible while on-site while offline mode ensures field teams have access to the same data and services, even without a reliable internet connection.
Standardize Roofing Projects for Speed
Scoop makes it easy to standardize both residential and commercial roofing project management through automated actions, global fields, Smart Forms™, conditional display rules, and more. Create unique project templates for each business stage and project type, whether roofing sales, pre construction, installation, service. Your project manager can implement quality control fail safes to regulate project costing and budget while ensuring safety and success.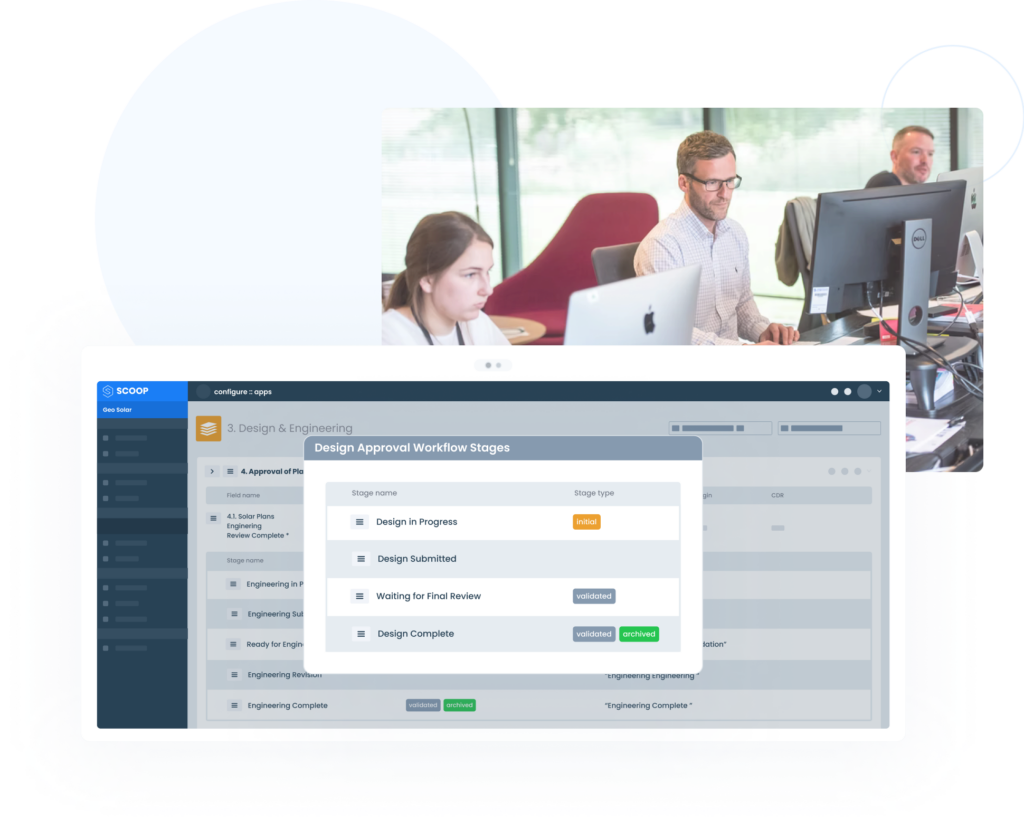 Your team deserves the best operations platform. Get started today.
125,000+ project sites use Scoop
Get started easily with our unlimited user plans and dedicated customer support.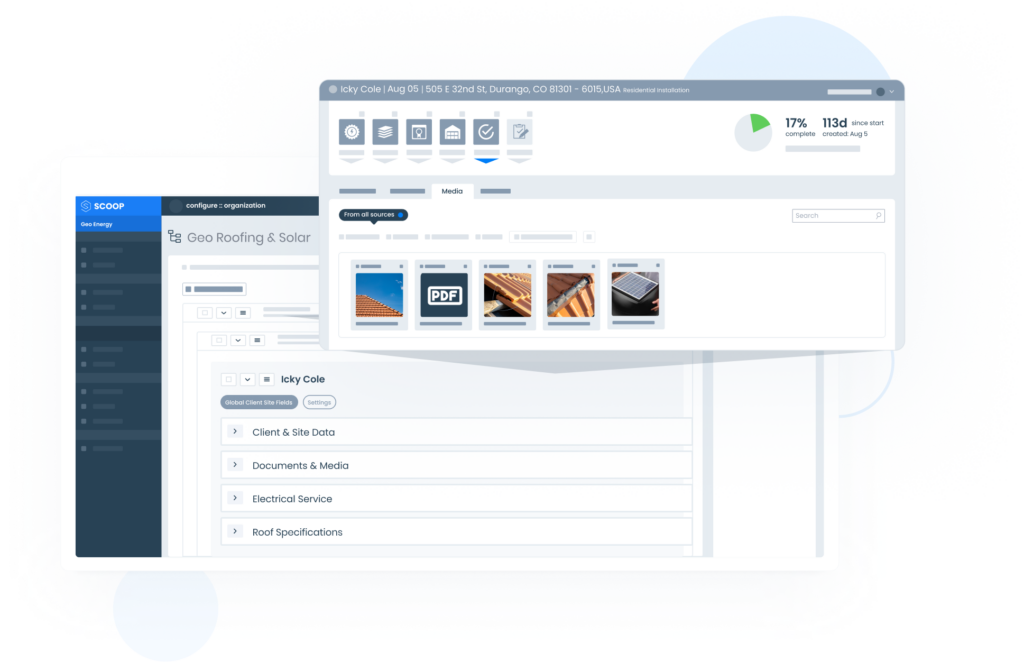 Connect Installation and Service Data 
Use Global Fields™ to reference important data from your roofing project installation phases such as customer or location details, technical documentation, photos, and videos and effortlessly pass this information to your service teams. Autogenerate PDF reports as you complete key milestones in order to manage and improve communication with customers, facility managers, your planning department, and more.
Build an Integrated Software Stack
Integrate your residential or commercial roofing project management software with other tools used across your business. Connect with construction design and proposal services or budget and accounting technology to create two-way dataflows. As project managers complete a specific project phase, automated workflows can trigger next steps, send or receive information from another tool, and notify the team member responsible.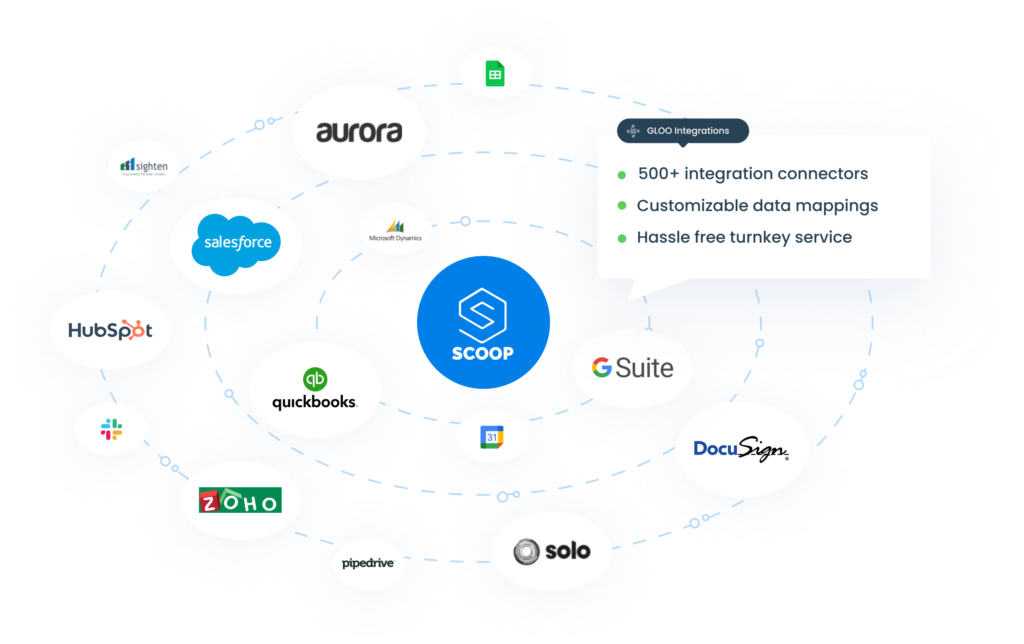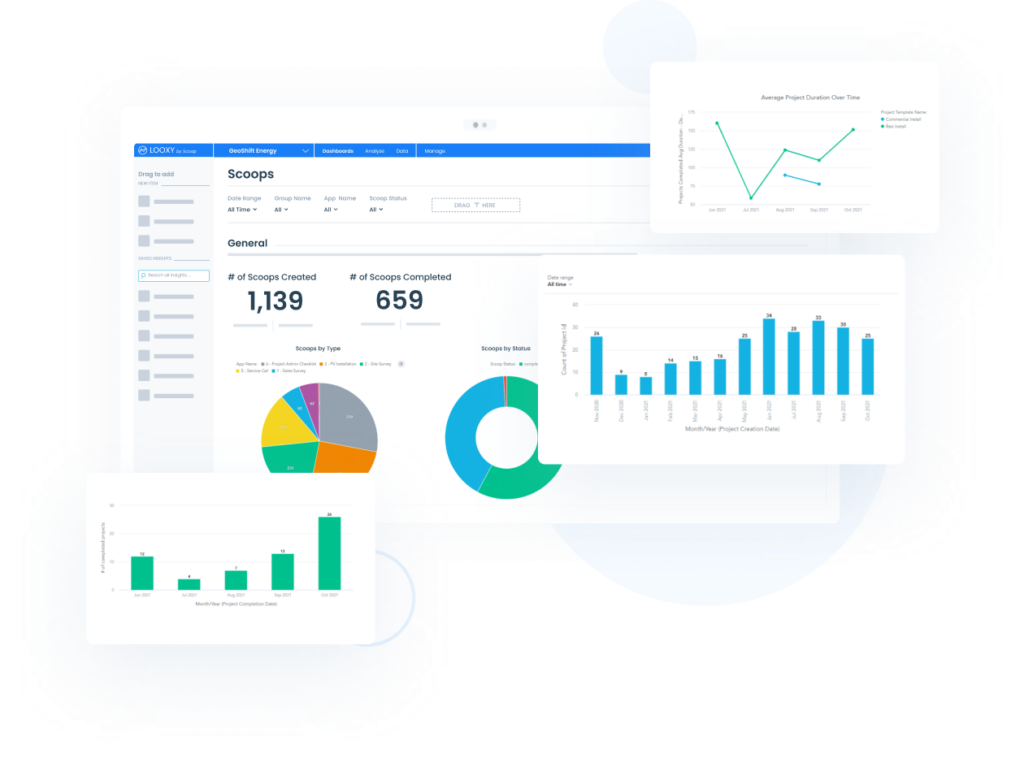 Create Real-Time Project Reports
Intuitive reporting can play a significant role in the success of a roofing company. LOOXY™ is an analytics platform that provides real-time reports on roofing projects, work orders, tasks, and overall team performance. Visualize data on your sales pipeline, open projects and services, the cost and ROI of specific installations, materials forecasting, and more.
View Our Solar Software Suite
Roofing Project Management FAQs
Roofing software are cloud-based applications designed specifically for the roofing industry. These can range from CRM and project management to drone and aerial roof technology, a customer ticketing tool, payment and invoicing platforms, and more.
Responsibilities of a Roof Construction Project Manager typically include planning, organizing, and coordinating the day-to-day operations and activities for a number of production groups including design and materials planning, installation and service teams, scheduling, and invoicing.