powering 125,000+ project sites worldwide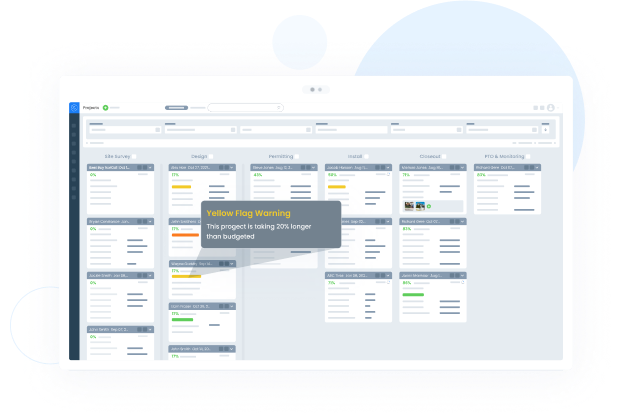 Simplify Commercial Project Management
Scoop's solar project management software makes it easy for solar energy companies to manage projects, installations, and service visits. Smart Forms™ and checklists features ensure required data, documents, and photos are collected while Work Apps allow you to apply best practices across your company. All pricing plans come with unlimited storage and user seats to ensure your internal team and project managers can collaborate with installation partners and contractors. 
Ensure Data, Documents, and Media are Up-to-Date
The Scoop Solar mobile app makes it easy to scale your renewable energy operations and manage commercial projects, installations, and service visits. The solar mobile app provides on-the-go calendar and scheduling access to your team and makes it easy for your company to manage project tasks and communication, regardless of technology or location.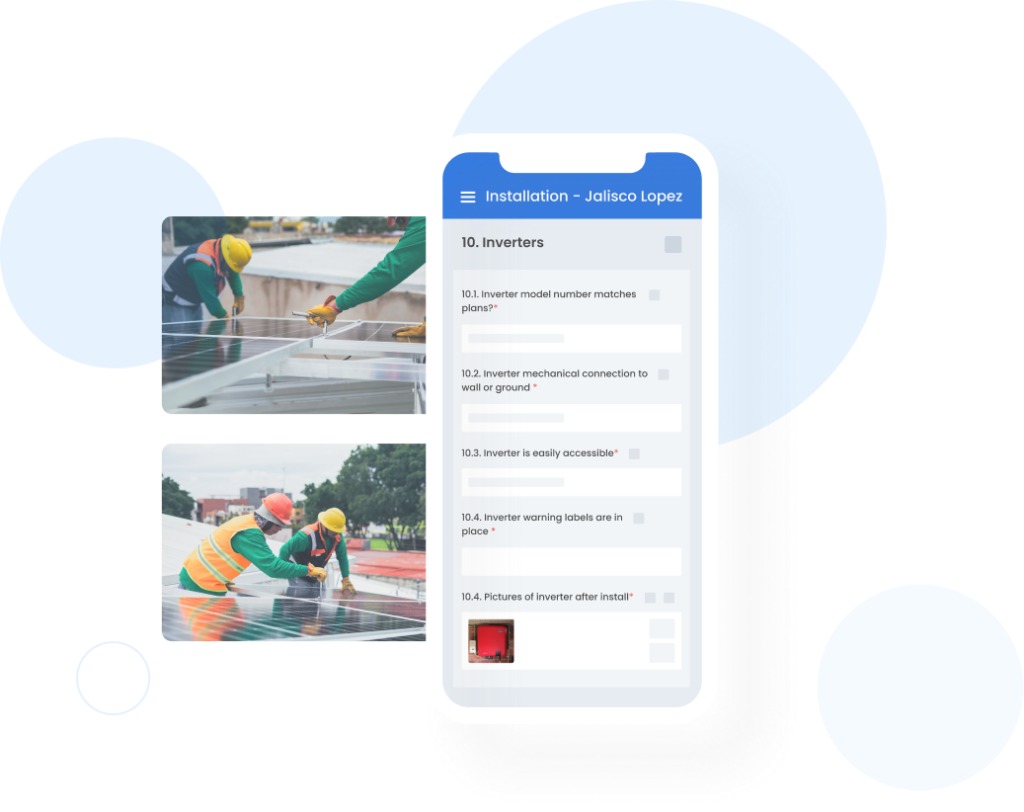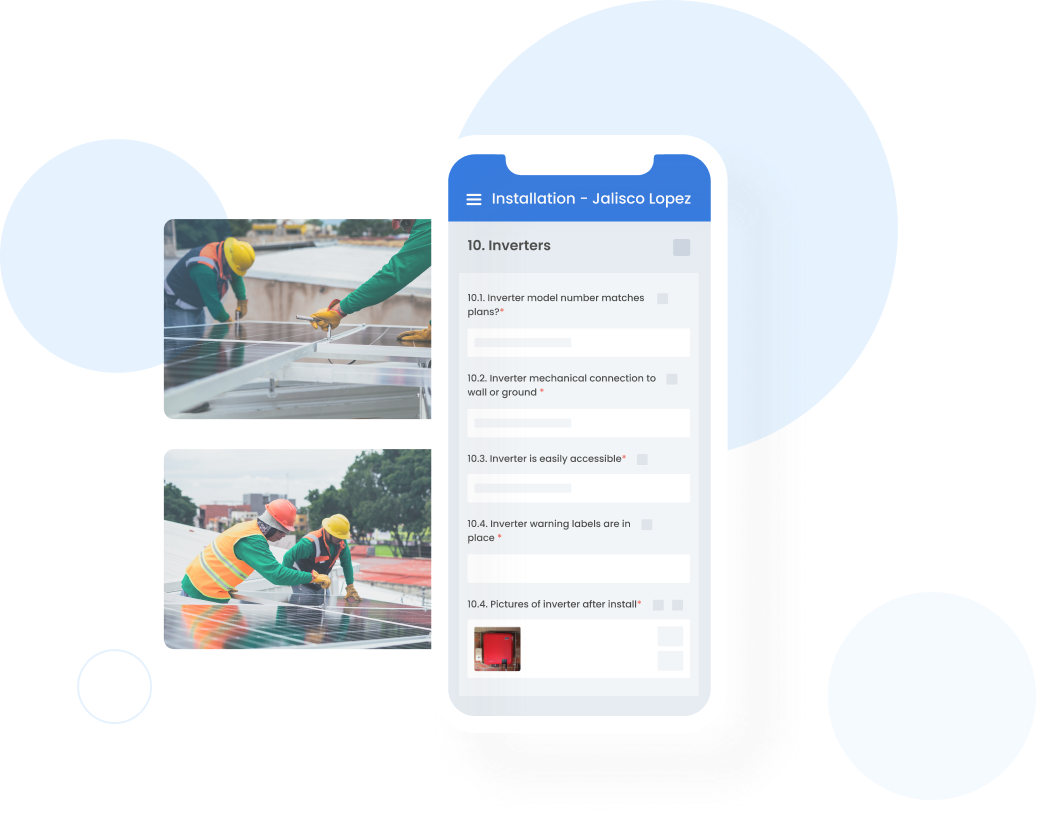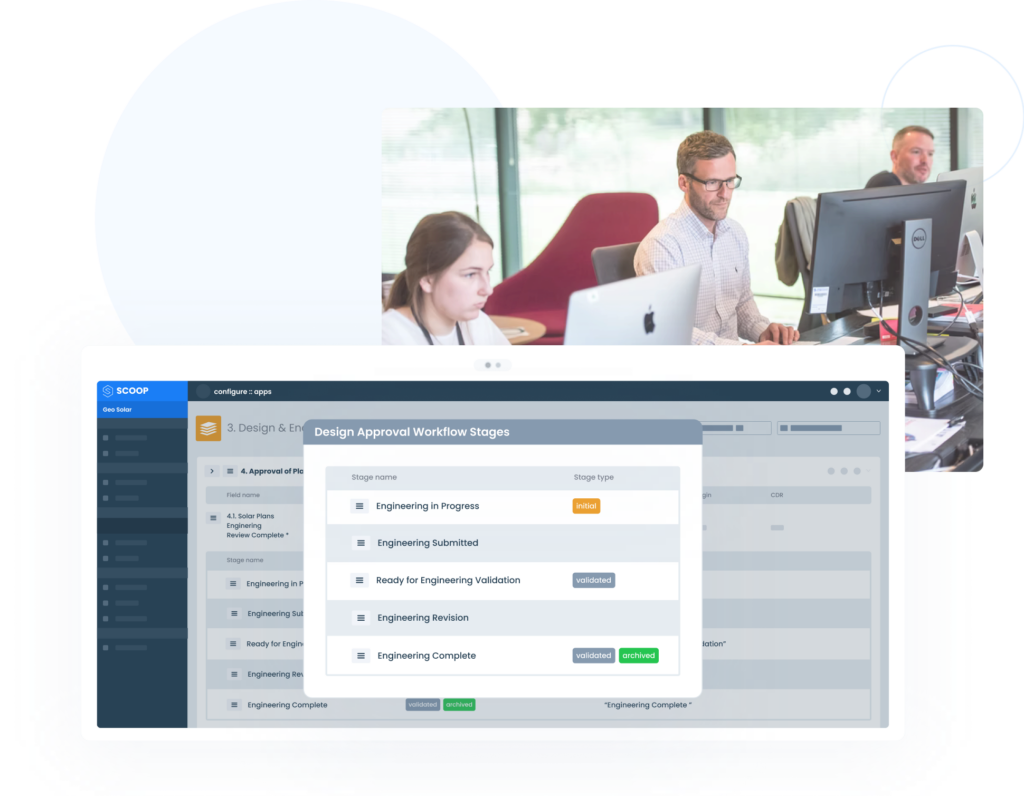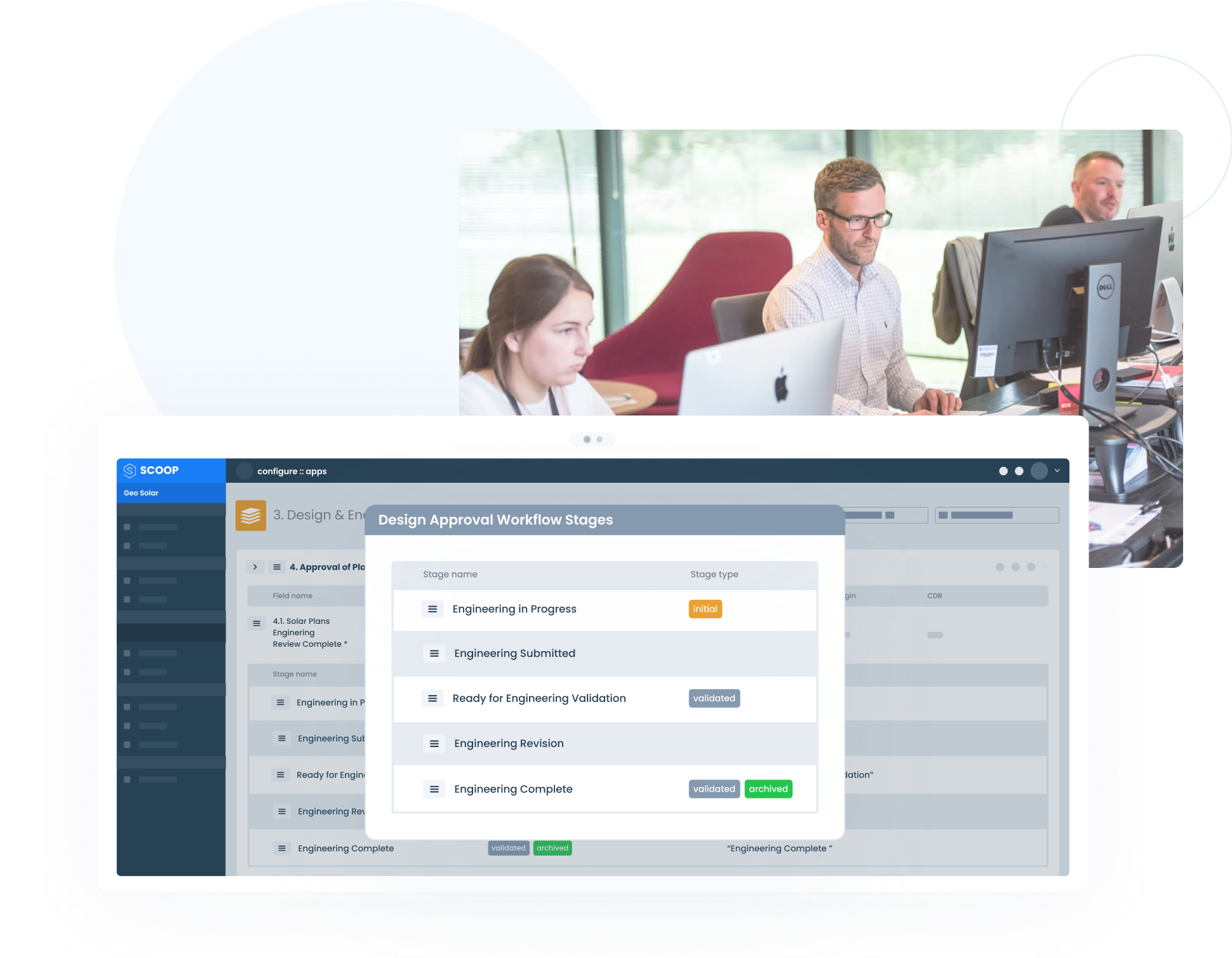 Increase Efficiency with Automated Workflows
Improve communication and reduce duplicate and manual data entry by auto populating technical documents, customer information, and job site photos in relevant places across Scoop's solar project management software. Schedule engineers, contractors, and a solar project manager and create automated tasks and reminders at critical project stages, ensuring key processes aren't missed.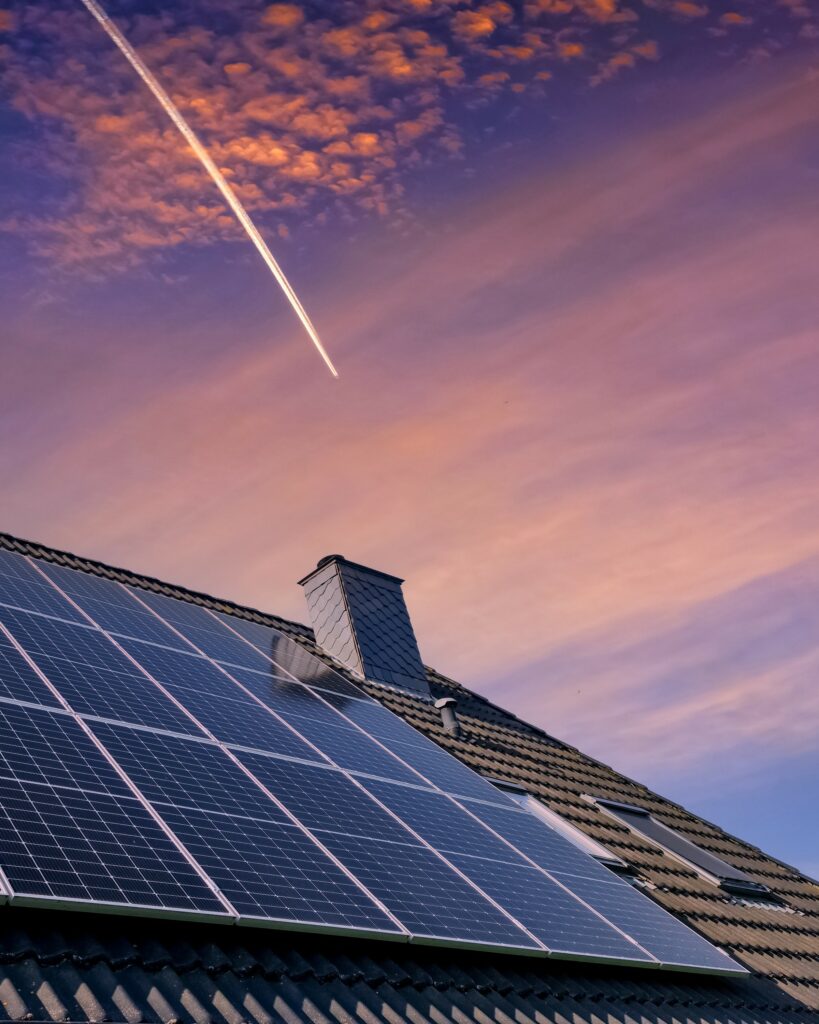 How to Boost Solar Profitability and Outshine the Competition
Transform your solar business with the right technology stack and gain control over rising operational costs. Achieve profitable growth by streamlining labor, reducing administrative work, eliminating repeat data entry, and ensuring smooth handoffs.
Wednesday, May 10, 2023 at 9 am PT / 12 pm ET
Reducing Project Management Challenges for Solar & EV Installers
In this webinar, we will share key growth challenges and solutions that renewable installers are using to help their teams manage heavy project loads while enabling profitable growth.
Every Thursday at 9 am PT / 12 pm ET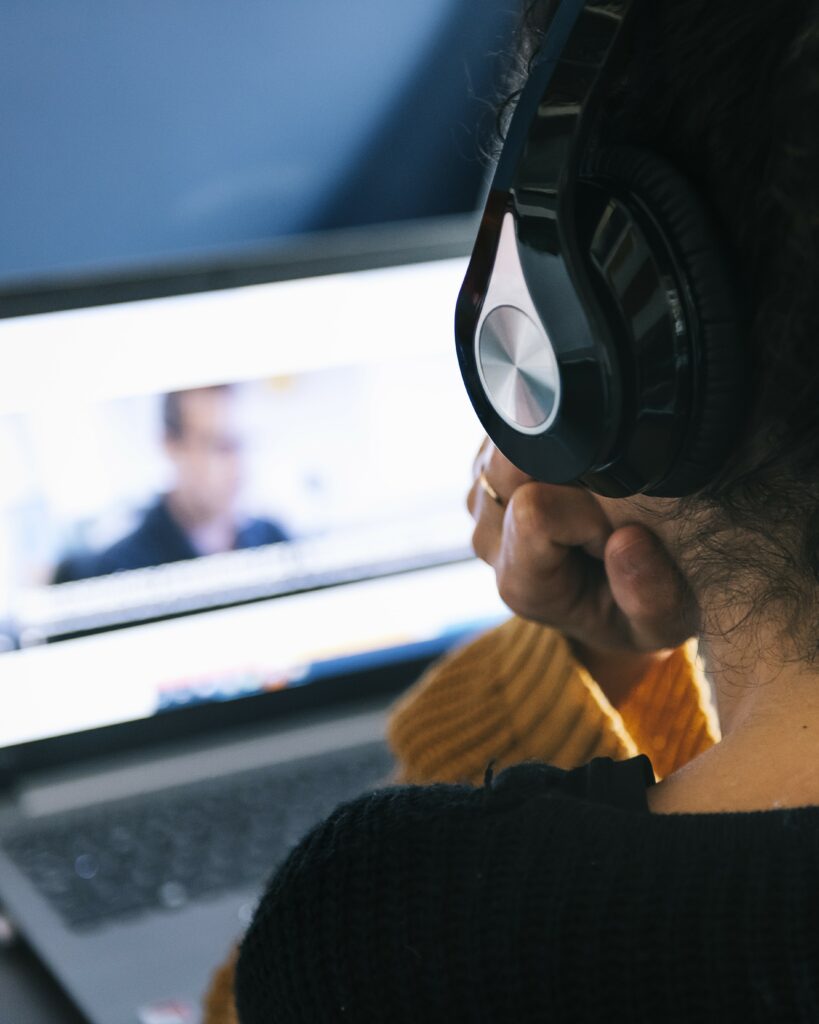 daily and on-demand webinar
Scoop Intro and In-Depth Demo
Your team cannot afford the time, mistakes, and higher costs wasted on manual, repetitive, administrative tasks. Don't let manual processes, spreadsheets, broken CRMs, and inefficiency hold you back from growth.
Weekdays at 9am PT / 12pm ET or on-demand.
Increase Efficiency Across Teams 
Reduce the time it takes for your team to locate important data, documents, and media. Create and share an automated PDF that consolidates all job closeout photos and client information into a professional document. Use the GLOO™ integration service to connect your solar software tools and transfer data as your commercial solar projects progress.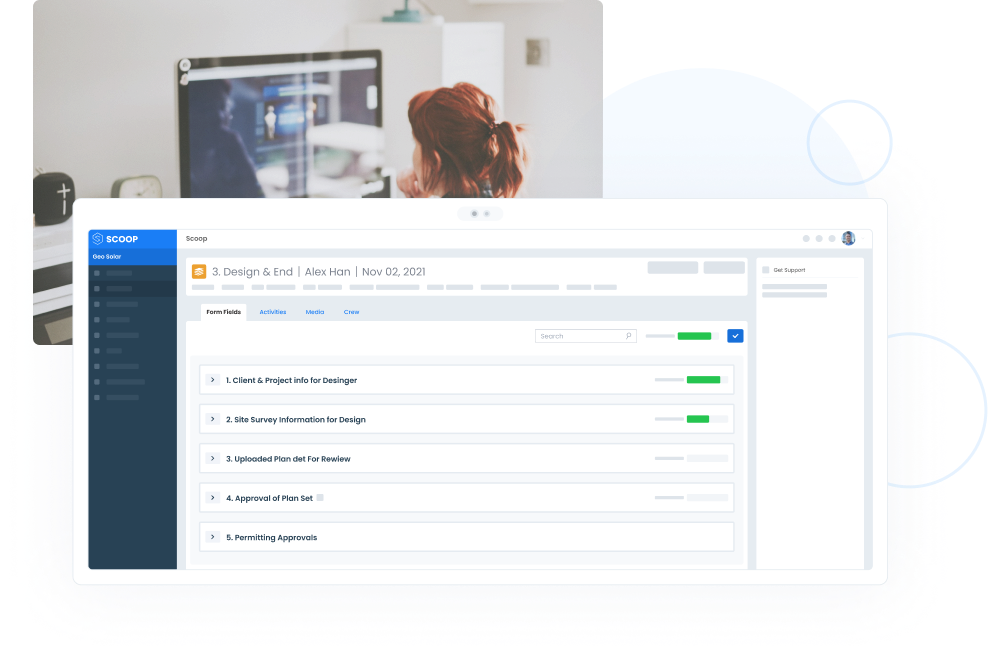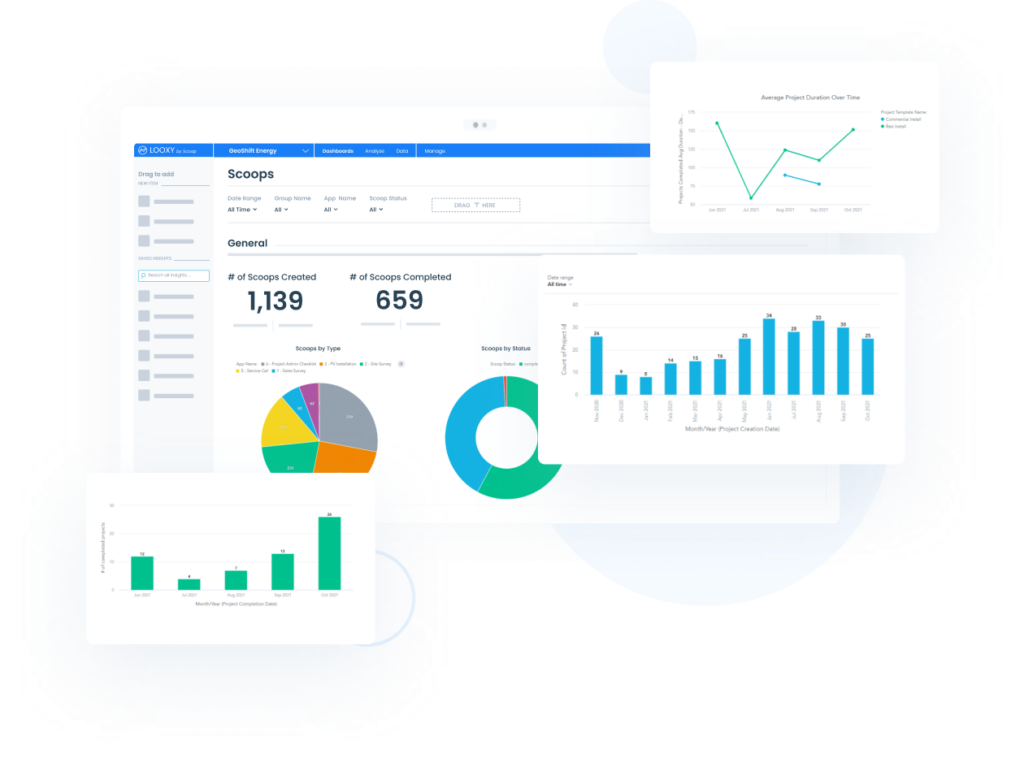 Create Real-Time Project Reports
Create, export, and share detailed reports with your internal team, external contractors, or other stakeholders. LOOXY™ is a reporting and analytics platform that provides real-time and high-quality reports on projects, work orders, tasks, and overall team performance. Choose from multiple metrics including system and project types by date, sales pipeline performance, warranty status, average installation timeline, and more.
View Our Solar Software Suite
Access the Scoop Information Kit
Complete the form below for instant access to our product overview and customer references document.
"Scoop is something that we knew that we wanted to move to immediately. We knew it was going to be able to help us manage all of our projects across the board."

"Scoop was the only thing that had the capability of doing what it does. We could use other tools and update customers but it's not the same."

"When I open Scoop, I'm getting a bird's eye view of all of the projects in progress. It has everything right there."

Pricing That Scales With You
Explore Commercial Project and Installation Articles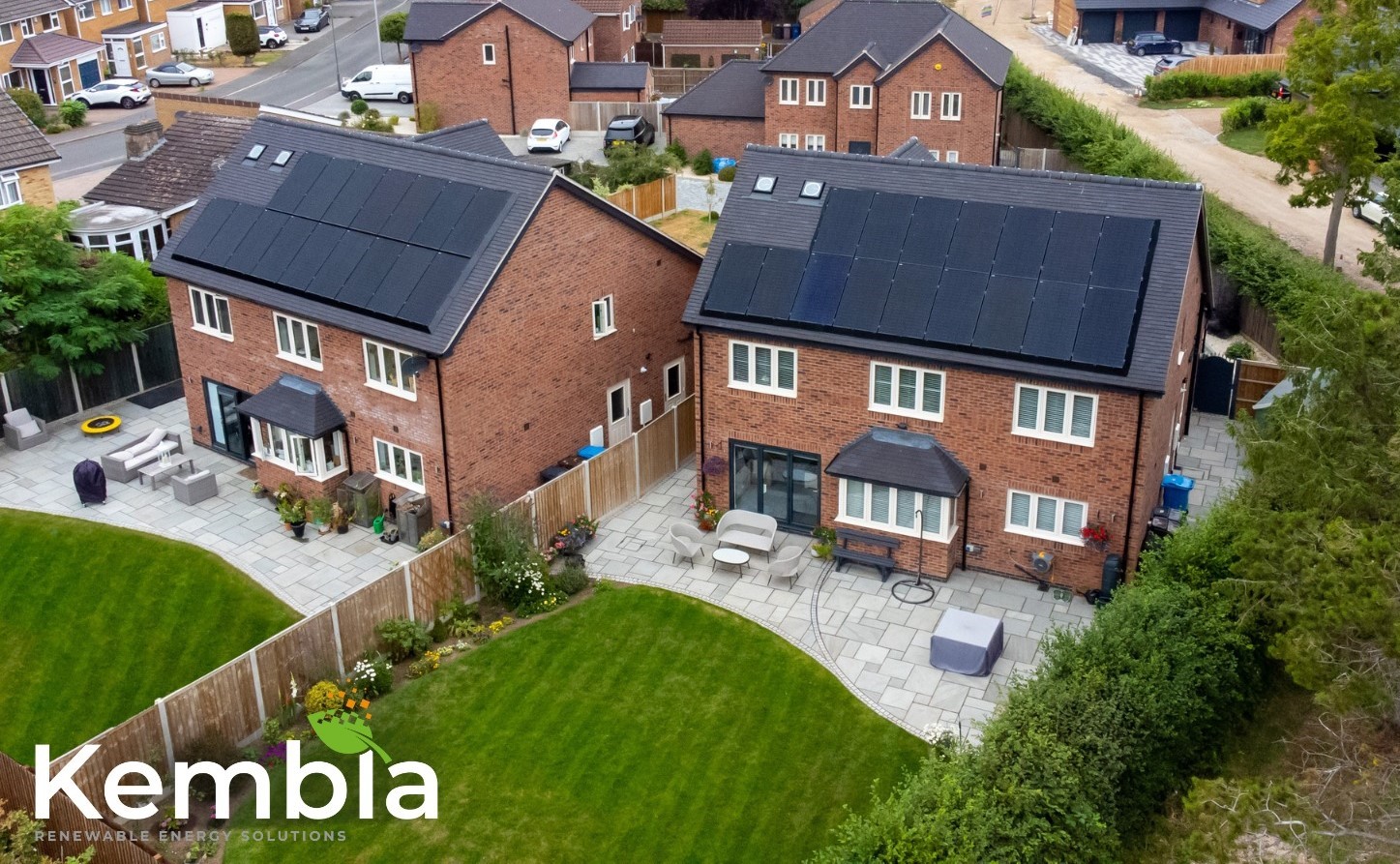 Kembla is a family-owned business, delivering renewable energy expertise to domestic and commercial customers across the United Kingdom. From initial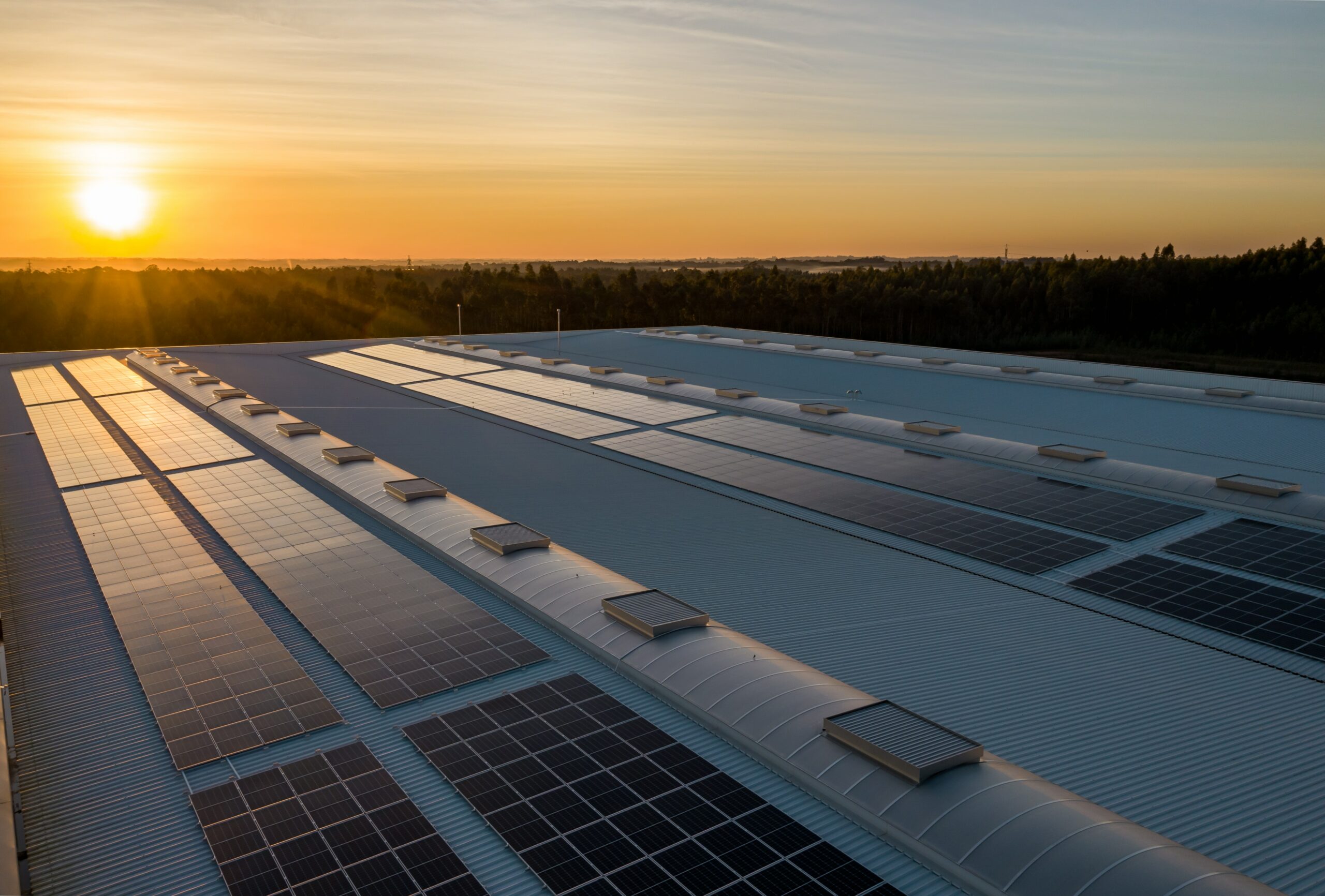 Scoop's solar project management platform is used by a variety of businesses in the renewable energy space – both in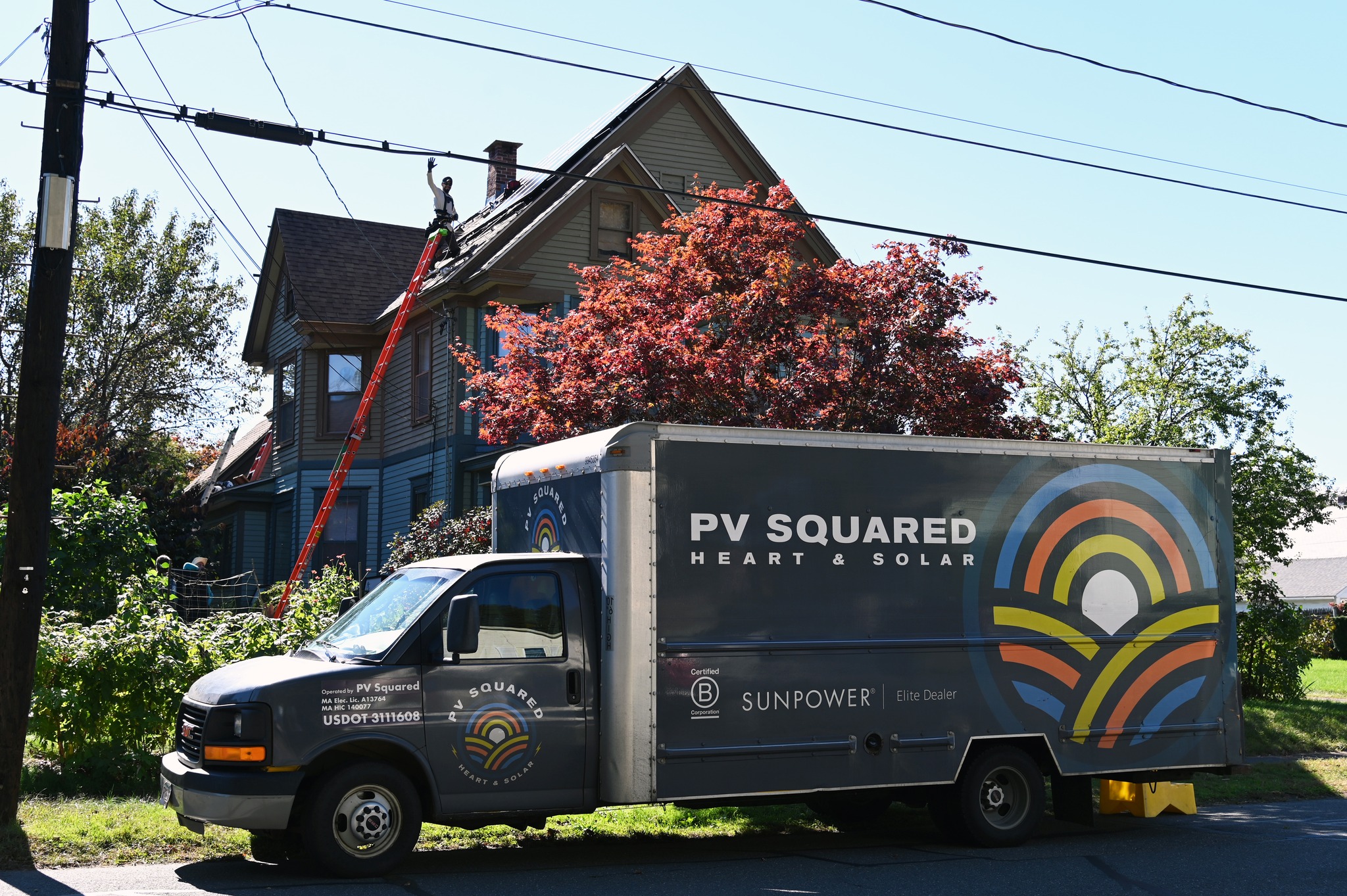 PV Squared is a worker-owned cooperative focused on high quality, full service solar for homes and businesses. An expert in
Commercial Solar Project Management FAQs
Commercial installers and service providers use commercial solar project management software to manage large-scale solar panel projects, such as those for businesses, parking lots, and public spaces. These platforms provide workflow automations, project templates, two-way integrations, powerful analytics, and more.
Yes! Scoop offers renewable energy project tracking analytics through the LOOXY™ platform. With LOOXY, users can create customizable dashboards and pipeline reports in order to visualize insights across the organization. Example reports include number of ongoing and completed projects, kWs and dollar value sold over preceding weeks, months or quarters, pipeline reports showing the number of projects in various phases over preceding periods, identification of project phase bottlenecks, service O&M reports visualizing volume of service tickets and time to resolution trends, geographic map of active projects, and much more.
Scoop is the leading field operations platform for solar and renewable energy companies. Its unique mPMA (Mobile Process Management and Automation) framework means that Scoop was designed to foster communication and collaboration between field and office teams. Scoop allows solar companies to manage customer data, track real-time project progress, access and update jobsite data while on-the-go, and automate workflows and other manual processes. The GLOO Integration Service connects Scoop seamlessly with other solar software tools while LOOXY Analytics makes creating detailed reports simple.