With the cost of renewable energy dropping with every product innovation that hits the market, consumer demand in the solar industry continues to soar. As a solar business, this spike in demand is surely welcomed–but if you're a small-to-medium operation hoping to grow with the demand, you're going to need to invest in solar IT (information technology) that scales.
So, what exactly are your options?
Option 1: The mythical "all-in-one" platform. There are legacy software packages that claim to be a single platform that can do all things, for all members of your team, through all phases of your projects. But can they offer you the best-in-class capabilities in all of these areas from design to proposal to sales, to project management and field execution to accounting?  This all-in-one claim is increasingly a mirage given the depth of function needed in each of these areas and how software products focused on each key area can run circles around single vendors in terms of innovation, performance and ease of use.
Option 2: A best-of-breed software solution. Solar providers can benefit greatly from best-of-breed tools that are integrated together with API integrations instead of tying themselves to one all-in-one, often cost-prohibitive and often limited legacy platform.  To make this all work you need a hub that ties everything together and like a conductor at a concert ensures everyone plays well together. That solar project management hub and connector to all your solar business tools is Scoop!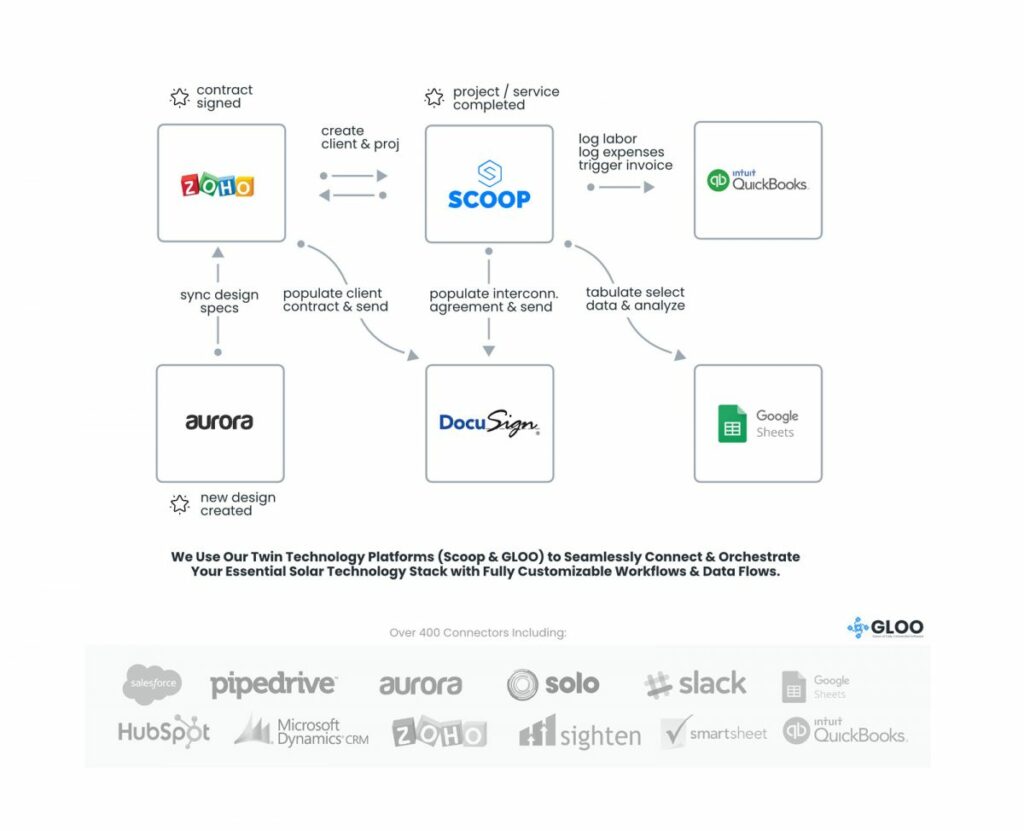 Best of Breed Solar IT
At Scoop, we are focused on providing a world-class mobile Work Process Management and Automation (mPMA) platform that allows every member of your team to be engaged in project and service execution with exactly the right context in front of them. Your team members should be fully armed with the right set of inputs they require to complete their portion of a project phase and move the project forward. And your executive and customer stakeholders should be able to receive progress reports with internal and external ease. 
Our platform allows project management, operations and executive teams to have a clear line of sight into any stage of a project. Whether a stakeholder needs a 1000-foot overview of a project, or a more granular update on a specific project phase, Scoop offers a transparent look into any stage of a project or area of your business. Just double-click or tap to the next level of detail.
Where Generic Software Solutions Fall Short
One of the most common challenges our customers previously faced with all-in-one monolithic platforms, is the sheer size and complexity of the tools. This is a direct function of a platform trying to do everything and be everything to everybody.  Not only does it take significant time and resources to set the tool up in the first place, but the massive system maintenance and cleanup practices the platform requires to keep running smoothly bring about even more time and resource dependencies.
In fact, the administration of some of these tools is so demanding that to keep them humming additional in-house IT resources must be brought on to manage and implement even small modifications and enhancement. This puts additional resourcing burdens on small-to-medium solar companies that do not have the bandwidth or the budget to hire additional resources to manage their software issues in-house.
What's more–with all this time, energy, and money being spent on such a cumbersome integration, we've heard from dozens of clients that say these tools only ever really work in one or two areas effectively. There is a lack of targeted software built for field services and the solar industry. That means these big conglomerate tools cause exponential resource drains for setup and maintenance, only to deliver on a fraction of the advertised features and benefits for which you're paying exorbitant fees.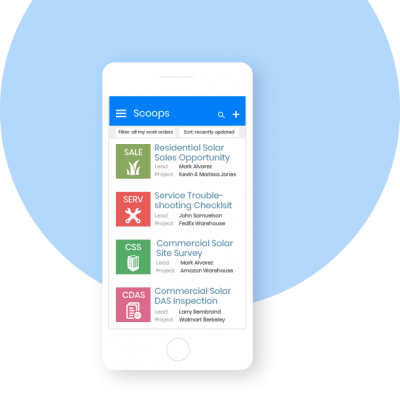 Game-changing approach powered by Scoop and GLOO
Starting a few years back with the Best-of-Breed advantages becoming increasingly more clear, companies were now faced with the challenge of connecting all their tools.  We saw this trend play out clearly in the solar project management and operations space.  Companies began to move away from all-in-one CRMs and or niche solar operations tool and started adopting specialized tools for each part of their operation.  But a key ingredient was missing: a hub and a conductor to make all this work.
Starting in 2015 with the Scoop platform we had developed a very effective workflow and dataflow management and automation solution. For the first time solar and renewable energy companies could easily–and without being IT experts–set up their own apps, projects and dashboards to manage installation projects and service operations.  But we also knew they still needed to take advantage of best-of-breed solutions for sales & marketing, design/proposal, accounting and others.
It became clear that in addition to Scoop acting as the integrator, we also needed to act as a hub and a connector to bring the entire workflow and dataflow together. This is what motivated us to invest in bringing to market a highly configurable and flexible integration platform which we dubbed GLOO™ to signify the critical role it has played in building a cohesive solution.
The GLOO service from Scoop empowers solar companies to fully customize and configure a bi-directional API integration between Scoop and all other systems. This means that no more manual hours need to be spent ensuring that all your best of breed cloud IT tools are speaking to each other and driving efficiencies for your business–which can also mean hundreds of thousands of dollars in annualized savings costs. As one example that's what it meant for Ipsun Solar, who saw a 34x ROI with Scoop that materialized in $282,000.00 total annual savings. 
"In its first years of growth, Ipsun used niched office and site data capture tools across the field and office – these ended up being very limiting in their functionality, did not work as described and caused more inefficiency in duplicate data entry and manual processes.

Ipsun chose Scoop as the platform to help them grow to what is now a team of 50 poised to be executing over 100 projects a month in 2021."
If you would like to learn more about Scoop's innovative solutions and what we can do for your solar business, we invite you to contact us today. Schedule a demo to see how Scoop's project management solution and integrations can transform your solar operations, increase efficiencies, lower costs and boost profitability.