It is estimated that solar is likely to be the fastest growing energy subsegment in 2023, with demand rising 20-30%. As this demand for solar companies increases, owners and operators must continually seek out tools and processes that improve efficiency and allow them to scale their operations at the same rate. 
Customer Relationship Management (CRM) tools can be a strategic way to accomplish this. Unfortunately, traditional CRMs were designed for office teams, systems, and communications. In order for CRM software to adequately support solar companies, the functionality must also benefit distributed and field-intensive operations. But what exactly does that entail?
A Dedicated CRM for Solar Companies
Capture Solar Leads, Opportunities, and Customers
At its core, any good CRM (including those in the renewables space) must capture lead, opportunity, and customer data. A key step in any sales process is understanding your prospects, their primary market or industry, what the day-to-day operations look like, and how you can support them. This data should be stored within your CRM for easy access by your sales representatives and others on your team.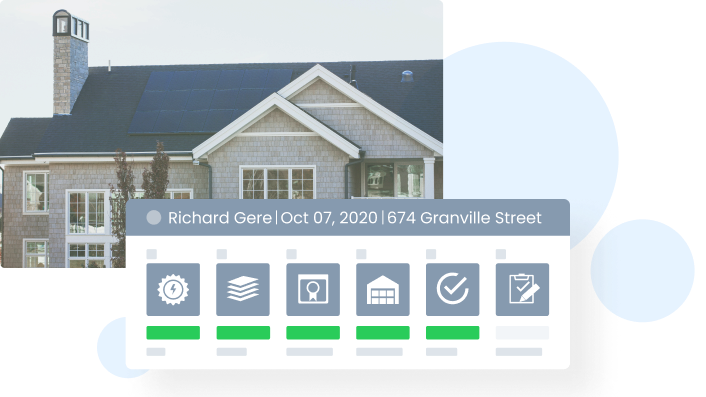 Manage Interactions and Relationships
Along with organizing lead and customer data, your customer relationship management system should be able to perform and track activities such as phone calls made by your sales reps, upcoming appointments, the date any proposals were sent out, and so on. Some solar CRM platforms offer automation as another way to increase productivity. Scoop Solar, for example, makes task management simple with automated follow-up tasks and a clear view into ongoing customer interactions.
Organize Data and Processes
The Scoop Solar CRM further helps to drive efficiency for solar installers and service providers by eliminating redundant data entry, manual processes, disjointed communication, and time-consuming tasks. This is achieved through automation, Global Fields™, and real time API syncs. Scoop's Global Fields make solar project management easy by allowing your team to auto-populate data, media, and documents as projects progress through various stages.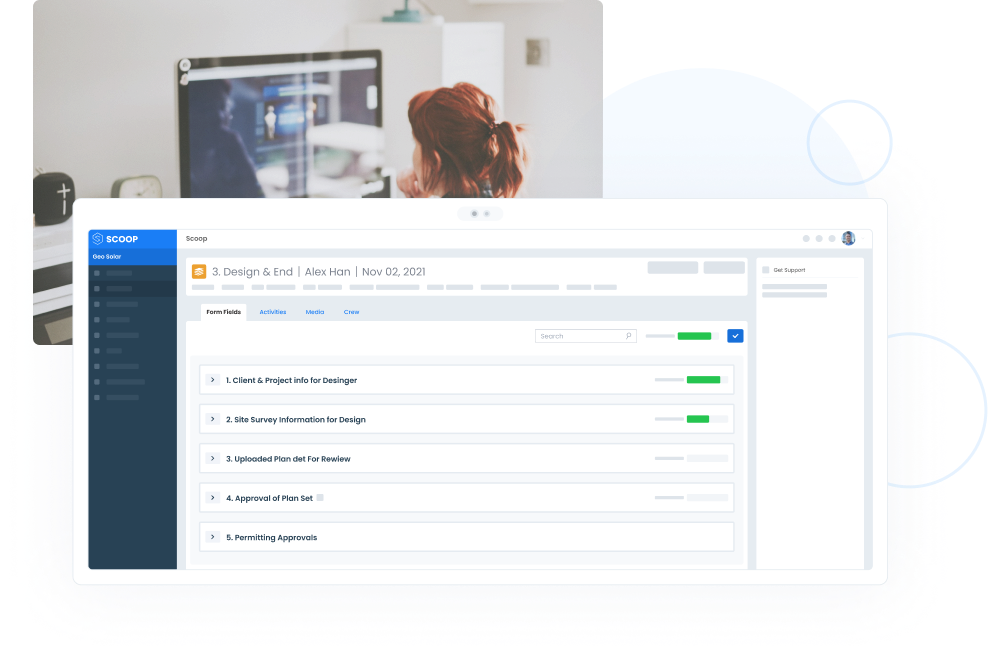 Access Important Data On-the-Go
If you work for a solar company, likely many members of your team are remote. From solar sales reps meeting with prospects, project managers on the road for site visits, or engineers on location for site surveys, it is unlikely that your team is ever in one place at a time. What this means is that your solar CRM must be accessible on mobile to allow every employee across your solar business to create, update, and access key information. Scoop's solar app is also equipped with offline mode, which allows employees to keep working despite not having a fast and reliable internet connection.
Scale Operations with Integrated Solar CRM Software
Since all systems are not created equally, it is unreasonable to assume that your solar business is using a single platform for marketing automation, task management, customer contact, nurturing leads, generating proposals, tracking day-to-day tasks, and monitoring real time project status. Therefore, another consideration for your solar CRM software is whether or not it can integrate with your existing software suite.
By streamlining solar operations and connecting solar project management to field operations, businesses can regain the efficiency they have lost by trying to make their CRM do it all.
Scoop's GLOO integration service connects your solar tools, offering powerful integrations between your solar CRM and project management, solar sales, accounting and invoicing software systems, and more.
Report on Solar Lead, Customer, and Installation Data
In order to properly evaluate the performance of your solar business, your software should include solar pipeline CRM reporting that is connected to your system and offer the ability to collect, track, and evaluate data. Equally important, your data must be reliable and should update automatically in real time. If your solar sales team is relying on reports that are outdated, this can have an impact on your entire business.
LOOXY™ is Scoop's integrated reporting and analytics platform that allows solar leaders to build solar pipeline CRM dashboards and answer questions such as how many deals are currently being worked by my sales reps? What stage are these deals in? How long have they been in that stage? What is their value? Which lead sources result in highest conversions?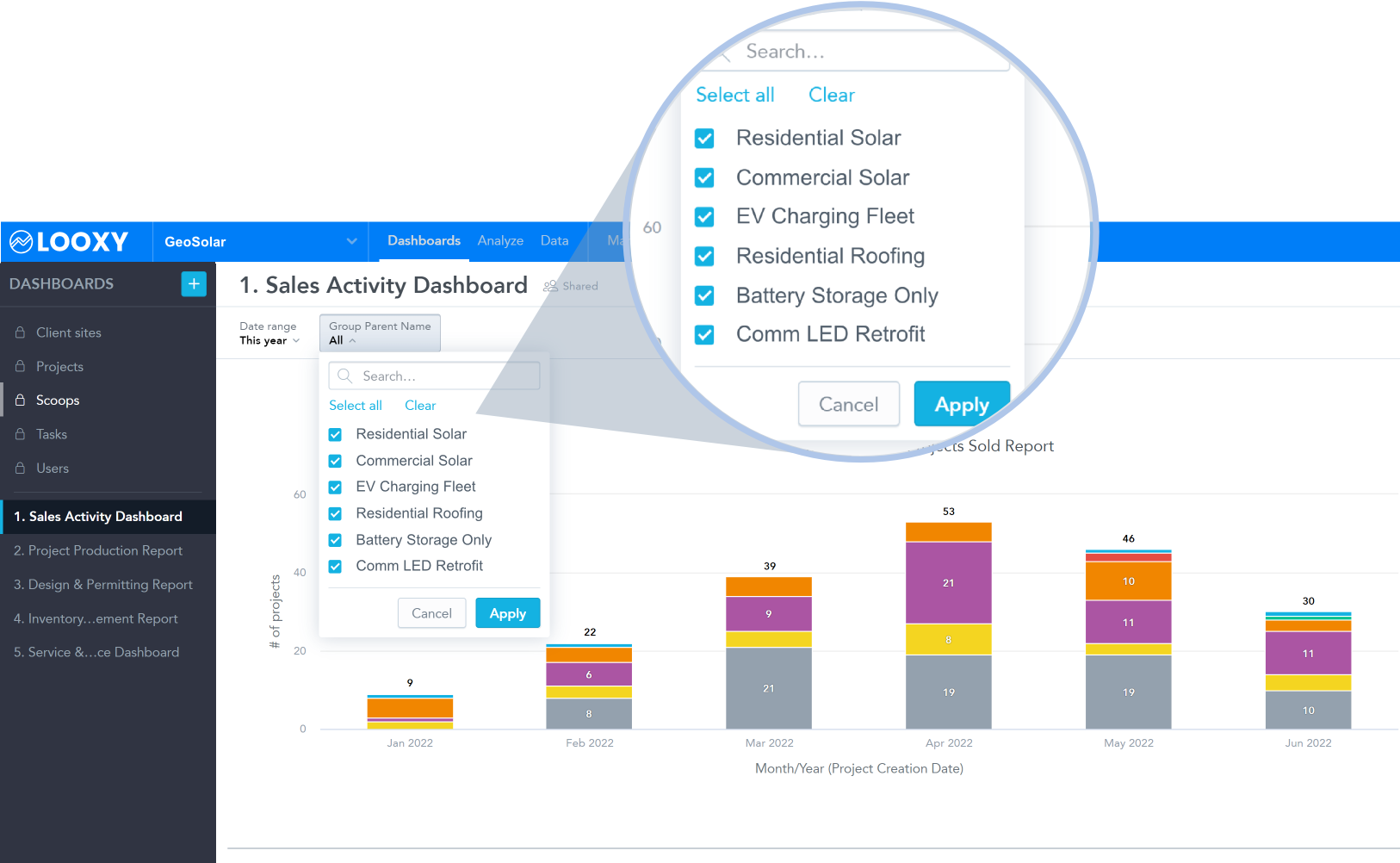 There is undeniable growth in store for the solar industry, but are solar companies prepared? If you are using traditional office-based CRM software, it may be time to reconsider. Scoop is a uniquely designed CRM for solar that offers automation, real time project status updates, and powerful integrations to ensure the data you need is stored in one place but accessible from anywhere.
Scoop is the best CRM for solar companies looking to scale their operations. For more information, get in touch with our team today.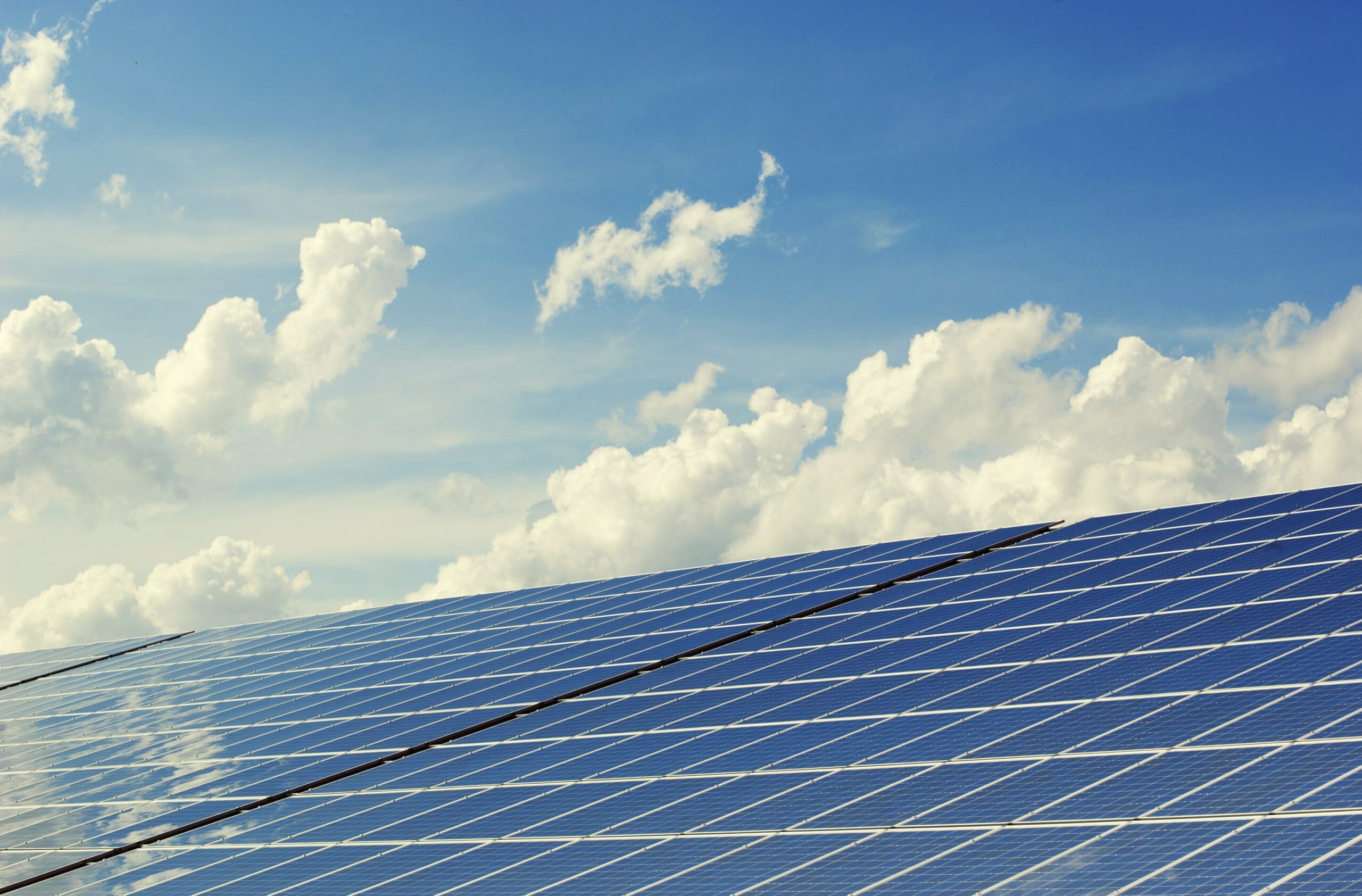 Solar CRM FAQs
What is a CRM?
CRM stands for customer relationship management and is a technology for managing your company's relationships and interactions with customers and leads.
What is a solar CRM?
Solar CRM software has similar features to that of traditional CRM software, with the added benefit of being designed for businesses that operate largely in the field (opposed to in the office). This is particularly in the solar industry, where solar sales reps, project managers, and the like are often on-the-go visiting leads or customers at a job site.
What are the best CRM software features?
If your solar company is searching for a CRM software, you want to check off as many of these boxes as possible:
Create and manage lead, customer, and deal related data

Track tasks, phone calls, communications, and appointments

Create and send customer proposals

View ongoing and upcoming project, installation, and service dates

Deploy automation to minimize redundancies and increase productivity

Report on solar sales, customer experience, and overall business functions

Scalable pricing model that allows your solar operations to scale as your grow your team
That being said, the best of breed software approach dictates that one single solar CRM platform may not include all of this functionality – and that's okay. As long as your core software tools support two-way integrations, you can benefit from a powerful solar software suite.
What is the difference between lead generation and lead management?
Lead generation is the process of searching for users or customers who may potentially be interested in your product or service, while lead management is the process of nurturing these leads. In both cases, the goal is to convert these prospects into happy and paying customers.