A solar mobile app allows you and your team to track the status of existing and completed projects from anywhere. Solar project management software should capture data from both office and field workers, as well as customer data, residential and commercial solar documents, proposal and design details, installer schedules, and more. By consolidating this end-to-end view in one tool, your solar mobile app can scale with your company.
Enabling your field teams and remote employees
A vast majority of the renewable energy workforce is mobile. These teams work in the field, moving site to site, and therefore do not regularly report to an office, have an assigned desk, or desktop computer. In fact, some employees are not issued a work computer at all but virtually all of them have access to mobile devices.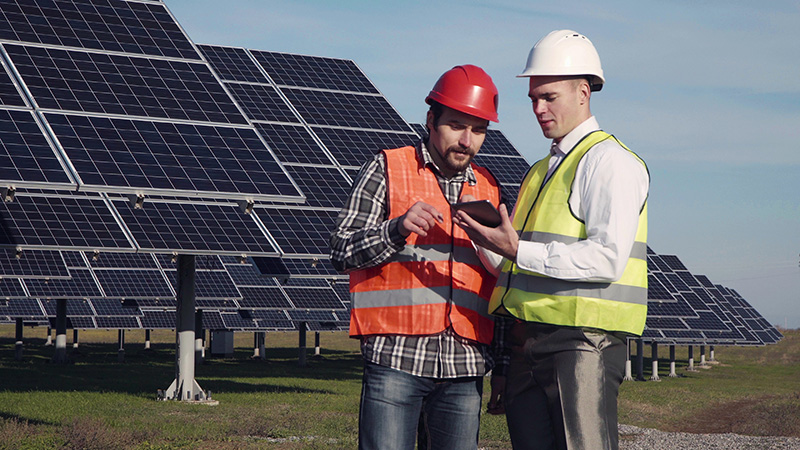 Renewable energy companies can take on a variety of projects, from installing solar panels and battery storage systems, to electrical grid equipment and photovoltaic (PV) systems, electric vehicle (EV) charging stations, and more. For each of these projects, the requirements, timeline, materials, and crew will change. If you are a renewable energy or solar panel installation business, it is imperative that you enable your workforce by digitizing, mobilizing, and automating your work processes.
Mobile work process management and automation (mPMA)
Scoop Solar ties together solar project management with an advanced digital and mobilized platform in what we refer to as mPMA. mPMA is an emerging category of software that allows highly distributed, remote, and field-intensive teams to achieve new levels of productivity. mPMA stands for mobile work Process Management & Automation technology and is more important than ever in today's increasingly remote, mobile, and multi-organizational workforce. mPMA cuts down on soft costs and wasted resources by streamlining communication, eliminating repetitive tasks, centralizing project data and files, and implementing fail safes to protect against delayed updates and missing operational workflows.
Why go mobile?
Mobilizing your work processes has several benefits, including up-to-date project statuses, improved data quality, and a reduction in missing data fields. By focusing on solar installation compliance and moving processes and checklists into a standardized and mobile-friendly workflow, you can empower your solar project managers and operations leads, not to mention reduce costs from additional labor hours and time wasted by your field technicians, office personnel, and others on your team.
A solar project management mobile app
When it comes to the solar energy or engineering, procurement, and construction (EPC) industries, regardless of how powerful a software application may be, it either succeeds or fails by its ease of access and use in the field. Unlike traditional software packages that focus on the needs of office employees, Scoop reversed this paradigm and adopted a mobile-first philosophy. Interestingly, this approach has not only dramatically improved the user experience for field personnel, but also for office users.
Scoop's solar mobile app and solar Work App library represent one of the ways that solar companies can experience improved communication and streamlined workflows between office and field teams. Work Apps™ are easy to use and allow you to standardize data collection across teams with custom form fields, checklist items, photo uploads, workflow stages, access control rules, and more.
Whether a solar installer is focused on community solar or a home solar project, Scoop's mobile applications for iOS and Android devices make it easy for field teams to capture this critical information on-site and its unique offline mode means these employees can continue to work even when a reliable internet connection is not available.
Features of Scoop's solar mobile app
Single source of truth
The Scoop platform is built to collect and streamline solar data, documents, and workflows. Its multi-platform design is accessible across mobile, tablet, and desktop devices to ensure the most convenient point of access in the field, at the office, and anywhere in between.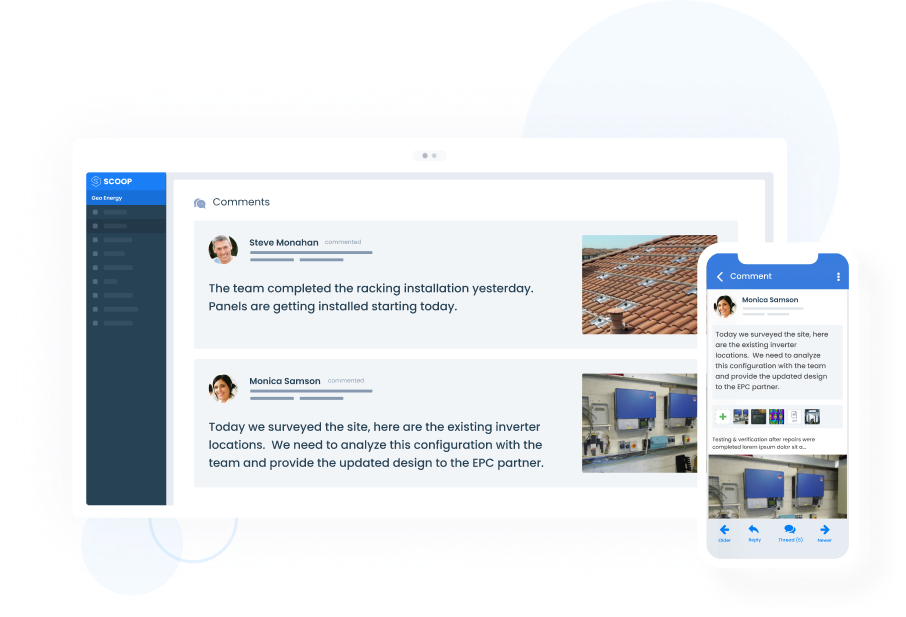 Reliable offline mode
To further accommodate collaboration between office and field teams, the Scoop mobile app is accessible even without a stable connection. No wi-fi? No problem. The Scoop app works offline to ensure service techs can always access relevant data.
Integrated Smart Forms™
Because solar installation, maintenance, and reporting come with their own specialized needs and workflows, Scoop forms are designed with features such as repeatable sections, barcode and QR code readers, and integrated multimedia geolocation and communication to facilitate on-the-go solar work.
Attach media for further context
Attach pictures, videos, audio, and documents to your forms and submissions while on-site or from the office. To add additional context to point out specific parts and equipment that need attention, mark up your photos and track where photos were taken by opting in and having your GPS location turned on.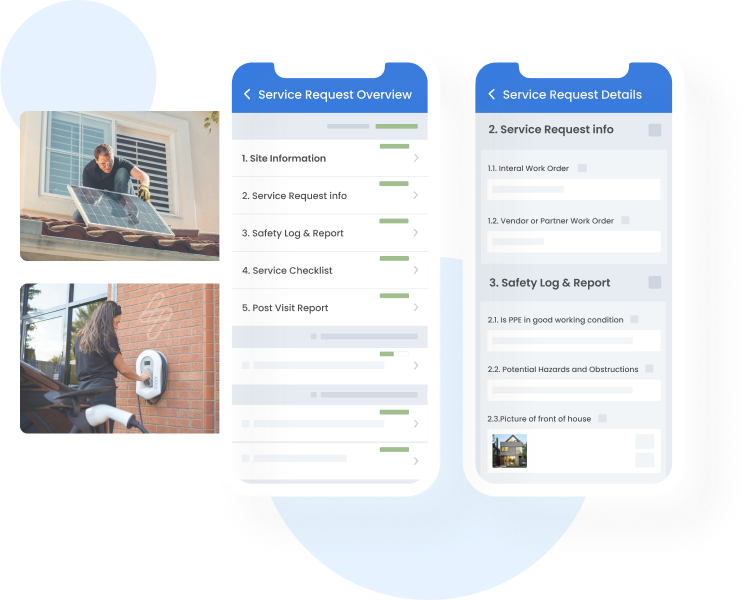 Create automated alerts and notifications
Using email and push notifications, alert your team members of new tasks, comments, and jobs that need their attention. Include a link within your emails for the recipient to easily and directly access their specific work items. Missed a push notification or can't find the email alert? No problem! The integrated in-app notification center acts as a central place for all your alerts with a link to open related work orders, tasks, or conversations.
Provide easy access to project documents
Your field personnel can easily access project documents and checklists as they are following the predefined steps in any given work order. This feature can speed up work completion, reduce mistakes, speed up warranty claims, and help new employees get onboarded.
For more information on Scoop's solar mobile app or digitizing, mobilizing, and automating your solar project management processes, reach out today.