As the solar industry continues to expand, solar companies face the challenge of managing an increasing number of leads, projects, and customer interactions. This is where Solar Customer Relationship Management (CRM) software becomes invaluable. With the right strategies and approach, you can maximize the potential of your solar CRM software to streamline operations and boost productivity. In this blog, we will explore five helpful tips to get the most out of your solar CRM software.
1. Take a Mobile-First Approach
In today's fast-paced world, mobility is key. If your solar CRM software has a mobile-friendly interface or a dedicated mobile app, ensure your teams are trained and equipped to use it while on-the-go. A mobile-first approach allows you and your team to access crucial information while working or traveling from job sites, whether adding solar leads, updating project statuses, or accessing customer communication history. By enabling your field and sales teams to work efficiently from anywhere, you can enhance productivity and provide a seamless customer experience.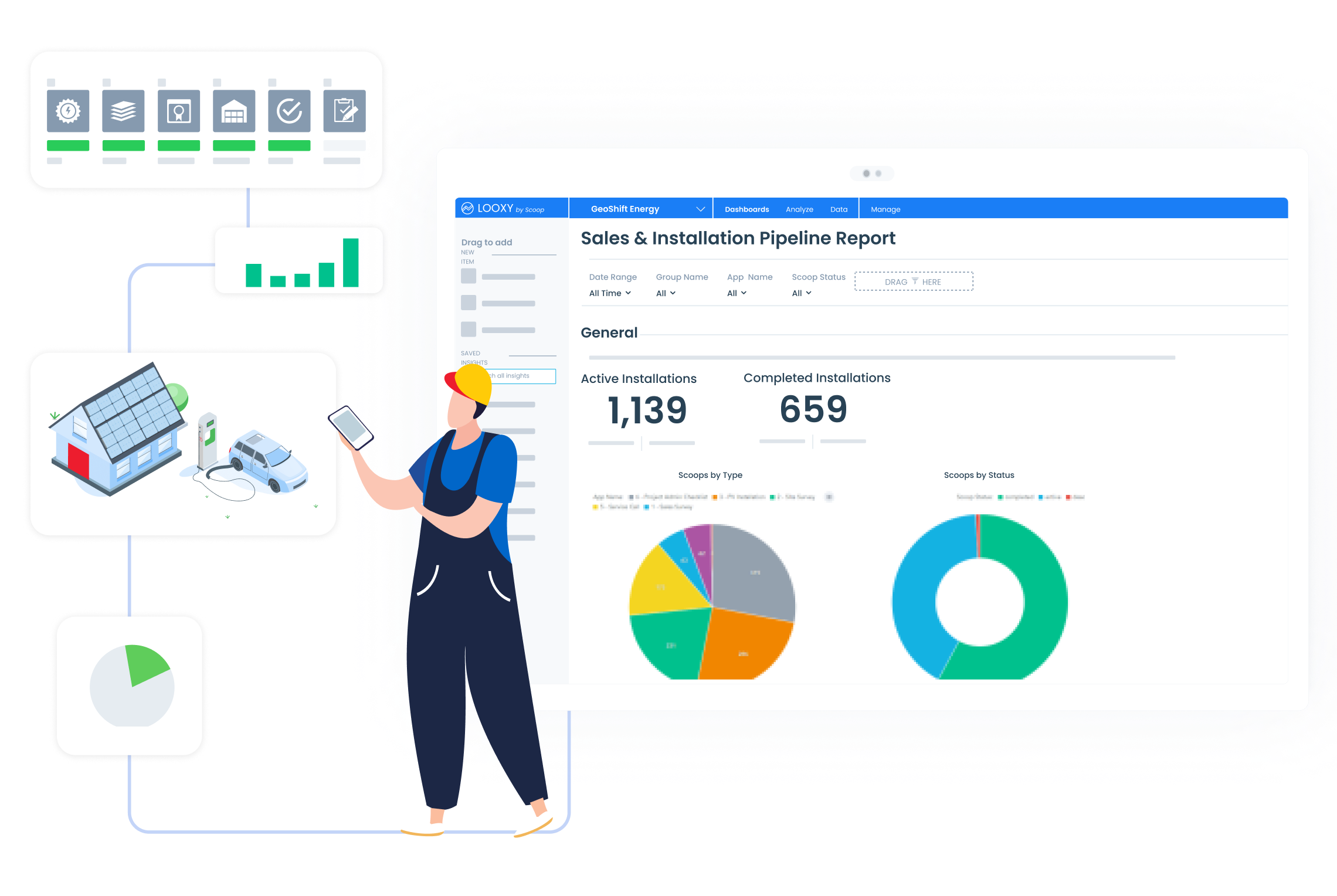 2. Centralize Project Data
To effectively manage your solar projects, it is essential to centralize all project-related data within your solar CRM software. This includes customer data, project details, installation specifications, contracts, and communication history. By having all of your project management data in one place, it becomes easy to track project progress, share information among team members, and quickly address any customer inquiries. A centralized approach eliminates the need for multiple tools or spreadsheets, ensuring data accuracy and promoting collaboration across your solar company.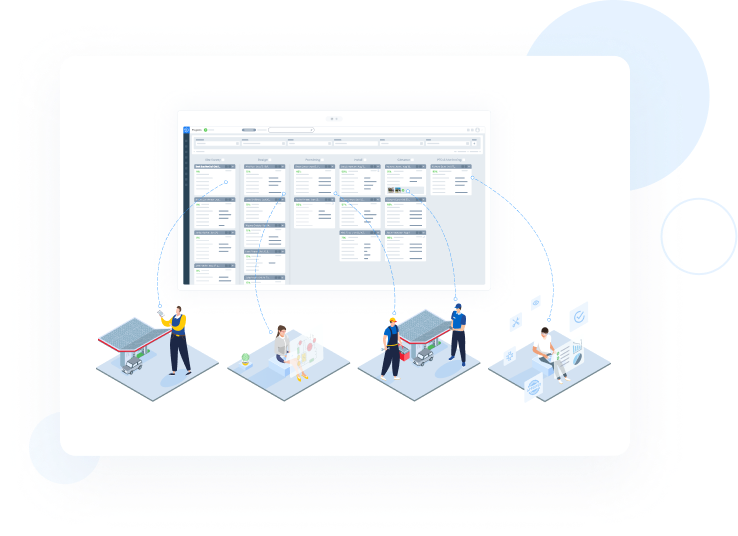 Related: 5 Signs You've Outgrown Your Solar CRM Software
3. Create Automations and Templates
Time is precious, and automating repetitive tasks can save significant effort and minimize errors. One of the best CRM features is the ability to leverage automation in order to improve efficiency and streamline processes such as lead assignment, follow-ups, email notifications, and task reminders. Additionally, create templates for common communication scenarios like proposal emails, project updates, or payment reminders. By automating and templating routine activities, you can optimize your team's efficiency and ensure consistent communication across the board.
4. Connect with Other Software Tools
Your solar CRM solution should not exist in isolation. It should integrate seamlessly with other software tools you use daily, including solar design, marketing automation, or inventory management platforms. By creating integrated solutions with your solar CRM, your technology stack can allow for smooth data transfer and eliminates the need for manual data entry. These integrations ensure data accuracy, saves time, and enhances cross-functional collaboration. Identify the software tools that are vital to your solar business and explore integration options with your customer relationship management software.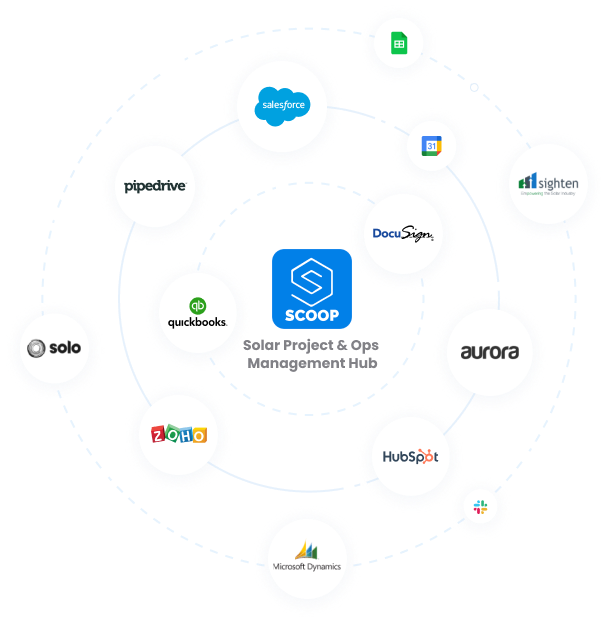 5. Use Reporting to Improve Processes
To drive continuous improvement and make informed business decisions, leverage the reporting capabilities of your solar CRM software. Monitor key performance indicators (KPIs) like lead conversion rates, project timelines, sales targets, or customer satisfaction metrics. Identify patterns, bottlenecks, or areas for improvement. Use these insights to optimize your sales and project management processes, refine your strategies, and achieve better results. Regularly review and analyze reports to stay ahead of the competition and enhance your solar business's overall performance.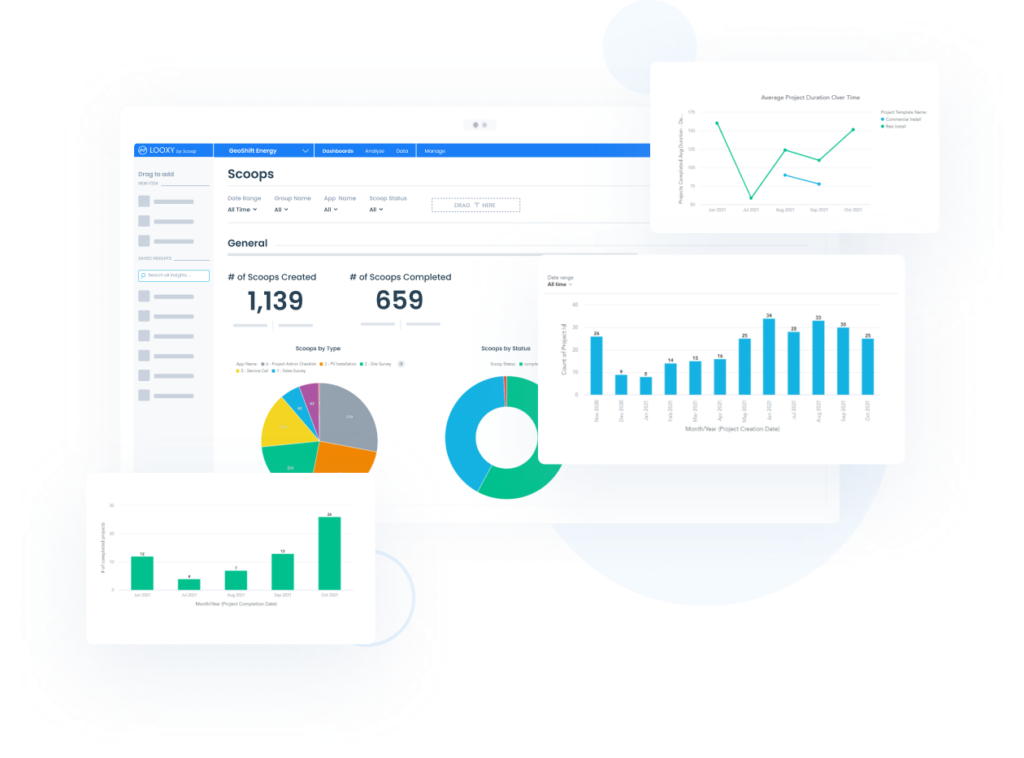 Using Scoop as a CRM for Your Solar Business
Scoop's software, for instance, combines solar CRM and project management functionality for solar businesses. Through the Scoop platform, your team can use workflow automation to increase productivity, connect project site and client data, and manage projects effectively.
Scoop Mobile App
Scoop's mobile app makes it easy for sales reps, project managers, solar installers, and other field personnel to collect and access data while onsite. Whether for lead generation, task management, or templated business processes, a mobile CRM for solar is one of the best ways to improve efficiency across your teams.
Scoop Project Tracker Dashboard
The Project Tracker Live feature is another great way to simplify solar project management through your CRM tool. With advanced access controls and intuitive filters, any team member across your solar company can quickly gain a bird's eye view into all of the existing customers, projects, and their status. Specifically, the project tracker dashboard can be a great way for teams to identify potential future sales, improve customer relationships, as well as identify and optimize potential bottlenecks.
Scoop Workflow Automations
The Scoop platform is rooted in workflow automation and solar operations management, eliminating manual inefficiencies for solar companies. With Scoop, your project manager can create automations that trigger tasks, communications, and even update project phases.
GLOO Integration Service
In order to offer unified communications and a truly integrated system, automations can be used for two-way data transfers between Scoop and other tools through the GLOO Integration Service. This might include solar sales tools, marketing automation or email marketing platforms, your solar operations management system, or lead generation, asset management, customer experience, and other tools.
LOOXY Reporting & Analytics
As a way of analyzing project and customer data, solar companies can use LOOXY Analytics. The drag-and-drop report builder can help your solar sales team visualize sales processes as well as the sales funnel, number of phone calls by various sales representatives, and more. It can also be useful in highlighting inefficient business processes, out-of-the-norm maintenance costs, and potential revenue projections, for example.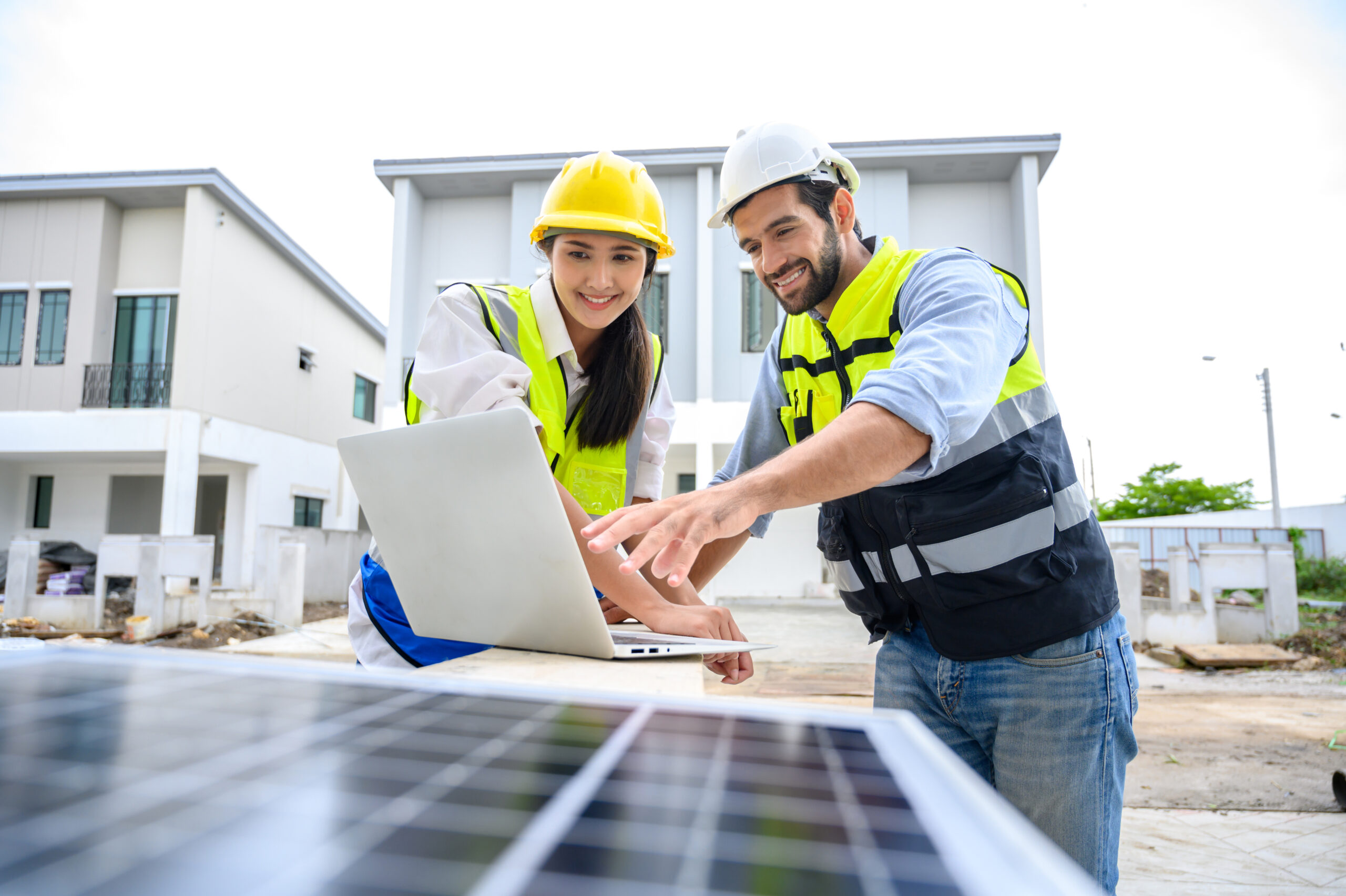 A well-utilized solar CRM software can be a game-changer for your solar business. By implementing the tips mentioned above, you can maximize the potential of your solar CRM software and streamline your operations. Embrace a mobile-first approach, centralize project data, automate tasks, integrate with other software tools, and use reporting to drive continuous improvement. By doing so, you'll not only enhance efficiency and productivity but also deliver exceptional customer experiences and propel your solar business to new heights.
Solar CRM FAQs
What is the best solar CRM?
The best solar CRM software for your business will largely depend on your company size as well as the other software platforms you are currently or intend on using. Scoop is a leading provider of project management and CRM for solar companies, offering an intuitive platform for project pipeline management, the ability to track deals, manage interactions, view project details, and improve efficiency through the entire process.
How to choose the best CRM with solar project management?
Learn how to choose the best CRM with solar project management in our guide here.
Does Scoop execute marketing automation?
Scoop offers several platform features specific to solar companies and their project management processes. One of the few that Scoop does not offer is automated marketing campaigns but worry not – these can be achieved through a GLOO integration. Read more about the fail-proof way to think about your Solar CRM.
What sales focused CRM tools does Scoop integrate with?
HubSpot, HighLevel, Insightly, Pipedrive, Salesforce and Zoho CRM are a few of the CRM platforms that integrate with Scoop.
Does Zoho CRM integrate with Scoop?