If you are a busy solar or renewable energy installer, building a powerful and intuitive technology stack might not be top of mind. But if you are looking to scale your team, installations, and service visits, how confident are you that you have the right systems in place? A CRM is just one of many software tools you might use to organize data but it's an integral part of your solar software stack. Here's how to think about your solar CRM.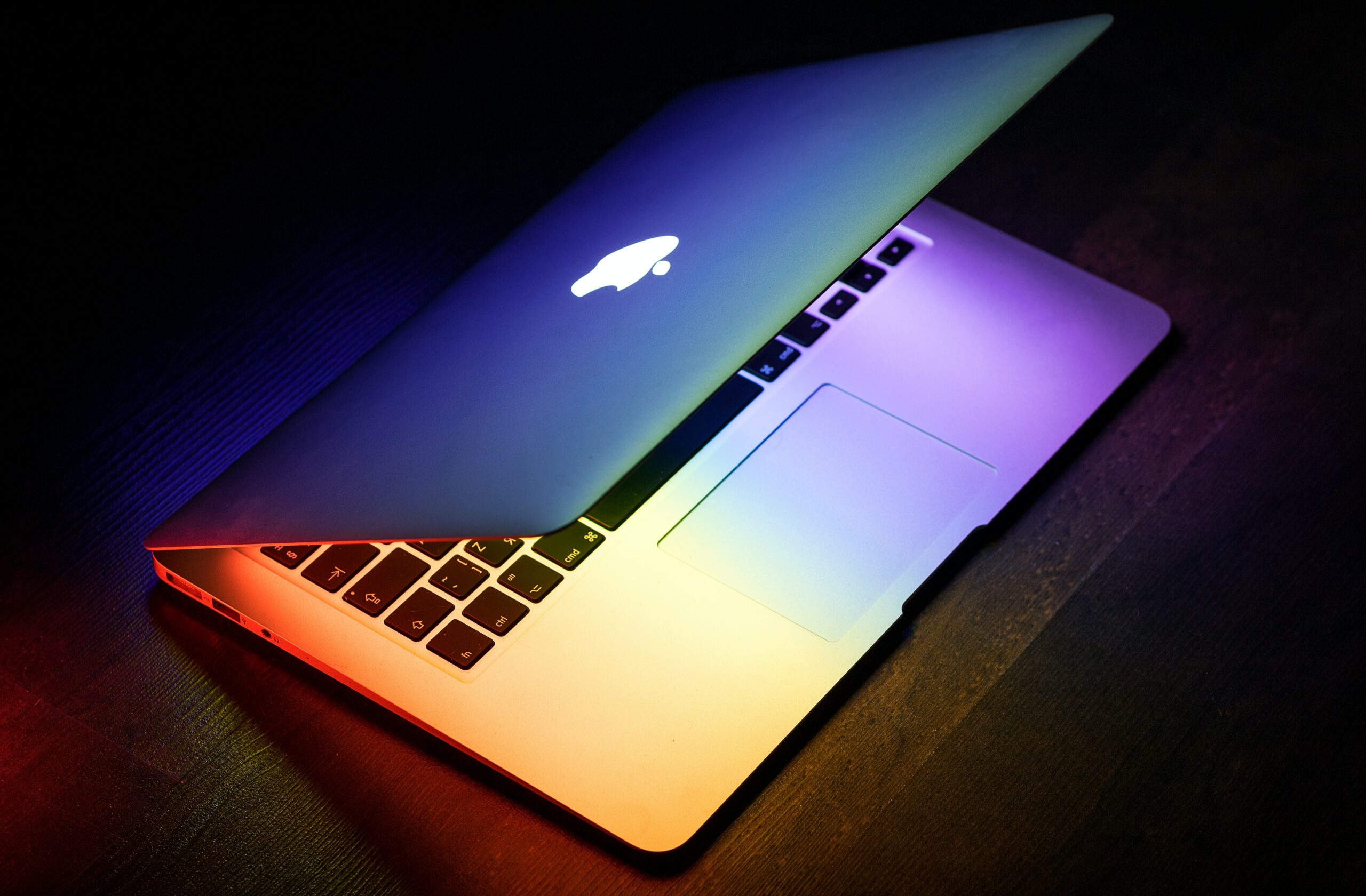 Table of Contents
The History of CRM Software
What is a Solar CRM?
Where Does Scoop Fit In?
Using Integrations to Build Your Solar Software Stack
Incorporating a Solar CRM Into Your Software Stack
Evaluating Solar CRM Feature Sets
The History of CRM Software
Most readers will know that CRM stands for Customer Relationship Management and is used as a broad term to describe software that businesses use to maintain and organize data related to its customers. But do you know how this now widely-known term came to be, or how this software has evolved since its inception?
In the 1980s, Kate and Robert Kestenbaum introduced database marketing, an approach that used statistics to analyze customer data and determine which customer groups would be most likely to react to a particular marketing campaign. A few years later, Pat Sullivan and Mike Muhney launched ACT! which stood for "Automated Contact Tracking" and hit the market as the first contact management service.
While these solutions were pioneers in what would ultimately become key components of CRM systems, many companies followed quickly in creating their own. Tom Siebel introduced Siebel systems in 1993, which was one of the early CRMs. Following that, standalone CRM software started emerging and ERP software companies began providing CRM modules in their platforms.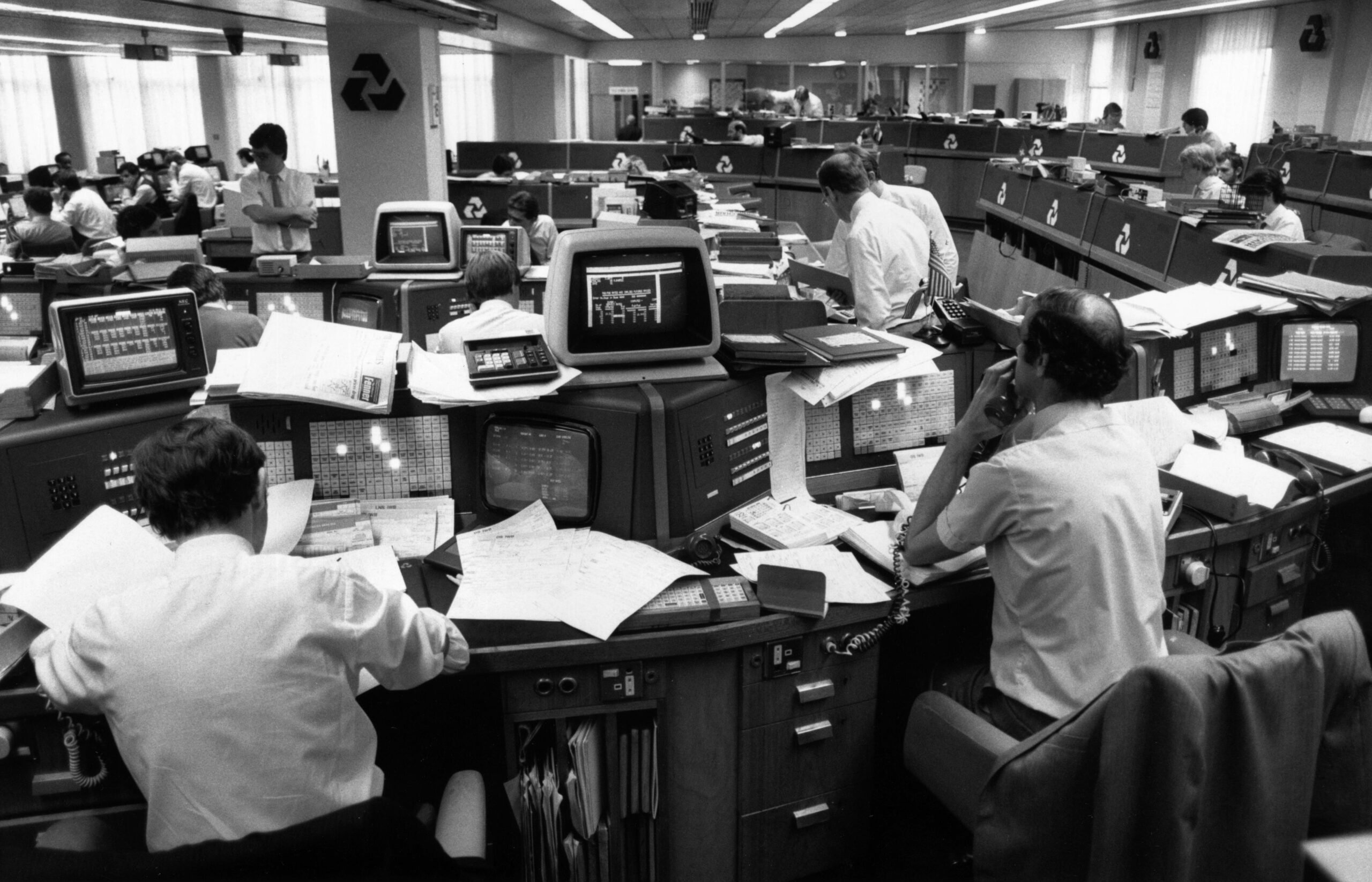 It wasn't until the late nineties that CRM solutions started including marketing capabilities. In 1999, Seibel introduced the Siebel Sales Handheld which was the first push towards mobile and the cloud. Around the same time, other providers also started their mobile and cloud-hosted services, such as Salesforce, Peoplesoft, SAP, and Oracle.
What is a Solar CRM?
So what exactly is meant by the term "solar CRM?" Well, an argument could be made that there is actually no such thing. Solar CRM is a concept of related features and functionality that exist within your solar software stack. These features might range from contact management to workflow automation or sales pipeline reporting.
Where Does Scoop Fit In?
The solar software landscape can be confusing. There is a wealth of software categories to choose from – CRM and ERP tools, proposal and design software, document management, scheduling, and so many more. Where exactly does Scoop fit in?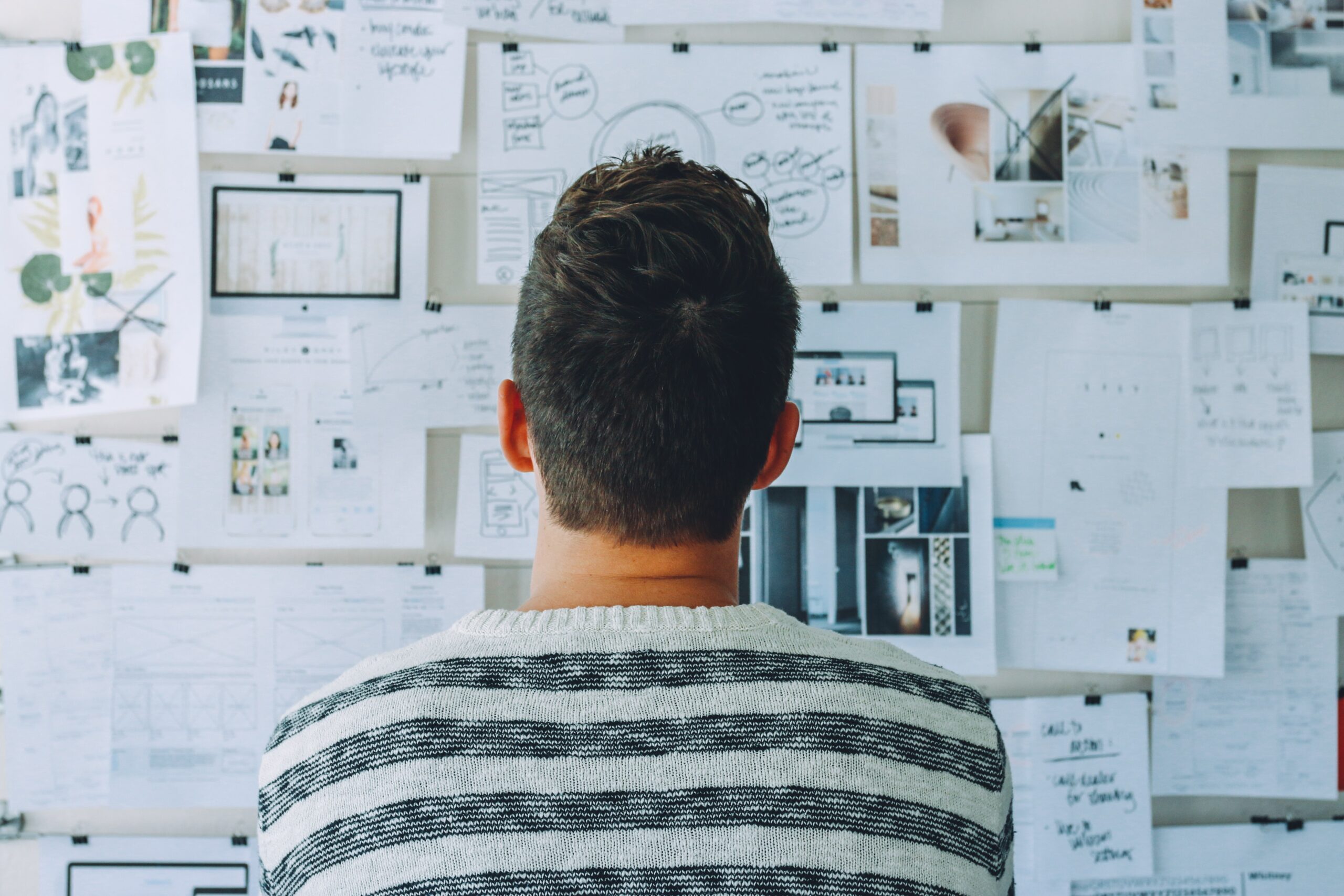 Scoop can be classified as a solar project management software with CRM capabilities. But the platform also belongs to another software category altogether: mPMA. mPMA stands for mobile work Process Management & Automation and is an emerging category of software that allows highly distributed, remote, and field-intensive teams achieve new levels of productivity.
mPMA technology works to streamline communication, eliminate repetitive tasks, centralize project data and files, and implement fail safes to protect against missing and delayed project updates. This software effortlessly facilitates work between field and office teams and is a game changer for industries such as solar and other renewable energies.
Using Integrations to Build Your Solar Software Stack
If Scoop and your solar CRM are both pieces in the puzzle that is your solar software stack, then how do they fit together? The Scoop team are firm believers in the best-of-breed approach. While there are many software platforms on the market that claim to deliver an "all-in-one" experience for businesses, the reality is that many features tend to fall short and are eventually phased out from the platform altogether.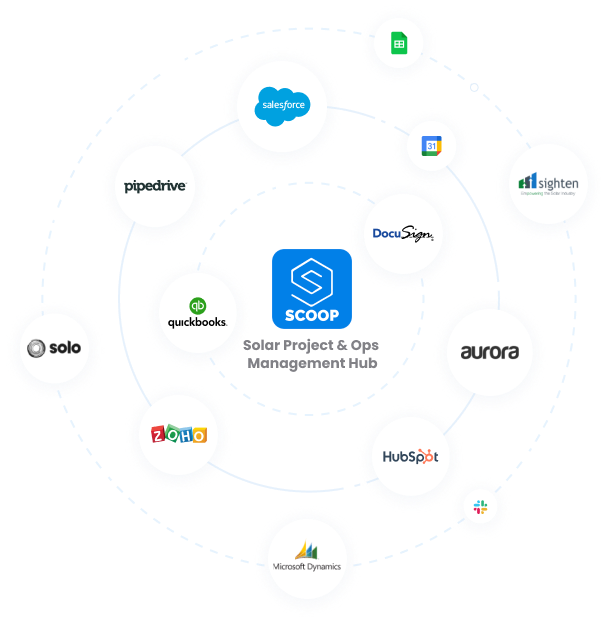 Scoop's GLOO integration service seamlessly connects Scoop with CRMs, ERPs, design and proposal, finance, and other software tools. This approach allows Scoop customers to access the specialized functionality in each platform, but is built in a modular fashion to enable long-term scalability. In other words, businesses are not captive to a particular software stack – as companies outgrow certain technologies, they can be substituted without sacrificing performance across other tools. GLOO allows solar companies to build a future-proof tech stack.
Incorporating a CRM Into Your Software Stack
In a well-designed technology stack, your solar CRM can power solar sales and streamline operations across your organization. If your solar team is trying to decide where a CRM fits into your software strategy, you likely fall into one of the following three categories.
Option A: Integrating Scoop with an Existing CRM
If your team has an existing CRM platform and well defined sales processes, you should consider integrating Scoop with that platform through GLOO. This integration allows solar teams to automatically pass lead data back and forth between tools and ensures both accuracy and consistency. The Scoop mobile app allows solar sales reps to access and update client information while on-site and LOOXY analytics provides real-time insight on your solar sales pipeline.
Option B: Integrating Scoop with a New CRM
For solar companies that do not have an existing CRM but need to send mass email communications or take advantage of marketing automation, it is recommended to integrate Scoop with a CRM platform such as Insightly or HubSpot. Similar to the previous scenario, this approach takes advantage of the best-of-breed functionality and streamlines data across your organization – from marketing and solar sales to installation and service teams.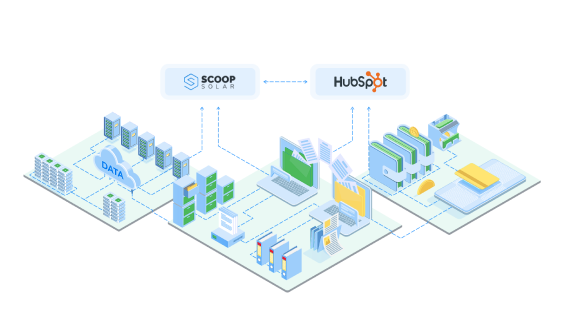 Option C: Using Scoop as a CRM
If you do not currently have a CRM system in place, or are using manual methods such as spreadsheets, notes, and emails to track customer interactions, you may want to consider using Scoop as your CRM. Scoop has several features that you would expect to find in a traditional CRM platform, including contact management, sales pipeline reporting, automated tasks, handoffs, and emails, as well as calendar and scheduling systems.
Related: Powering Solar Sales with the Right CRM: A Guide to Building the Ultimate Solar Software Stack
Evaluating Solar CRM Feature Sets
If your business doesn't fit into either of the above scenarios, your decision to use Scoop as your CRM may come down to the feature set.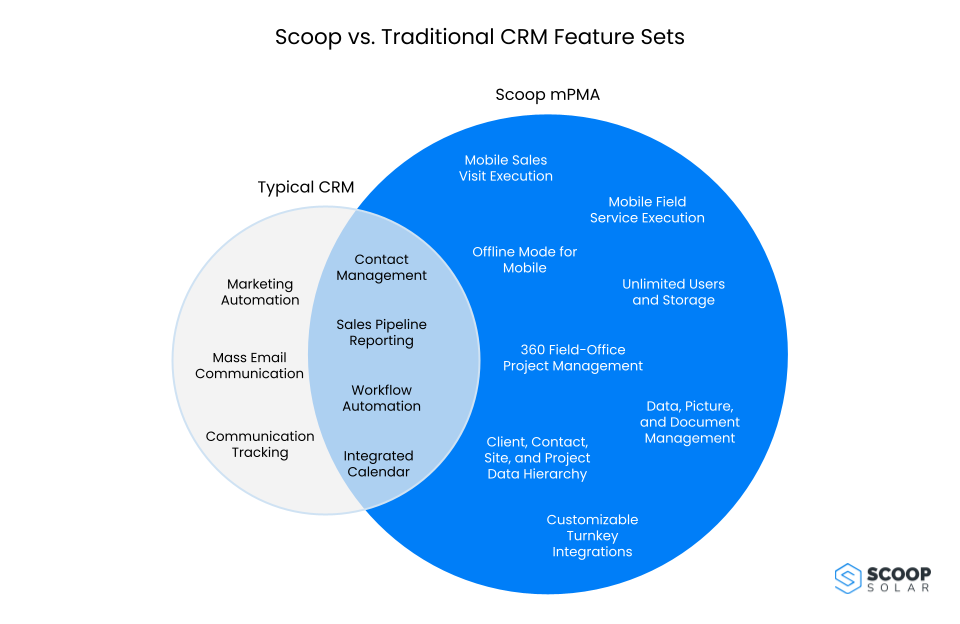 Traditional CRM Features Offered by Scoop
Contact Management
Scoop allows your solar sales team to create leads and opportunities while ensuring that relevant client, industry, and site data is collected every time, including photo capture during in-person sales visits. With the ability to create regular follow-up tasks with each contact or company, Scoop also facilitates nurturing of clients and customer support for your internal teams.
Sales Pipeline Reporting
LOOXY is Scoop's analytics platform that provides detailed and overview reports of solar sales pipelines. LOOXY enables growing solar energy companies to visualize everything from deals and contract value in various stages of your pipeline, sales rep monthly commission reports, number of completed service visits in a given time period, invoicing timelines and project costs, and more.
Workflow Automation
Workflow automation is a core component of the Scoop product suite and is responsible for saving time, lowering project costs, and streamlining communication across the organization – particularly between field and office teams. This is accomplished through automated notifications as well as one-to-one automated communications.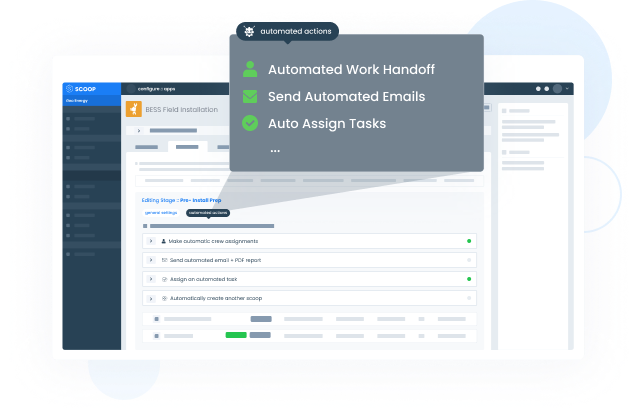 Automated Tasks, Reminders, and Handoffs
Create automated tasks, reminders, and handoffs within Scoop to greatly reduce project delays. For example, automated alerts can notify project managers and assign them as the project lead once a site survey has been completed. This notification can include relevant photos and documents and can even trigger a task for the project manager to create the installation schedule for field crews.
Automated Emails and SMS
Scoop further streamlines communication with automated emails and SMS. Draft messages to internal personnel that are triggered at specific workflow stages and ensure customers are kept in the loop with automated progress status emails. These emails can include professionally branded PDFs with pictures and up-to-date status reports on how their projects are progressing.
Integrated Calendar and Scheduling
Scoop's calendar and scheduling features are fully integrated and simplify the task of monitoring multiple schedules. Assign an administrative or scheduling user to grant a specific employee access to all calendars across your organization. Users with these permissions can view free and busy time slots, schedule hourly or multi-day projects for others, as well as view the status of work as it is completed.
Additional Features Offered by Scoop
The mPMA software is a game changer for field-intensive industries such as solar and renewables. From the mobilization of processes and data collection to document and photo management, Scoop offers many robust features to streamline operations and enable powerful project management.
Mobile Sales Visit Execution
The Scoop Solar mobile app provides on-the-go access for solar sales teams, meaning these employees can retrieve and update important client information while away from the office. Sales personnel can make changes to work order details, upload relevant documents, and capture photos and videos during a site visit.
Mobile Field Service Execution
Solar service teams can benefit from Scoop in similar ways to the sales organization. By providing mobile access to service teams, Scoop ensures that important data is captured at the source, including photos, videos, and voice markups to accurately represent technical details.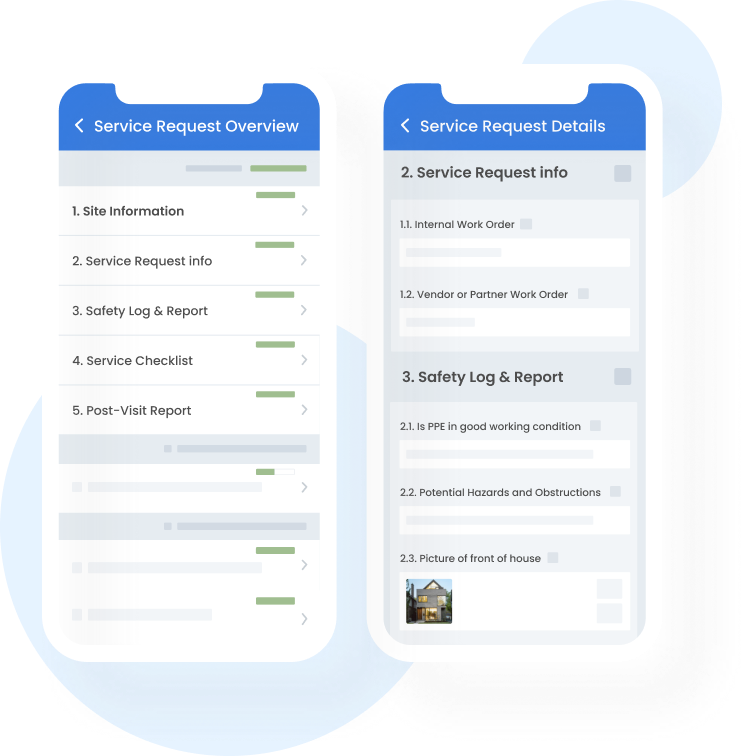 Offline Mode for Mobile
To further accommodate collaboration between office and field teams, the Scoop mobile app is accessible even without a stable connection – the cloud-based app ensures newly added or edited data is saved and syncs from the mobile app back to your office staff once back online.
Client, Contact, Site, and Project Data Hierarchy
Scoop is designed specifically for renewable energy companies, a fact that is evident within the data organization and hierarchy. Unlike generic CRM and project management tools, Scoop makes it easy to connect customer, contact, job site, and individual project data. Global Fields™ allow users to set high-level information that is persistent across a particular project, such as site address, thereby reducing duplicate data entry. This breakdown of client data also allows organizations to assign project leads at various stages of an installation, making reporting and automated actions unique to each project phase.
Data, Picture, and Document Management
Scoop's Global Fields also allow users to auto-populate data, media, and documents as projects progress through various stages, while Smart Forms™ provide the flexibility to add different content types within work orders and project forms. For example, account admins can determine whether form fields are text, dropdown, numeric, address, signature, and so on, ensuring consistency across team members filling out the forms.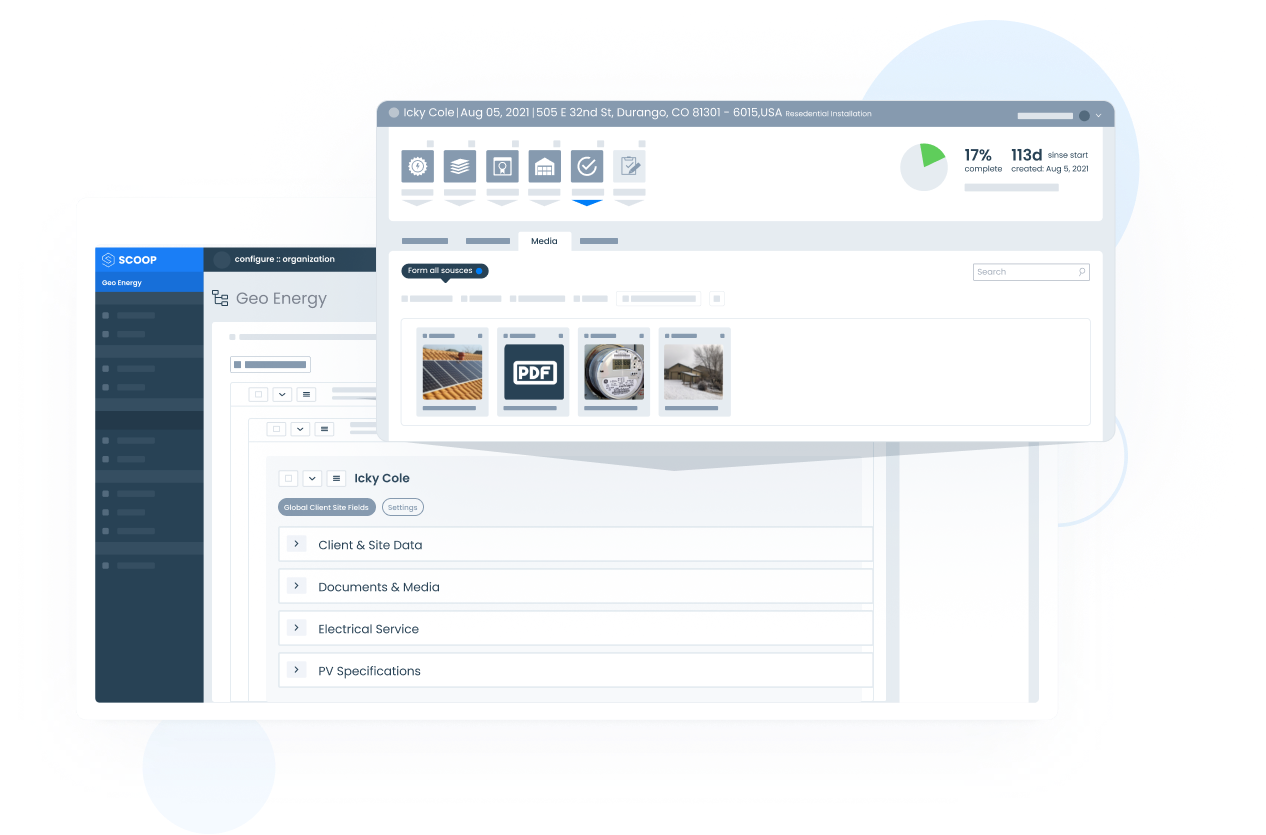 Unlimited Users and Storage
Scoop offers unlimited users and storage with every pricing tier, allowing solar businesses to collaborate across the entire organization – including with external contractors. The platform fosters transparency and collaboration for solar businesses and flexible access controls ensure that your various employees have access to just the right amount of data.
Customizable Turnkey Integrations
It is estimated that 91% of companies with ten or more employees use a CRM and most likely, the majority of these same businesses are using more than one software tool. This may include solar design software, proposal, scheduling, inventory management, accounting, and other tools.
Scoop's proprietary GLOO™ integration service connects Scoop with hundreds of other tools, including CRM, solar design, e-signature, ERP, accounting and invoicing software, and several other categories, allowing solar teams to use the power of these tools across entire organizations.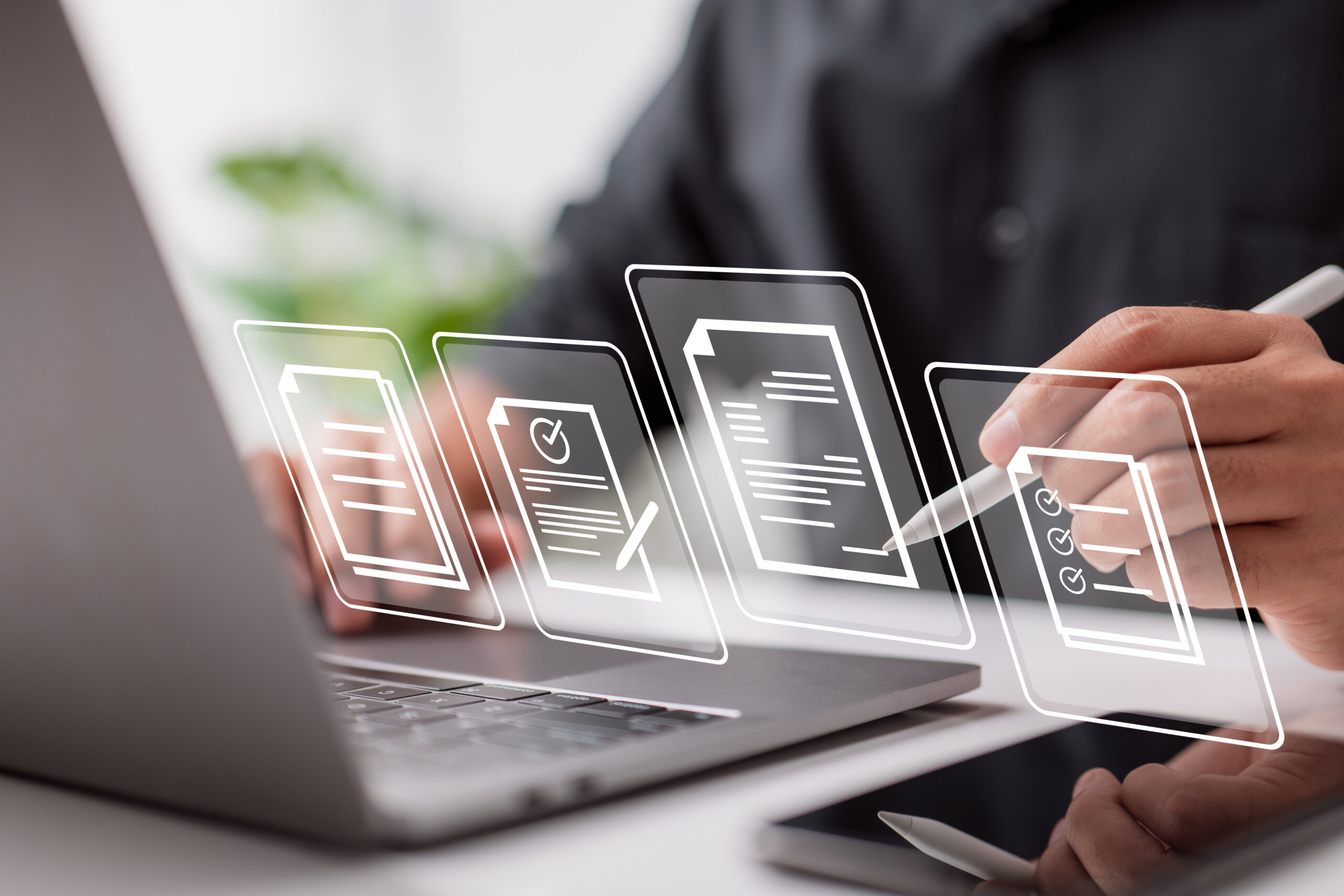 For busy solar and renewable installers, creating the perfect solar software stack might not always be straightforward but companies like Scoop Solar have years of experience working with customers and providing advice on what works best for your business type, size, and project count. To learn more about the Scoop software, integrating with other tools, or features to scale your operations, get in touch today.