A dive into solar software, how it's used, why it's important, and common features to look out for.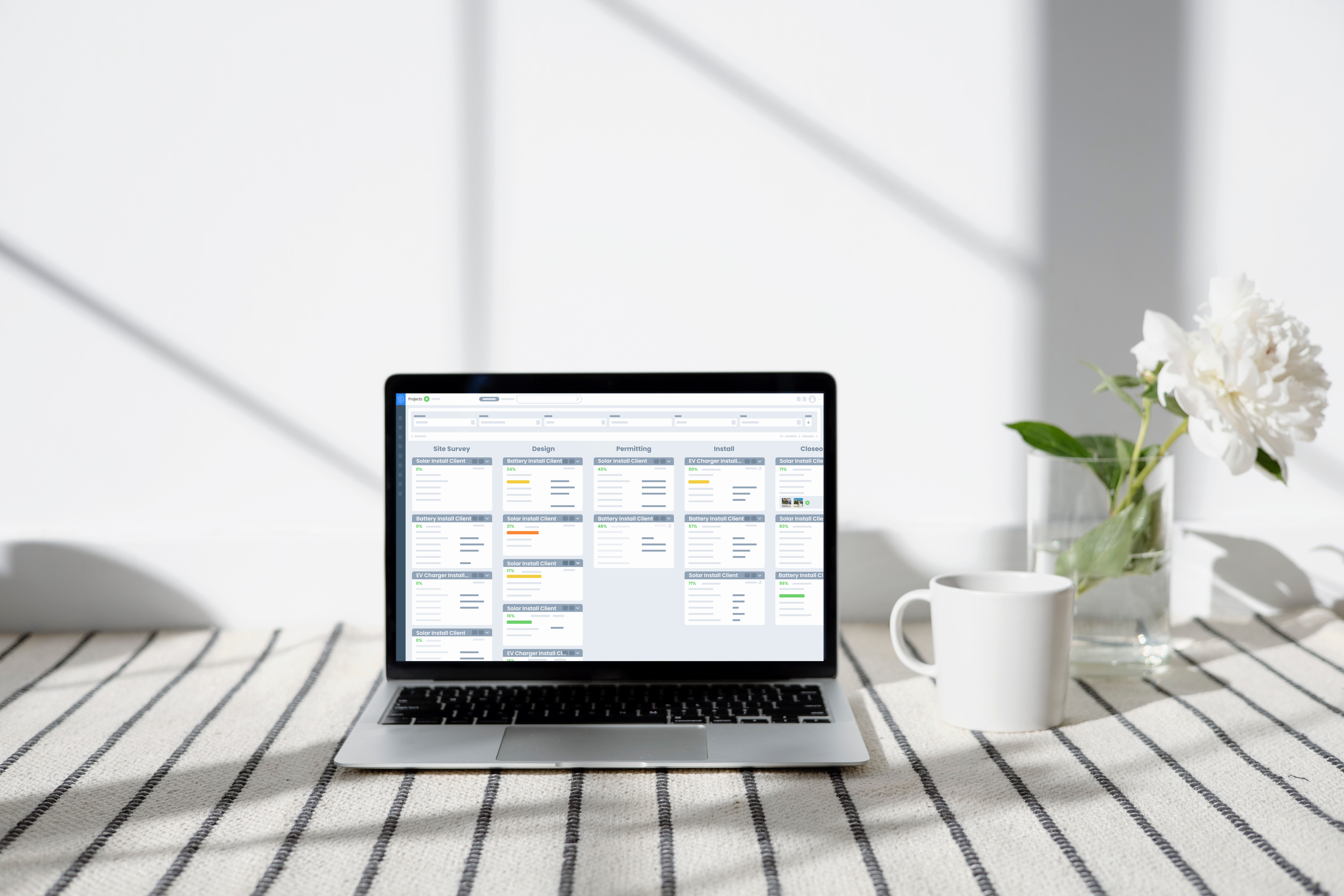 What is Solar Business Management Software?
Any tool that enables solar energy companies and solar installers to execute various and specific business processes can be classified as solar business management software. From collecting and nurturing sales leads, proposal generation, work order and service management, scheduling site surveys, and reporting. These platforms have the goal of improving productivity and efficiency across your solar operations.
Who Uses Solar Business Management Software?
As the renewable energy industry grows, more software solutions are popping up to help solar installers and contractors stay organized. It can be daunting to understand whether you need a solar CRM, solar project management tool, solar sales software, or something else entirely.
To help answer this question, you should consider listing out the business processes currently performed by your solar software stack and identifying any gaps. For instance, are you currently using a solar CRM that handles marketing automation, mass email campaigns, and contact management but is lacking visibility into your open work orders? Does your solar project management tool provide you with an overview of open service visits but won't allow you to schedule technicians from the same platform? Are your financing tools disconnected, leaving you to manually enter jobs and their costs into accounting systems?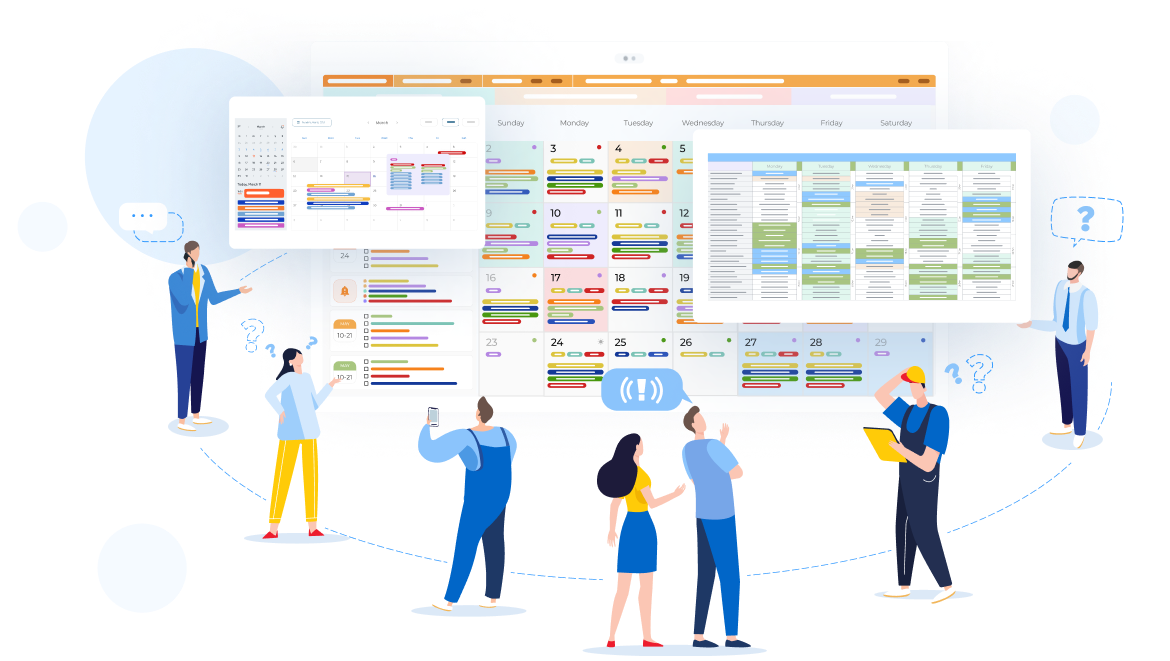 Scoop Solar Business Management Software
Scoop Solar® is an example of solar business management software that combines the functionality of a solar CRM with project management. Scoop is designed for solar energy businesses to help streamline communication, eliminate repetitive tasks, centralize project details and files, and protect against missing and delayed services, something that is more important than ever in today's remote and mobile workforce.
Scoop is the leader of mobile work Process Management & Automation (mPMA) technology and helps solar energy businesses, contractors, installers, and sales teams alike improve efficiency, reduce costs, and track project progress, allowing you to focus on what's most important – installing solar panels and providing excellent customer service. Scoop's pricing includes unlimited users to ensure all stakeholders, both internal and external, have access to up-to-date information as your projects progress.
Common Features of Solar Software
In order to mobilize, automate, and streamline your solar operations, consider solar software that offers features such as customer relationship management (CRM), work order tracking, and reporting and analytics, while keeping in mind the best-of-breed approach – to build a truly powerful solar software stack, you need platforms that can integrate and communicate with one another. This approach allows you to combine the best of your solar CRM and project management software, solar design, solar sales proposals, e-signature, accounting, and other solutions.
Below are some common features of solar software platforms.
Manage Lead & Customer Data
Your solar software should have the ability to add, track, and maintain lead and customer data, everything from client name, site addresses, customer history, upcoming installation and service dates, the assigned technician, and payment schedules, and more.
Scoop allows your solar sales team to create leads and opportunities with relevant solar CRM fields and apply methodical qualification checklists to each lead. This helps ensure required data is collected every time, including photo capture during in-person sales visits. With the ability to create regular follow-up tasks with each lead, Scoop also facilitates contact nurturing for your sales team.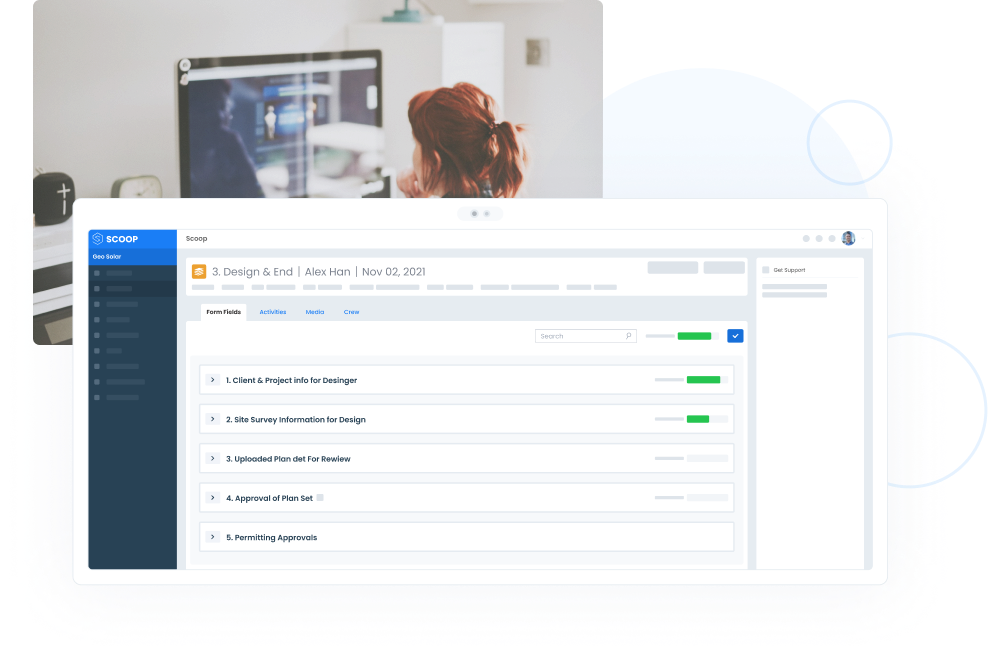 Solar Project Management
Due to the field-intensive nature of the solar industry, arguably one of the most fundamental features of software for solar companies is the ability to track and manage work orders in real-time. The Scoop platform gives you full control over assigning project leads, crew members, creating custom project phases, automated tasks, and more.
Once project phases are configured and team members have been assigned, Scoop's Project Tracker Live™ feature makes it easy for your teams, from sales and site survey, to design, permitting, and installation to access a reliable status of your projects. Unlike generic office-based project management solutions that rely on you to feed in data from multiple sources, Scoop's Project Tracker Live is cloud based and directly linked to the underlying phases and work activities of your projects – meaning your project progress reporting is always up-to-date, automatically and effortlessly.
Solar Document Management
As your solar company grows, document management is likely the last thing on anyone's mind. However, as more projects are added, project document management becomes an even bigger challenge.
Access real-time status updates as prospects go from lead, to proposal generation, signature, and their eventual conversion to a closed customer directly within the Scoop platform. Workflow automations make it easy to kick off solar projects, beginning with a site survey and ensuring a smooth handoff of all documents, contracts, and photos to your operations teams while Global Fields™ and Smart Form logic eliminate duplicate and manual data entry.
Schedule and Dispatch Jobs
Another feature to look out for is the ability to schedule field technicians and contractors. Ideally, your software solution can send real-time alerts to your project manager or field operations admin as new site surveys, field installations, or job closeouts are required, allowing them to quickly evaluate who is best positioned to take on this assignment based on crew availability and location.
The calendar and scheduling features of the Scoop platform are fully integrated, meaning your technicians and overall team are not required to access other tools for scheduling or viewing project and work order details. Assign administrative and scheduling roles to grant specific employees access to all calendars across your organization. Users with these permissions can view free and busy time slots, schedule hourly or multi-day events for others, as well as view the status of work as it is completed.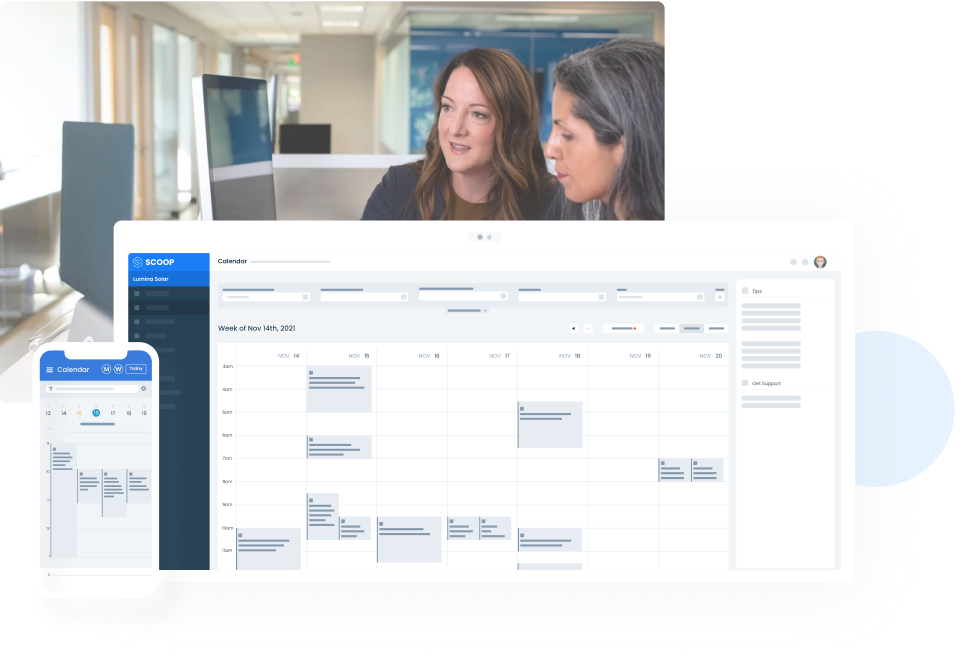 Integrate with Other Solar Software Tools
As mentioned earlier, it can be confusing to discern which solar software tools are required for your business and more often than not, your employees are using more than one solution. You may have solar CRM, solar design, scheduling, inventory management, or invoice and payment processing software tools in place. Rather than tear up your existing tech stack and search for an elusive "all-in-one" platform, your team should consider solar software that is able to integrate with one another.
As you scale your solar operations, you must ensure your teams make the most of existing data, processes, and software tools. For this reason, Scoop offers a fully managed and hosted integration service. GLOO™ integrations mean powerful access to all of your favorite platforms and APIs, so that you can have your tech stack provide an unparalleled user experience.
Mobile Access in the Field
An often overlooked feature, your solar software must be accessible and optimized for mobile devices to empower those working in the field. Not only should calendars and relevant schedules be accessible in the field, but the related work order, system design, installation instructions, and job site photo capture must also work smoothly on the mobile app. Another consideration is if the solar app can function without a reliable internet connection. Solar installation and service contractors need a system that is designed for field work and syncs information back to office teams through the cloud.
The Scoop Solar mobile app provides on-the-go access to in-field and remote workers, meaning site surveyors and field technicians that have just arrived at the job site can click through the calendar event within the app to access customer details, work order details, and more. As the site survey is complete, field workers can upload relevant data, photos, and videos on the fly. The mobile field service app is cloud based, ensuring this information is saved and synced from the mobile app back to your office staff to assess next steps.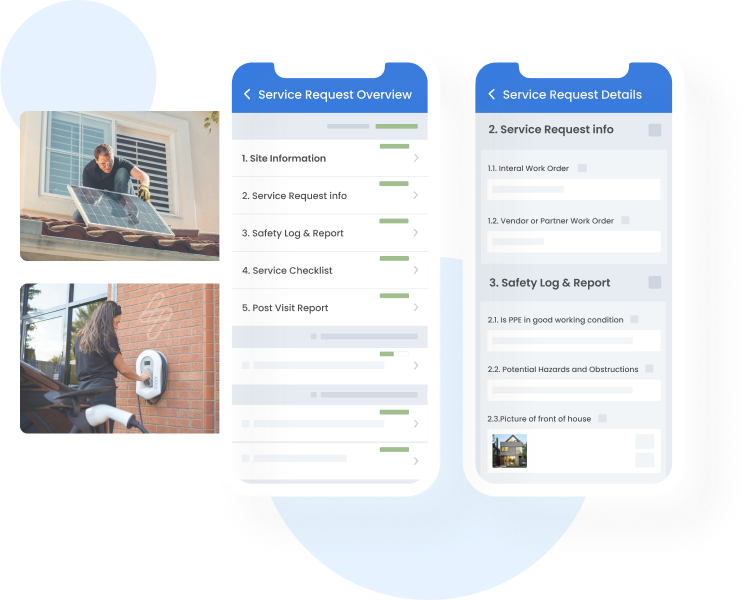 Powerful Reporting and Analytics
It is important for solar energy businesses to be able to visualize operations at a high-level with the ability to zoom into the details. From tracking deals and contract value in various stages of your pipeline, a map of client sites, number of service visits in a given time period, invoicing timelines for each project, and more. Users can create unique dashboards through Scoop's integrated analytics platform, LOOXY™ and can be leveraged to help make more informed decisions surrounding your installation process, materials, bottlenecks, and resourcing.
In conclusion, solar business software is the overarching category of software tool that enables solar energy businesses to streamline day-to-day operations. These platforms may include the functionality of a solar sales system, solar CRM, or similar services. To learn more about how Scoop improves solar installation processes and reduces costs for solar power companies, reach out today.
Solar Business Management Software FAQs
What are key features of solar business software?
Key features of solar software include the ability to manage lead and customer information, organize documents, and improve efficiency with workflow automation. These services should also work in the field and provide straightforward tracking of solar panel installations, service visits, and more.
What software do solar companies use?
Solar energy companies might use a variety of software tools, including:
Solar CRM
Solar design software
Project and service management tools
Proposal generation tools
Customer support system
Calendar and scheduling software
Accounting and financing software
…and more
Which software is best for solar systems?
The best platform for your company is completely dependent on your existing processes, system design, number of monthly projects, and team structure, as well as your financial budget to subscribe to multiple systems. Often the best solution is one that combines the strengths of a few best-of-breed solar tools using powerful integrations. When evaluating solutions, look for ones that provide maximum flexibility and configurability while minimizing the bandwidth requirements from your team to keep the integrations live and operational. GLOO™ by Scoop is an example of a hassle-free integration service.
Can you use solar software in the construction industry?
Since both renewable energy and construction industries rely on field services, there is overlap in many of the processes. For example, construction businesses also require a sales CRM to manage customers and their information, a method of tracking open and upcoming work orders, proposal generation, and dispatching field workers.
What are examples of solar software companies?
There are a handful of solar software companies that can help, depending on your requirements. Scoop Solar is the best CRM and project management tool for planning projects, scheduling employees and tasks, and managing resources, documents, and data. SiteCapture is a company that is focused on capturing job site photos, Blu Banyan is an ERP software to improve productivity, and Aurora Solar focuses on the solar design aspect of construction projects.
What is solar proposal software?
Solar Proposal Software helps installers with the generation of customized solar proposals for prospective customers to sell and sign up solar power systems. This software allows you to generate professional-looking and customized solar proposals in a short time, each with different prices depending on the customer needs.