A solar CRM should make your life easier. For solar installers and service providers, this inevitably means improving customer management, viewing real-time reports on company performance, and streamlining field operations. With so many tools in the market, how can you be sure which solar CRM is right for you?
The Scoop CRM was built for solar and renewable installers and its features are based on lived experience across field-intensive work. But before we get into the specifics, let's start at the beginning.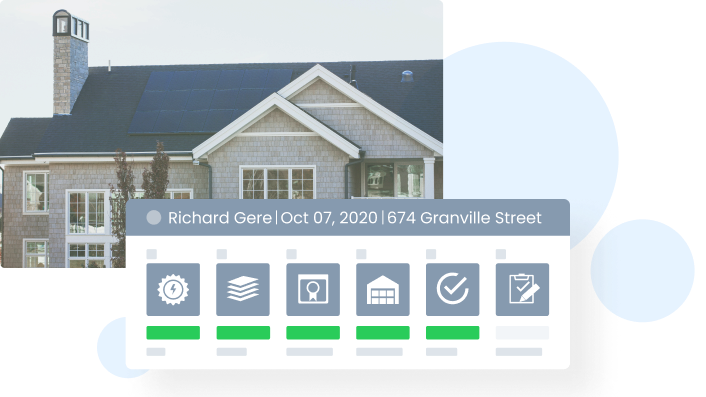 What is a Solar CRM?
For starters, CRM stands for Customer Relationship Management and is a software tool designed to manage your company's interactions and relationships with customers and leads. A solar CRM offers the same functionality, but with an added focus on the project phases and nurturing techniques used specifically across the solar industry. Due to the mobile and field-intensive nature of the renewables sector, a solar CRM should also be optimized for mobile devices to provide employees with the ability to easily access and update data in real time.
Who Should Use a Solar CRM?
Companies across all industries likely use some form of CRM software to organize data on leads and customers, gather business insights, and increase productivity. For solar companies, your sales reps or operations team are likely using this tool on a regular basis, but you may also consider granting access to your project manager, solar subcontractors and installers, and your customer experience team to foster collaboration across your organization.
What Are Solar Field Operations?
Solar field operations include any function of your business that takes place in or is related to in-field services, rather than the office. Examples of this are solar sales reps who sell to homeowners, project managers who perform a walkthrough of the job site, or technicians who install new solar panels or service old ones. In order to capture and track these activities within the field, solar companies often use something called Field Service Management (FSM) Software.
Benefits of a Connected Solar CRM
A connected solar CRM can increase productivity, organize installation appointments, track phone calls made by solar sales reps, and decrease the hours of time your company spends on lead, data, and document management. Below are some of the benefits of using a best-in-class solar CRM.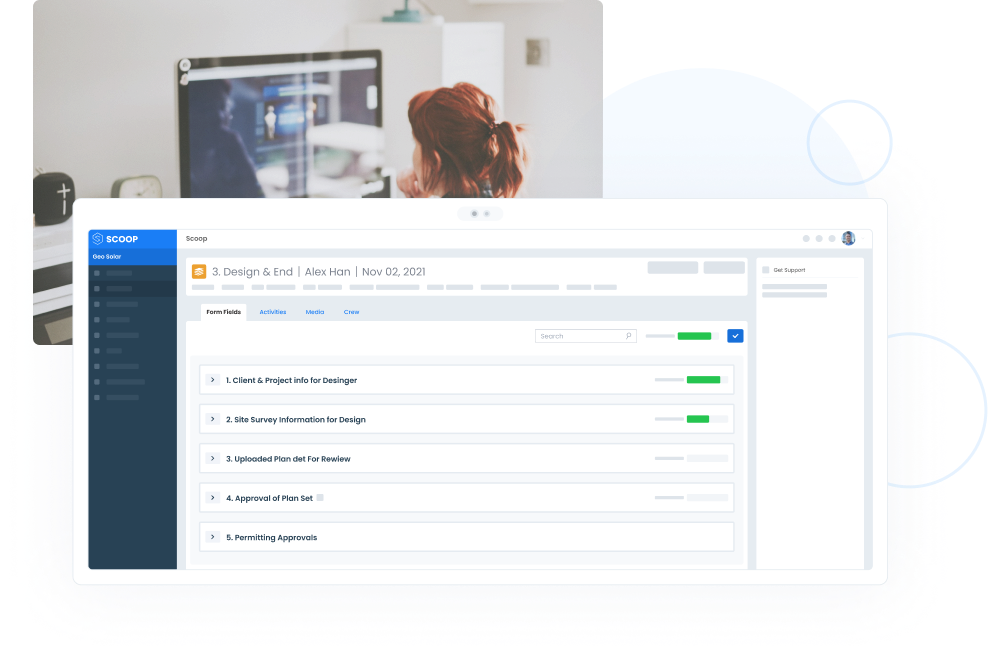 Manage Customer and Job Site Data
One of the most basic functions of a solar CRM is the ability to add, edit, and maintain customer data. For renewable installers, this likely involves everything from company name, key contacts, site addresses, job history, upcoming installation and service dates, the assigned technician, and more.
Scoop is a solar CRM and project management software that allows your solar sales team to create leads and opportunities while ensuring that relevant client, industry, and technical data is collected every time, including photo capture during in-person sales visits. With the ability to create regular follow-up tasks with each contact or company, Scoop also facilitates the support and nurturing of your customers over time.
View Ongoing and Upcoming Projects
Along with maintaining customer details and communication, your solar software solution should also have the ability to view the up-to-date status of any project. This is particularly important as you scale your renewable operations (and your team along with it!). As the number of projects, appointments, phone calls, site visits, and work activities increase across your business, you must have a solution that acts as a reliable, single source of truth.
Within the Scoop platform, the Project Tracker Live™ dashboard makes monitoring and managing projects, installations, and service visits simple. The dashboard is completely customizable, allowing your team to configure project cards, phases, and at-a-glance data fields. Save hours of time previously spent combing through disconnected tools, emails, and notes and instead, simply filter projects by team, installation phase, industry, location, field managers, and more.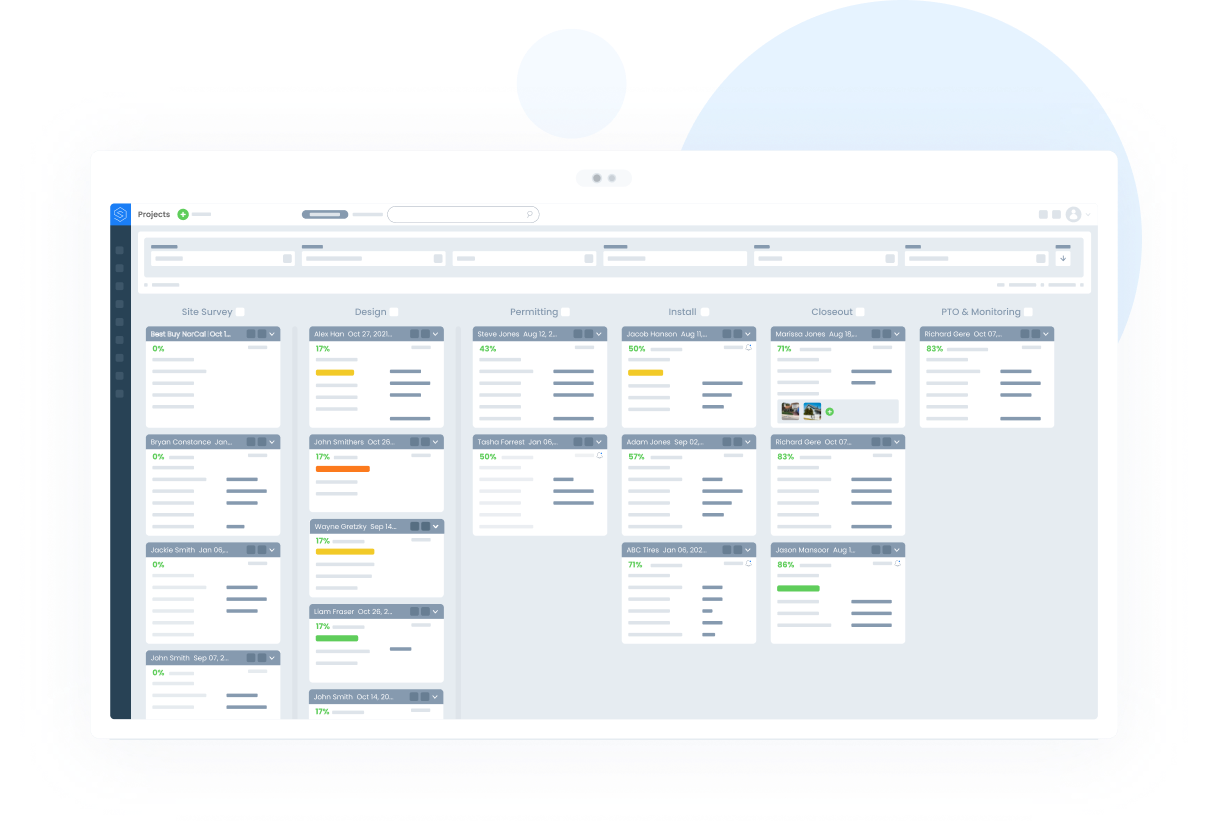 Organize Data, Documents, and Communication
As your projects and teams scale, project document management often becomes another challenge. Your solar CRM might include a variety of different media, from customer contracts to training and onboarding files, compliance checklists, and technical field documents. Outdated, duplicate, and missing files are a common productivity blocker – but one that can be avoided with the right software tools.
Scoop's Global Fields™ make project management easy by allowing your team to auto-populate data, media, and documents as projects progress through various stages, while Smart Forms™ provide you with the flexibility to add text, dropdown, numeric, address, signature, and other types of content within your work orders and project forms. These features are an easy way of improving file management and business productivity.
Related: Solar CRM Software: The Easy Way to Organize Your Data & Processes
Standardize and Automate Processes
Another way to improve operational field performance is to determine the standard and consistent processes across your entire business and automate them. Automating key activities can have a major impact on time (and therefore cost) savings. For example, rather than your sales reps spending time tracking down a single customer contract, alerting management of the new business, and having to send a notice to other teams in order to schedule the initial installation or service appointments, your solar CRM should have a way to integrate with existing software tools and automate these communications as soon as the contract is signed.
Scoop's Auto Actions™ are a faster way to create automated emails, task assignments, and work handoffs. As your project reaches key milestones, automatically email professionally branded PDF reports to your clients. Auto Actions can even trigger the next stage of your project and alert team members, partners, and customers. The proprietary GLOO™ integration service, on the other hand, is the key to building integrated field operations. With GLOO, you can integrate your solar CRM with accounting and invoicing software, e-signature, marketing, lead management, solar design, and other tools.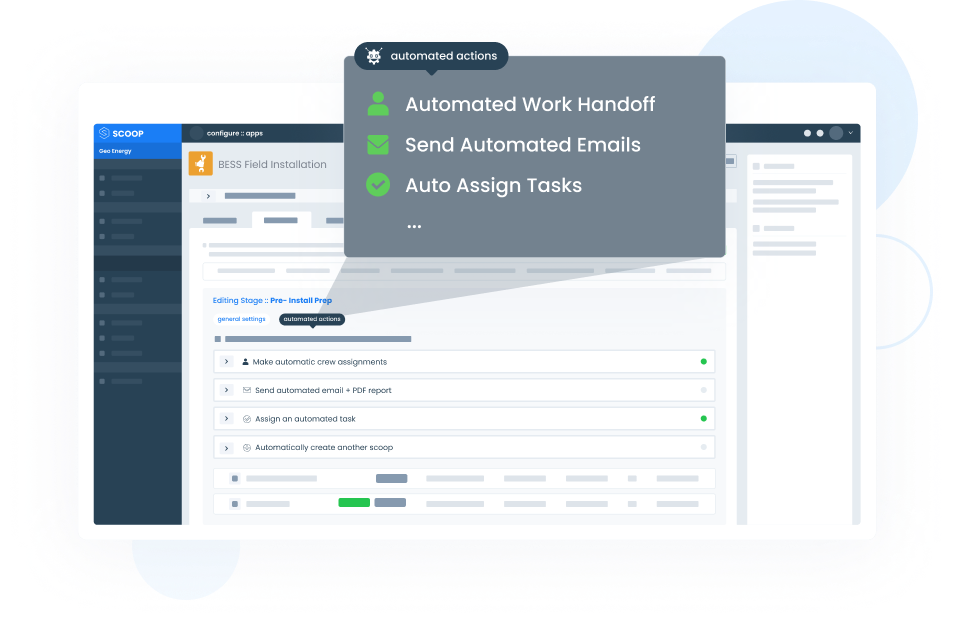 View Real-Time Analytics
In order to understand the impact of various sales activities on overall business performance, real time reporting is a must-have feature of any solar CRM software. Accurate reporting can capture opportunities to improve productivity, increase spend on certain marketing efforts, and bring in new leads.
Scoop's reporting and analytics platform enables growing solar energy companies to visualize high level business metrics as well as detailed field operations performance. The drag and drop reports make it fast and easy for your teams to leverage multiple insights in order to make more informed decisions surrounding your projects, tasks, resource management, user schedules, and more. View reports that answer questions such as:
What deals are my solar sales reps currently working?

How many new leads did we acquire last month? What about customers?

Which market has seen the largest growth increase in terms of customer installs?

Can I consolidate data and calculate monthly commission reports for sales reps? 

What does the map of this year's installations and service visits look like?

What is the average time to close for recent customers?
These performance reports make it easy to see the work being executed across your company and can easily be shared with your solar sales reps, the project manager, procurement teams, or executives.
Choosing the Best Solar CRM with Project Management
Choosing software tools can be a daunting exercise – so how do you know which platform is the best for solar CRM and project management? As far as features go, you want to look for the ones mentioned above and to support your field operations and optimize processes across your entire organization, you should be able to access any software tools while on-site through mobile devices.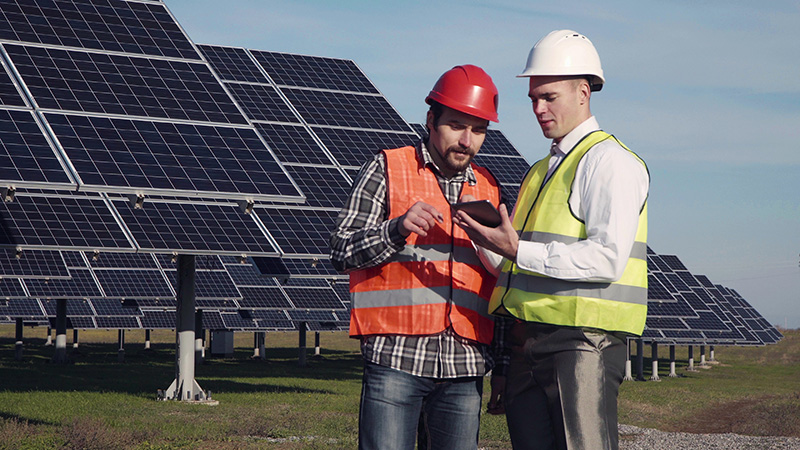 Selecting the right solar CRM can be the single best way to improve your field operations. If your company is considering new ways to manage lead and customer data, create installation appointments, track project phases, and save time by automating manual and repeat processes, it is probably the right time to evaluate Scoop as your platform of choice. To see the Scoop CRM in action, send us a message today.