Customer relationship management software (CRM) is a necessary tool in almost any business. Your CRM software likely contains a wealth of data – but are you using it to make informed decisions? Solar CRM software helps facilitate the organization and sharing of data across solar businesses while reporting and dashboards can be critical in helping your solar business identify bottlenecks and areas of improvement.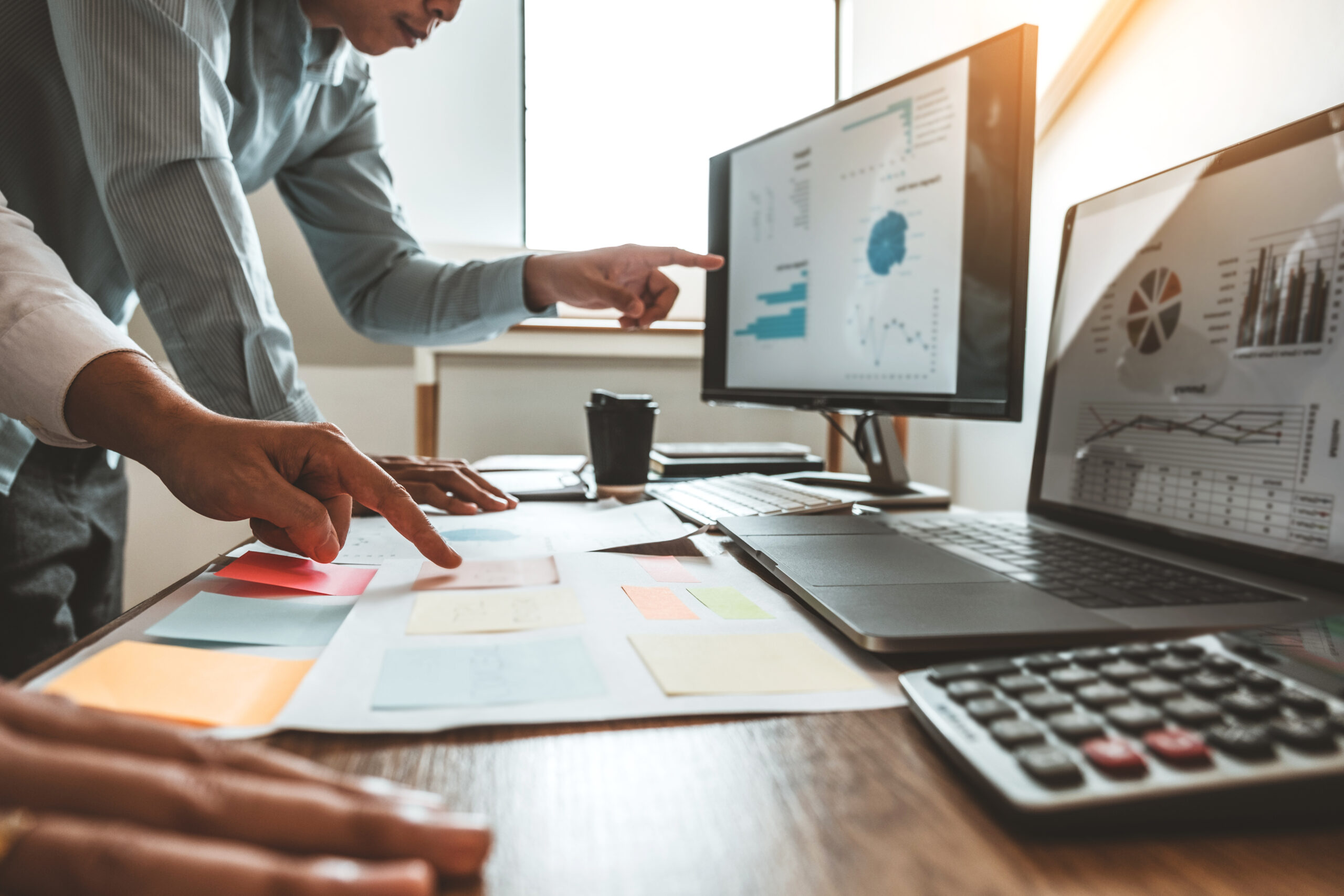 The Benefit of Using Solar CRM Software
Solar CRM software is a unique platform category that offers many of the same features and benefits as traditional CRM tools, including centralized customer data, streamlined lead management, improved sales processes, and enhanced collaboration and communication across your business. However, there are several advantages to using CRM software built specifically for the solar industry, including:
A feature set that was designed with solar projects and processes in mind
Data architecture that connects customer, project, and site information in an intuitive way
Mobile-first software design to enable solar installers, project managers, and service providers who primarily operate from the field
The ability to integrate with other best-of-breed technologies, including solar design, e-signature, or accounting and finance tools
A combined approach to customer relationship management (CRM) and project management
By leveraging a solar CRM, your solar company can optimize end-to-end operations, strengthen customer relationships, and drive sales growth by harnessing the power of centralized data, streamlined workflows, and data-driven decision-making.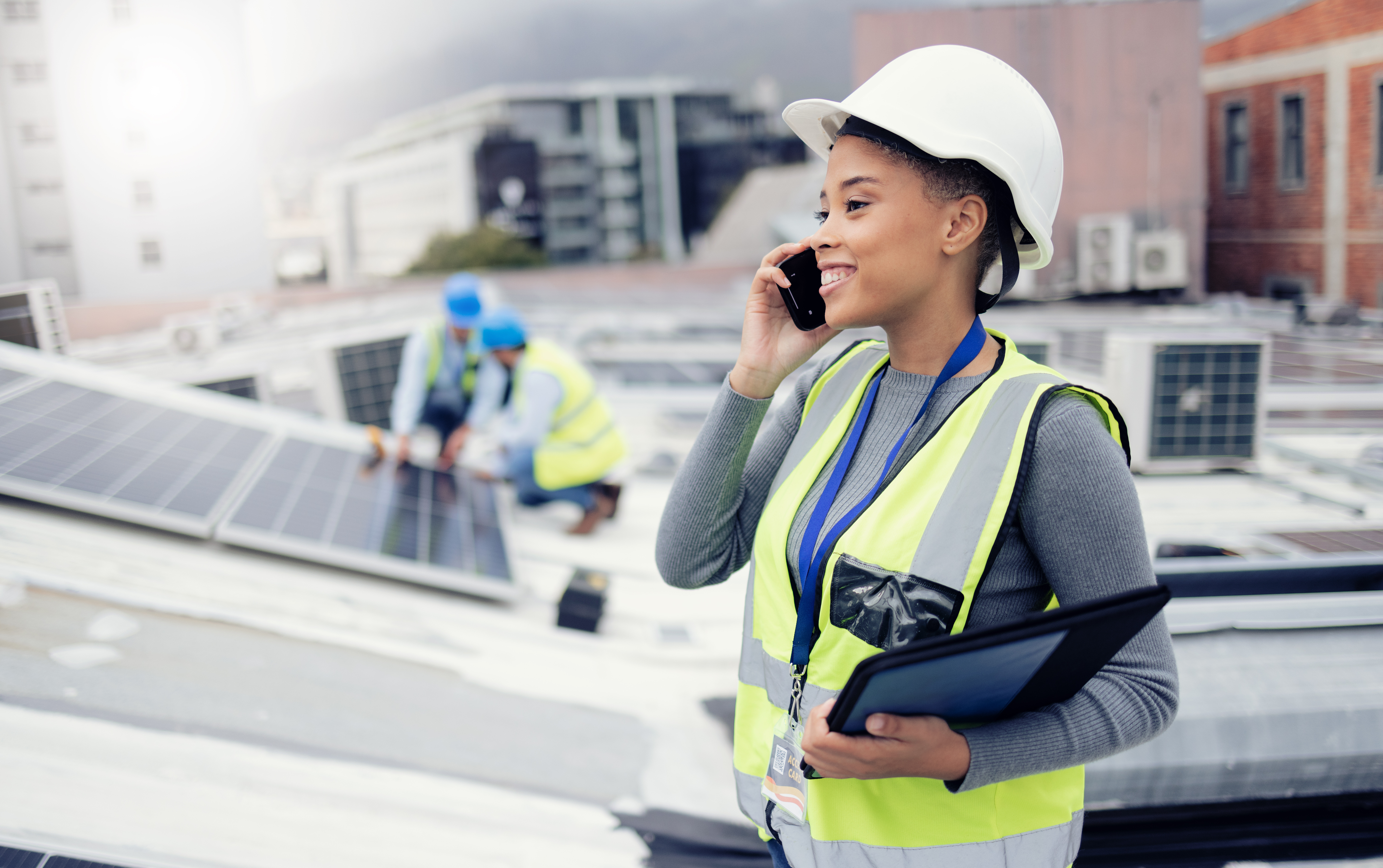 Tracking Key Metrics Across Your Solar Company
Data is an extremely important part of any solar business. Having up-to-date and easily accessible data allows your organization to improve efficiency, optimize sales tracking and processes, personalize marketing automation tactics, manage leads, and potentially even boost sales.
From solar sales to project management, installation, service, and beyond, there are a handful of key metrics that your solar business should be tracking.
Create Solar Sales Pipeline Reporting
It can be difficult to manage lead and customer data, let alone create holistic sales pipeline reports, when the information is scattered across various tools. By leveraging a solar CRM, sales teams can access vital information such as the activity of sales reps and partners, including lead generation, close percentage, and the status of deals in their particular sales funnel. This data can improve day-to-day sales processes as well as influence your overall sales strategy.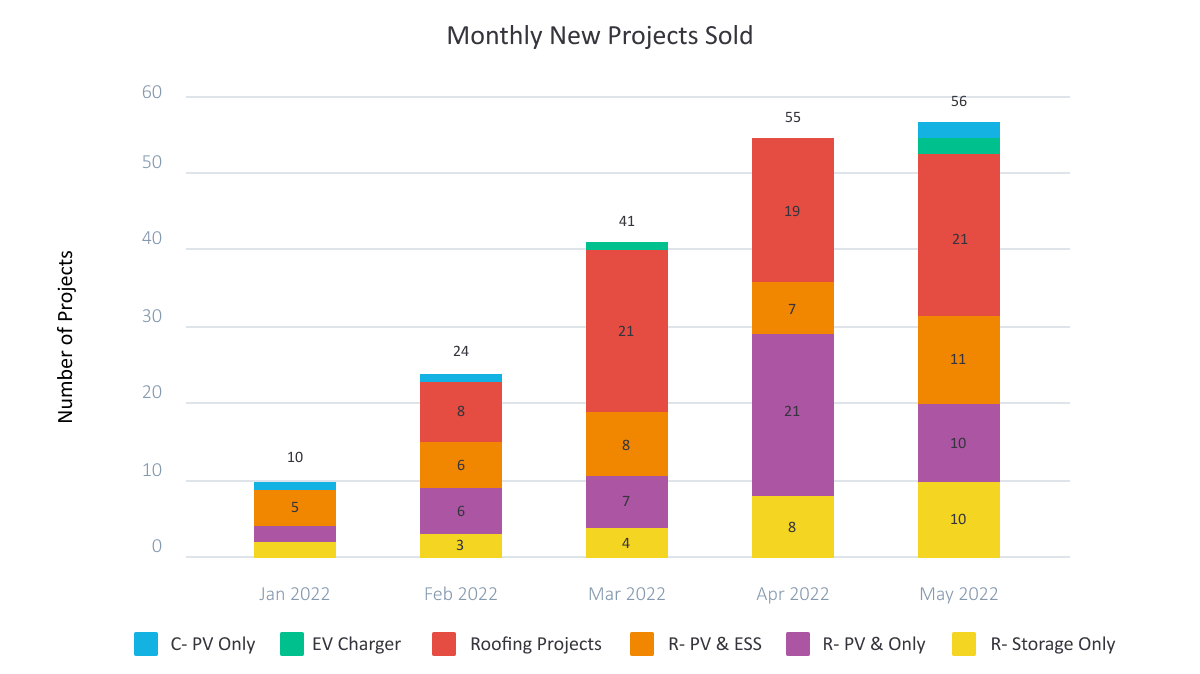 Solar CRM reporting addresses critical questions about the current workload of the sales team, enabling sales leaders to make informed decisions and provide valuable insights to sales reps such as:
The number of deals currently being worked on by individual sales agents and external sales partners
The stage of each deal within the sales funnel
The count and average duration of each deal, broken down by sales rep, project type, and more
The value of each deal as well as total value in a given month, quarter, or year
Activity count and types across your sales team, including phone calls, emails, proposals generated, and more
Monthly commission reports for your solar sales reps
Visualize End-to-End Project Management Funnels
Reporting and analytics play a crucial role in visualizing end-to-end project management funnels for solar companies. With automated project status and workflows, solar project managers can eliminate the frustration of chasing stakeholders for updates, relaying that information to other team members, and managing timelines, all while juggling a number of other tasks.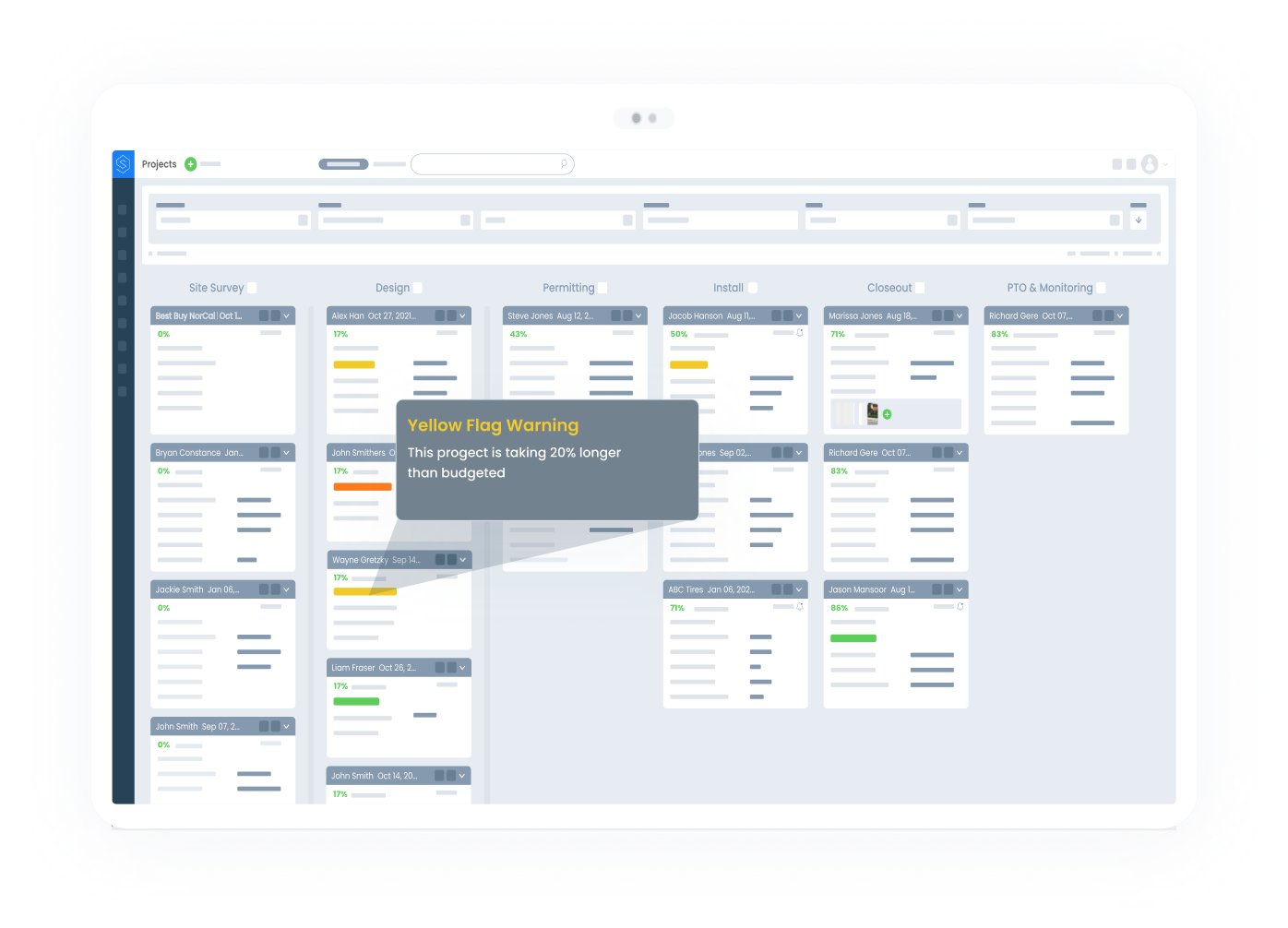 Scoop's Project Tracker Live Dashboard offers real-time monitoring of projects, installations, and service visits. The dashboard serves as a single source of truth, offering reliable project status and customer information across your entire business as well as automating task management. By utilizing Scoop's Project Performance Analytics, solar companies can measure project performance against budgeted and historical durations, identifying underperforming projects and facilitating process optimization.
Monitor Production and Installation Forecasting
Having a clear understanding of project statuses is crucial for solar production and installation teams – both "big picture" status across the organization, as well as the progress of individual projects. Clear and accurate data is also imperative in order to effectively collaborate with other internal teams.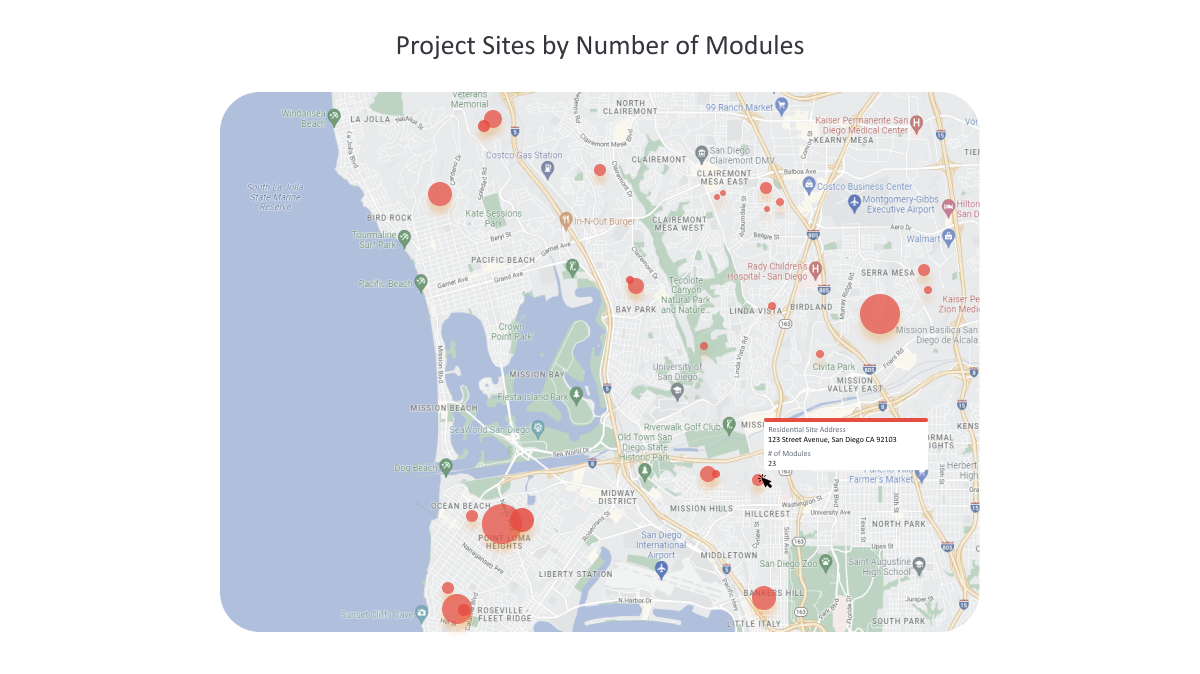 As solar installers work, data is updated and maintained in your solar CRM. This can result in robust reporting on items such as:
A pipeline view of current projects in every stage and across all lines of business
Associated details on any given set of installation projects
Materials required in early project phases to communicate with inventory teams
Contracted value sold currently in each project phase
Payment timelines and due dates for each project milestone
Installation project locations to allow scheduling and rescheduling crews as effectively as possible
Build Robust Solar Service Reports
Data and analytics can have a significant impact on making service visits more efficient for solar businesses. In order to make data driven decisions, solar leaders must be able to access up-to-date reporting related to solar service and O&M functions.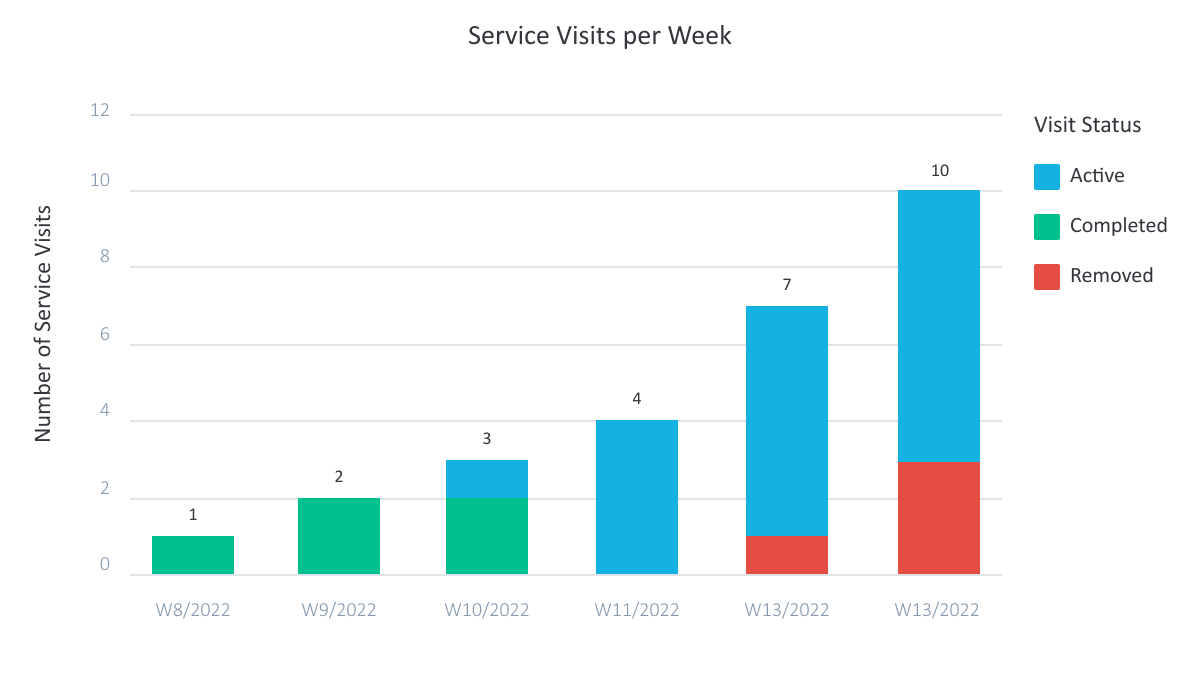 The good news is that in a typical solar buyer journey, many steps have been taken before a service visit is required so you likely have existing customer data already housed within your CRM software. With solar CRM reporting, however, you will be able to create specific service reports, such as:
The number of service visits being completed by my team per week, month, or quarter
The ratio of service visits covered under warranty
The number of service visits that require parts replacement
The parts and materials being replaced the most often
The average time per service visit for my crew and how it is trending over time
The number of scheduled versus unscheduled service visits
A consolidated view of the technicians scheduled across various dates
Integrated Reporting for Automated, Real-Time Accuracy
Integrated reporting within your solar CRM software provides you with real-time accuracy without the manual lift. As data is updated by your team, these changes are immediately reflected across your reports.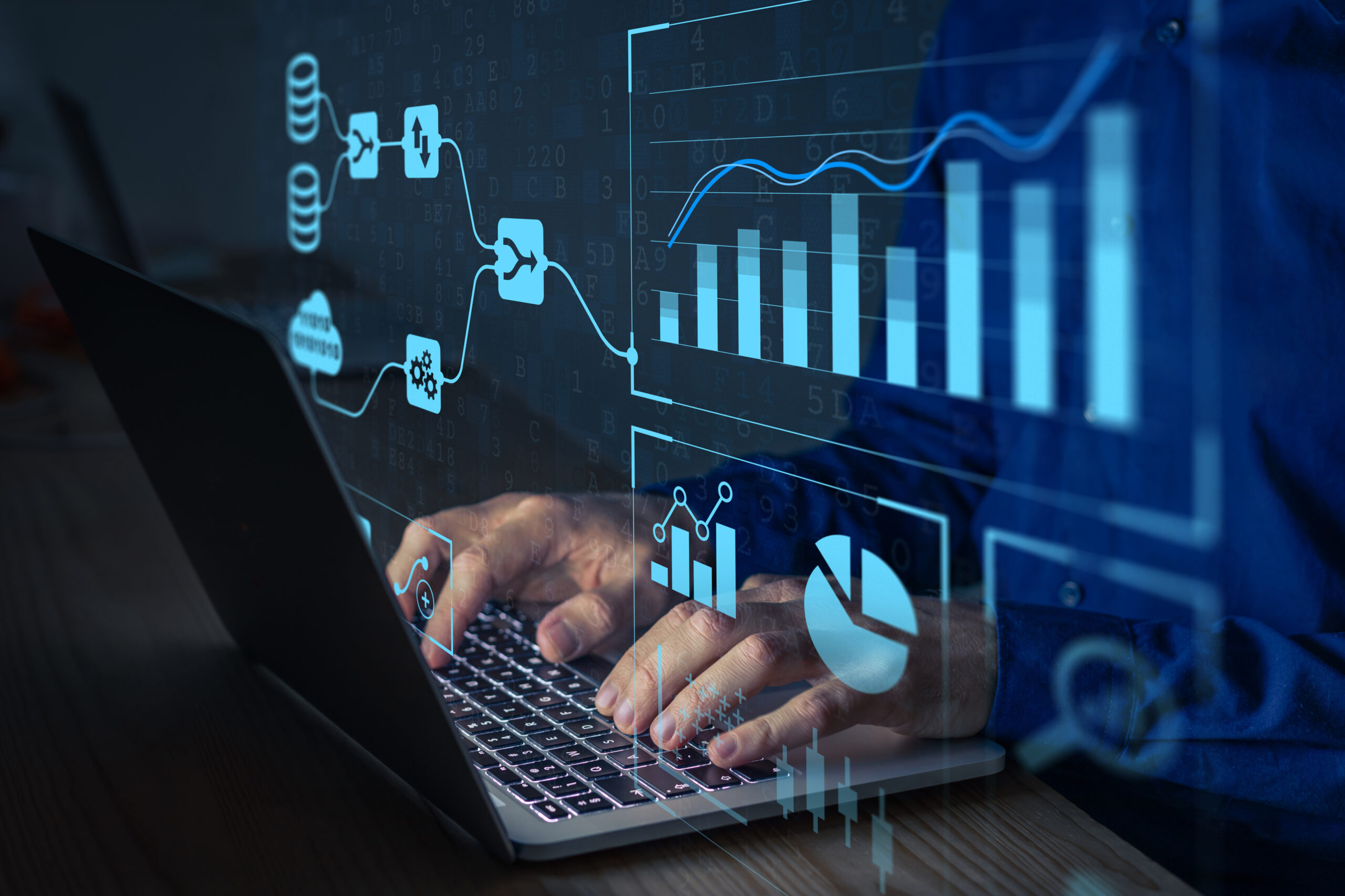 It is highly unlikely that your solar business is only using a single platform across all business functions which is why the ability to integrate your solar tools (and your reporting along with it) is so important. By connecting your solar CRM with other software, you can eliminate repetitive tasks, increase productivity, and streamline workflows across your entire pipeline.
Related: 3 Dashboards Every Solar Executive Needs
LOOXY Analytics by Scoop
LOOXY by Scoop™ is a powerful reporting and analytics platform that is tied directly to your solar operations, projects, and workflows. Solar companies can create an unlimited number of dashboards and customized reports that allow you to make data driven decisions. These customizable reports are designed to drive efficiency and can help you identify ways to generate new solar leads, fine-tune your sales processes, monitor deals, and increase productivity.
LOOXY offers a drag-and-drop report builder, flexible data filtering, and the ability to export and share reports with your solar sales team, customers, and other stakeholders.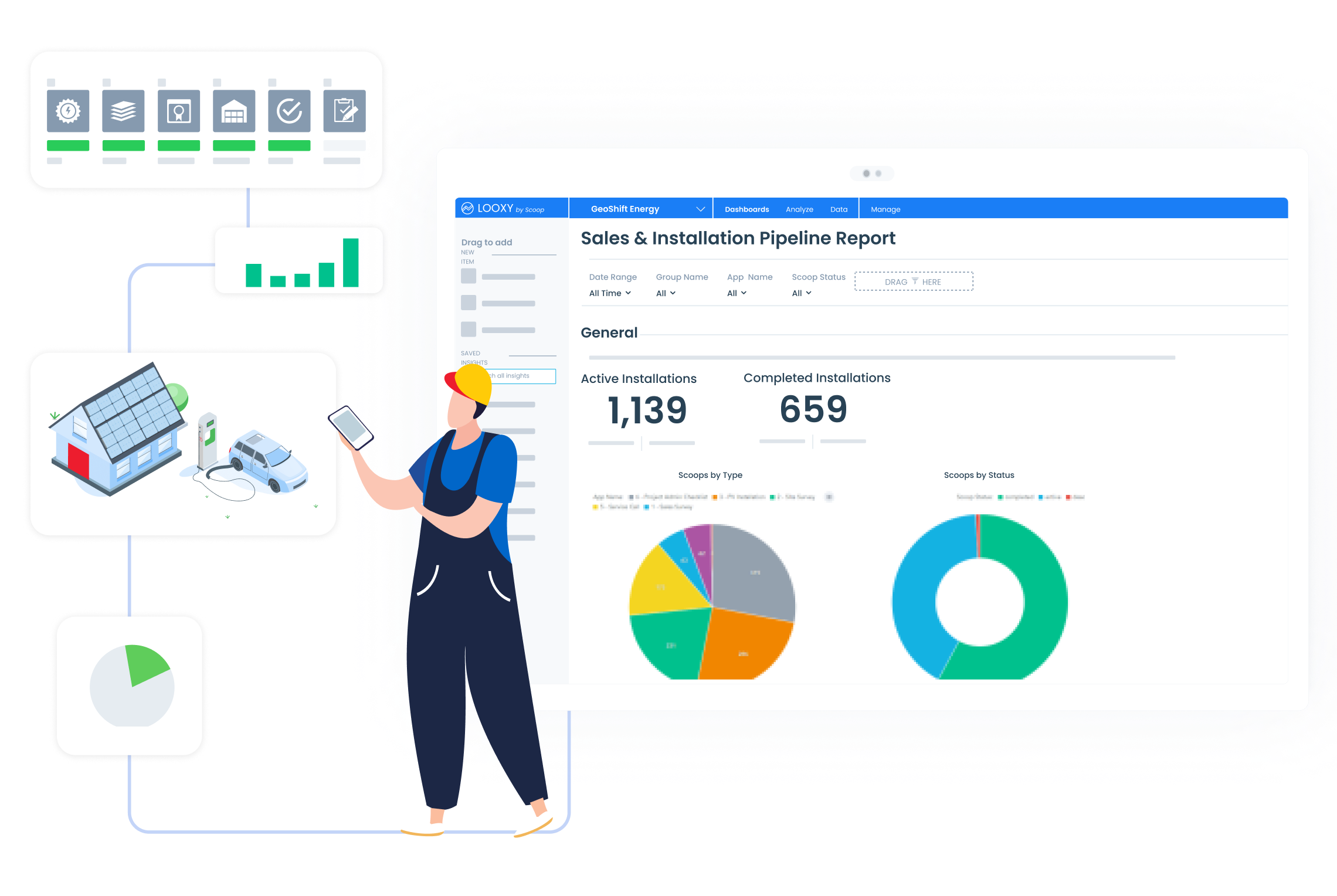 If you are interested in learning more about a unique CRM for solar or reporting and analytics specific to your solar business, please get in touch. Contact us today or book a demo to see Scoop's solar CRM software in action.
Solar CRM Reporting FAQs
What is the best solar CRM?
The best CRM for your solar company will largely depend on your company size as well as the other software platforms you are currently or intend on using. Scoop Solar is a leading provider of project management and CRM for solar companies, offering an intuitive platform for project pipeline management, the ability to track deals, manage interactions, view project details, and improve the overall customer experience.
What are the best CRM software features?
If your solar company is searching for a CRM software, you want to check off as many of these boxes as possible:
Intuitive lead, deal, customer, and pipeline management
The ability to track tasks, phone calls, communications, and appointments
Built-in functionality for sales teams to create and send customer proposals
View ongoing and upcoming project, installation, and service dates
Deploy automation to minimize redundancies and increase productivity
Report on solar sales, customer experience, and overall business functions
Scalable pricing model that allows your solar operations to scale as your grow your team
That being said, the best of breed software approach dictates that one single solar CRM platform may not include all of this functionality – and that's okay. As long as your core software tools support two-way integrations, you can benefit from a powerful solar software suite.
What is the difference between lead generation and lead management?
Solar lead generation is the process of searching for users or customers who may potentially be interested in your product or service, while lead management is the process of nurturing these leads. In both cases, the goal is to convert these prospects into happy and paying customers.