At Scoop, we've spoken with hundreds of solar professionals. A recurring theme in these conversations is the challenge of finding a system that allowed their field and office, internal and external teams to collaborate seamlessly and scale with their business.
Here were the 5 challenges that kept coming up in their quest to choose the right solar project management software:
Challenge #1: Most project management software is generic
Most solar companies have 'grown up' over the years using a number of general purpose tools – often added without explicit planning but reactively as needs have come up. These solutions are often quite fragmented and involve a combination of spreadsheet-based solutions, CRMs, generic office-based project management tools and typically a few form or data capture tools for field pictures and labor hours logging.
Clearly these solutions were never intended for the specific needs and challenges faced by solar operations and teams, rather designed and built with an imagined broad industry and almost always office-based audience. The problem is that these generic solutions lack features that solar operations and providers so desperately need to streamline and connect their work processes from the initial sales visit to site survey, field PV installation, battery installation, job closeout, PTO, and service and preventative maintenance. Given the highly distributed and often times outsourced nature of work in solar these processes must be accessible anywhere, easily understandable and executable with minimal training required.
Generic software solutions don't provide automated handoffs of solar data and documents from one team member to another – resulting in huge amounts of data re-entry. They don't provide a fully integrated system for taking pictures on site, reporting issues and doing remote pre site-departure reviews – resulting in the need for manual uploads to online folders, missing pictures, and repeat truck rolls.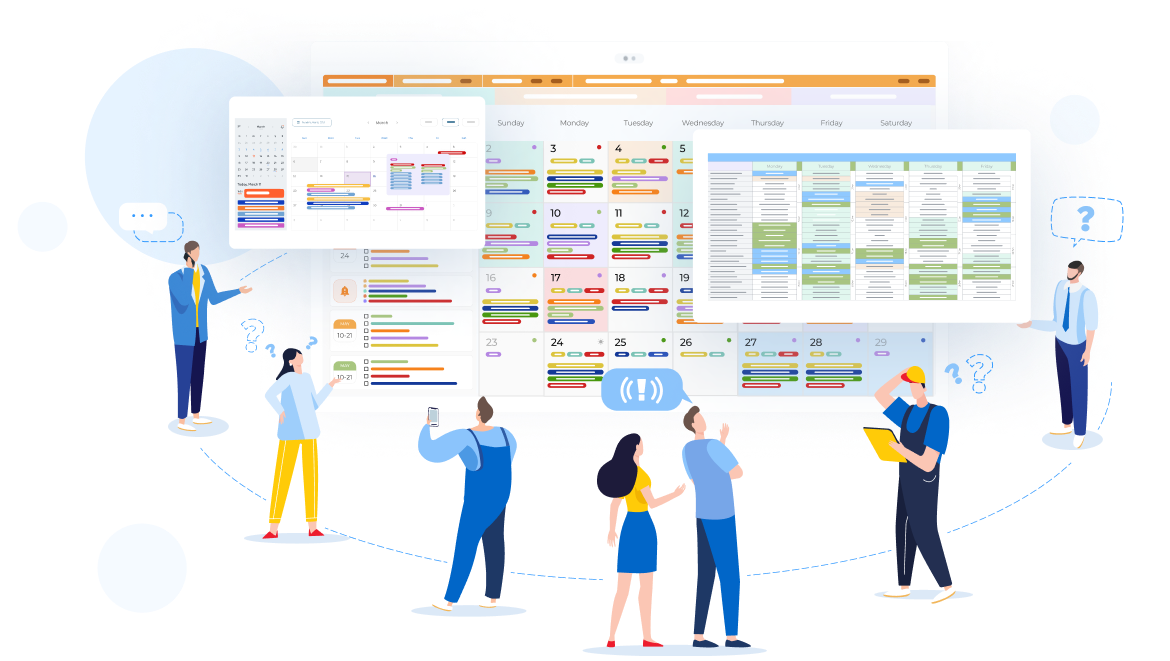 The mobile apps (if they exist) lack availability in remote locations for crews that may not have access to robust Internet connections. They don't provide automatic generation of custom client-facing PDF reports or automated client updates & communication, customizable integrations with your solar design and proposal tools, and many, many more features that are vital and game changing for solar operations.
Solution: Adopt specific solar project management software
The world of IT is increasingly moving away from generic "all-in-one" platforms towards highly capable, industry focused best-in-class platforms. The advantage of solar specialized software like Scoop is that not only on the platform side we have developed solar-specific apps and features for every work stage, in addition, our entire team speaks solar. Whether it's commercial, residential, O&M, utility-scale or community solar, the entire Scoop team understands solar workflows and processes in companies of every size. In fact we are able to provide your team with our experience with solar best practices gleaned from years of working with the world's fastest growing solar installation and service providers.
Get an information kit about solar project management software here.
Challenge #2: It's difficult to find the time to implement new software
It can feel overwhelming to bring on new technology to any company. Most CRMs and ERPs can take months and sometimes years to implement when factoring in the time and countless professional services and consulting hours it takes to fully customize these tools from their initial generic state to deliver the solar specific functionality you need for your entire team. Many solar companies fall behind their peers because they are unable to commit to this effort (not to mention the huge capital investment needed) when they are extremely busy with fulfilling projects.
Solution: Go with a software provider that is focused on your industry and understands solar operations
These solar software providers offer you a vastly accelerated implementation timeline because 90+% of the solar industry's best practice apps and templates are already available and essentially 'baked into the cake' from the start. As reference, Scoop's solar project management software can be up and running in 4-5 weeks on average.
With our streamlined Easy Launch Program which features your own dedicated solar IT solution specialist, the commitment of resources from the customer side is relatively modest. It involves one person (manager or operations lead) from your team who can spend ~4 hours per week in the first 1-2 months month to work closely with your solution specialist, provide input and get trained with the platform and your account's configuration process.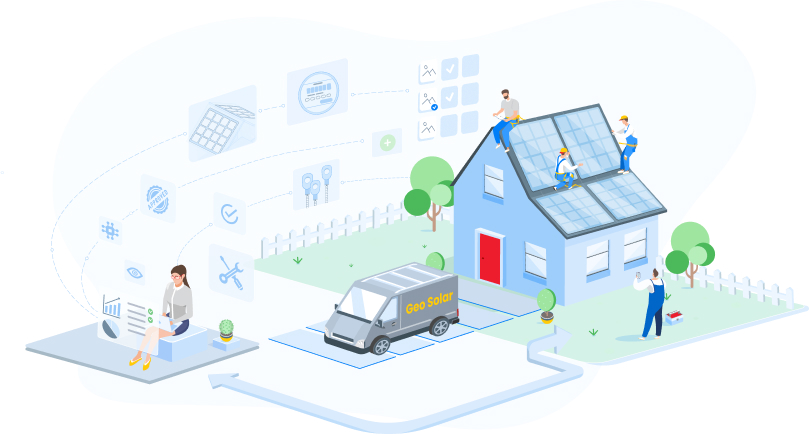 Challenge #3: You're hesitant to abandon existing systems for new software
Let's say your sales team is using Salesforce or a CRM that works for them. Prior to implementing Scoop, many solar leaders were under the impression that they either had to stick with their CRM or go with a completely different project management tool and re-establish all working processes. Given the modular and highly configurable architecture, digital transformation with an mPMA platform (mobile work Process Management & Automation) such as Scoop is much more flexible.
In fact, Scoop often acts as the hub to connect data and workflows across the existing CRM (e.g., Salesforce, Zoho, Hubspot), your solar design and proposal software (e.g., Aurora, Sighten, Solo) accounting (e.g., Quickbooks, Sage) and other business tools. In essence, Scoop helps you orchestrate your entire workflow for solar project management and CRM across your chosen best-in-class tools.
Solution: Choose a solar project management software that can integrate with existing tools
Upgrading to solar project management software doesn't mean your team needs to give up systems that are working for them. Scoop has a library of 500+ integrations that fast-growing solar companies are using to get all their business tools to talk to each other.
Combine your solar project management software with your CRM, solar sales, accounting, design, and other business software platforms. Our unique integration service (GLOO™) goes beyond superficial integrations and delivers full-customized field mappings and workflow logic. Furthermore, Scoop's GLOO integration service is fully hosted, monitored and managed so you'll never have to worry about spending hours troubleshooting broken integrations.
Challenge #4: Getting buy-in from your team
Having experienced the struggle with using generic software, is it any surprise that teams may be resistant to change? However, the fact remains that you can't growth your operations profitably if your team is wasting precious hours doing manual steps and transferring information from one system to another and dropping the ball resulting in poor customer satisfaction. So how can we resolve this stalemate?
Solution: Allow your teams to preview the solar project management software
Scoop is an advanced mPMA platform that provides each team member with their own easy-to-user bespoke Work App. To help you paint this picture and generate buy-in across the team, we have created a series of videos that helps your entire solar team get comfortable with new solar project management software.
There's a video for every team member to see how project management software makes their jobs easier from management (project and operations managers), sales (solar sales consultants and site surveyors), designers & permitting coordinators, field installers, service techs and more. We also offer custom platform demos that are catered to your business and the specific needs of your team.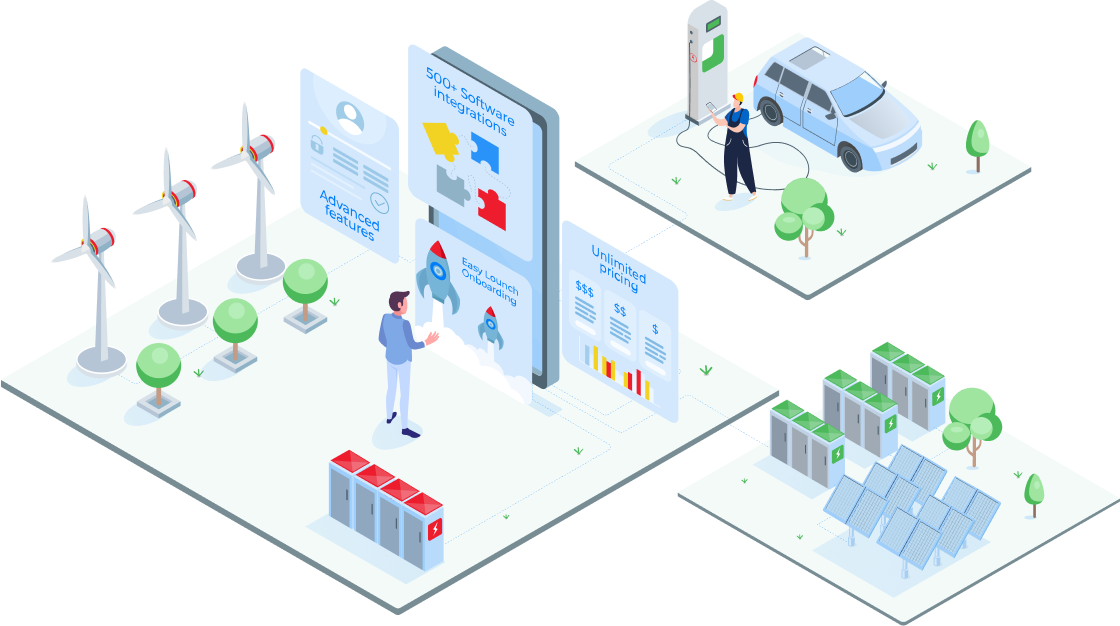 Challenge #5: Inability to find all the functionality you need in one platform
The aspirational "all-in-one software" has and continues to be a myth. When you think about it, it makes sense. No software vendor (regardless of how large and well-known the brand) is going to have the bandwidth, creativity, mindshare, and most importantly focus, to build the best-in-class functionality your team needs and deserves in all areas.
The idea of having an all-in-one solution of course is very attractive and many large software vendors' sales reps will gladly present this vision. But in practice, the reality often falls far shorter than the promise resulting in months and months of delays, costs and missed opportunities.
Solution: Create a powerful tech stack by integrating best-of-breed software
Using this method, businesses focus on sourcing best-in-class functionality from multiple software vendors and then seamlessly connect all their business tools.
A best-in-class solar software solution helps solar companies connect their CRM, Design, Sales, Permitting, Accounting and other business tools to achieve their "dream tech stack." Read more about how best of breed solar IT software helps solar businesses achieve growth.
Scoop's solar project management software helps companies get the best possible functionality today, while not becoming captive to any one vendor and thus "future-proofing" their entire technology stack. If a tool does not perform or does not scale as your operations grow, only that component needs to be swapped out, instead of being completely captive to a monolithic all-in-one solution which makes it extremely difficult to change.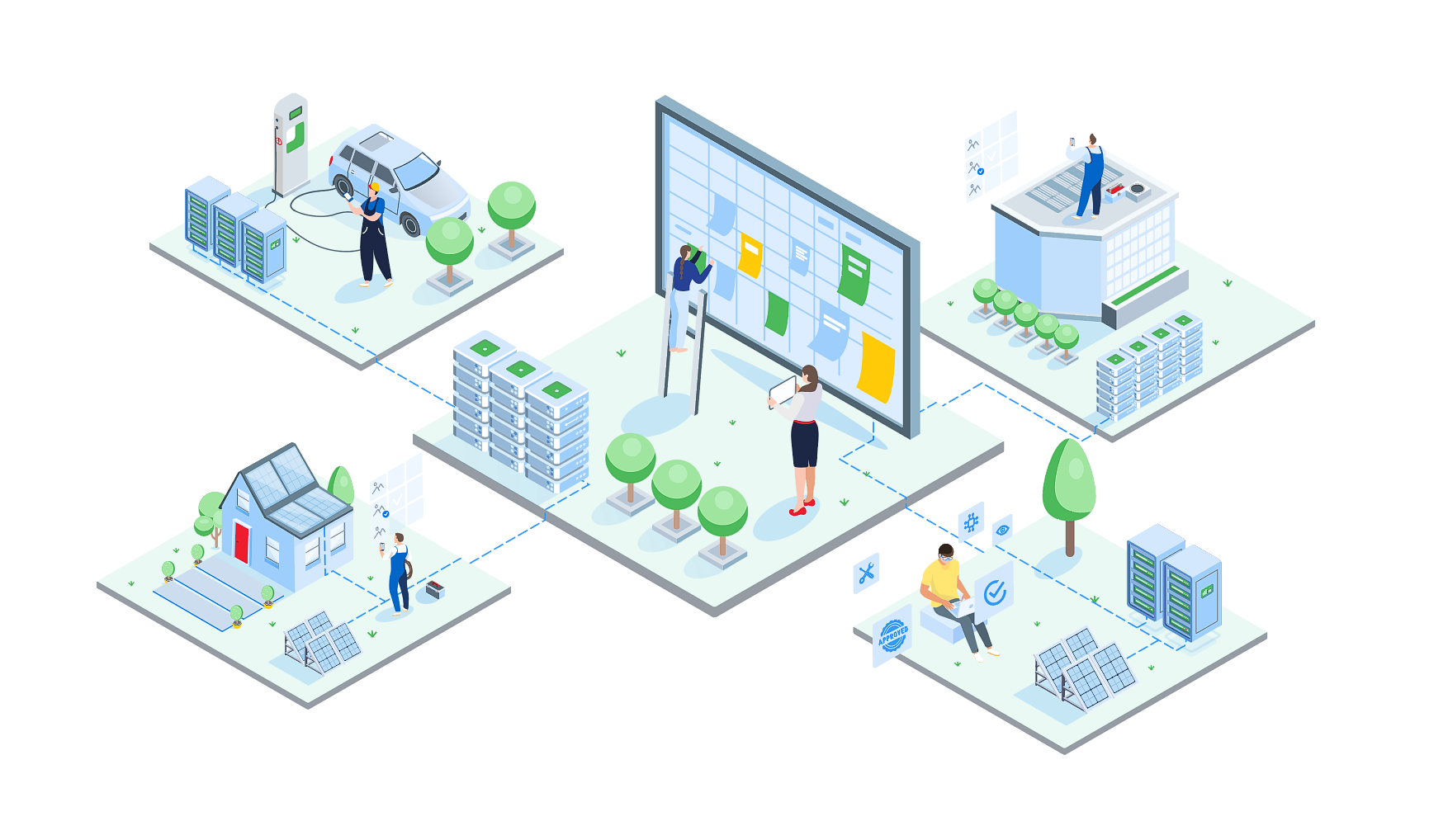 Signs that you urgently need to upgrade your Solar Project Management Software
If you're feeling like your current solar software solutions are terrible, you're not alone. Oftentimes the signs are there every day, but teams find themselves using time-consuming workarounds to complete tasks correctly. You will likely identify with some of these software pains that growing solar companies are facing:
Early warnings
Payments don't come on time because invoices aren't issued when they should be. This is a result of your invoicing tool being disconnected from your solar CRM or project management tool.
Client communication is falling behind and doing this manually is not scalable. This result in more incoming calls and emails from customers.
Crews are not updating their work progress on time. Whether it's logging parts and labor or marking a task as completed, crews struggle to update quickly because they have to use multiple disconnected tools.
Everything just feels like it can be faster. Most solar companies are manually transferring information from one system to another or using multiple systems to look for information.
Consequences of leaving your solar software 'as is'
Saying no to new projects because you don't have the systems and capacity in place to take on more projects or service.
Work orders are not completed properly/quality checklist items are missed leading to repeat truck rolls. You're likely also realizing at this point that there's been less client referrals recently.
Difficult to collaborate with subs and contractors, resulting in even more work and manual steps for internal teams to track what was completed.

A summary of 5 tips for choosing the best Solar Project Management Software
Tip #1: Look for a fully integrated solar project management software solution. Allow your CRM, Design, Finance and Project Management software to talk to each other. Read more about the benefits of integrating your software tools.
Tip #2: Shortlist a few managers who you think would be great at leading the onboarding process for software. Remember, Scoop implementation typically requires only about 4 hours per week for 1-2 months from one key leader.
Tip #3: Get your team involved. If you are a manager, bring key leaders in when deciding to implement software. Get an information kit about Scoop's solar project management software that you can forward to your team.
Tip #4: Stop delaying the software decision – with the rapid growth in solar, you don't want to miss out on taking on more projects or risk delaying the progress of current projects and jeopardize cash flow. Let's face it, you are never going to be less busy.
Tip #5: Avoid falling for the all-in-one sales pitch and myth (see above).
Tip #6: Upgrade your software before onboarding new team members or working with new subcontractors. Avoid wasting time having new team members learn two systems when they can focus on one.
Don't miss out on growth opportunities when you have the chance to optimize your solar operations now. Delaying the implementation of solar software not only leads to less sales but teams could become disengaged and worse, frustrated with using disconnected tools. Let your solar sales consultants drive sales, let your solar designers be designers, and give your team a strong tech stack that is poised to achieve growth.
Next Steps: