Progress reporting seems straightforward enough, right?
Your customer wants to know how much longer until their solar panels are installed. Your co-founder wants an update on the sales progress of a key client. Or maybe your finance partner needs to know if the invoices for a certain solar project are going to get pushed into next quarter. These all seem like mundane requests that solar teams see almost daily–but they're far from innocuous.
In reality, these everyday requests are causing extraordinary inefficiencies. In fact, solar project progress reporting eats up 30% of your Project Manager's weekly bandwidth. That means 1.5 days of each of your project manager's work week is being spent on progress reporting.
Where is all of that time going?
It's spent chasing necessary information across too many non-standardized sources, and then consolidating the tangled nest of information that needs to be formatted and cleaned up before it's sent off to stakeholders. 
Solar Companies Struggle with Inefficient Solar Project Progress Reporting
In every client intake interview we conduct with solar companies, this same pain point of inefficient solar project progress reporting is identified time and time again. We heard about hundreds of installs with the same fragmented reporting processes, driving the same breakdown in communication between teams. Project managers struggle to turn over stones for key information that's either locked in multiple locations, not labelled correctly, or missing entirely.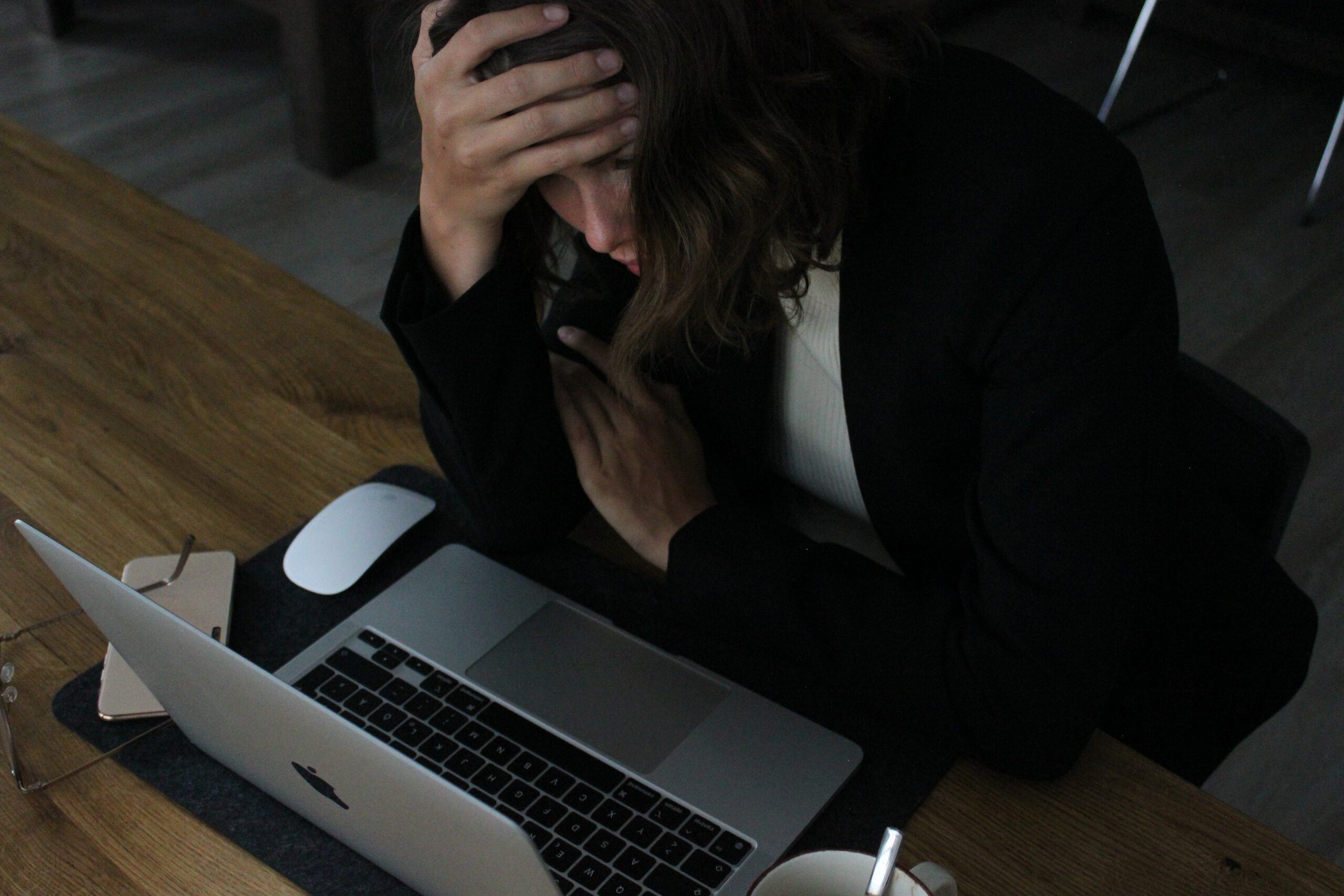 This scramble to locate, collate, and communicate scattered information is difficult for even just one progress report. Consider the fact that just one project sees multiple instances of inefficiency, across multiple phases, across multiple team members. The interplay between Design, Engineering, and Permitting alone sees hundreds of hours of labor spent towards locating, coordinating, and communicating key information from each group for a single progress report. 
Now multiply that time spent across tens or even hundreds of projects each month. 
Exponential Inefficiencies in Solar Lead to Higher Soft Costs
These insidious soft costs associated with the cull of key information for a single status report affects even more than the team members involved. It also causes a domino effect of reactive labor costs when additional team members, or entire teams, are called upon to stop their work to assist in sourcing key information for progress reports. 
The more labor hours spent on the inefficiencies of progress reporting, the more money spent on soft costs, and more need for human intervention to bring about human error. When you fund admin hours that perpetuate this manual costly process, you're essentially paying your staff to fuel the inefficiency fire that's engulfing your margins.
Get the Scoop on an Automated Solution
To eliminate these soft costs, you have to eliminate manual processes with a mobile work process management and automation (mPMA) solution like Scoop. Not only does automating your real-time progress reporting save you significant annualized operations costs, but it can give your team the time and tools they need to wow customers with outstanding service. It gives you the breathing room to transform your progress reporting from reactive to proactive. 
Consider this. Instead of waiting for customers to request progress updates from your team, you can onboard them into an operations software that automatically notifies them when key stages are completed and provides them with key progress details in a PDF that's compiled and distributed with zero effort from your field and office teams. 
Related: MaxSolar Saves Over $460k in Operational Costs
Scoop also makes tracking and inputting key details effortless and transparent for every team member. Anyone with credentials can log in and view progress of different projects and phases, and easily see at a glance what's required of them, or how far along a project is progressing. 
Project Tracker Live™
Project Tracker Live is the project dashboard that updates itself reliably and automatically and is the most efficient tool for solar project progress reporting. Project Tracker Live makes it easy for your teams, from sales and site survey, to design, permitting, and install to access a reliable status of your projects. 
Unlike generic office-based project management software that relies on the user to feed in data from multiple sources, Scoop's Project Tracker Live is directly linked to the underlying phases and work activities of your projects – meaning it is always up-to-date, automatically and effortlessly.
In addition to solar, Scoop can also be used for EPC – Engineering, Procurement, and Construction progress tracking. As you ramp up the number of construction projects and solar installations, project progress reporting becomes an even more challenging task and staying up-to-date on every project is almost impossible. However, Scoop's Project Performance Analytics™ (PPX) feature uses intelligent algorithms to continuously monitor projects and flag them once they are at risk of being overdue.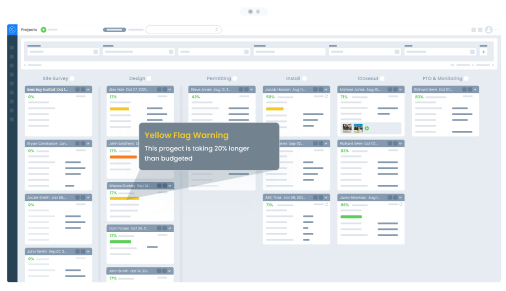 LOOXY Analytics™
Along with solar project progress reporting, it is also extremely valuable to assess team and project performance from before a contract is signed to long after service visits are complete. That's where LOOXY comes in. With just a few clicks, your team can gain valuable insights into your entire project.
LOOXY™ is a new and advanced reporting and analytics platform that allows you to visualize everything from deals and contract value in various stages of your pipeline, sales rep monthly commission reports, number of service visits in a given time period, invoicing timelines for each project, and more. These insights can be leveraged to help make more informed decisions surrounding your projects, materials, process bottlenecks, and resourcing.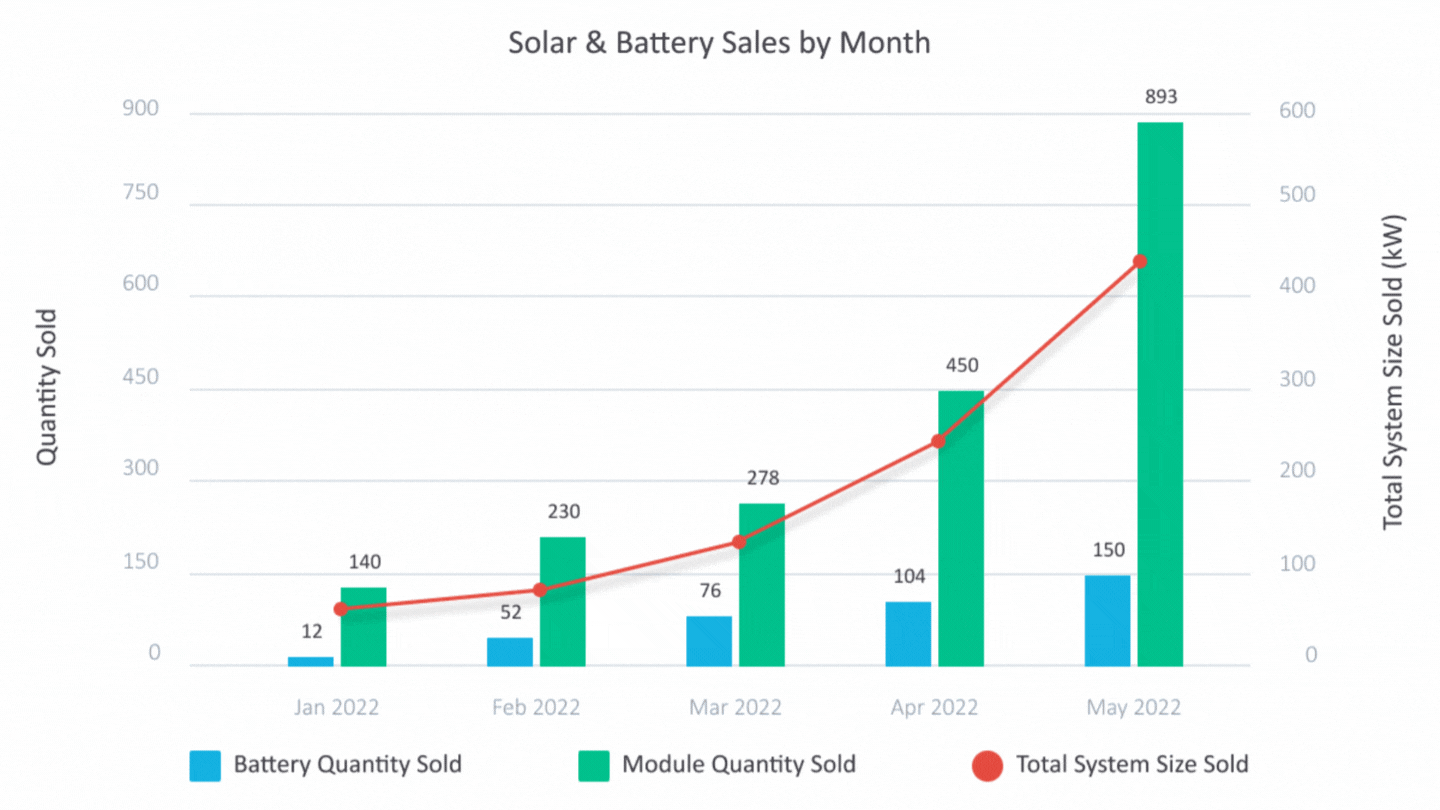 We're Scoop because that's what you deserve–the full scoop on every aspect of your project and its progress.
Get the scoop on your solar operations.
Automate your reporting.
Eliminate solar soft costs.