Solar project management software is essential to optimize operations for maximum efficiency. For solar and energy specialists, solar project management software is a powerful tool that helps businesses streamline their operations, automate tasks, and integrate with other platforms – ultimately enabling successful and sustainable growth for solar companies.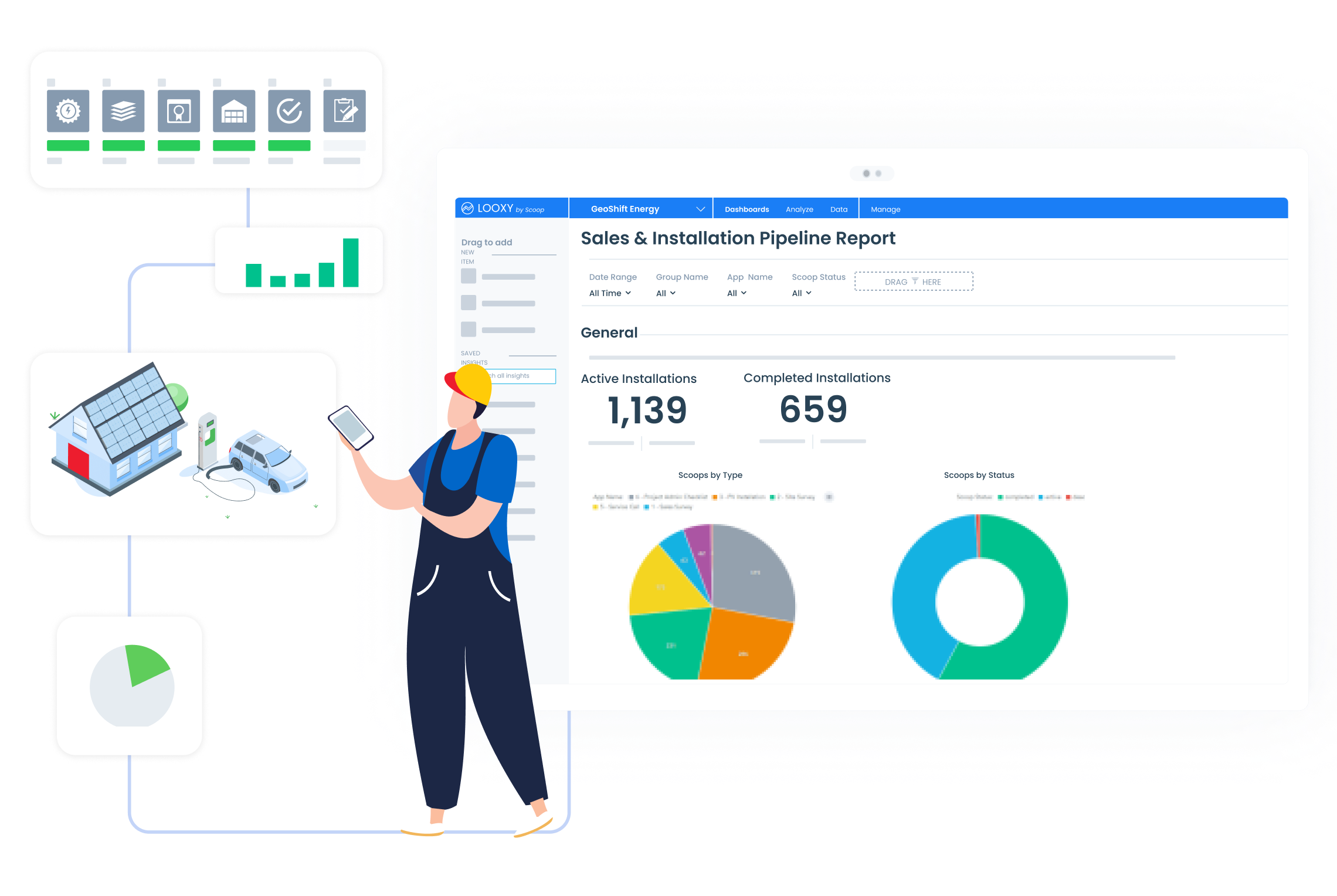 1. Visibility Into Projects and Their Status
One of the key reasons to use project management software is, of course, the ability to manage projects. At any given time, team members across your organization may need to quickly understand the status of a project, who the current lead is, and what action is required before progressing to the next project phase.
Scoop Solar is the leading solar project management software helping renewable companies organize data, streamline communication, automate work processes, and scale operations. Scoop's Project Tracker Live™ dashboard provides users with an at-a-glance view of all projects and their current statuses. The dashboard is customizable to ensure the particular phases, as well as key information displayed on project cards, make sense for your organization. Intuitive filters allow you to drill down into projects by type, current team lead, upcoming due dates, and more.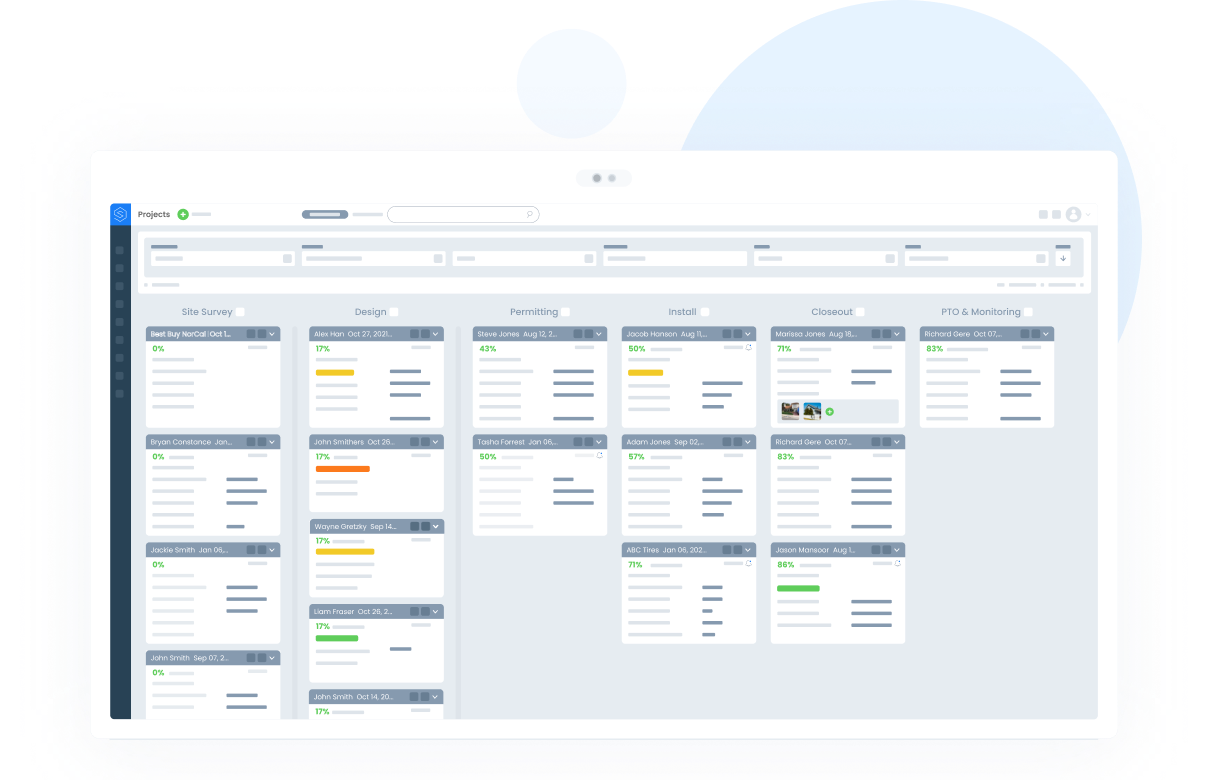 2. Predict and Mitigate Project Delays
Once you have visibility into your ongoing and upcoming projects, it is important to take advantage of this data to improve efficiency and ensure critical updates are not missed. Understanding how projects are progressing compared to committed timelines and historical averages can make all the difference when it comes to customer satisfaction.
Project Performance Analytics (PPX) is an existing feature of the Scoop platform that measures the progress of each project and its individual phases. PPX uses sophisticated analysis to compare your live project duration time to both the budgeted and historical durations, flagging underperforming projects with progressive color-coded flags for further review. Set goals by manually adjusting the budgeted durations and encourage your teams to focus on speeding up particular targeted project phases.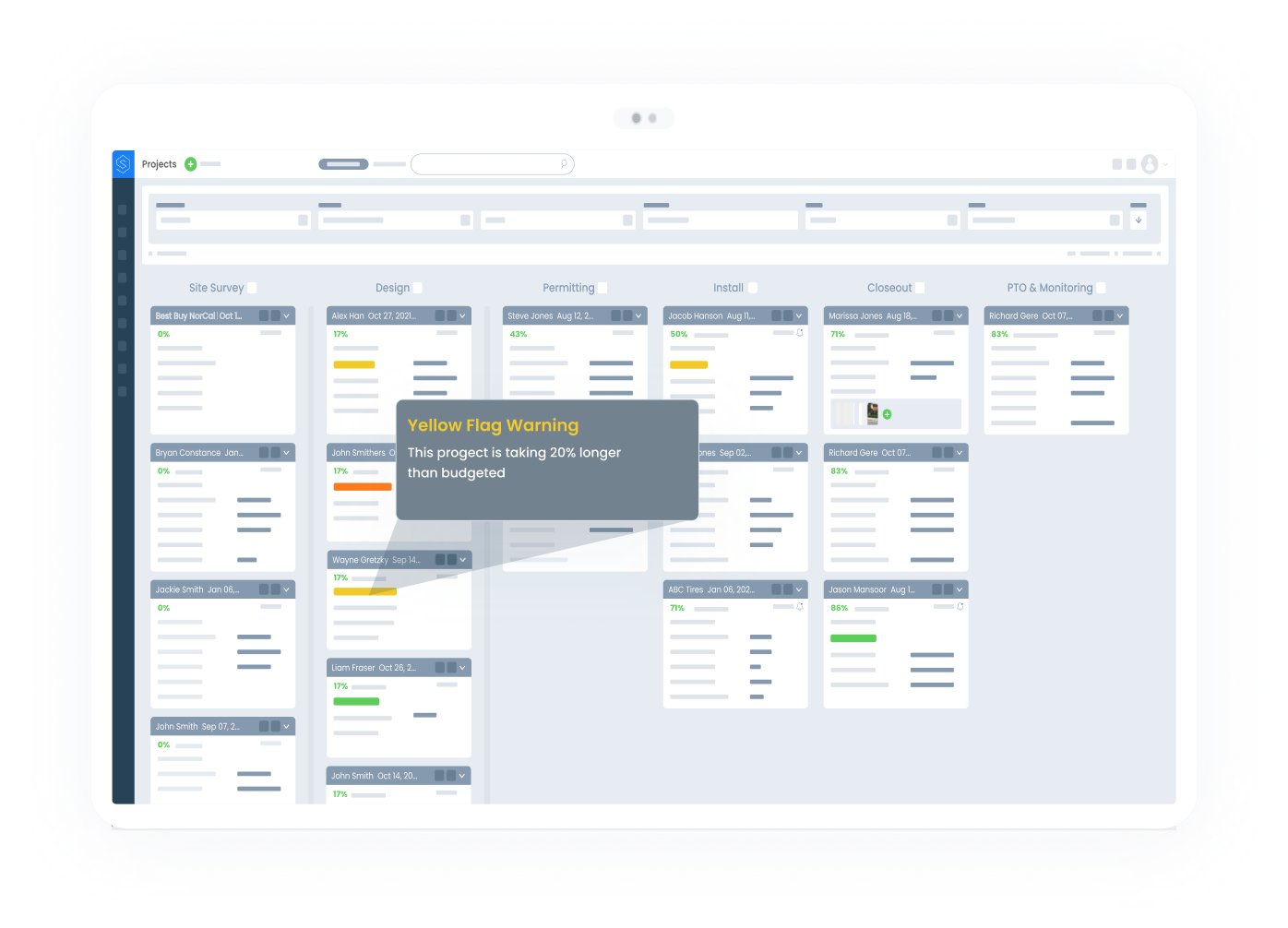 3. Clear Understanding of Project Teams and Current Leads
One of the common project management challenges is a lack of accountability, often stemming from unclear project leads and inconsistent project handoffs. Whether your team is managing tens or hundreds of solar projects, you can be certain that every team member has multiple tasks to complete at any given time. If it is unclear that something is required of them on a particular project, it is likely to be missed.
Scoop's solar project management software solves this problem by putting project lead and team roles front and center. Auto Actions™ notify team members as projects and tasks are assigned to them and include reminder emails as the set deadline approaches. Not only does this feature streamline communication between field and office teams, but it also increases visibility across your broader organization. Once your engineering team has completed a site survey, for example, your project manager can be notified automatically and marked as the project lead. This notification can include photos and documents, as well as assigning a task to create the installation schedules.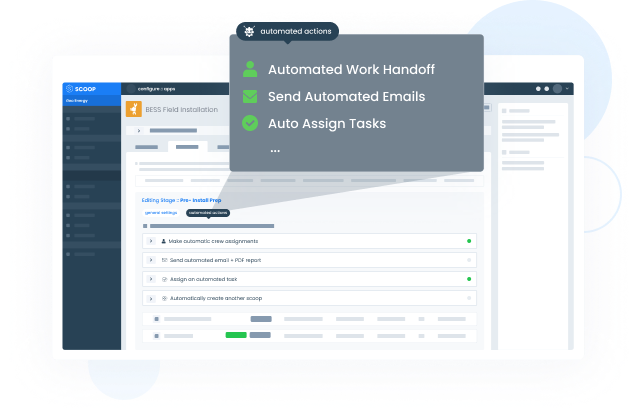 4. Workflow Automations Save Time and Money
Manual and redundant tasks are one of the fastest ways to chew through valuable resources. Unfortunately, in solar and other field-intensive industries, this is not uncommon. From hand-written documentation and static spreadsheets, to field and office teams using different software tools, your team may be spending countless hours repeating or hunting down information. In order to grow your solar company, you must look for ways to improve efficiency.
Solar project management and workflow automation software is one of the most effective ways to increase efficiency across your organization. By automating manual tasks, your team can spend more time on what matters – providing quality products, services, and support to your customers. With Scoop, you can create automations to trigger tasks and communications, update project phases, and even create two-way data transfers between Scoop and other tools.
Related: 6 Key Solar Project Management Software Features That Make Life Easier for Solar Companies
5. Simplify Project and Resource Scheduling
As the renewables industry grows, it is more important than ever to optimize solar project schedule processes and make the most of your existing employees. It is imperative that you avoid team members sitting idle or alternatively, getting double booked. In order to keep up efficiency and momentum within your solar operations, clear communication, easy-to-access calendars, and efficient scheduling are a must.
Scoop's Scheduling & Resource Optimization (SRO) feature makes scheduling employees and detecting conflicts among team calendars easy. In addition to an intuitive backend algorithm that allows you to assign people to projects based on role and level of availability, SRO provides a list of alternate and available team members in the event of a scheduling conflict as well as a summary view of current conflicts.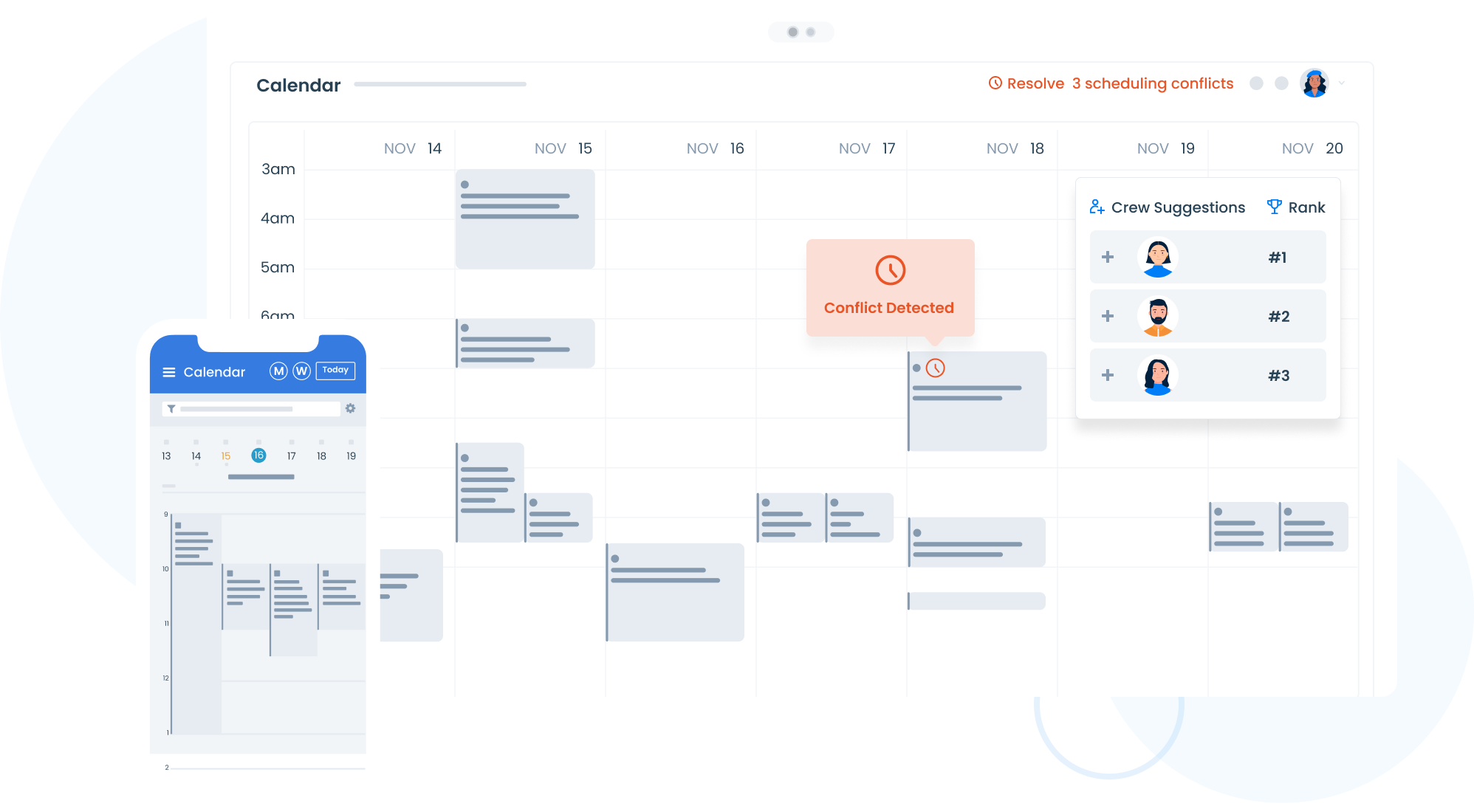 6. Create a Best-of-Breed Software Stack
It is highly likely that your solar company is using a variety of software tools to conduct business – everything from solar design, sales, or CRM tools to e-signature, proposal, accounting, and finance platforms. As a result, you will want to make certain that all software systems are capable of integrating with one another.
GLOO™ by Scoop is a fully managed integration service that connects Scoop with your entire solar software stack and enhances efficiency throughout your organization by sharing data, documents, and tasks among multiple platforms. This strategy provides your business with access to the unique features of each platform while maintaining control over how data is used and shared.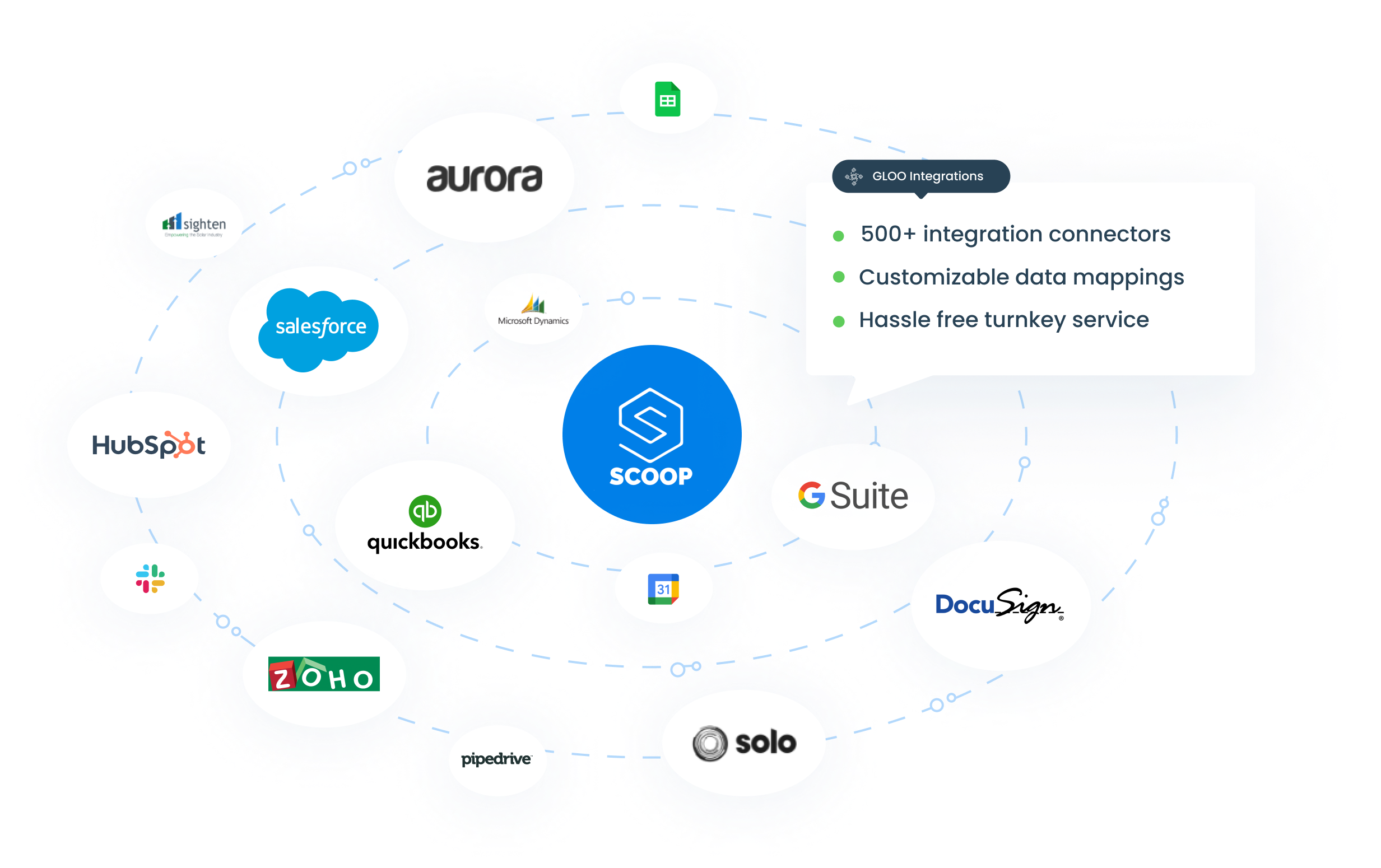 7. Access Real-Time Integrated Reporting
Accurate reporting and analytics can be a game changer for solar teams looking to grow their business. Data can reveal areas of opportunity, current success, and potential bottlenecks. However, for solar companies with siloed operations or using multiple tools, reporting can be an extremely time-consuming task. Often by the time information has been exported, cleaned up, and turned into a report, the data is already out-of-date.
LOOXY™ by Scoop puts real-time solar sales, service, and installation data front and center. The platform comes with an intuitive drag-and-drop dashboard builder and unlimited reports, allowing your team to drill in on the data most relevant to them, collect actionable insights, and make more informed decisions. Export and share reports across your team as needed, or configure automated emails that are triggered based on specific criteria to update stakeholders with a PDF report.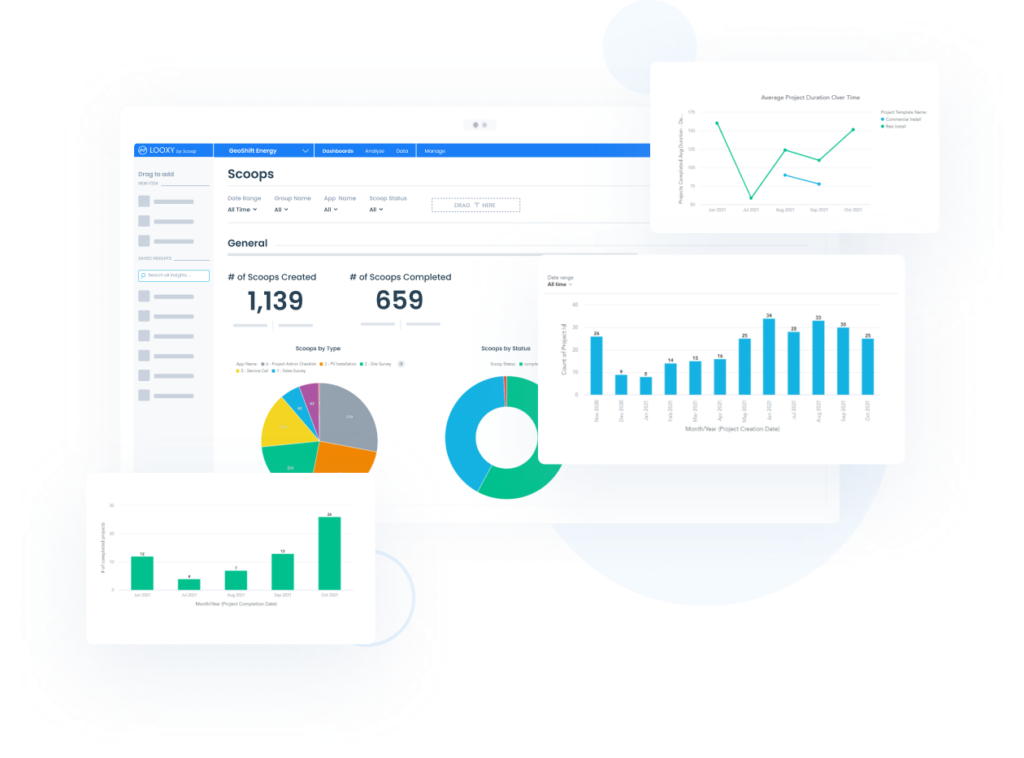 Solar project management is essential for growth because it provides field and office teams with a platform to digitize, organize, automate, and improve operations. By reducing or altogether eliminating repetitive tasks, your team is freed up to focus on what's important – providing first-class renewable energy services to your customers. Scoop is a connected operations hub built for solar and energy specialists to streamline installation and service operations. Learn more about how residential and commercial companies use Scoop for solar, battery storage, EV charger, roofing, and other renewable installations.