Here at Scoop Solar, we are fortunate enough to receive inquiries from ALL over the US from forward-thinking solar companies interested in automating their solar project management tasks. Everything from pre-sales site inspection, to PV installation, through O&M and asset management.
But it always seems like we receive more interest from a select number of states, so we thought it would be interesting to identify the five top Solar States, based on cumulative solar capacity installed through 2016. We'll also look at what makes these states stand out, and look at a few best practices.
Number 5: New Jersey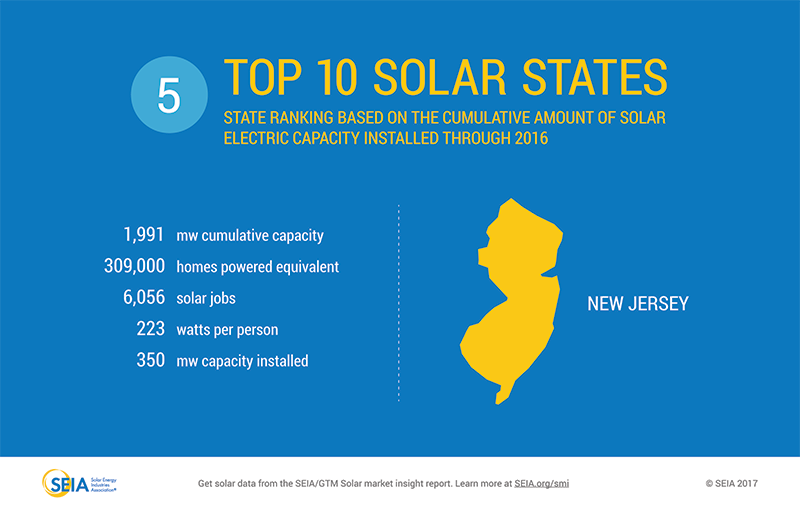 You can't have a garden without sunshine, so it's pretty fitting that The Garden State comes in at number five with over 1,991 MW of cumulative power installed. That capacity translates into over 6,000 solar-related jobs.
Most of the companies we speak with from New Jersey service residential in addition to commercial solar projects, which makes sense considering the cumulative capacity installed can power the equivalent of 300,000 homes.
The Renewable Portfolio Standard and Solar Energy
A big driver for solar installations in New Jersey is the Renewable Portfolio Standard (RPS) which now requires 22.5% of State's electricity to come from renewable energy.
Number 4: Nevada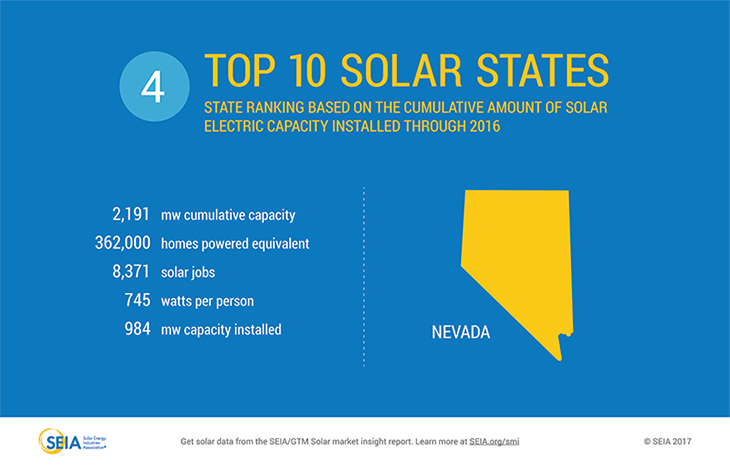 Much like New Jersey, Nevada has a directive to ensure up to 5% of its total energy source comes from solar. This directive has helped create more than 8,371 jobs related to solar installations and solar project management in the state.
Despite the abundance of sunshine in Nevada, one of the reasons why the solar industry has slowed is due to the fact that Net Energy Metering rules for Nevada were changed unfavorably in 2015.
What is Net Energy Metering?
Net energy metering (NEM) is a billing system that allows consumers to save up the energy "credits" they earn through alternative energy sources (wind, solar, etc) and apply it to their utility bill at a later date. For example, a household with solar panels can save solar credits collected in June, and apply it to their heating bill in December.
The states which have a more favorable policy tend to have much higher solar installations.
Number 3: Arizona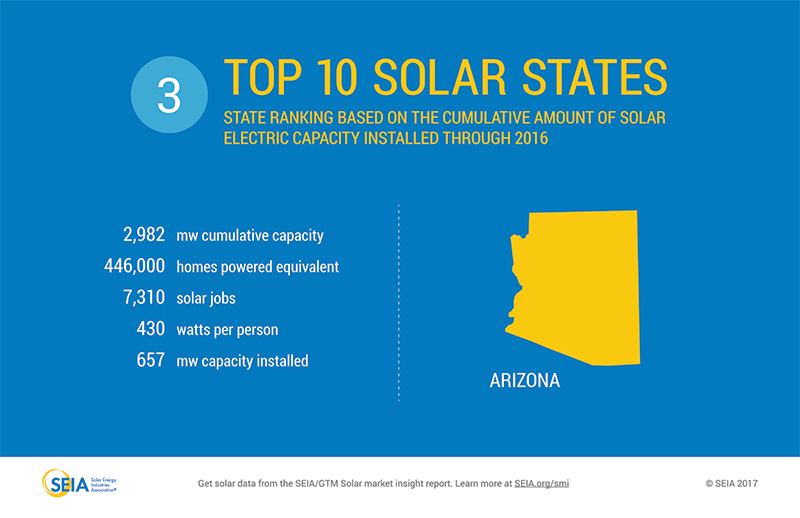 Arizona, which on average has over 300 days of sunshine, comes in at number three with 2,982 MW of cumulative power. That's the equivalent of nearly half a million residential homes being powered by solar.
What makes Arizona such a solar-friendly State?
For starters, they have one of the most generous NEM policies around, allowing consumers with solar panels to "roll over" their credits month over month. Whatever solar credits remain at the end of the year can be paid out based on the day's market energy costs.
Solar political support is another factor. The then-Governor, Janet Napolitino, vowed to make Arizona the Persian Gulf of solar energy.
Related: Top 5 Solar Manufacturers and Their Claim to Fame
Number 2: North Carolina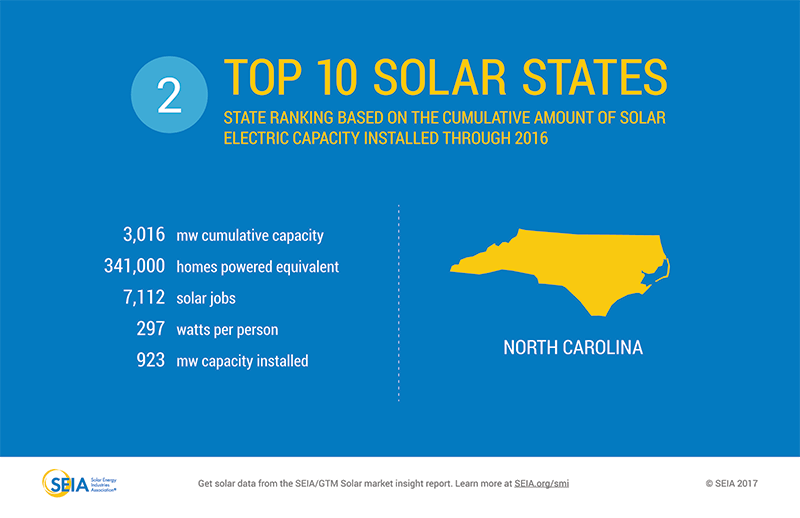 In just 8 years North Carolina has increased their solar capacity from 1 MW in 2007 to 3,016 in 2016.
Prominent solar contractors like SunEdison, Strata Solar, and Baker Renewable Energy have contributed heavily to this growth in terms of solar installations. At Scoop, we have definitely a noticed a large increase in interest from solar contractors in North Carolina!
What makes North Carolina a leader in solar energy?
As with other successful states, the RPS and NEM are extremely favorable in North Carolina. As an additional incentive, Commercial and Residential solar customers also receive a 30% tax credit from the Federal government which can be applied to the cost of solar panel installation.
Number 1: California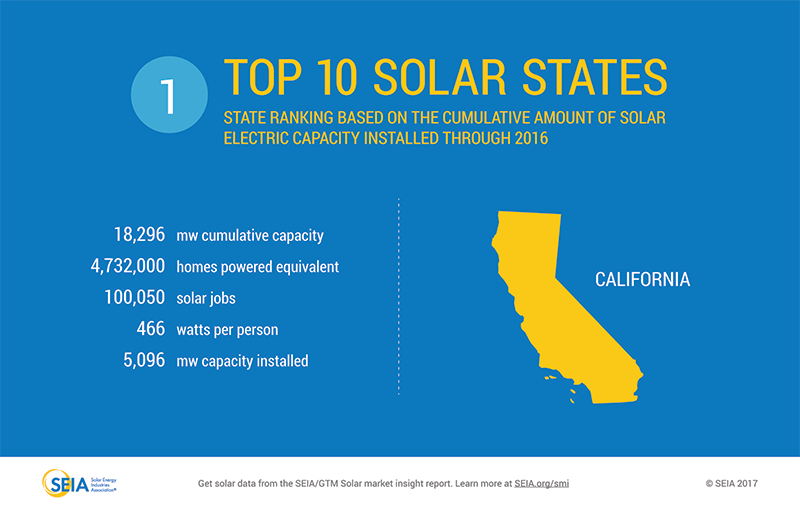 Last and certainly not least, California wins the solar crown in terms of the most solar capacity with 18,296 MW and over 100,000 solar-related jobs. California is by far our most vibrant market, so not too much of a surprise for our team.
Why California tops the list
The Golden State has a mandate to source 33% of its energy from Solar by 2020. The landscape also favors very large solar farms, and general political and social support for solar has helped boost the industry.
California has also passed legislation requiring every new home to include solar panels.
Recipe for success:
Having the proper mandates, community support, and environment are just a few things that help fuel the solar industry in these states. The last piece is having the right platform, like Scoop Solar. We help companies optimize and automate solar operations so they can spend less time on administration and more time finding and completing new solar projects.
Next Steps
New to Scoop? Watch this overview video,  this product demo video, take this tour or contact us to schedule a free consultation and demo
Visit the Scoop Solar website for general information on how Scoop is helping empower today's new liquid workforce.