What is mPMA, how is it transforming solar and renewable operations, and where does Scoop Solar fit in? Keep reading to find out. 
What is mPMA Technology?
mPMA is an emerging category of software that allows highly distributed, remote, and field-intensive teams achieve new levels of productivity. mPMA stands for mobile work Process Management & Automation. This technology is more important than ever in today's increasingly remote, mobile, and multi-organizational workforce. mPMA cuts down on soft costs and wasted resources by streamlining communication, eliminating repetitive tasks, centralizing project data and files, and implementing fail safes to protect against missing and delayed updates.
What is Scoop Solar?
Rooted in the principles of mPMA, Scoop® Solar is a comprehensive project management and operations platform for growing solar and renewable companies. Scoop enables businesses and your teams to work more efficiently through workflow automation, data centralization, as well as field and frontline workforce engagement. Simply put, our mission is to increase the efficiency and growth capacity of renewable installation and maintenance businesses. We know that managing operations is complex, so Scoop simplifies and automates every day processes, allowing your team to focus on the performance and success of your business.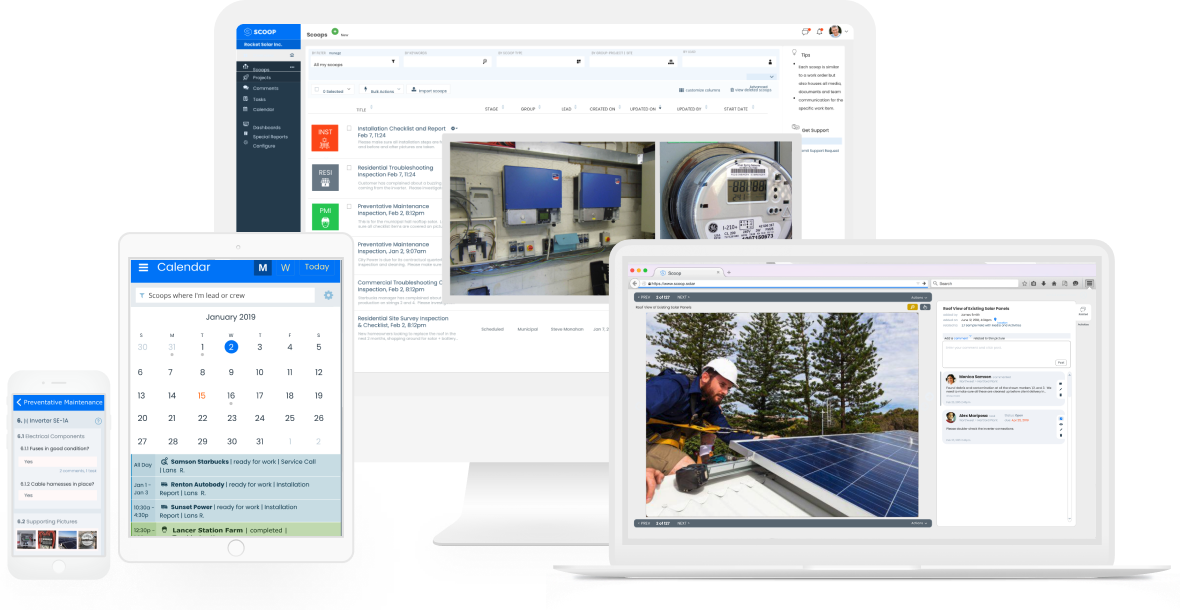 How Scoop Centralizes Project Management and Operations for Solar Businesses
From design and procurement, to contract signing, site surveys, installation, job closeout (JCO), and service visits, Scoop tracks all of your project data in one centralized location. Monitor progress of your installations against project milestones to ensure none are missed or falling behind, upload all relevant documentation for full visibility across your team, and get at-a-glance views into project phases and performance with various solar-focused dashboards. You can even set up automated workflows to ensure your office employees, field teams, and even customers receive real-time updates as projects move along. 
Streamlined Solar Project Management
By streamlining and connecting solar project management with your field operations, you can harness the true power of best-in-breed platforms. During a typical solar installation process, for instance, a team member will assess the project site either in person, in the field, or via remote consult. From there, they are required to manually enter customer data, gather documents, and capture photos. Next, a project manager or sales rep will communicate the customer's needs to their field team, who in turn must pass that information onto various other teams – designers, engineers, and installation crews. As the project progresses, the cycle continues. 
It does not take a well-seasoned operations expert to know that this is a cumbersome and time consuming process. Because of the manual nature of this cycle, solar and renewable businesses run the risk of having inconsistent or missing data. In order to circumvent this obstacle, solar service and installation companies must use a platform such as Scoop to streamline and automate the workflows in each phase. 
Are Your Solar Operations Ready for Mobile Work Process Management & Automation Technology (mPMA)?
Scoop Solar is a leader in this emerging software category. We provide solar installation and service teams with a highly effective solution for automating your solar project management and service processes, as well as connecting to other tools in a seamless technology stack through GLOO™ – our world-class integration service. 
From our experience, solar businesses are ready to transition to mPMA technology when you meet at least 3 of the following criteria:
You are completing 15+ solar installation projects or 50+ service work orders/month 

Your current processes are not designed to scale – think missed handoffs, repeat truck rolls, manual processes, etc. 

You are having trouble finding additional talent to fill key roles

You have experienced failed software implementations with so-called all-in-one providers

You feel like there's no time to implement new processes and software

You have a member of your team that can dedicate time during the onboarding period to work with Scoop's customer success team 
These criteria have been established by working closely with hundreds of renewable leaders. The above number of projects and work orders is the threshold of growth for solar companies whereby complexity begins to grow exponentially. At this point, your teams begin to get bogged down by inefficiencies from manual steps, repeat data entry, and correcting mistakes via rework and repeat site visits. This is when it makes sense to look for optimized solar software. 
With a 26% employee turnover in the solar industry, automation becomes a necessity to keep up with new and existing contracts. Because of the high turnover rate, you likely feel there is no time to implement new software and while this might sound contradictory, this realization is a clear indication of how your solar operations are closing more business and becoming so busy that it is hard to find time for anything else. When this happens, solar and renewable executives are faced with a choice of turning down business or revamping your operations to take advantage of growth opportunities. Implementing effective solar software is an effort in the short-term but one that has many long-term benefits. 
Lastly, it is important to have a person on your team that can dedicate the time to education and onboarding of the new tool. This point person will work with Scoop customer success to provide input on your installation or service processes, review software configurations, and participate in training. Whereas onboarding with generic CRM or project management tools can last months, Scoop is a solar-specialized mPMA platform and comes pre-loaded with solar Work App™ templates so that you can reasonably expect your team to get up and running in less than a month.
Best of Breed vs. All in One Software
In any industry, there are software providers that claim to be "all-in-one" platforms that serve your company to the fullest. For solar contractors, this could be a platform that combines proposal design, field service management (FSM), project management, customer relationship management (CRM), and more. While these providers come with a high price tag, they often tell the story that you can eliminate all other existing software tools. Unfortunately – and many learn this the hard way – these all-in-one vendors are a myth. Eventually, these software tools must decide where to focus their functionality and pieces that are important to your business may get left behind. 
This is why many companies are starting to build best-of-breed software stacks and choosing tools with a specialized focus. Scoop is a great example of best-of-breed technology, with a platform built uniquely for the renewables industry. Scoop's powerful GLOO™ integration service allows you to connect to other focused tools and create a seamless technology ecosystem.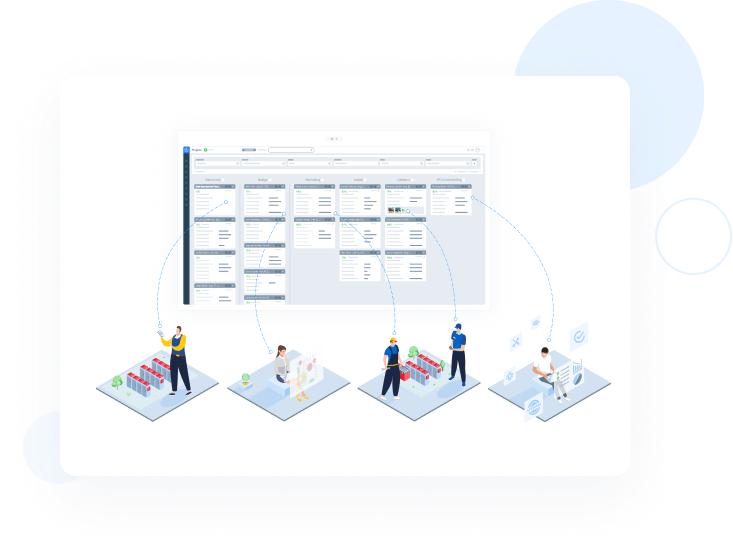 Why Choose Scoop?
Focus in Solar & Renewables: Every week our team works with hundreds of solar operations and design managers, as well as permitting, installation, and service leaders. This allows us to bring you an unparalleled depth of experience you simply won't get from generalist CRM or project management platforms.
Easy-to-Configure Workflows: Rather than a rigid one-size-fits-all approach to project management workflows, Scoop is made up of easily configurable building blocks. Start with our library of Solar Work Apps™ and project templates for Residential and Commercial Solar and EV Charging. You can also take advantage of the intuitive interface and comprehensive library of video tutorials, guides, and live one-on-one customer support in order to customize and configure these apps to suit the specific needs of your business.
Integrate with Best of Breed Technologies: In order to ensure you make the most of all your platforms, Scoop offers a fully managed and hosted integration service. GLOO integrations mean powerful access to all of your favorite platforms and APIs, so that you can have your tech stack work smarter, not harder. 
Designed for Mobile & Remote: As your field and frontline teams become increasingly distributed, mobilizing your work processes becomes a necessity. Scoop was designed from the ground up to keep all your data, documents, and media in sync across any device. With our iOS and Android mobile applications and a native offline-mode, your techs can work from anywhere – even within buildings or remote locations that don't have a reliable network connection.
Robust Reporting & Powerful Insights: It is important for solar and renewable executives to be able to visualize operations across the business. From deals and contract value in various stages of your pipeline, a map of client sites, number of service visits in a given time period, invoicing timelines for each project, and more. These insights are made available with Scoop's integrated analytics platform, LOOXY™ and can be leveraged to help make more informed decisions surrounding your projects, materials, process bottlenecks, and resourcing.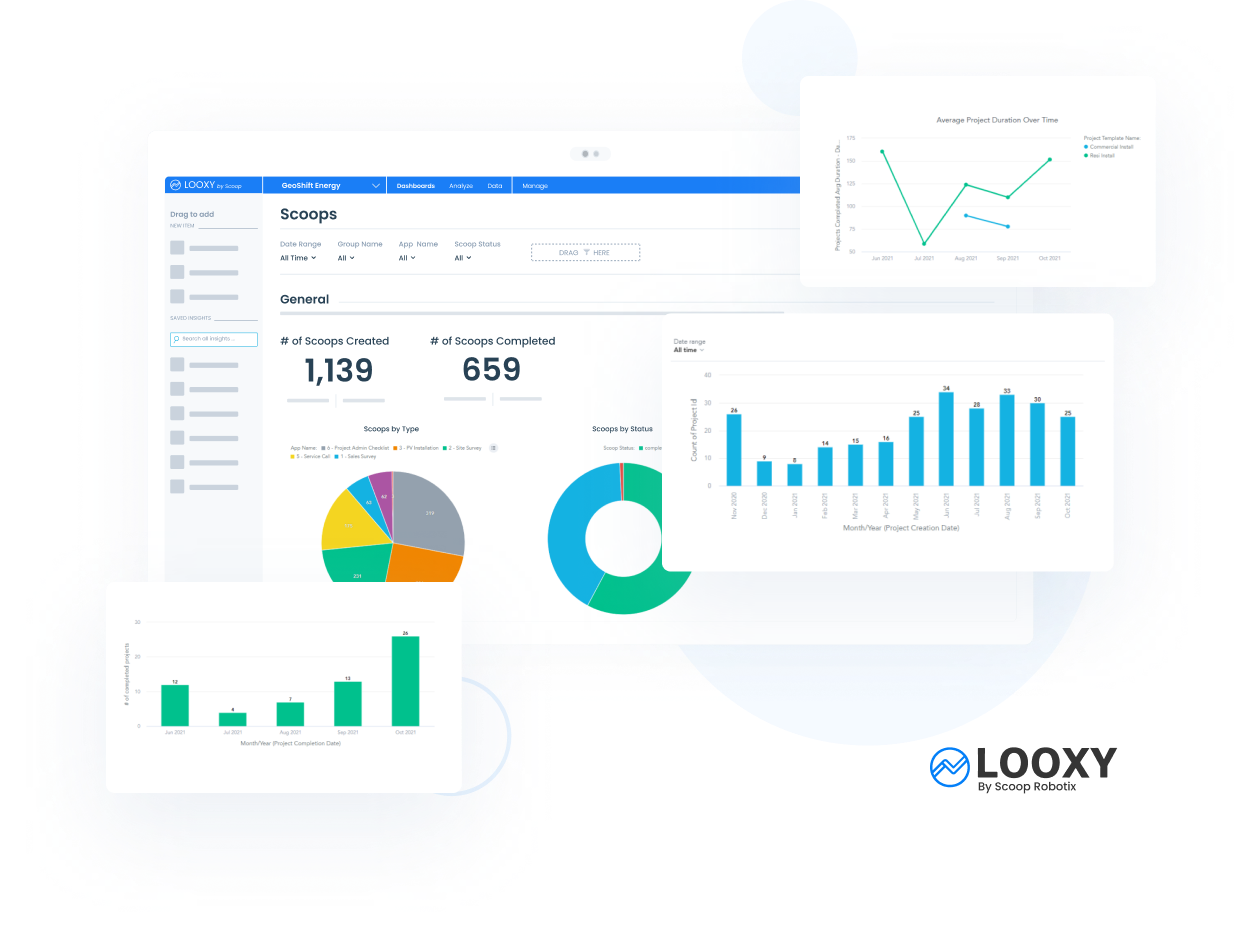 Unlimited User Plans: Have you been faced with the difficult decision of who gets a software seat and who doesn't? User based pricing often results in a good portion of your team – especially outside contractors – being left disconnected, exposing your projects to delays and risks. This is why we built Scoop plans for unlimited users. Coupled with highly flexible access controls, this means that you can extend the benefit of the platform to your entire team while ensuring each team or partner only has access to their required data.
Available Custom Branding: For larger enterprise customers who seek to empower and grow your network of dealers, partners, and franchisees, Scoop provides the ultimate solution. In addition to using flexible Work Apps to standardize and simplify partner processes, now with the custom branding package you can maintain the specific look and feel of your brand throughout the user experience.
Easy Launch Program: Digitizing your operations and mobilizing your team goes beyond technology. You need a guide and partner to help you navigate change management, business process mapping, integrations, training, and more. We designed the popular Easy Launch Program (ELP™) to deliver these services in a cost-effective and efficient manner to our customers. 
Now that you have insight on mobile work Process Management & Automation (mPMA) technology and the impact that companies such as Scoop Solar are having on solar and renewable operations, it's time to see how this software can help you. Download our info kit to learn more or book a custom demo to see the platform in action.