Any project manager will understand the importance of streamlining data, documents, and communication surrounding solar installation projects. Unfortunately, this is not always an easy undertaking. Any given installation might have anywhere from a handful to dozens of personnel assigned to it, a variety of required documents, different media attachments, and hundreds of communications spread over email, comments, tasks, and more. This doesn't even account for the fact that these employees, documents, and media are often associated with more than one project at a time. 
Scoop® is the solar project management software that leading solar installation companies are leveraging to execute their operations and complement their solar design software. Its unique data architecture was designed with solar systems, battery storage, and EV charging implementations in mind.
Solar companies can integrate Scoop with existing solar design tools to minimize manual and repeat data entry, eliminate missing documentation and photos, auto-populate information for each user or team, auto sync details across your tools, notify the correct employees, and more.  
Below are five reasons to integrate Scoop with your existing solar design software.
1. Centralize Solar Data
In today's often remote work environment, it is more important than ever to have digital and real-time methods for collaborating across your renewable or solar business. Legacy project management software forces you to locate data from multiple sources and often only represents a static snapshot in time. Where some solar design software claim to offer a solar project management function, upon examination, these functions are highly superficial and mostly limited to showing basic project status.
If you have multiple crew members working on an installation or service visit, is it clear who is responsible for collecting and maintaining which datasets of which phase? Does the software provide native mobile and offline-available apps that engage your works? Does it help facilitate your field and frontline crews using detailed checklists to gather pictures and measurements in context to each specific installation or service visit?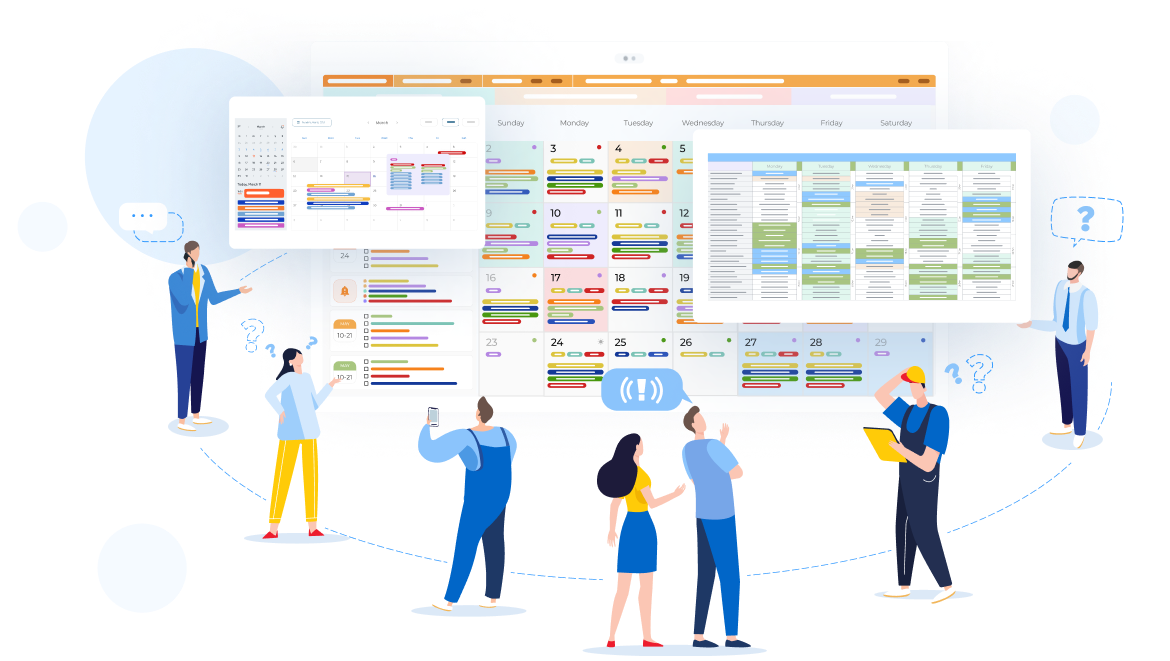 The Scoop software has several features to keep your data organized and centralized. The Flexible Organization Hierarchy™ logically structures your operations by regions, partners, and client sites, while Conditional Display Rules™ allow adaptive access based on jurisdiction, project type, and other factors, and Work Apps™ allow you to pick and choose from a solar module library and provide easy and secure access to the specific information required by each user. Lastly, Scoop's Global Fields™ ensure users only have to edit client information, enter a measurement, or upload a document once! This information then persists throughout the lifecycle of a client or implementation and shows up in all the right places. 
2. Integrate Cross-Team Communications
Even on projects that run smoothly, your teams could be saving time spent communicating with one another. It is not uncommon for crews or individuals to have questions or spend additional time re-explaining details surrounding specific customers, projects, or tasks and as teams become more distributed, this challenge is compounded. Without a solar design tool, these messages are likely scattered between texts, emails, file comments, and more.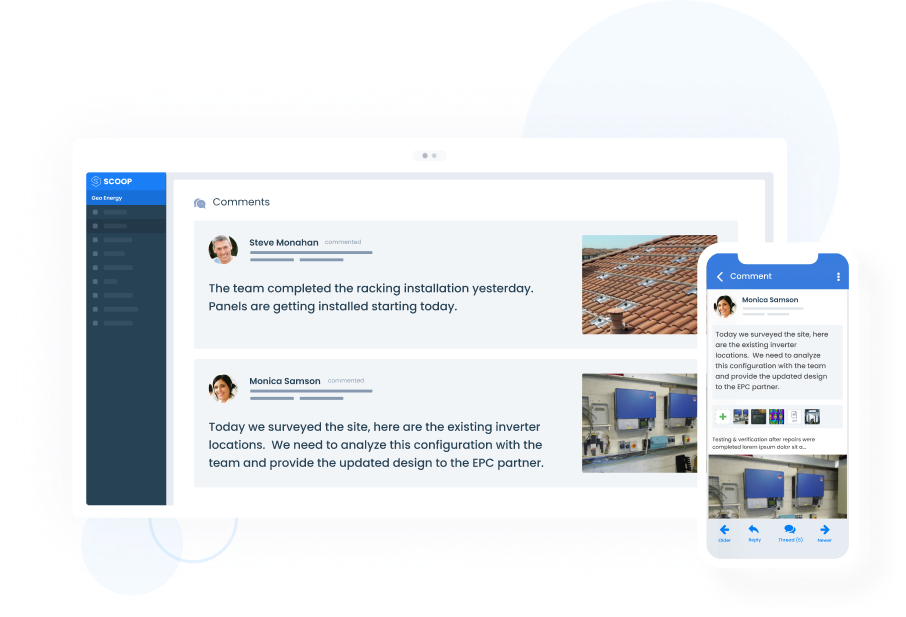 One way to solve for this is integrated communication – increasing the transparency, access, and context for specific communications. In Scoop, office teams and solar installers alike can save time by attaching questions and comments to certain jobs, managers and employees can view a centralized list of all communications including common threads related to a project or service call, and reference pictures, videos, and voice markups can be added to add additional layers of detail. Scoop's software for solar projects was built to make communication simple and efficient for solar businesses. 
"From project start to finish, when it comes to communication whether from the customer or sales, finance, and procurement teams, Scoop allows us to create a one-stop-shop for the project."

— Jocelyn Neves, Project Coordinator at SGE Solar
3. Organize Solar Documentation
Any commercial solar installation, residential solar site survey, EV charging, or battery storage project will bring with it documentation and other media types, such as construction drawings, PV system design and electrical plan sets, satellite images, schematic diagrams, panel warranty claims, site photos, and even videos used for field training and instruction. Some documentation is regulated and mandatory while others ensure efficiency, some is unique and tied to a specific project whereas some documents pertain to multiple projects. Even with a powerful tool such as Google Drive or Dropbox, there are likely multiple versions of the same media – one of many challenges when it comes to organizing documentation.
The Scoop platform, however, is designed to treat documents as data fields – not files. In Scoop, each document is uploaded to a designated media field, ensuring the document has a designated purpose before it is added. By associating these uploads with specific fields, it is also possible to include documentation as part of relevant workflows. For example, ensuring sales has collected the necessary e-signatures from clients before notifying the field team, or site surveyors have captured the correct photos required by the design team. Through integrations, these workflows can persist across multiple tools, including your existing CRM, solar project management, and solar design tools. 
In order to ensure documentation, such as sold contracts and plan sets that are generated in the solar design platform are handed off to the correct teams, you can create standardized checklists of documents that each project inherits, set access controls so that individual regions or projects can upload and view only the media that is relevant to them, and Global Media Fields eliminate redundancies by ensuring relevant media appears in all the right places for users. 
4. Automate Task Assignments
In large-scale implementations of solar panels such as commercial buildings, it can be difficult to manage handoffs between different teams, partners, and subcontractors. Valuable time can be wasted simply because individuals or teams were unaware that the project now required something from them. As field crews and solar installers start and finish key phases, it is important that solar and renewable leaders empower them to add tasks and detail on the fly.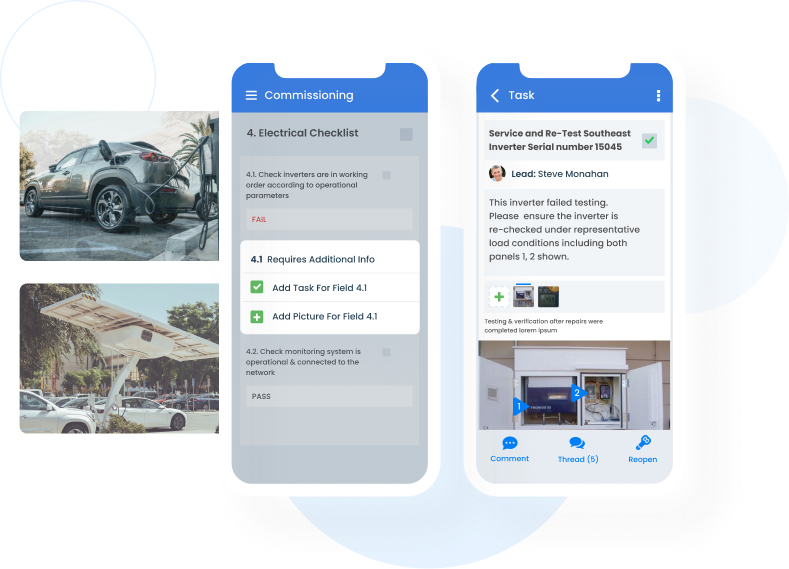 Fortunately, the Scoop mobile app does just that. By providing mobile access to field teams, Scoop ensures that tasks and detail are captured at the source, even including photos, videos, and voice markups to accurately represent technical details. These software features allow solar energy companies to streamline your whole process by automatically assigning tasks to specific users when an install phase is started or completed. Create easy-to-follow systems for users by attaching due dates and auto alerts to ensure nothing slips through the cracks. Solar companies can even generate personalized filters to review task lists during daily or weekly meetings. 
Related: Automate Workflows with Scoop and Aurora | Webinar Recording
5. Create Real-Time Solar Reports
In order to analyze design costs, forecast materials, and optimize the overall efficiency of installations, solar companies need data that can be organized into comprehensive reports.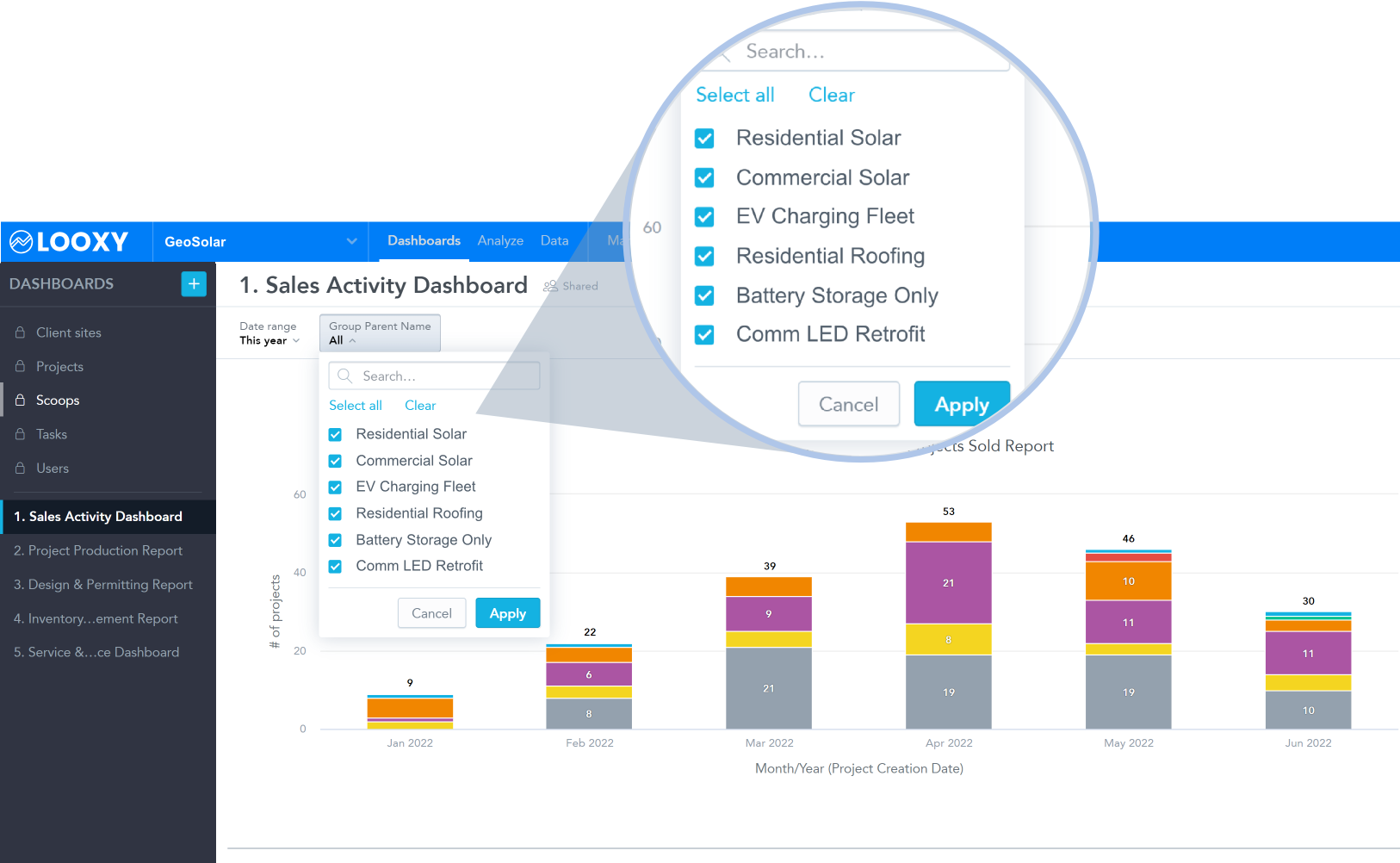 LOOXY is Scoop's analytics platform that provides an at-a-glance view of solar project progress. LOOXY makes report generation simple and enables growing solar energy companies to visualize everything from deals and contract value in various stages of your pipeline, sales rep monthly commission reports, number of completed service visits in a given time period, invoicing timelines and project costs, and more. It is easy to build dashboards within the user friendly platform and because data is tied to your operations, these dashboards update automatically and effortlessly.
Integrating Scoop with Your Solar Design Tool
By integrating Scoop with your existing pv design tool, your can streamline and automate updates as your solar projects progress. Transfer data automatically between software tools once a solar design or proposal has been accepted by a customer and embed specific design and proposal data into existing project workflows.
Scoop integrates with 500+ software tools, including Aurora Solar, OpenSolar, Solo, and EverBright. Explore the Scoop Integration Library to learn more about these and other integrations.

Why Choose Scoop Solar? 
Scoop is the software of choice for solar professionals because our platform was designed with these projects and installations in mind. We work with hundreds of solar energy companies, permitting and service leaders, and field crews every week which allows us to bring you an unparalleled depth of experience you simply won't get from generalist platforms. Our product features and unlimited user pricing model encourages transparency and collaboration among your office and field teams in an increasingly distributed work environment. Scoop is the platform of choice companies hoping to scale solar operations. 
To discover more about using Scoop to centralize data, documents, and communication, reach out today and book a free demo.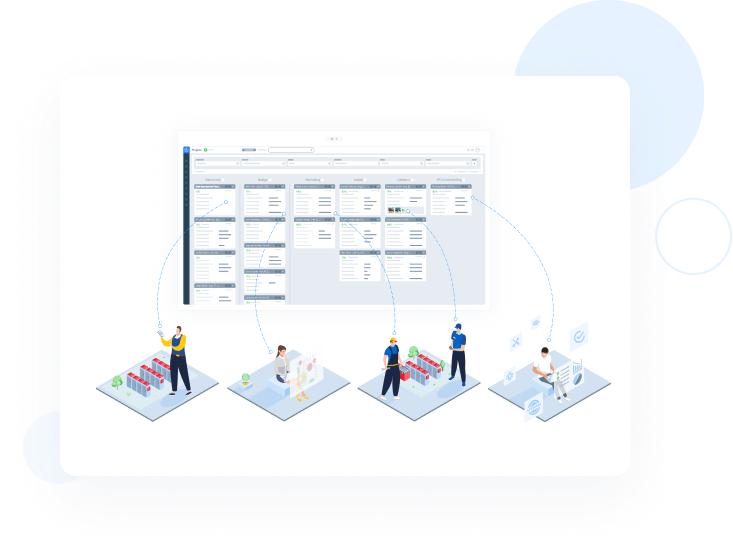 Solar Design Tool FAQ
What is a solar design tool?
Solar panel software design is used to model and design photovoltaic projects and to analyze their performance after installation. 
What are examples of other solar software tools?
Along with solar design software, there are tools such as Scoop Solar that provide an end-to-end platform for renewable energy installers and service teams, from the first stage of proposals and sales, to site surveys, the very installation, and invoicing.
What is a solar pv system?
Photovoltaic (PV) systems are composed of one of more solar panels combined with an inverter and other electrical and mechanical hardware that use energy production from the sun to generate electricity.
What is the best software tool for solar professionals?
Because there is no one-size-fits-all software, it is important that your business answer the following questions during your platform search:
What are your company, team, and individual goals for the software? What features will help you achieve them?

Does the software that you're considering understand the solar energy industry – the tools, the systems, the customers, sales cycle, site surveys, proposal design, etc.

Will the software grow with your company and its evolving needs as your business scales? Will its features still support you in the future?

Does the software allow you to integrate with other focused software systems? Can you connect to existing design or proposal software? 

How much does the system cost? What are the associated monthly fees? Does it have a proven ROI for companies similar to yours?

Does the software provide you with onboarding and live support? Early-stage onboarding and ongoing training can be a game changer in order to make the most of your software tool.