Centralize Data, Documents, Media & Communication in One Place
Put an end to the time wasted searching for information.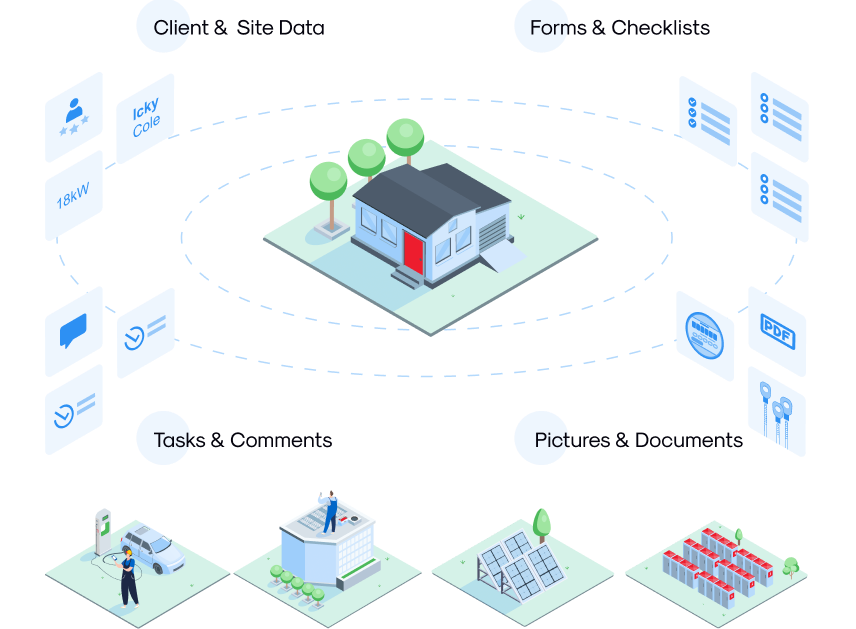 Powering 25,000 project sites worldwide
TRUSTED BY LEADERS TO RUN OPERATIONS AT 15,000+ PROJECT SITES
Solar Project Management & Service Scheduling Software with a Uniquely Powerful Data Architecture
Data by Client, Project & Task
Scoop's unique data architecture with Global Fields™ means that your team only has to enter a measurement, upload a document or picture once! This data then persists throughout the lifecycle of a client and shows up in all the right places.
A lot of your team's time is wasted re-explaining which customer, project or task their specific comments or action items are related to. Scoop's integrated commenting and task tracking eliminates this wasted effort, resulting in significant efficiencies.
Customizable Integrations
As your team grows you need multiple best-in-class tools. Your GLOO™ integration service specialists work behind the scenes to wire up data across your tools including your CRM, ERP, accounting and other tools so that your data syncs up automatically.
How Scoop Organizes Your Renewable Projects Data & Communication
global data, documents & media
Organize client & site data, media & docs. Eliminate repeat entry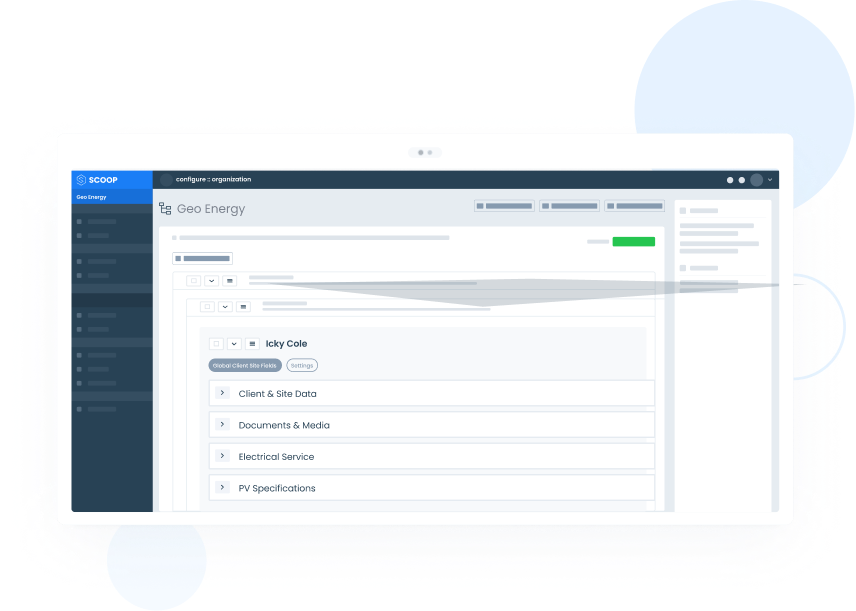 "When I open Scoop, I'm getting a bird's eye view of all of the projects in progress. It has everything right there."
By Jason Wiswell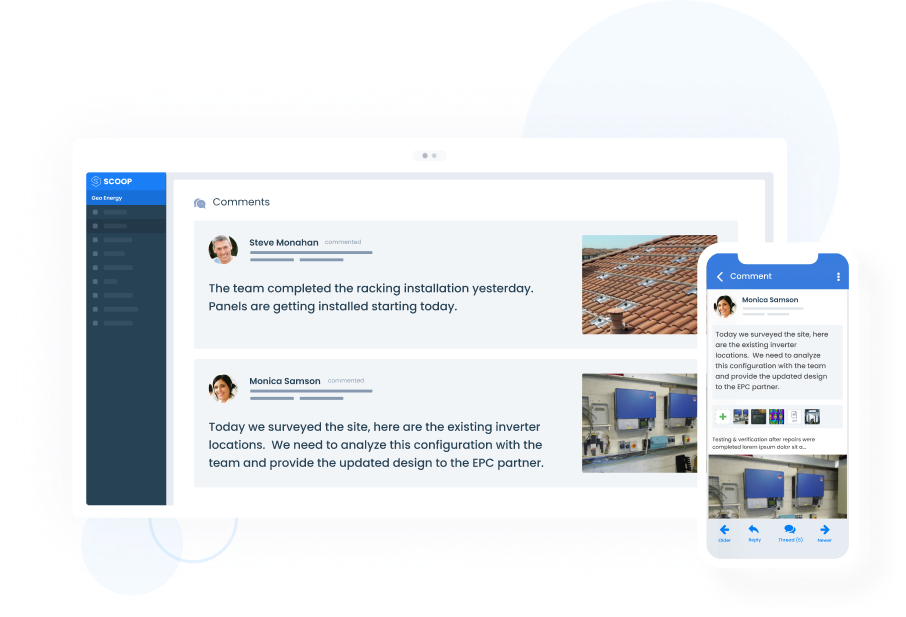 "When it comes to communication during a project from start to finish, whether it be from the customer, or sales, finance, and procurement teams, Scoop has allowed us to create a one stop shop for the project."
By Jocelyn Neves
integrated communication & commenting
Keep the communication with the work. Alert relevant team members
task assignment & tracking
Assign & alert tasks as they happen. Explain clearly with pictures & markups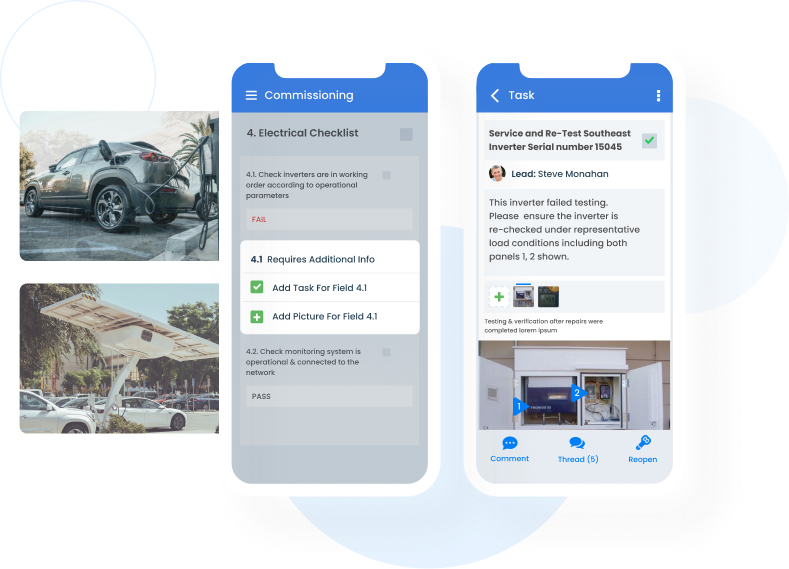 "When we're out an install, the crews in the field use Scoop to take pictures. That way, it's getting back to our project managers a lot sooner."
By Erin McGaunn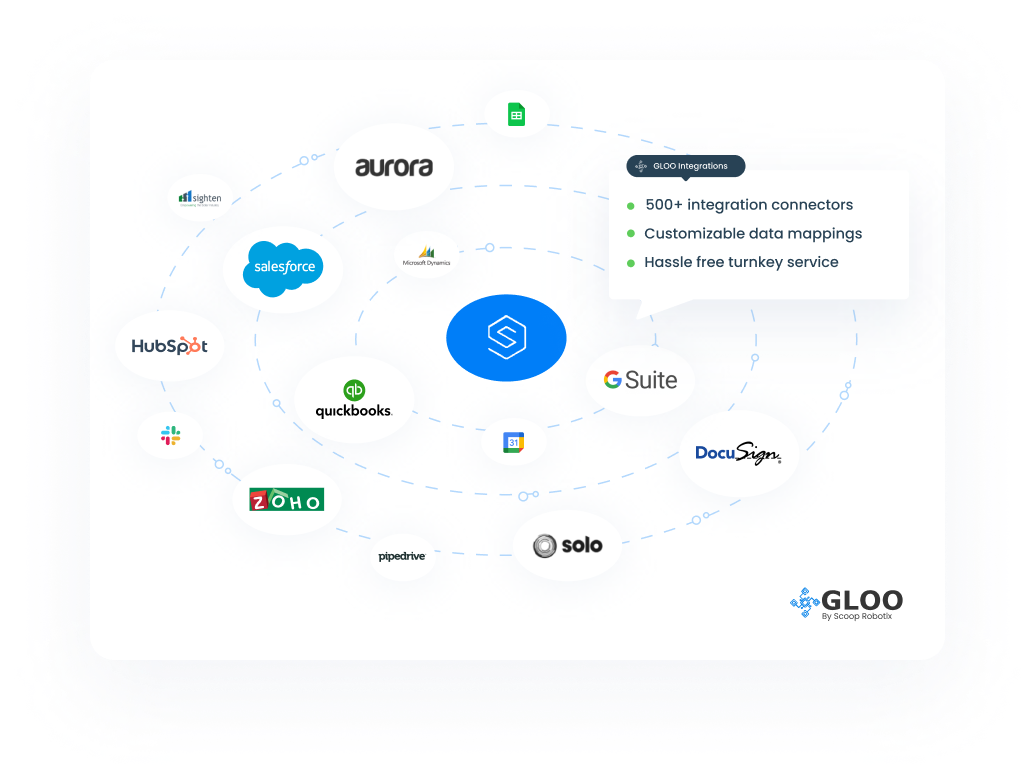 "Scoop, GLOO and all the integrations allow us to grow when we go to outside markets to manage that flow more effectively."
By Alan Morgan
Director of Installations and Market Development
gloo software integrations
Fully managed, hassle free integrations tailored to your needs
Your team deserves the best operations platform. Get started today.
25,000+ projects executed on Scoop
Get started easily with our unlimited user plans and dedicated customer support.
With Scoop you are not just saving time and money. You're also gaining a partner and a platform for creativity and growth.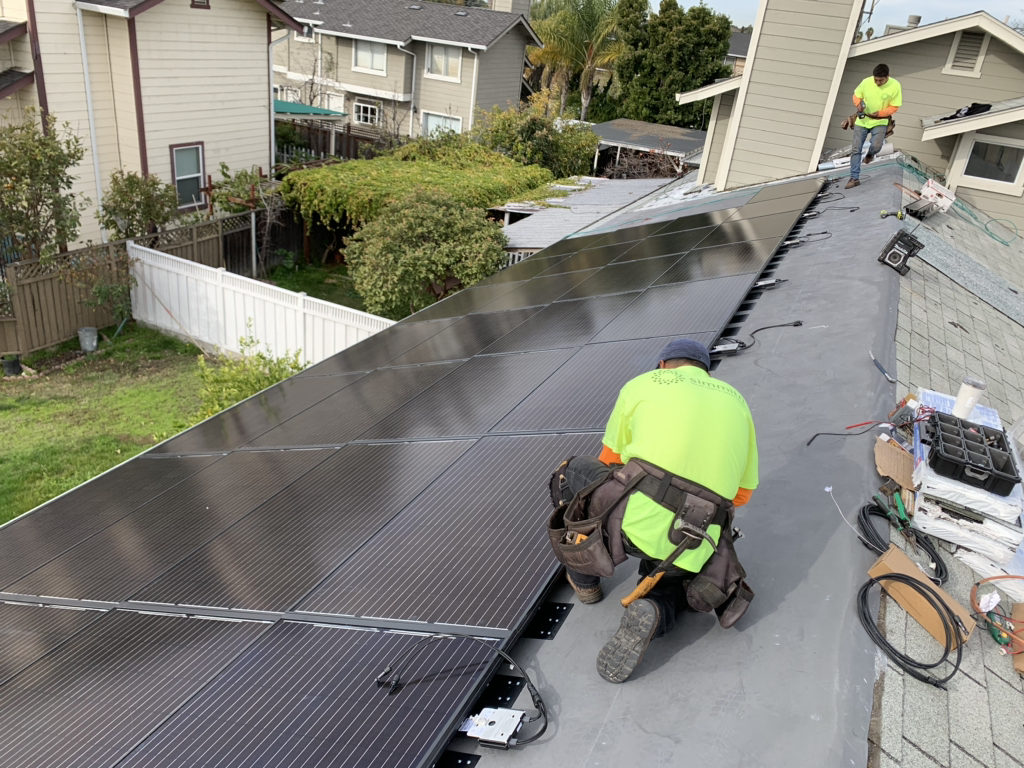 "We're using Scoop to manage projects that have been sold from start to finish. We use Scoop to manage roofing, solar batteries, smart homes and gutters. You can customize Scoop and create different workflows any way you want."
JASON WISWELL | COO, Simmitri Inc.
Discover More Scoop Features
Helping you build a more valuable and scalable business.
Use Scoop's advanced offline-available iOS & Android apps to let your field team easily access and collect data and execute work from anywhere.
View all installation and service work orders on the same integrated calendar. Control the work orders that each user sees based on their access.
Take advantage of Automated Actions™ to smooth work handoffs, assign tasks to team members and send progress updates to clients effortlessly.
Finally a real time reliable dashboard that shows you the status of all your installation projects in one place. Use filters to personalize your views.
Get The Scoop Info Package
Package includes info on features, integrations, pricing and the onboarding process.
"Scoop is something that we knew that we wanted to move to immediately. We knew it was going to be able to help us manage all of our projects across the board."

"Scoop was the only thing that had the capability of doing what it does. We could use other tools and update customers but it's not the same."

"When I open Scoop, I'm getting a bird's eye view of all of the projects in progress. It has everything right there."

Achieve Success with Our Industry Leading Pricing Plans