Every residential and commercial solar business executes some form of solar project management, tracking, and reporting. Are you confident that your team is following the right systems to track project progress, answer customer inquiries, and evaluate business performance? If you are in the solar energy or renewables industry, here's how to streamline these activities.
Use a Solar CRM with Project Management
One of the ways to simplify your solar project management, tracking, and reporting is to implement a solar CRM with project management capabilities integrated into one tool. Customer Relationship Management (CRM) software is a powerful tool used to manage sales teams and quotas, execute marketing automation, and generate and nurture leads through the sales process. But when it comes specifically to solar project management, traditional project management software is not designed or equipped to perform beyond the early sales process. These tools are also optimized for work in the office, not necessarily in the field.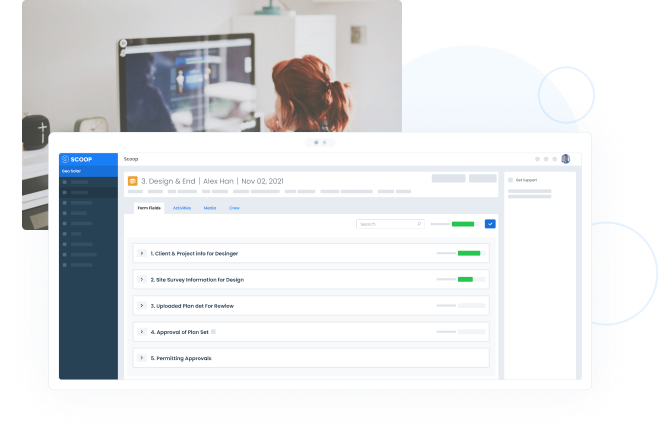 A solar CRM and project management tool, on the other hand, connects your field and office teams and serves the needs of your project manager, technicians on-site, workers at the office or working from home, salespeople on calls, and more. Scoop Solar is the leading solar project management software that brings these teams together, improves efficiency, and streamlines your solar operations. If you are on a search to evaluate solar software companies that will help your solar energy company scale, check out our guide to choosing a solar CRM software.
Track Solar Projects in Real-Time
Any solar installation will have many moving parts, which comes with a variety of questions at any given point. For example, your customer might want to know how much longer until their solar panels are installed, your executive team may want an update on the sales progress of a key client, or maybe your finance partner needs to know if the invoices for a certain solar project are going to get pushed into next quarter.
One way to streamline and centralize this information is with project progress reports. This process is often done manually: a project manager struggles to locate key information that is stored in multiple locations and spreadsheets, not labeled correctly, or missing entirely. In order to stop wasting time on manual solar project tracking, you need a real-time, connected, and automated system – one that ties together project information across your organization. This type of system allows you to quickly view high-level updates as well as double-click and see additional and specific project details.
The Scoop platform (and specifically the Project Tracker Live™ feature) makes it easy to access reliable project status and schedules across the entire project pipeline, from sales and site survey, to design, proposal, and installation. Unlike generic office-based project management tools that rely on you to feed in data from multiple sources, Scoop's Project Tracker Live is directly linked to the underlying phases and work activities of your projects – meaning it is always up-to-date, automatically and effortlessly.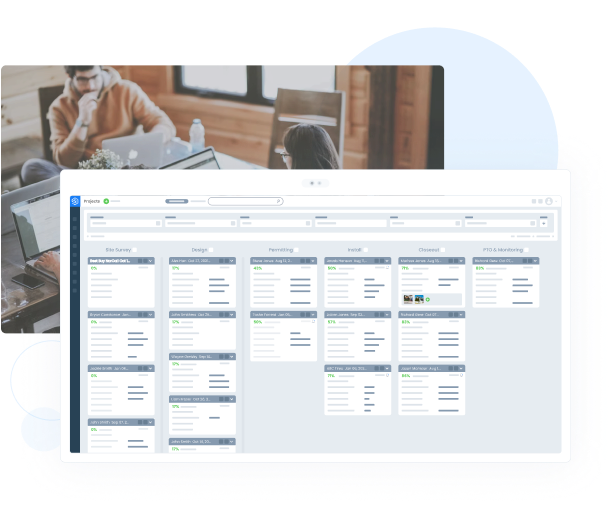 Report on Solar Sales, Installation, and Service Operations
Reporting is a necessary business process but unfortunately for many companies, one that has several inefficiencies. Throughout the solar sales cycle, for example, different tools may be used – one system to manage leads and contacts, more for emailing and texting to communicate with those leads and current customers, a solar design and digital proposal tool for contracts, accounting software to manage invoicing and payments, and more. With data dispersed over so many platforms, it can be difficult for organizations to obtain actionable insights. There are two distinct challenges that often arise when it comes to reporting: data integration and data visualization.
In addition to the Scoop® mPMA platform and leading solar project management software, solar energy customers can take advantage of GLOO™, a fully supported integration service, to solve the data integration challenge. GLOO has over 500 connectors and a highly configurable integration logic, allowing solar energy providers to seamlessly connect data and workflows across your solar project management software, solar CRM , solar design software, and more.
Further, Scoop's LOOXY™ Analytics is an advanced solar analytics and reporting platform built atop the Scoop® platform that presents your solar sales, installation, service, and project data in a way that is useful for making more informed business decisions. LOOXY helps solve the second reporting challenge of data visualization. Easily share reports with your team and with other stakeholders by exporting PDF documents or configuring automated emails to alert employees across your organization.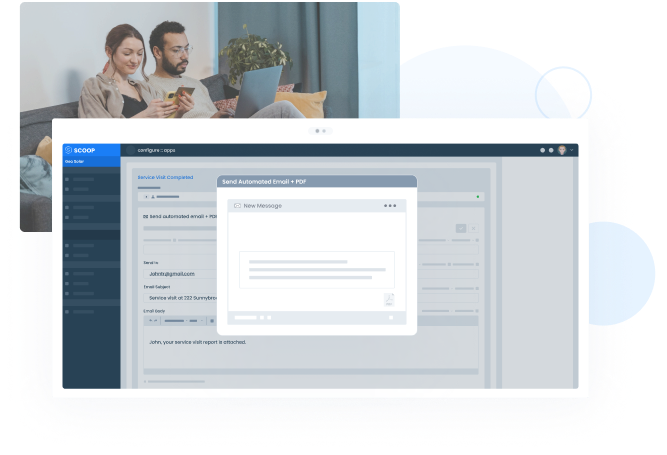 Scoop's unique pricing model includes unlimited users and storage, allowing each user to engage with your work processes and create reports that drill down on data that is most relevant to you. These dashboards and reports are helpful in both informing and engaging today's often remote and multi-organizational team members and cultivating a healthy environment of teamwork, performance, and achievement.
To learn more about how Scoop helps residential and commercial solar companies improve efficiency, reduce costs, coordinate on jobs, centralize documents, streamline systems, and more, contact us today.
Solar Project Management FAQs
What is a solar project management system?
This is a software platform that allows your team to track the status of existing and completed projects. Specific to the solar industry, these tools should capture data from both office and field or site workers, as well as customer data, residential and commercial solar documents, proposal and design details, installer schedules, and more in order to scale with your company.
What are some solar software companies?
There are a handful of solar software companies that can help, depending on your requirements. Scoop Solar is the best project management tool for planning projects, scheduling employees and tasks, and managing resources, documents, and data. SiteCapture is a company that is focused on capturing job site photos, Blu Banyan is an ERP software to improve productivity, and Aurora Solar focuses on the solar design aspect of construction projects.
What is the best CRM for project management?
The best CRM for project management depends on your goals for the software but there are certain factors you should consider: its feature set, the software company's knowledge of the solar, renewables, or construction industry, the capacity to integrate with other tools, and whether or not they offer a mobile app which allows employees to update data in real-time while on-site.