In today's fast-paced and competitive solar industry, reducing wasted resources and maximizing efficiency is crucial for success and scalable growth. This article will examine four common challenges and solutions that solar companies can implement to streamline operations.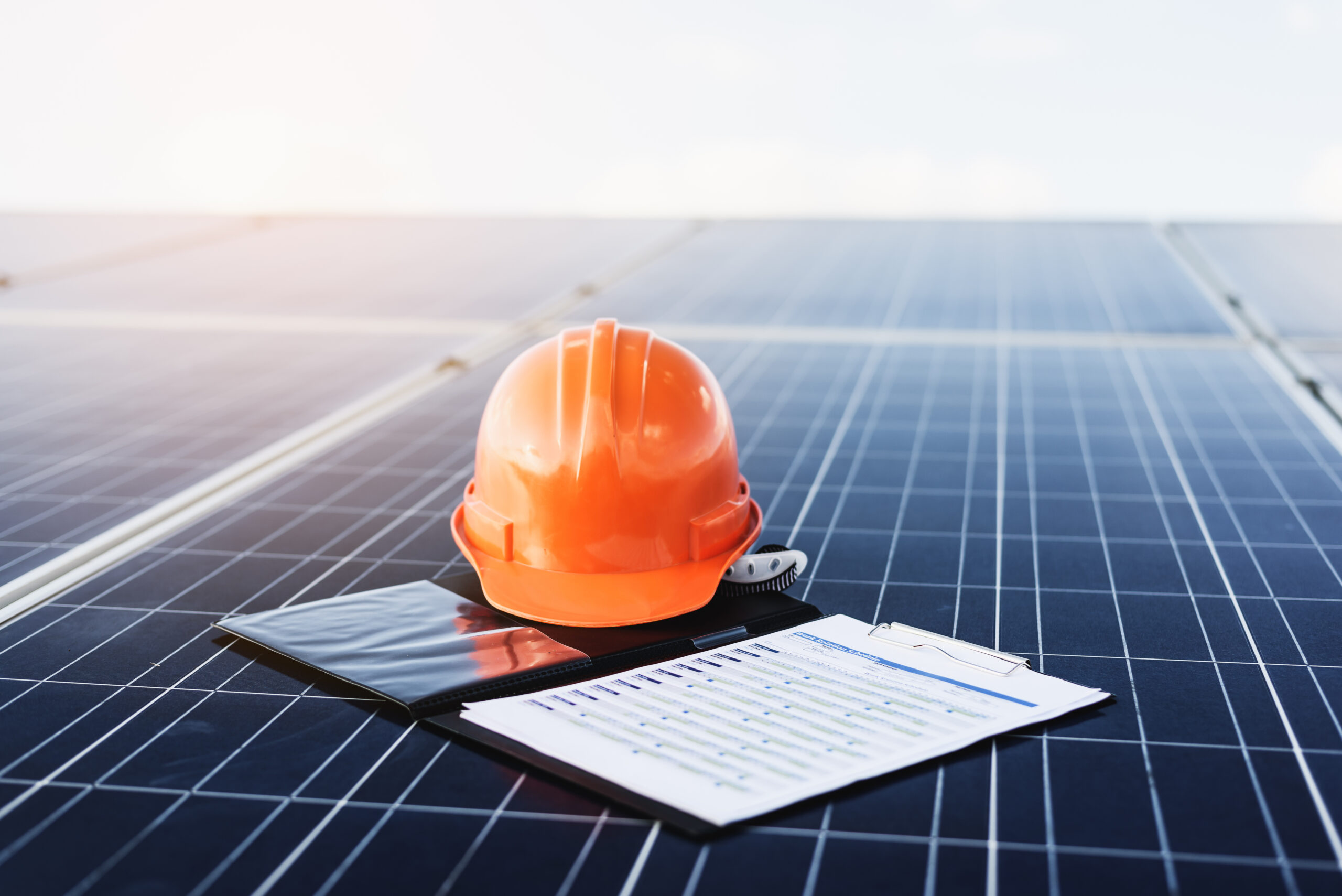 4 Strategies to Optimize Solar Project Efficiency
In order to optimize the efficiency of end-to-end solar project management, there are four key areas that solar companies should examine. By streamlining, digitizing, and automating these four processes, solar teams can be set up for success and scalable growth:
Streamline sales handoffs
Enhance change order management
Standardize checklists to enforce field compliance
Automate reporting and communication
Challenge #1: Inefficient Solar Sales Handoffs
Solar sales handoffs are often plagued by inefficiencies, particularly in the early stages of a company. One major issue stems from a lack of templated processes, resulting in low-quality handwritten or emailed notes which opens the door to inconsistencies in the type, quality, and level of detail of the data collected. The problem is compounded further where spreadsheets are used in place of a customer relationship management (CRM) system due to a lack of visibility, accessibility, and data hygiene. These inefficiencies can also result in missing photos and documents, having negative effects on other teams or project phases downstream.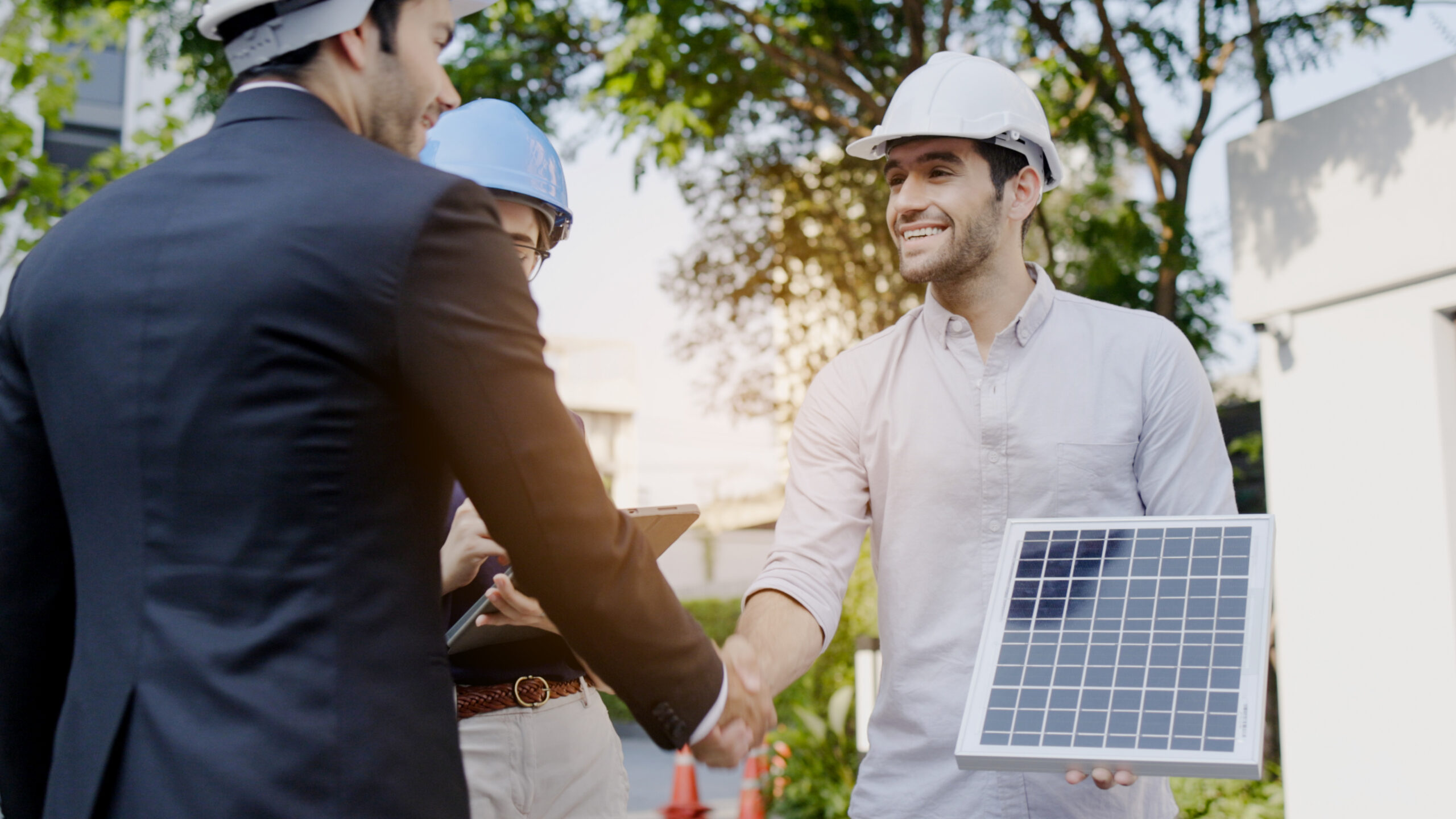 These shortcomings can contribute to costly project delays, as the solar sales process serves as the pivotal starting phase for launching a solar installation. Addressing these inefficiencies and adopting streamlined digital solutions can significantly enhance the efficiency and effectiveness of solar sales handoffs, reducing delays and improving project outcomes.
Solution: Streamlined Solar Sales Handoffs
Scoop's cloud-based solar project management system is available on desktop and mobile devices, providing a seamless transition of information between sales and other solar departments. As sales personnel meet with a potential customer, whether for residential or commercial installations, Scoop offers templated forms, mandatory fields, geo-validated address fields, and more. This intuitive solar sales solution ensures that all of the necessary data is captured in one go, consolidates all relevant information to automatically populate sales contracts and pass along to other teams, and even integrates with proposal and e-signature platforms. These efficiencies all happen in the background, allowing solar sales teams to focus on what's important – sales.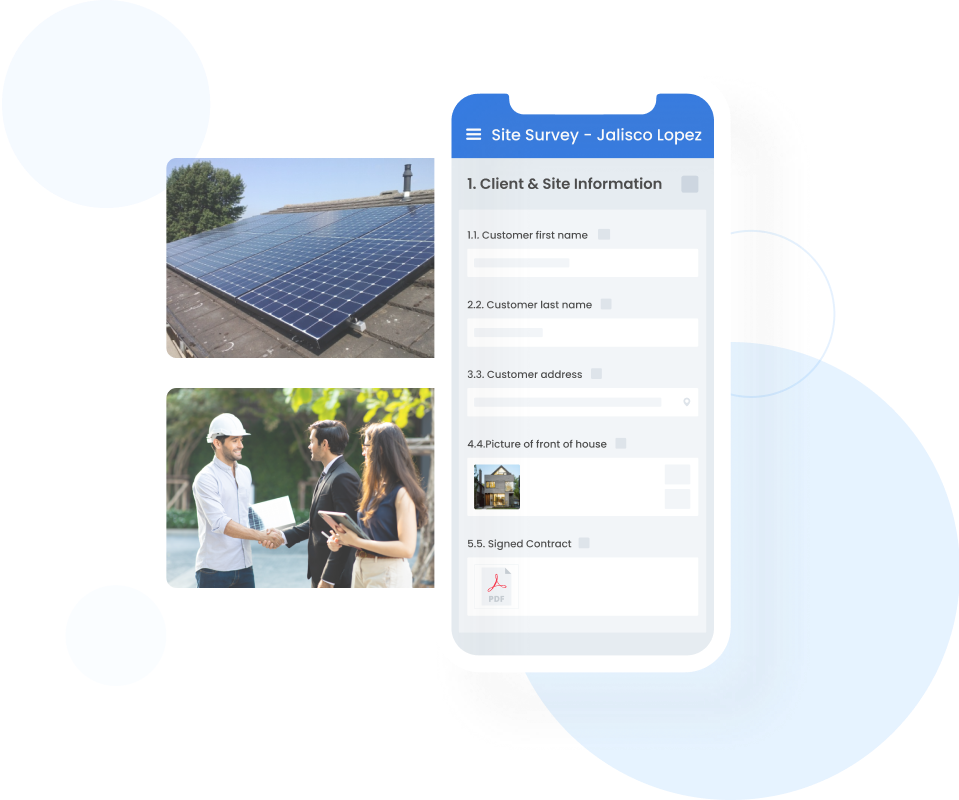 Challenge #2: Costly Change Order Delays
It is not uncommon for solar and renewable teams to lose track of design and engineering change orders, presenting a second opportunity to improve efficiency. One key challenge lies in the presence of bad data, as crucial project information, documents, and contracts are not consistently uploaded to a centralized system. This lack of centralized data management can lead to confusion, errors, and discrepancies that necessitate change orders. Additionally, fragmented communication between solar sales and site surveyors can lead to costly truck rolls in order to revisit the jobsite to collect missing data and photos.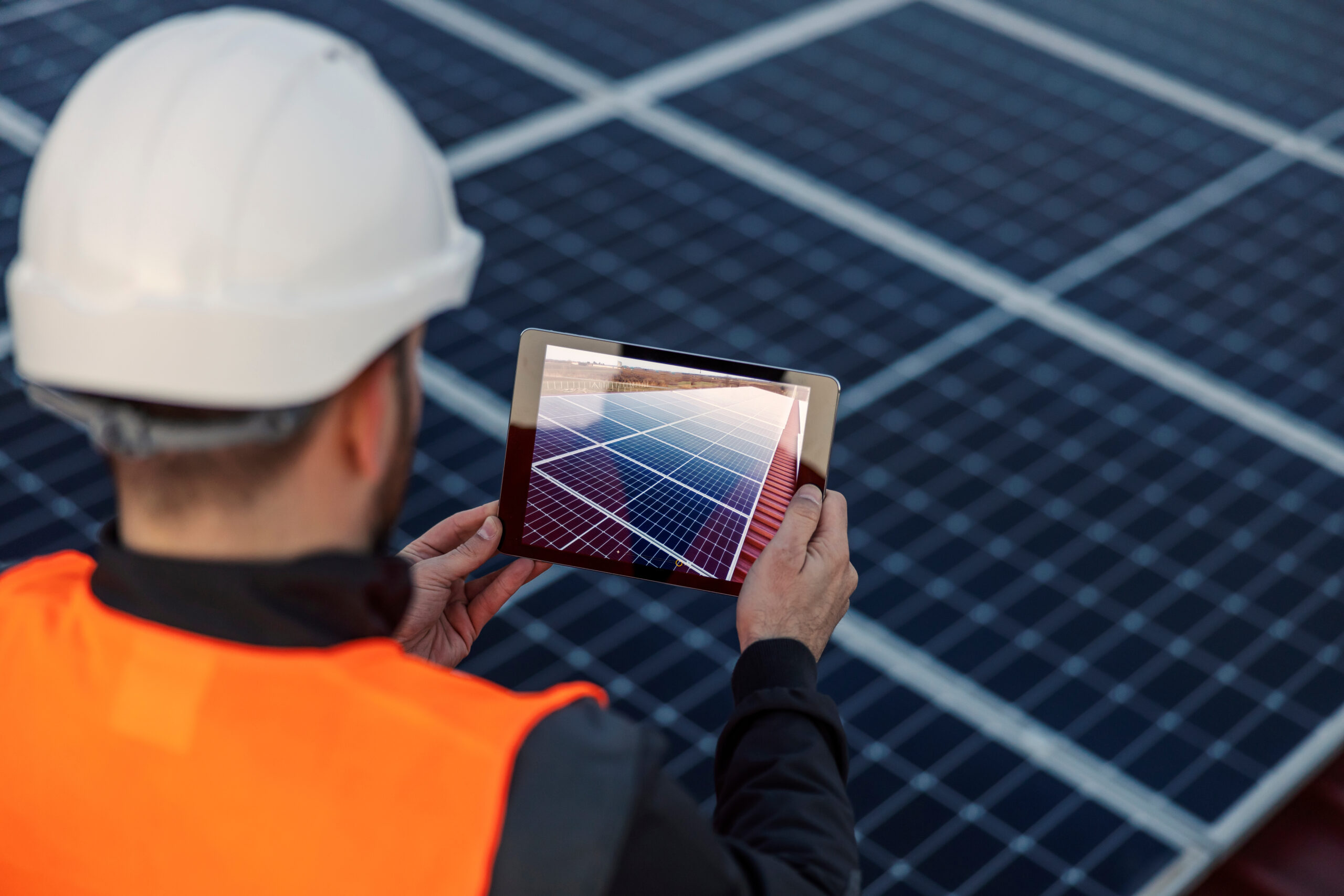 Implementing robust systems for data management, improving communication channels, and minimizing the need for additional site visits can help mitigate the costs and delays associated with change orders in the solar and renewables industry.
Solution: Enhanced Change Order Management
The Scoop solution makes it easy for solar teams to facilitate and organize communication within the platform. By allowing users to attach comments and questions directly to specific project phases, tasks, and media, Scoop vastly increases efficiency and decreases the amount of missing or incomplete data. Designers can upload or access plan sets in both image or PDF format, as well as CAD documentation, materials lists, and so on. The Project Tracker Live™ dashboard provides project managers with an intuitive visual of all solar projects and can highlight those that are within the change order phase for more immediate attention.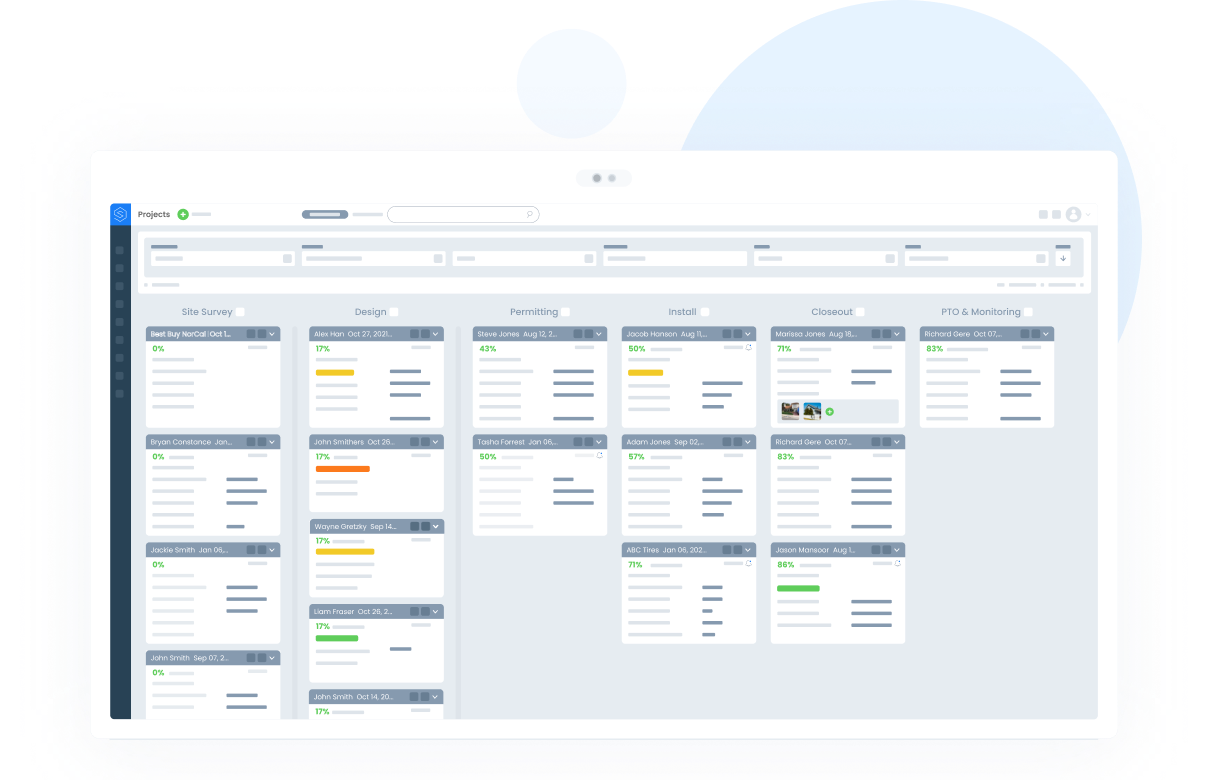 Challenge #3: Lack of Documentation and Checklists
Missing documentation and checklists are another area that can result in significant inefficiencies when it comes to solar installations. Incomplete data, such as missing photos, job requirements, or even access codes can cause delays and disrupt the installation process. Without standardized checklists, busy field crews may miss important safety or quality assurance items and be forced to return to the job site and without a centralized system to log progress, issues, and tasks, it is all too easy for details and dependencies to get missed.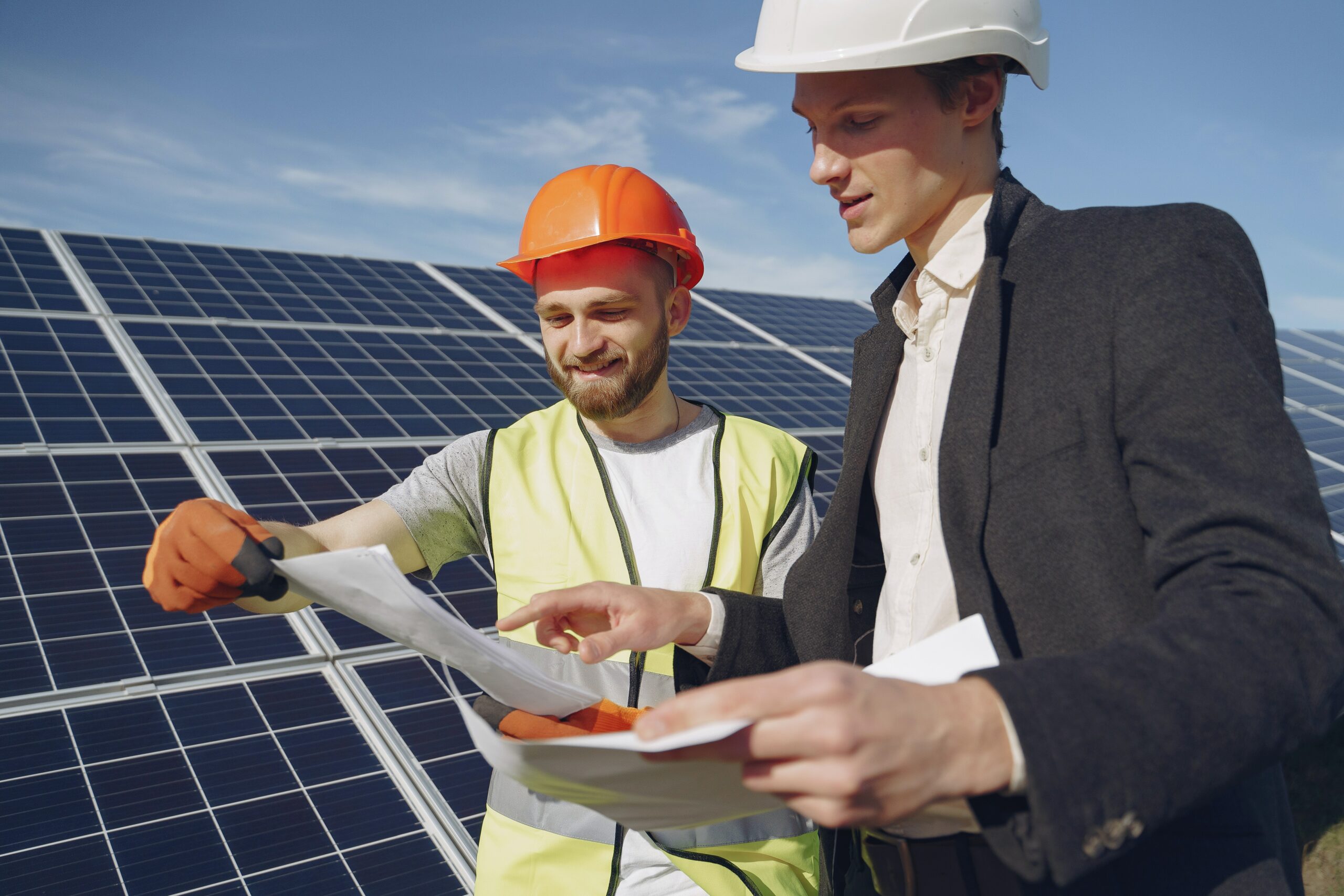 These inefficiencies can result in increased costs and longer project timelines, impacting the overall success of solar field installations. Therefore, it is essential to prioritize the maintenance of accurate and comprehensive documentation and checklists, as well as implementing effective communication to ensure the smooth and timely completion of solar projects.
Solution: Standardized Checklists to Enforce Field Compliance
Scoop has several features to ensure compliance throughout the solar installation process. With the Scoop mobile app, users can capture photos and videos directly or import media from their camera roll. To maintain compliance, project managers and Scoop admins can generate templates that outline the required photos per job type, such as grounding wire, panels, and modules, among others. The inclusion of mandatory fields throughout Scoop plays a crucial role in enforcing compliance. If users attempt to advance the project without completing these fields, they will be alerted and will not be able to progress the project until all of the required data is captured. Lastly, by assigning team leads and crew members within Scoop, there is increased visibility and accountability, once again helping to keep projects moving forward.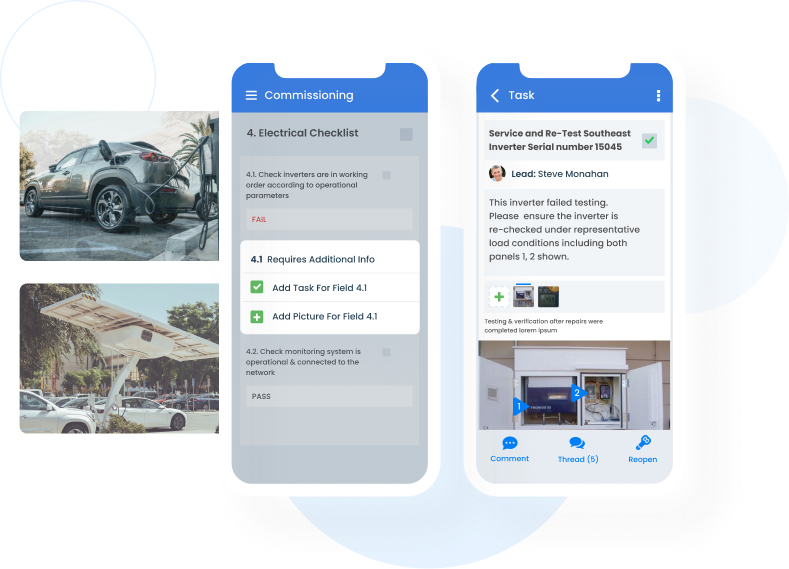 Challenge #4: Time-Consuming JCO Reports
Job Closeout (JCO) reports can be an extremely manual and time-consuming process for many solar companies. For starters, administrators assembling these reports must remember the unique requirements of JCO reports that vary across manufacturers, partners, and job types. This diversity adds complexity to the process and increases the risk of overlooking crucial details. Additionally, both sourcing and populating the correct data throughout these reports involves a number of manual steps and is prone to human error.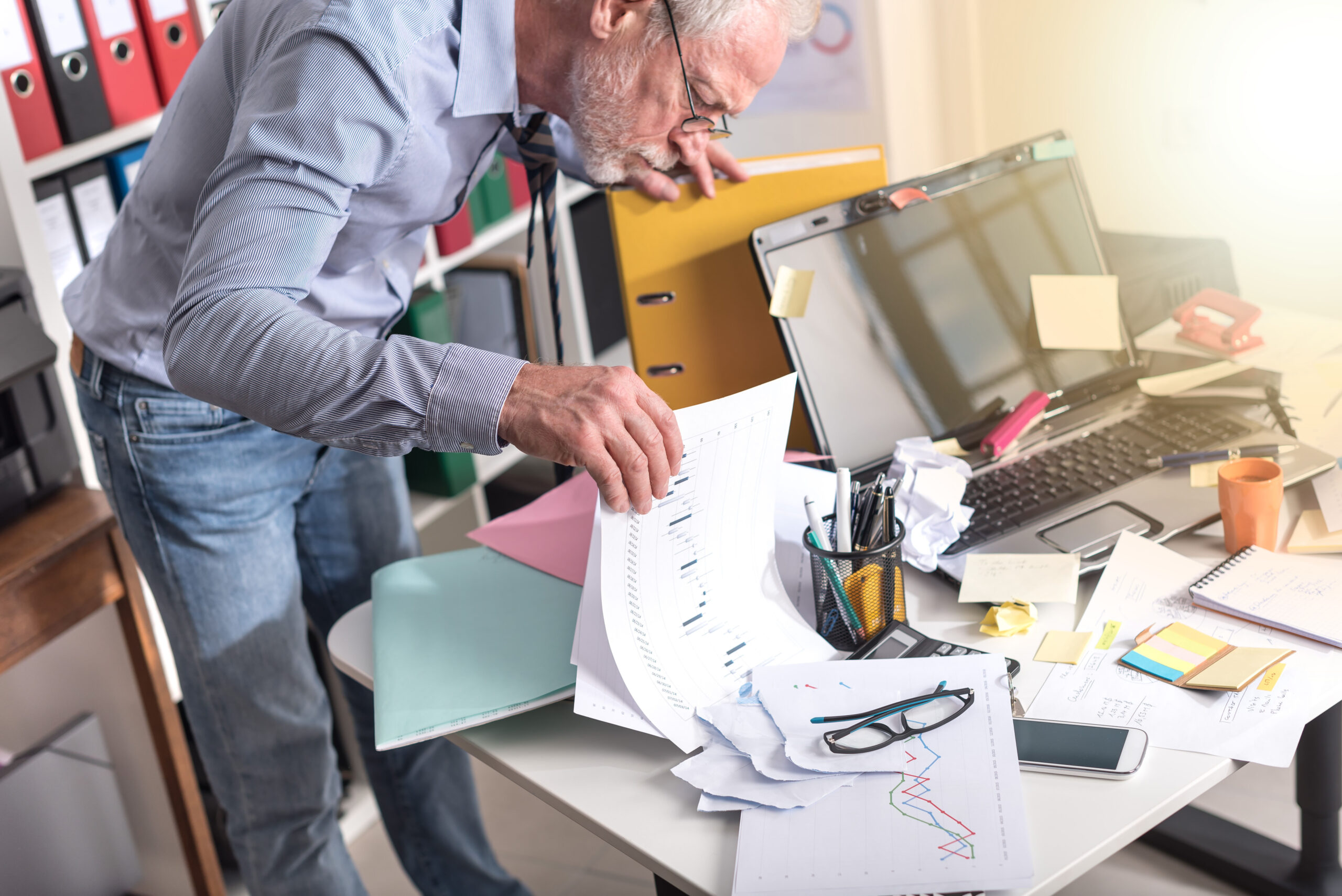 Any mistakes or omissions in the report can lead to delays, rework, and potential compliance issues. Therefore, finding ways to streamline and automate the job closeout report process can significantly reduce the time and effort required, minimize errors, and improve overall efficiency of solar project completion.
Solution: Automated Reporting and Communication
With a huge emphasis on automation, the Scoop platform streamlines job closeout reports for solar teams. Rather than sort through dozens or hundreds of photos to create a polished and complete JCO report, Scoop consolidates media for each installation and presents it inline with context. In fact, almost the entire JCO process can be automated. For example, certain criteria can trigger the creation of the JCO report with custom branding, the PDF document can be emailed to internal and external partners, the customer can receive a notification that the JCO process is complete, and a task outlining next steps can be assigned to the Permission to Operate (PTO) team.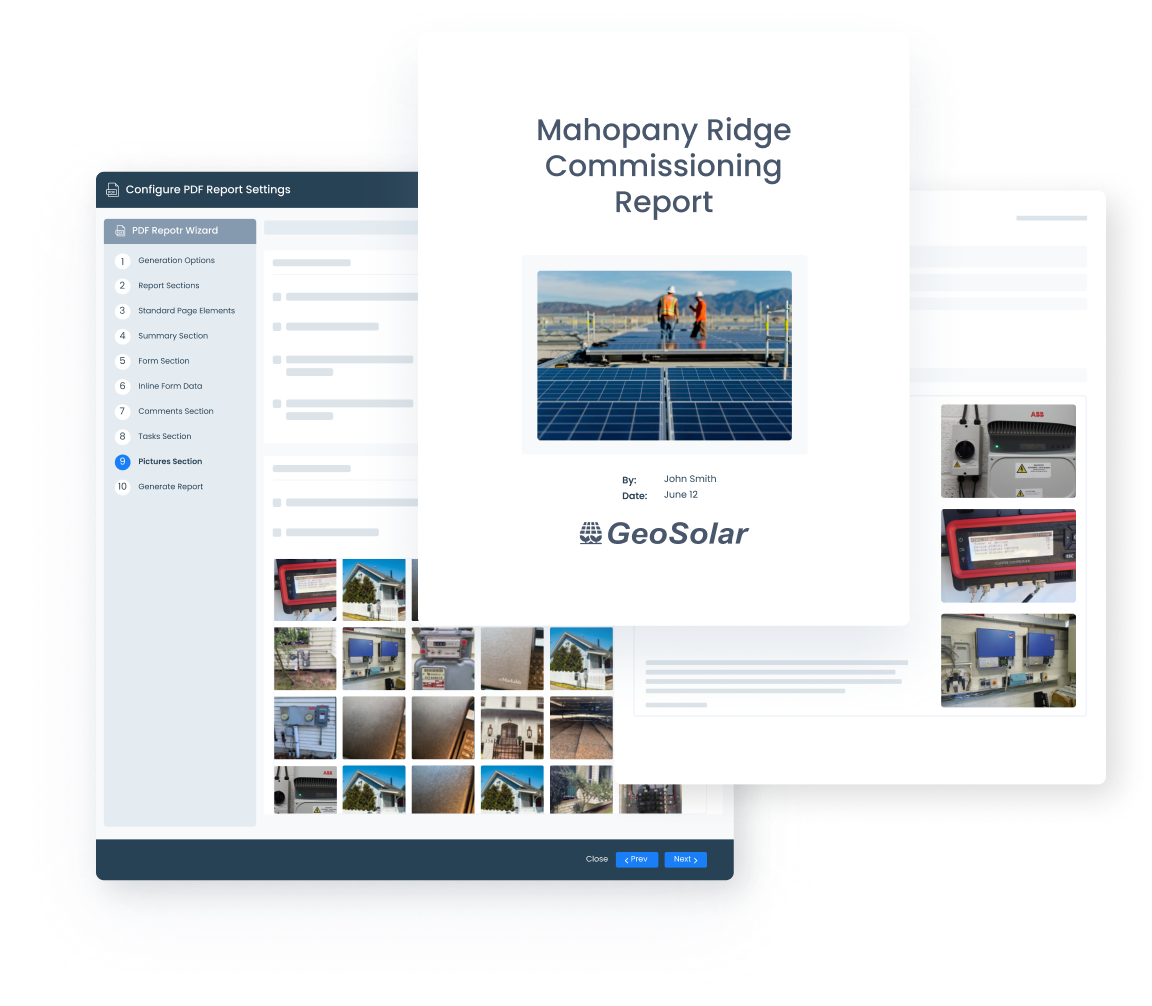 Scoop works with hundreds of solar and renewable installers and service providers around the world. To learn more about improving efficiency of your solar operations or to see the platform in action, get in touch today.