Life as a project manager is hard and solar operations can be endlessly complex.
How many times have you gotten to the end of a 10 hour day, only to realize that parts of your project are still unaccounted for? It could be the field technicians who have not checked in yet, the sales rep who has not updated you on the status of their latest leads or any one of a dozen other loose ends between the field and office.
In frustration and at the end of a long day, you turn to the many tools you rely on to keep your projects on track. You check your text messages, read your latest emails, open your file sharing platform and review your spreadsheets, all while looking for hints that will help you put your solar operations management project to bed.
In the end, however, you know that you will likely be enduring yet another site visit, taking even more time out of your already busy day and costing the project time and money. Wouldn't it be nice if there was one centralized place to consolidate project progress to solve this problem?
Every solar project and operations lead has experienced this frustration at one point. So what can be done to improve solar operations management in the modern age? How can you improve your own project management oversight and ensure that every step, from contract signed and project kickoff through to data, documentation gathering and closeout, is taken care of?
A Practical Solution to Your Problem
With Scoop, your solar project management and operational teams can easily specify the various steps that must be completed on site in order for the technician to complete their work for review. At first, some project managers and operations folks question whether their team in the field will use a tool like Scoop which comes with a native mobile App for field crew. Perhaps it will be too complex or too much work?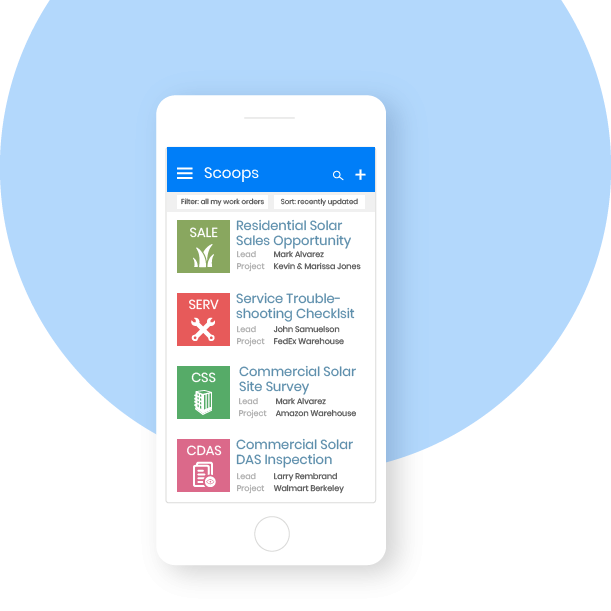 When we hear that, we turn the question back on the asker. How, we ask, are your field technicians currently sending information back to the office? The response is almost always a combination of tools and complex undocumented processes, many of which do not work well together. They are uploading documents, shooting pictures of the job site and spending a significant portion of their day re-entering basic information. And in all too many cases, those same field technicians find they have missed a critical step, and that they must return yet again to the job site they just left.
A single skipped step in the solar project management process can mean hundreds of dollars in additional labor costs, not to mention the hours of wasted time for your field technicians, office personnel and others on your team. It does not take a solar operations streamline assessment to see there has to be a better way, and that is where Scoop comes in.
In the end, compliance, the act of moving processes and checklists out of the heads of your field leads and into a standardized mobile-friendly workflow, is a non-negotiable part of any business, especially the fast-growing firms in the solar industry. So contact Scoop today, check out our website or fill out the demo form below to learn more about how we can transform your business by helping you reclaim all those wasted hours and lost dollars.