By integrating the Scoop and Aurora Solar platforms, solar installers can unlock opportunities to automate workflows, streamline data, and improve collaboration across field and office teams.
Integrating Scoop and Aurora
Scoop's GLOO Integration Service connects tools, offering consistent data, automated workflows, and streamlined processes. Due to its configurable nature, there are several ways to connect Scoop and Aurora and the configuration will depend entirely on your current business operations and what you are hoping to accomplish. 
For this article, we will examine one of the more common integrations and showcase how the power of each software tool is multiplied through Scoop's GLOO Integration Service. 
This example begins with your solar sales team. In order to successfully kick off a project, your sales rep will begin collecting information about a prospective customer – in this case, a homeowner. This data will include name, address, contact details, and so on. Your sales rep will either open Scoop on their desktop or from the mobile app and start inputting this data into a Site Survey and Opportunity Intake project phase.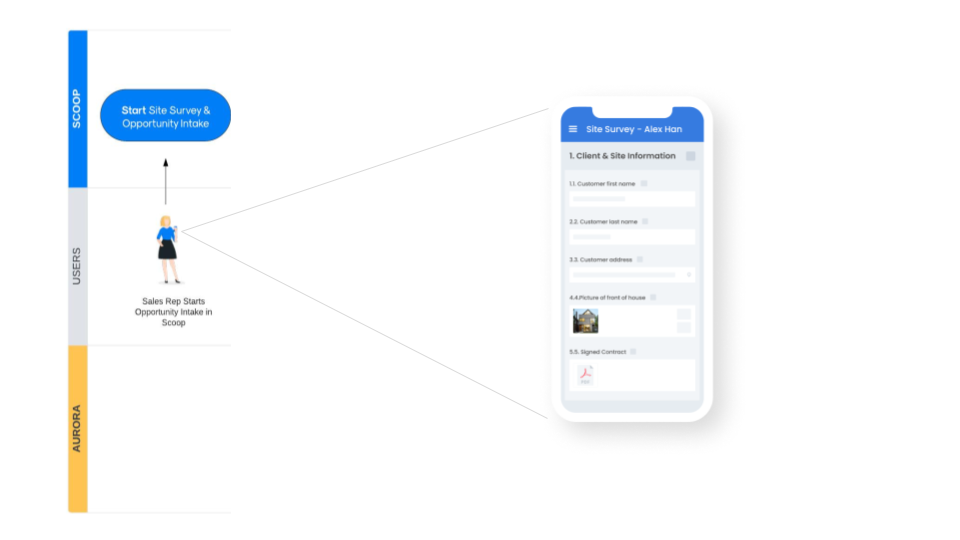 Once the sales rep has collected enough information to move forward, they will mark this phase as "Complete" in order to move forward and have the project and design created in Aurora. GLOO provides customers with the flexibility to specify whether these should be created automatically by updating the status of the project, or with a bit more intention by requiring users to manually select an action button such as "Send to Aurora for Design" in order to activate the trigger. In either scenario, your sales rep will complete an action that triggers the automatic workflow between Scoop and Aurora.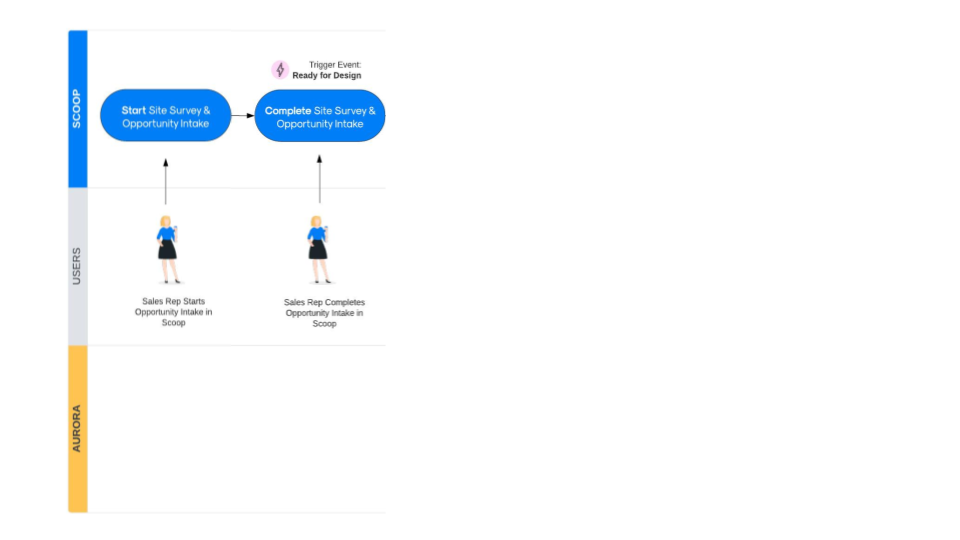 By triggering the workflow, lead data, utility bill information, and more will auto populate from Scoop to Aurora and simultaneously, Aurora will create the AHJ name and a link which will appear in Scoop. Going forward, you and your team can now reference this link throughout your project, connecting directly to Aurora's AHJ database. This bi-directional data transfer happens completely in the background and in real-time, eliminating the need for manual data entry.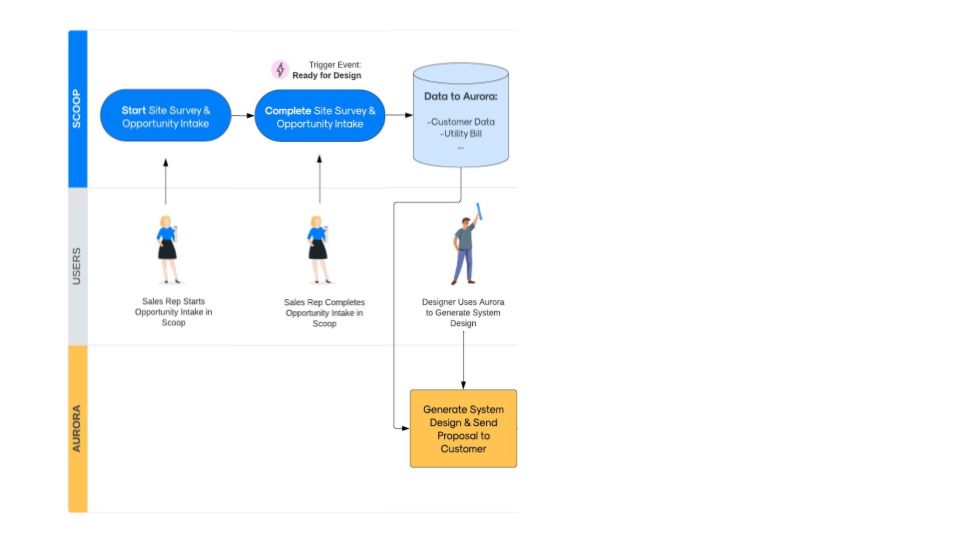 This link seamlessly opens Aurora and allows your team to continue working from there. Within Aurora's Design Mode, potential customers can see the roofing design and calculated performance, and select storage, add-on, and payment options. When it is determined that the homeowner is happy, your sales rep can generate a contract to send to the customer for signature and once that contract is signed, the next automated workflow begins.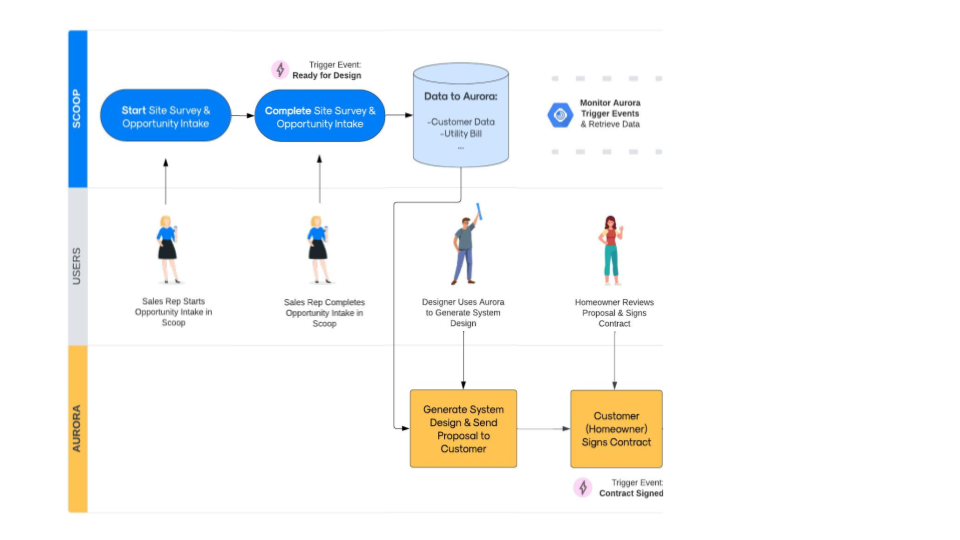 At this point, GLOO passes all of the newly updated and relevant information from Aurora back into Scoop. Typically this includes system design details, roofing and financial information, as well as a link to the AHJ and web proposal. By having this information up-to-date and readily available in Scoop, your team can continue advancing this project through the permitting, installation, inspection, PTO, and other phases from one centralized tool. 
This detailed information is now available to your entire team as they move forward with this solar installation. Better yet, automated workflows and project handoffs allow you to notify the right people and assign tasks and due dates when specific criteria are met, greatly reducing manual communication and the risk of project delays.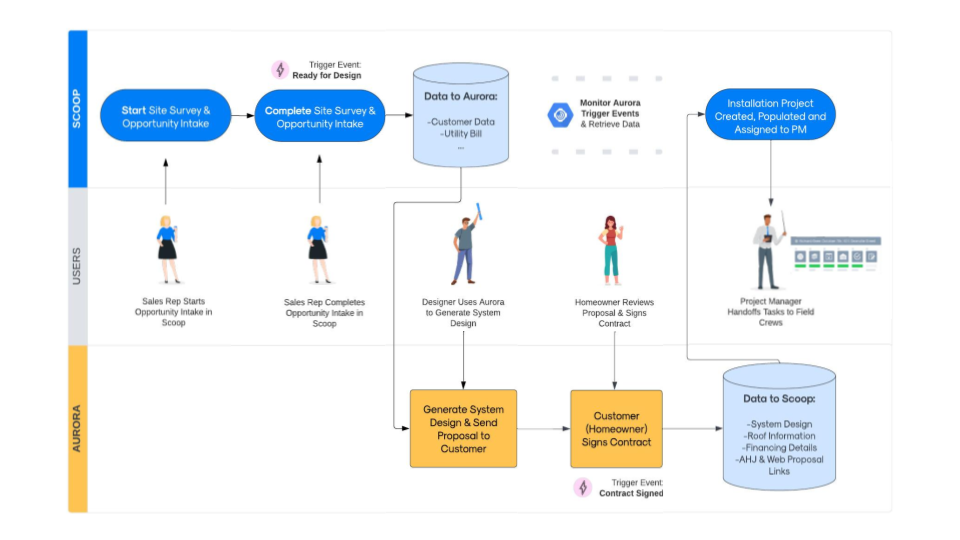 Benefits of the Scoop and Aurora Solar Integration
There are several benefits to integrating Aurora with Scoop Solar, including: 
Eliminating manual and repeat data entry 

Streamlining your solar sales to design process 

Connecting your solar design process with other project phases 

Automating workflows to free up bandwidth across your team 

Ensuring up-to-date information is available in all tools 

Keeping projects on time and on budget 

Providing the ability to track project progress in real-time 
About Scoop Solar 
Scoop is a leading field project management and workflow automation software built specifically for today's solar, renewable, and sustainable infrastructure companies. The user-friendly platform is designed to eliminate repeat data entry, simplify remote work execution, and streamline project document and media management. Through Scoop's GLOO Integration Service, teams can create a fully connected, best-of-breed software stack with 500+ tools across all business functions – sales, design, proposal, accounting, finance, and more. 
About Aurora Solar
Aurora Solar is the industry's leading solar sales and design platform, empowering solar professionals to deliver at every stage of a solar project—from lead to install. 
If you found this article helpful but are hoping to learn more, check out our webinar: Automate Workflows with Scoop and Aurora to see the integration in action or book a demo today.