In today's rapidly growing solar industry, the right software tools can make or break your business. It is important to choose a solar CRM that will equip your sales teams to nurture and handoff leads, your solar installers to properly serve your customers, and much more. From reducing time consuming tasks and improving solar project management, to enabling your business to be fully mobile, here are seven factors to consider when evaluating solar CRM software.
7 Factors to Consider When Evaluating Solar CRM Software
As your solar business seeks to generate more leads, expand market share, execute marketing automation, and see significant improvements across your entire process, you will want to commit to a powerful tool that can help you manage growth and change.
1. Solar CRM Feature Set
Of course, one of the first things to consider when choosing a CRM for your solar business is what the software can and cannot do so it's important to evaluate its features. For example:
Does your solar CRM give you the ability to store, update, and connect customer and client site data?
Does the software have a project management function that allows you to set and view the phases of your existing projects?
Do you have the ability to execute workflow automation and improve efficiency with task management?
Can your sales reps eliminate manual tasks and redundant messaging, freeing up more time to nurture leads and convert customers?
Does the solar CRM have flexible user permissions and team management, giving you control over what specific users and teams have access to?
Can you easily export and share information from your solar CRM with other teams, contractors, and stakeholders?
Do you have access to reporting and analytics in order to better understand and optimize your processes?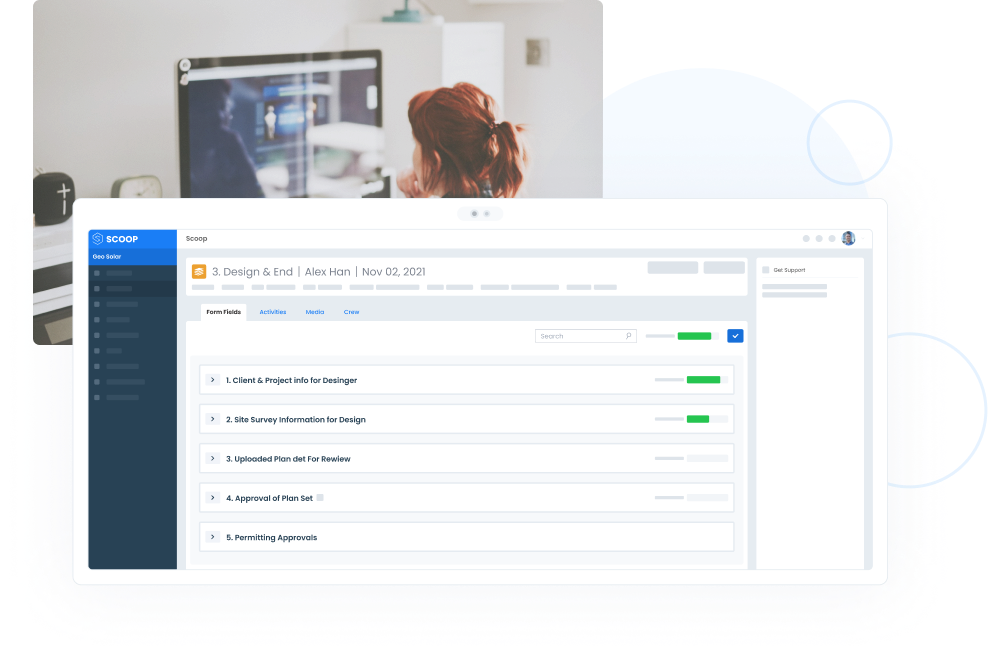 2. Company Knowledge of the Renewables Sector
If you are a smaller solar or renewables company, you might be able to get away with an industry-agnostic CRM (customer relationship management) software. However, if you are doing at least fifteen installs or 50+ service work orders per month, you should strongly consider a software provider that has experience in the renewable energy sector. The reason for this is that your customer data, project details, follow up tasks, and so on will look different from other companies. 
If you specifically seek out a solar CRM that has knowledge and experience with solar businesses, you can rest assured that the software will be built to cater to your specific needs and challenges. Not only with its features, but a focused platform will also have the benefit of pre-existing solar operations templates and experienced support staff that can significantly reduce the time to get fully onboarded and go live with the software.
3. Mobile-First Software Design
With today's increasingly remote and distributed workforce, it is very important to consider if your solar CRM can be used from your employees' mobile devices while they are in the field and on-the-go. Does the software sync data across devices, ensuring you and your employees always have access to the most up-to-date information? Another consideration is offline mode, which allows employees to keep working despite not having a fast and reliable internet connection.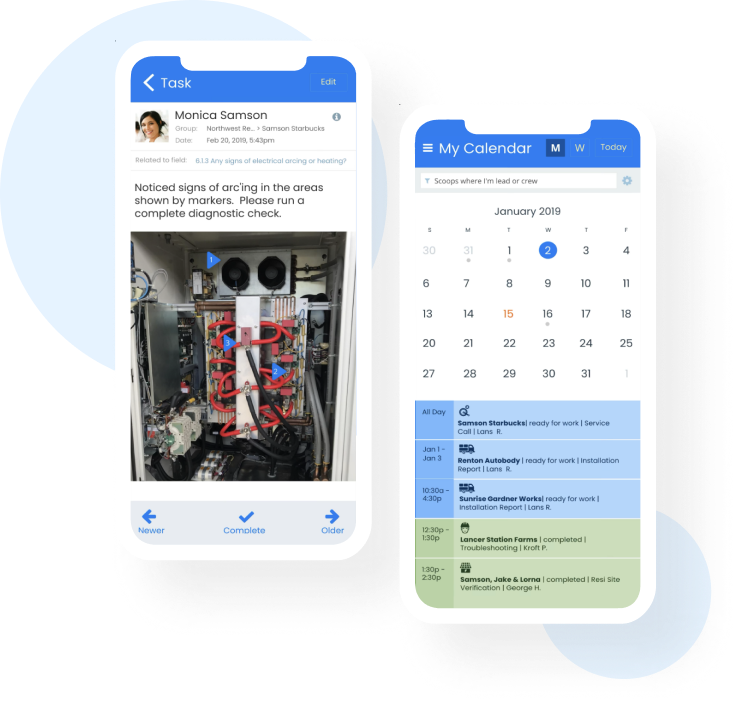 4. Ability to Integrate
Since it is strongly recommended to choose a specifically solar CRM, you'll want to consider if this software can integrate with other software in your technology stack. Whether proposal design software, field service management (FSM), e-signature, invoicing, or other tools, using a solar CRM with powerful integrations and APIs is extremely important. By building integrated solutions, you can enable your solar sales representatives to do their job efficiently and improve upon existing processes.
5. Best of Breed vs. All-in-One Software
One thing to look out for in your search for the perfect solar CRM is companies that brand themselves as the "all in one" platform. These providers often come with a higher price tag but tell the story that you can save money by virtually eliminating all other existing software tools. Unfortunately, many learn the hard way that these all-in-one vendors are a myth. Eventually, these software tools must decide where to focus their functionality and pieces that are important to your business may get left behind which is why solar companies are opting for best-of-breed software stacks choosing to build a system consisting of a few essential tools, each with a specialized focus, such as a solar CRM.
6. Customer Support & Onboarding
As your staff evaluate solar sales tools, the search shouldn't stop after determining its features and functionalities. It is equally important to understand factors such as ease of use, availability of support, and what, if any, onboarding is provided by each software company. Does the solar CRM provide dedicated support resources? Is their product easy to use? Does the company take time to ensure you and your team have a solid understanding of the software? These are great questions to ask during your evaluation phase.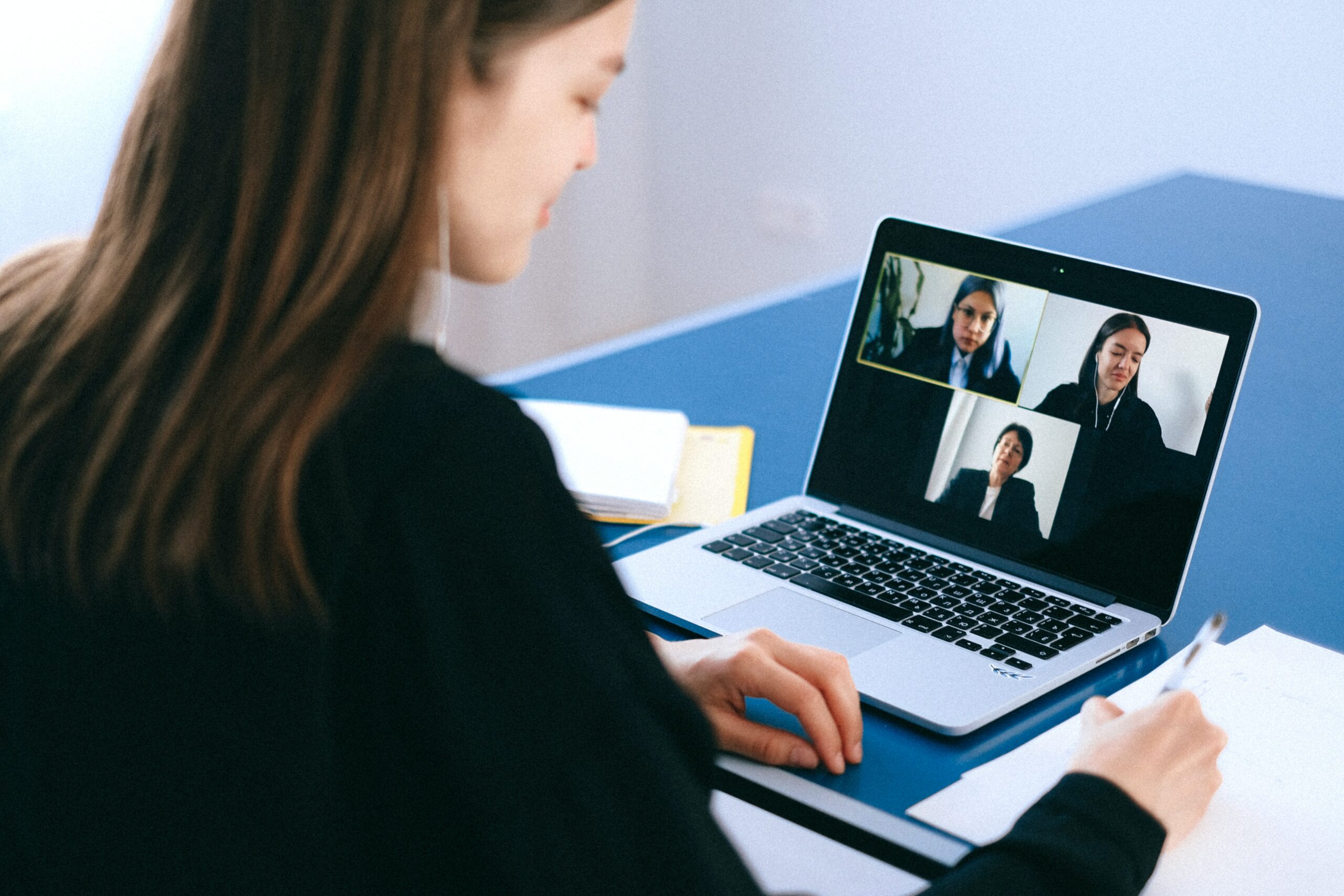 7. Affordable & Intuitive Pricing Plans
The last item to consider in your search for a solar CRM is price. What is the pricing model? Does it depend on the number of users, features, storage, or something else? What is the subscription term? Does the company have customer testimonials or case studies with a proven ROI? These considerations can help you narrow in on a software that makes sense for your business.
In conclusion, there are many factors to consider when moving away from traditional systems in order to find a CRM that is perfect for your solar company, but this guide can serve as a reminder of seven key considerations. Scoop Solar is a leading project management and solar CRM. Over 25,000 solar and renewable projects around the world have been executed using the Scoop platform. If you have questions or would like to learn more, reach out today.
Solar CRM FAQs
What is solar CRM software?
CRM stands for customer relationship management. Solar CRM software is technology used by a solar company to manage project site and customer data, relationships, and interactions, as well as lead generation and follow up.
Who uses CRM software?
Companies across all industries might use a CRM to organize lead management and customer interactions, gather business insights, and increase productivity. For a solar business, your sales or operations team are likely using this tool on a regular basis but you may also consider granting access to your project manager, solar contractors and solar installers, contract sales representatives, and your customer experience team.
What type of reports exist within a CRM for solar companies?
As previously mentioned, it is important to consider if your solar CRM includes access to reporting and analytics in order to better understand and optimize your project or sales process. This information should not rely on a single database or come in the form of a single dashboard. Rather, your executive teams and solar sales team members, for example, should be able to access high-level reports on existing solar projects, detailed customer expectations and profitability measures, down to granular metrics such as the number of phone calls made by a particular sales rep.