Fast-growing solar companies cannot afford to be slowed down by disconnected systems and process inefficiencies. Unfortunately, one of the key challenges faced by solar installers during periods of growth is the gradual drop in productivity of existing systems and methods for executing operations. The operational inefficiencies caused by growth are insidious – they occur slowly, flying under the radar and taking the form of hundreds, if not thousands of seemingly insignificant productivity lapses.
Consider solar installation software, for instance. Several different tools for solar installation may be used depending on the project phase or status. As project data is dispersed across various platforms, it can be challenging for solar installation and production teams to obtain actionable insights and eliminate inefficiencies.  
Many fast-growing solar installers and service providers are experiencing the setbacks of disconnected solar tools that are not conducive to streamlining production services or building a scalable solar installation software stack. 
LOOXY™ Analytics by Scoop is a new and advanced business intelligence (BI) and analytics platform built atop the category-defining Scoop® mPMA platform – the leading choice for Solar CRMs. LOOXY captures the fine grained data within Scoop as your teams execute operations using Work Apps™, and presents your solar installation, production, and project data in a way that is useful for making more informed business decisions.
With unlimited users and dashboards, LOOXY allows each user to drilldown on the data that is most relevant to them. These dashboards are helpful in both informing and engaging today's often remote and multi-organizational team members and cultivating a healthy environment of teamwork, performance, and achievement.
Related: Access the LOOXY Reporting & Analytics Webinar Recording
The Challenge
Solar production and installation teams need to be able to quickly understand the status of all projects – both big picture status across the organization, as well as the progress of individual projects. It is also imperative to have clear and accurate data in order to effectively collaborate with other internal teams.
For example, if production and installation teams are able to forecast the materials needed for all upcoming projects, they can communicate this to their inventory team and avoid any shortages. Similarly, solar sales teams can indicate what deals are in the pipeline, project timelines can be shared with finance teams to provide them with expected payment dates for key project milestones, and so on. Typical solar installation software fails to showcase this data in a way that is meaningful for executives or employees.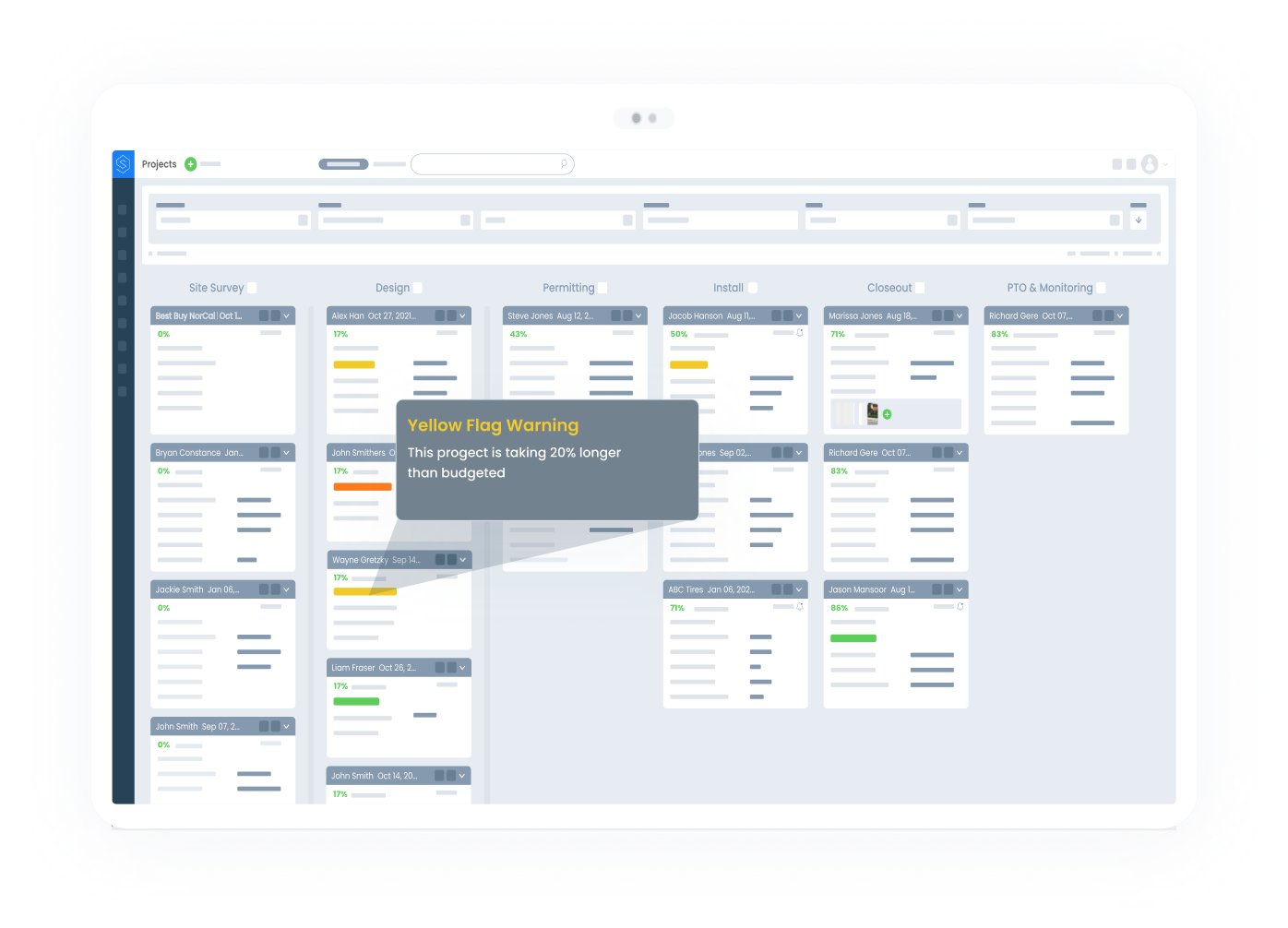 Without an advanced analytics platform for renewable operations, managers and executives face the time consuming redundancies of collecting data from various tools, unstructured lists, and disparate spreadsheets. Another challenge of working in multiple tools is filtering through inconsistent data types, having to compile and present the data in one platform, and ensuring that reports do not become outdated before they are shared with key stakeholders. 
Solar production and installation teams have a pivotal role in ensuring projects move along smoothly and as planned. Without intuitive and integrated solar installation software, these teams will have a difficult time understanding and reporting on items such as: 
A pipeline view of current projects in every stage and across all lines of business

Associated details on any given set of installation projects

Materials required in early project phases to communicate with inventory teams

Contracted value sold currently in each project phase 

Payment timelines and due dates for each project milestone

Installation project locations to allow scheduling and rescheduling crews as effectively as possible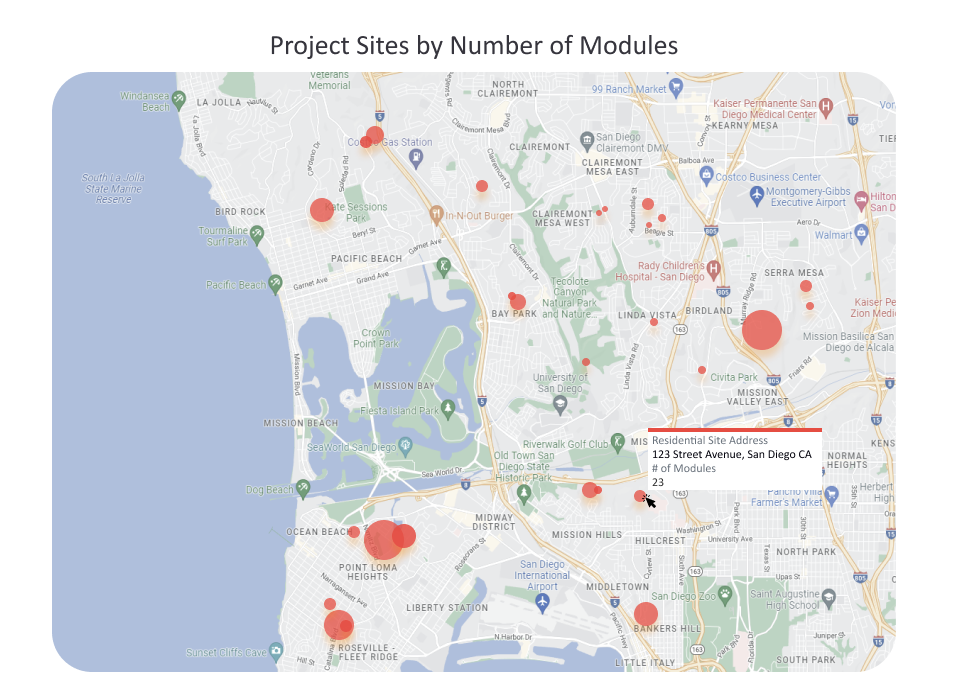 The Solution: LOOXY Analytics
An Integrated Platform
LOOXY has a native integration with the Scoop® platform, meaning you have full access to and control over your data. An integrated solution helps installation and production teams overcome the limitations experienced with other analytics tools, such as outdated or missing data and manual uploads by using the built-in sync connected to your operational data in Scoop. 
Pre-Built & Custom Reports
LOOXY Analytics provides you with default reports that are focused on key, high level metrics, as well as the ability to create reports using custom data that is unique to you and your business. Production and installation teams can use their solar installation software reports to get at-a-glance answers to how many projects are being worked on in any given time period and the breakdown of these projects by type, region, duration, and more. 
User Friendly Platform
The user-friendly and intuitive design of LOOXY makes it easy to drag and drop various types of operational data including numeric, dates, and multiple choice values. Quickly configure dashboards and reports to monitor installation and production metrics across the business. 
Related: Collecting Insights Through Your Solar Field Service Software
Advanced Data Filtering
LOOXY allows users to easily slice and filter your operations data to hone in on the most relevant metrics. Examine a variety of data categories including projects, work orders, tasks, and sites and choose how your data is displayed – bar graphs, pie charts, heat and geo maps, and more give you full control over the visualization of your data. 
Automated Dashboard Emails
After creating reports and dashboards, you can easily share them across your team, company, or with other stakeholders. Create automated email notifications that include your various reports, or simply export them as PDF documents in order to increase visibility and accountability across your organization. 
Production and installation teams require a variety of data in order to work most effectively as it pertains to each project, as well as with other teams across the business. Solar installation software with an integrated analytics platform such as LOOXY provides data that updates automatically in real-time and empowers renewable leaders and executives to stay connected to their operations. For more information on how LOOXY Analytics is enhancing solar panel installation software and streamlining production services, connect with us today.