According to a recent report by McKinsey, it is estimated that by 2035, renewables will generate 60% of the world's electricity. Even in the short-term, it is estimated that by 2026, global renewable electricity capacity will rise more than 80% from the levels observed in 2020.
As the clean energy industry continues to experience growth, renewable energy software will become imperative for companies to manage this growth. Luckily, there are software solutions that can help your company manage projects, organize job site data, support your remote teams, and successfully scale your operations.
Use Cases for Renewable Energy Software
One of the most common use cases for renewable energy software is for solar energy projects. Solar installers might specialize in residential or commercial solar power infrastructure, resulting in different resources, team size, job site, and cost, but the project phases are largely the same. Other use cases include electric vehicle (EV) charging stations, wind turbines or wind energy installations, battery power storage, heat pumps, and even creating renewable energy infrastructure within the construction industry.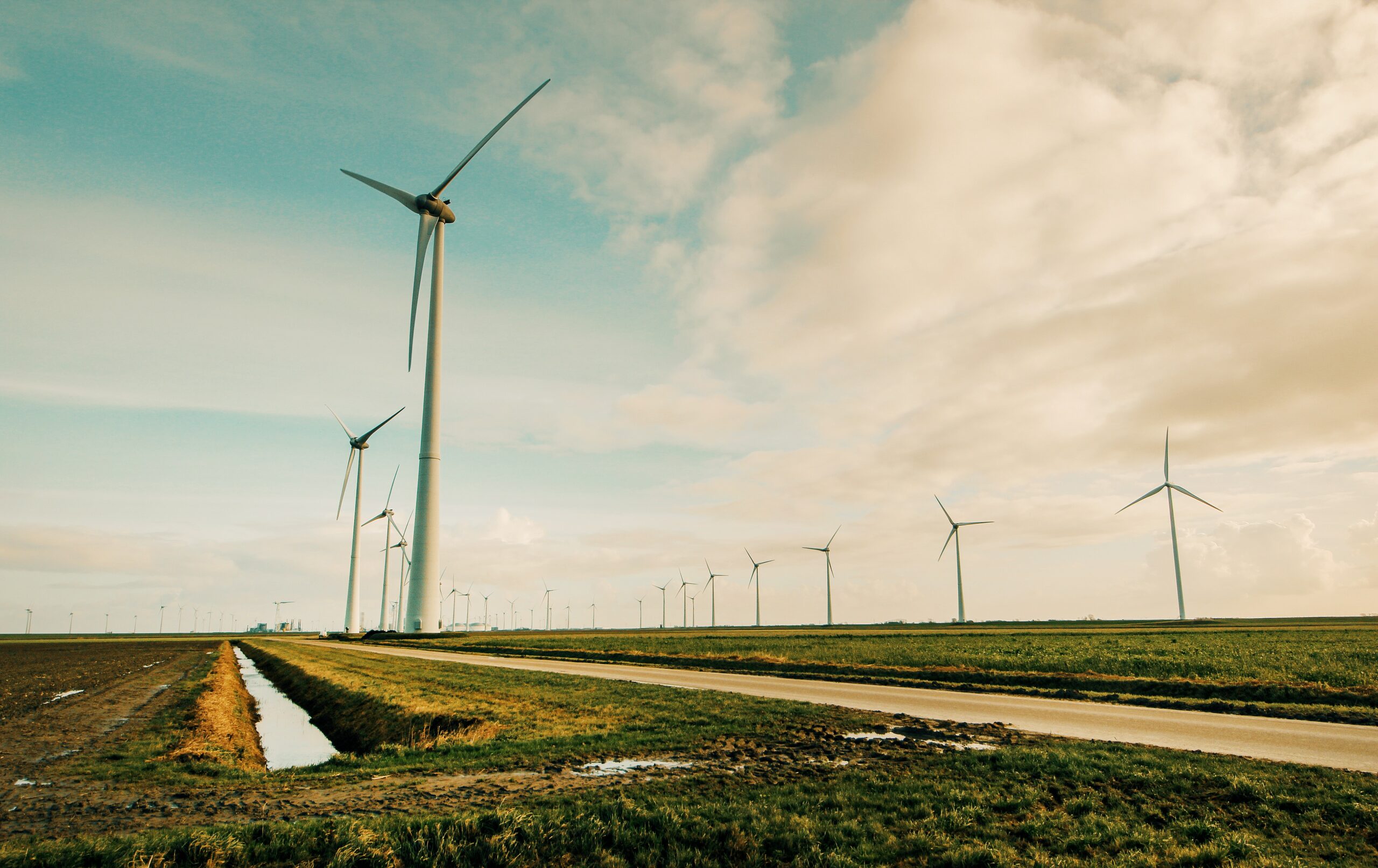 A related use case for renewable energy software is for in-field service solutions and O&M. This component of renewable technology is focused on streamlining service operations for renewable energy companies. Software tools such as Scoop Solar are helpful in organizing service requests and related details, dispatching technicians to various job site locations, collecting and reporting on service data, and allowing project managers to track the status of open service requests in real time.
Features of Renewable Energy Software
An effective renewable energy software platform has a variety of capabilities to help manage clean energy projects, view real-time progress and reporting, create automated workflow tasks, and streamline your renewable operations. To empower your team and easily collaborate with subcontractors, consider features such as work order management, integrated dispatch and schedules, mobile app development, customer relationship management (CRM), solar reporting, and whether the software integrates with your existing tools.
Standardized Renewable Energy Projects
The Scoop Solar project management software makes it easy for renewable energy companies to standardize projects, systems, and data collection. The cloud-based technology is available via web on desktop, as well as for iOS and Android devices on mobile. Updates to project data, documents, and other media can be made from multiple devices, updating across all others in real time. Project Templates, checklists, and required fields ensure compliance at every phase of renewable energy projects.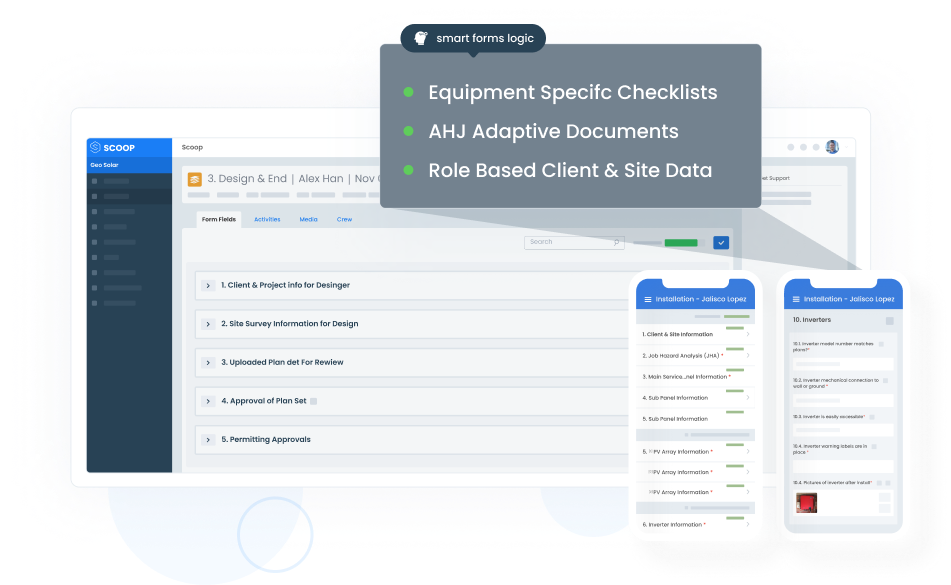 Easy Scheduling and Automated Workflows
Improve communication and reduce duplicate and manual data entry by auto populating technical documents, customer details, and job site photos in relevant places across the Scoop platform. Easily schedule project managers and design, engineering, and service teams and create automated tasks and reminders at critical project stages to ensure business processes are complete.
Intuitive Access Controls
Scoop Solar solutions all include unlimited user seats – a bonus on both the financial and efficiency side. This approach fosters more collaboration across your company by allowing partners, subcontractors, project managers, and on-site technicians alike to access the most up-to-date project data, resources, and systems from a single platform. Intuitive user permissions provide you with control over the data that each team can view and edit.
Project Reporting and Analysis
In order to paint a complete picture of your business operations, your renewable project management software should provide you with a data modeling solution, wherein both executives and project managers can quickly understand the status, cost, and quality of projects and installations. LOOXY™ is Scoop's fully integrated reporting and analysis solution. The drag-and-drop report builder makes it easy to track the status of multiple projects in one easy view. Answer questions such as:
How many solar deals are in the pipeline compared to wind?
What is the value of all deals currently in development?
Can I review a map of all of my solar plant installations?
How many service visits have been completed this month? How many were scheduled versus unscheduled?
What are the financial timelines and payment due dates for each project milestone?
Integrable with Other Software Solutions
Most likely, your renewable project management software is not the only platform used by your business and therefore, you want to ensure any software systems are able to integrate with one another. GLOO is a fully managed integration service that integrates your tools and improves efficiency across your business by populating data, documents, and tasks in multiple tools. This approach grants your business access to the unique features of each platform while maintaining control of how data is used and shared.
Whether it be solar or wind energy production, EV charging stations, renewable construction infrastructure, HVAC, or battery storage, there are several use cases for project management technology such as Scoop across the renewable energy industry. Scoop helps renewable energy installers and service providers centralize data, create and manage projects, automate workflows, and engage field teams.
To learn more about Scoop's renewable energy solutions, contact our team today.