Scheduling scoops and assigning crew members just got easier and more efficient with the release of Scheduling & Resource Optimization, also referred to as SRO.
Why It Matters
Project Managers and Scheduling Coordinators are constantly scheduling a variety of tasks, many of which involve the coordination of different crews. This can be difficult to organize while also trying to maintain load-balancing across the team. A common challenge in these roles is being mindful of existing conflicts while working to ensure that work is scheduled and completed with efficiency. When conflicts do arise, it's often a manual effort to clear them.
We built SRO to help alleviate some of the manual efforts required to schedule scoops, manage crews, and keep track of conflicts while also offering a simplified process for handling conflicts when they arise.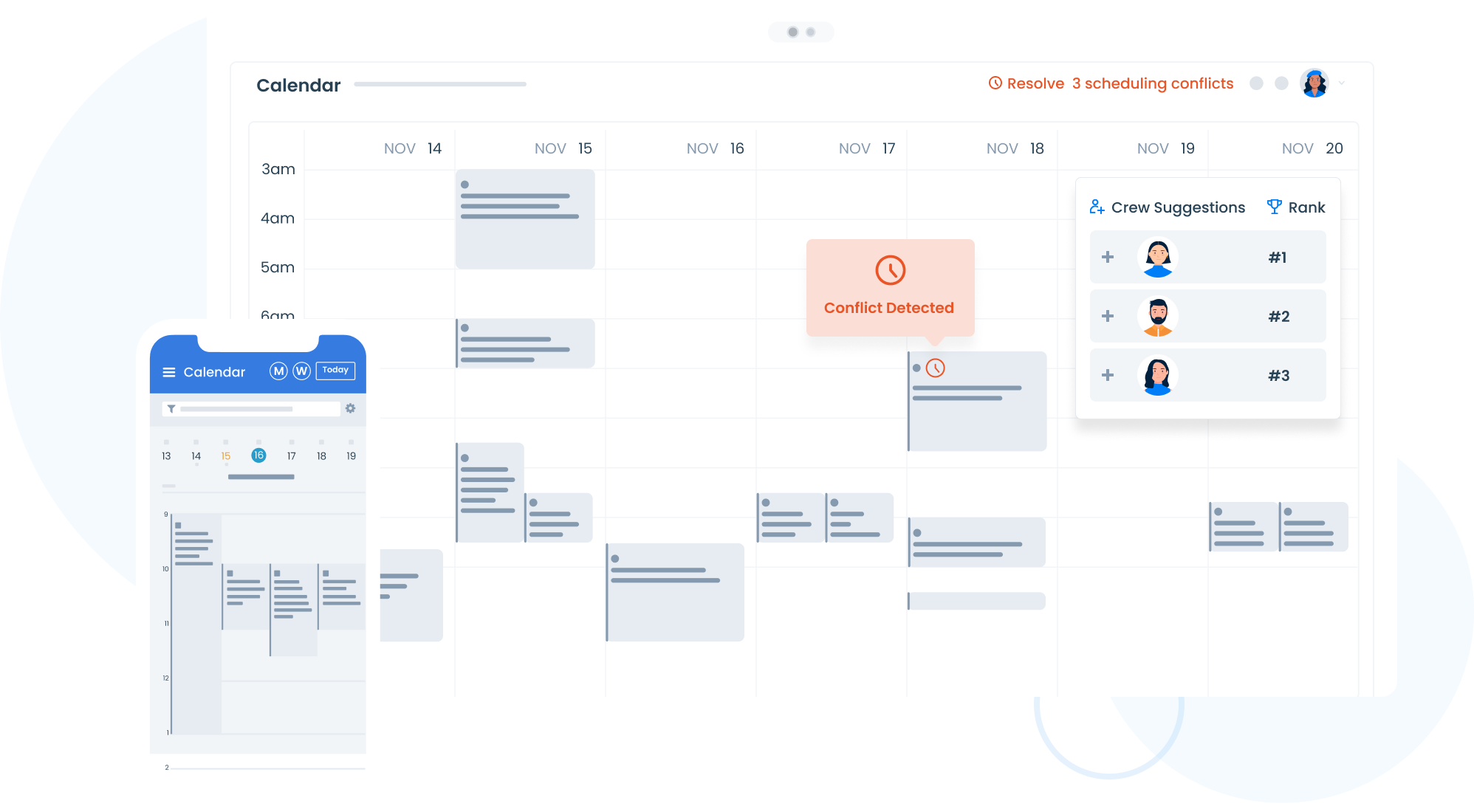 Benefits of SRO
Save time when scheduling new or existing scoops
Manage the scheduling of scoops from the calendar or scoop views
Assign resources based on their role and level of availability
Ensure conflicts are easily observed and resolved by suggesting alternative available team members
Allow management and oversight users to be assigned to multiple scheduled scoops without being flagged as having conflicts
Overview of Key Features
1. Expanded "Calendar Event Open" and "Add/Edit Crew" Modules
Includes more details about the specific scoop.
Ability to edit the scheduled start and end dates without having to open the scoop.
Ability to see currently assigned lead and crew members, identifying any that have conflicts.
Ability to search assigned and available crew members by role.
Ability to see an automatically calculated "Availability Score" for each member within the larger team.
Ability to expand each assigned crew member and view alternative members with the same role ranked in order of suggested preference.
2. New Conflict Resolution Mode for the Calendar
Now, schedulers can access a link that summarizes the number of current scheduling conflicts whereby one or more users have been booked on multiple scoops at the same time. Clicking the link opens the calendar in Conflict Resolution Mode in which the schedule can advance through each team member who has one or more conflicts. For each crew member with conflicting scoops, the scheduler can easily select an alternative crew member to resolve the conflict.
3. Role Designation for Scheduling Conflict Detection
The release of SRO also allows for the designation of certain company roles to be excluded from scheduling conflict detection. This allows roles involved in management or oversight who are routinely assigned to multiple scoops to not be falsely flagged as having a conflict.
For current customers looking to learn more, check out the SRO feature spotlight article. If your team is struggling with schedule and resource optimization, book a discovery call with the Scoop team today.