The pain of disconnected systems in solar operations
Is your CRM software more frustrating than flexible? Can you sympathize with the project manager who wishes there were an easier way to see real-time project progress, communicate with team members in the field or update a project calendar in one place? Do your site surveyors have to make multiple site visits because key information was either not captured or shared effectively the first time? Are members across your office and field teams sharing that they feel like they're always missing contextual information they need to do their job efficiently? From our work with hundreds of solar operators, we can assure you you're not alone.
The challenges of CRM in connecting operations and field execution workflows
Customer relationship management, or CRM, is a powerful tool in the corporate world, used to manage sales teams and quotas, execute marketing automation and nurture leads through the opportunity stages of the sales process. But in solar operations, CRMs are not designed or equipped to perform beyond the early sales process. At some point, earlier than later, your sales or operations team is heading out on site (or connecting remotely) to collect information and pictures that will be critical later in the process. Today, is your CRM offering a seamless mobile experience for these team members to transition their workflow to the field? Once that sales or site visit is completed, do the key piece of context and information automatically pre-populate for team members through the project lifecycle such as design, engineer, permitting, install, JCO and service? Have you considered how much work it is for these team members to currently track down the necessary context and documentation to execute their process?
In the solar industry, we believe your CRM should do what it is best at: managing early sales and marketing activities. When the customer is ready for an On Site Visit or has signed the contract, we believe all of that data should be seamlessly transitioned to a project management and field operations tool that is designed to handle the dataflow and workflow complexity we have all experienced in the solar installation and service industry. 
The Best of Breed – CRM + Operations Management & Automation
By integrating these two disparate parts into a cohesive whole, the solar operations management system becomes centralized, eliminating manual inefficiencies and exponentially driving down solar operation and maintenance costs.
Solar installations and service businesses are complex, with a variety of moving pieces and parts that require close coordination to get the most out of your crews and streamline your solar operations. While traditional CRM tools are optimized for office work, they are not optimized for work in the field, and certainly not effective at managing in-context communication and task tracking between the two. In fact, odds are that by the time project updates are manually entered into the CRM, the information is already out of date (see Scoop's Project Track Live™) . To build truly streamlined workflows into your solar operations management framework, we believe a new kind of tool is needed, one that connects the field and office and is able to combine the needs of technicians on-site, workers at the office, salespeople out on calls and everyone else who makes the solar industry work.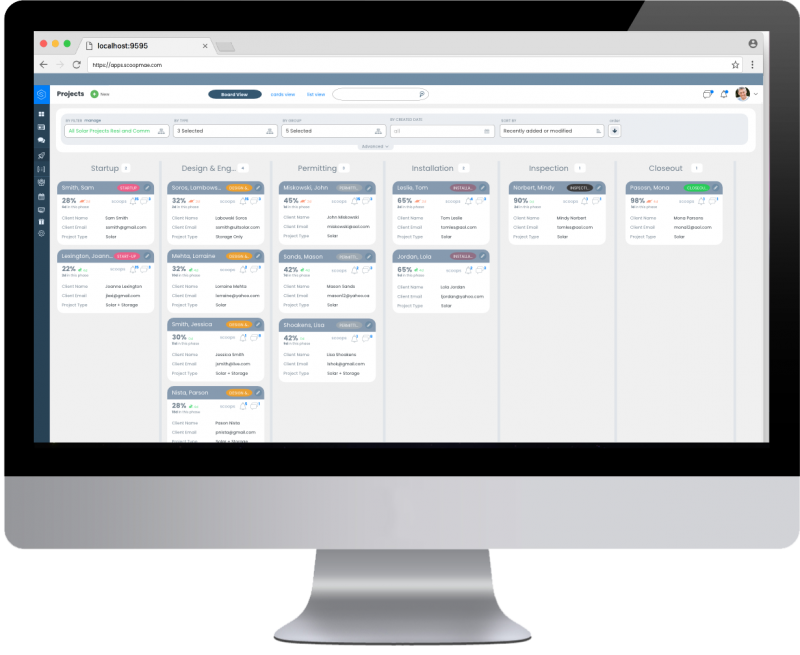 Connected, centralized and real-time Solar Project and Operations Management
By streamlining solar operations and connecting solar project management to field operations, businesses can regain the efficiency they have lost by trying to make their CRM do it all. The typical solar installation process, for instance, always begins a team member assessing the project site either in person, in the field, or via remote consult, and requires the manual entry of customer data, document gathering and photo collection. After that initial contact a PM, or the sales rep themselves, communicates the customer needs to the team to the field team, who in turn must pass the communication on to various team members such as designers, engineers and installation teams. It does not take a well-seasoned operations expert to know that this is a cumbersome and time consuming process if there is not a singular system to streamline and automate the workflow and dataflows through each phase. It is no wonder there is so much loss of efficiency, and sometimes even missing data, with such a disjointed communications process.
In a typical scenario, the inefficient process continues yet again with the CRM software, where customer data and specifications are manually entered into the system. In many cases, this information will immediately need to be manually transferred to a Design and/or Proposal tool so that the Sales Rep can move the process forward – this is a task Scoop automates entirely through it's Sales Visit App and GLOO Integration Platform. 
Each time the customer needs an update, the sales rep or PM must make inquiries on their behalf. From existing customers inquiring for solar panel maintenance service to financial stakeholders wanting to know the progress a new commercial solar construction project. These updates are cumbersome with the traditional CRM and disconnected set of tools in the solar operations ecosystem, but there is a better way. 
A single source of data, document, and project progress truth – Solar Operations & Project Management
In a standard CRM environment, time spent tracking down documents, sending emails, creating checklists and getting status updates from the field team is all wasted time. That is why Scoop Solar's proprietary Solar Operations & Automation Management platform is such a game changer. 
Driving efficiency in the solar industry is all about identifying and systematically solving areas of redundant data entry, manual processes, disjointed communication and time consuming tasks. . From the duplicate updating of documents and systems to time spent tracking down updates from field reps and obtaining project status reports, these pain points reduce efficiency, drive up costs and create enormous problems long term.
Through the use of Scoop Solar Operations & Automation Management platform, businesses can overcome all these challenges, driving up efficiency, driving down costs and improving their operations overall. With Scoop's GLOO Integration Platform a real-time bi-directional link can be established between your CRM focused on sales and lead nurturing activities and Scoop where the entire EPC, Installation & Service Operation can be managed.