Solar O&M Innovation Spotlight: Ameresco
As solar energy has increasingly been adopted at large commercial and utility scale in the US, the operation and maintenance (solar O&M) of these facilities has become an area of specialization for many energy firms. One of the most prominent players in the solar O&M space is Ameresco, whose New Jersey-based team, led by Steven Martineau, handles O&M contracts throughout New England. We caught up with Steven to learn more about his operations and gain some insight into the methods and technologies they use to provide their exemplary service.
The sites Steven's team services range from towns and school districts who have power purchase agreements (PPAs) for their own use, to generating facilities which sell directly into the grid.  "There are a lot of different models and Ameresco is involved in just about all of them," Steven says. "As markets open, we look at what we can provide in terms of energy services and energy production."
Throughout the year his team is deployed on a mix of solar O&M activities including service calls and preventative maintenance (PM) inspections. Most PM work occurs during the summer and fall, depending on the site particulars. For example, in the summer there is a focus on inspecting schools while they are out of session.
Service calls occur year round; Steven notes that string inverters are a common issue, and not surprisingly, they usually see an uptick in unscheduled calls in the winter as storm-related outages become far more frequent.
Overall, the solar O&M team operates and maintains over 270 sites in the northeast. While some legacy sites are rooftop, almost all of the newer ones are ground mounted systems. This includes some 25+ acre facilities; one site in particular has over 1000 inverters.
String inverters are a common issue, and not surprisingly, we usually see an uptick in unscheduled calls in the winter as storm-related outages become far more frequent
To handle the workload, Steven manages an operational team of about 20 people—and they're growing their service territory locally and nationally.
"We're expanding to operations nationwide through the use of partners and our own team where it makes sense." Steven says. As they grow, there are a number of operational imperatives they know they'll need to continue to excel at to remain leaders in their field.
Client Reporting Needs
While Ameresco operates and maintain their own facilities, they also provide O&M services for several outside clients. In those relationships, generating detailed and professional reports is a key component to providing outstanding service.
"Until you've got that report in your hand, the job isn't done. Going with the Scoop platform really allowed us to have the ability to be able to provide an end product that looked great. And it's really adaptable—that's one of the things we enjoy a lot."
Some of our clients have actually gone beyond that, they don't necessarily need the PDF reports; instead they have seats in our Scoop platform so they can see the workflow in progress.
Ameresco uses Scoop to build customized reports with the exact format and level of detail they want to provide for each client and service type. Having all their site data backed up and stored digitally is another huge benefit to being able to adapt reporting for different client needs. Steven notes the importance of presenting high quality, high resolution photos, and that they are now able to include much more information than they could with reports generated using traditional office tools.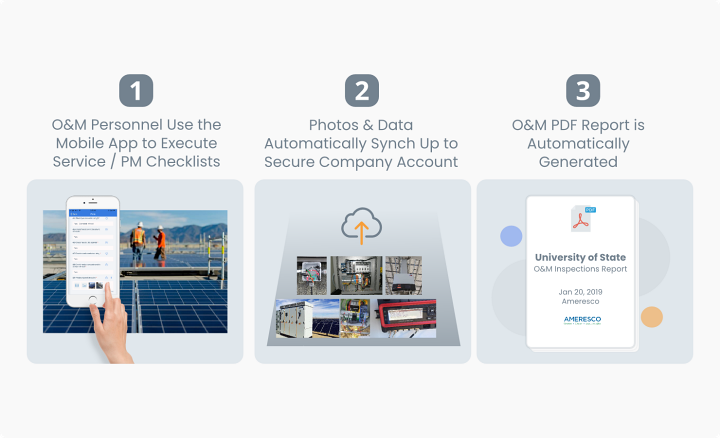 "Some of our clients have actually gone beyond that," he continues. "They don't necessarily need the PDF reports; instead they have seats in our Scoop platform so they can see the workflow in progress. That's a new way we're using the software, especially for service applications like damaged inverters or broken modules. It's really allowed for delivery methods that suit a lot of our different clients. "
Learning from the Past to Plan for the Future
Optimizing the use of the team's time on site is key to the value Ameresco provides. Steven explains that they regularly review past inspection results when preparing for visits in the coming year.
"You want to avoid unnecessary visits, but you're not necessarily going to go out there and repair every single individual issue that might be on the site. You want to document them, and then if there are things you can repair, you take the lessons from the inspection the year before, and go back on the next inspection ready to repair the items that the client agreed to."
The process generally looks like this: upon completing a visit, the team goes through the report, generates a list of tasks, and identifies priority needs. They then talk to the client to align on what should be done. Depending on the severity, these tasks then can be completed on individual service calls, or included in the next regularly scheduled inspection. For example, thermal and arcing events need to be addressed immediately, while issues like broken conduits can wait for a scheduled service call.

Another type of issue that may take time to diagnose is sinking ground mounts. By comparing photos taken from the same locations over time, Steven's team can identify the severity of the sinking. This allows them to justify with the client why a repair may be needed.
"We get to use these reviews as a training mechanism for our technicians as well," Steven says. "We do before pictures, we do after pictures, and we like to set out the steps of what was done on site. We need them to understand what was done in the field, and having the functionality for that to be captured by a cell phone is pretty awesome."
Related: learn about how Scoop can be used for site incident/injury reporting
New Advances in Solar O&M
Providing the highest quality service often requires adopting the latest available tools and technologies.
For example, Steven's team makes wide use of thermal imaging technology as a means to target technicians' time on site more efficiently during annual visits. This has allowed them to rely less on curve tracers, which require a lot of time-consuming physical activity in terms of opening inverters, powering down systems and connecting measuring equipment.
"We've gone away from that with the advent of thermal imaging technology and the use of drones," he says. "We can actually pinpoint where the problems are now, by flying a drone over the site 2 to 4 weeks before we get there and getting a report back. We can tell which strings are down, rather than testing every string on site looking for a problem that may or may not exist."
"You need to identify a problem before it becomes an event.  Having tools like this allows me to feel like I'm there with my guy in the field. By using Scoop I can help my customers save money ultimately in the long run." – Steven Martineua, Director of Operations, Ameresco
Adding thermal imaging has been a game changer, but there is innovation in all facets of solar O&M, driven by entrepreneurial firms who see the space as more than just a niche. Another emerging technology Steven highlights is specialized mowers. "There are so many solar fields out there now that they're making mowers specifically for cutting solar fields. It's amazing."
While there are many firms now bringing robotic panel washers to market, Steven suggests this is a technology best suited to utility-scale sites in dustier parts of the country like eastern California and Arizona.
And Scoop's mobile workforce management and automation platform remains the backbone for field data collection, communications, and reporting with Amerecso's O&M team.
"The ability to use multiple applications to build out our different styles of service scoops and inspections is key," Steven says.  "Some sites get inspected twice a year, other sites get inspected once a year. Some individual pieces of equipment might only get inspected once every 5 years, depending on the manufacturer's recommendations.  And we're able to design the scoops to match those particular needs."
It comes down to productivity.  "You need to identify a problem before it becomes an event.  Having tools like this allows me to feel like I'm there with my guy in the field. By using Scoop I can help my customers save money ultimately in the long run."