Entering a new era of renewable energy growth
The cost of solar PV installations have come down a remarkable degree–for consumers. If you're on the business or solar operations side of the renewables industry however, odds are you found the first part of that last sentence laughable.
In fact, the stark drop in consumer costs has created a huge influx in client demand to the point where it's putting a strain on solar installation and service businesses trying to keep up. Companies being hit hardest by increased client demand are those struggling to find efficiencies in their solar operations and are unable to scale their operation and resources effectively. Spreadsheets that used to keep track of your 5-7 client sites and projects start to balloon out of control and relevance when they're suddenly filled with 10, 25 or 50 clients and the amount of data capture necessary increases exponentially.
Information gets harder to pin-point, if it's captured at all, and communication lines start to break down as team members lose the precious context that was once easy to spot in a small spreadsheet. If you want to streamline your solar operations, you need to use a single source of truth for communication, document storage, process standardization, and overall project management.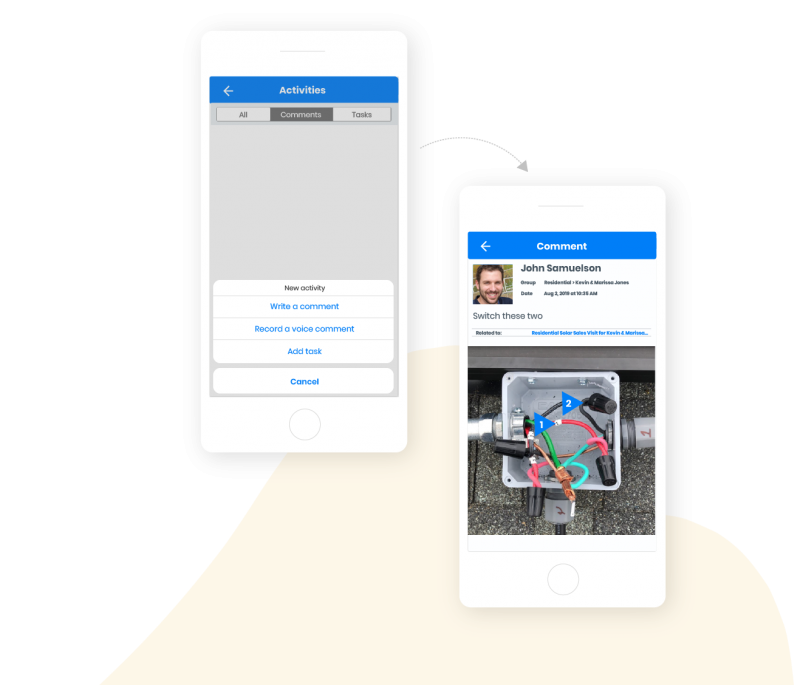 The value of centralizing and streamlining solar operations
By keeping all project data and insights in a single place that's accessible and updateable from anywhere, your field technicians, sales reps, office personnel and other key members of your office and field teams can communicate without losing valuable context and slowing operations down. 
Within this centralized and streamlined solar operations dataflow and workflow, new efficiencies are generated, new cost savings are realized and as a result the team has more capacity to do higher value activities which is ultimately realized in bottom line profit for the business.
So how do you go about this simplification process? How can you transform a highly complex, multi-step process into something everyone can understand on an intuitive basis? With Scoop Solar Operations Management Solutions.
How Scoop centralizes project management and solar operations
Scoop is an end-to-end solar Operations Management and Automation platform. From EPC construction document gathering to the signing of a residential installation contract, to installation, closeout and maintaining the site and system, all project information can be tracked with ease in the centralized app without breaking down communication between teams. The importance of this cannot be understated. In fact, there are many ways to avoid wasting time on manual solar project progress reporting. 
Implement project milestones to track progress against key project steps and ensure none are missed, upload all relevant project documentation in one spot so none get lost, and manage work by status to ensure you're always focusing on what's most pressing. You can even set up automated workflows to ensure both office and field team members on the project are updated in real time on progress and status updates at a glance, using a simple interface and intuitive dashboard.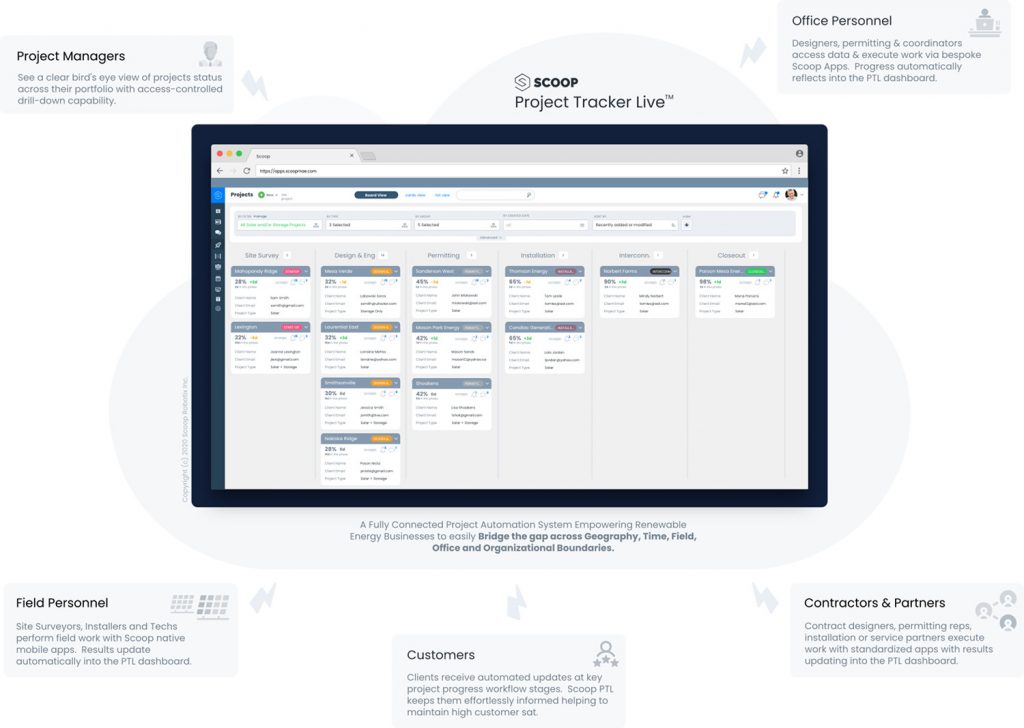 If you are ready to drive efficiencies and streamline your solar operations, Scoop Solar is here to help. Our one-of-a-kind software is designed to reduce complexity, reduce operations cost, and increase your annualized operations savings. To learn more about the future of the solar industry, just visit our website.