Solar project managers know that customer satisfaction hinges on getting the work done right and on time, and communicating effectively throughout the project. When days are packed with installations to manage, it's imperative that you avoid pitfalls like inefficient internal communication, unreliable customer information, and inaccessible project data.
We've spoken with hundreds of renewables professionals to figure out the most common solar customer communication challenges that they (and perhaps you) are facing. Here are 3 of the top issues we uncovered, and how you can minimize their impacts with better solar project management software tools and techniques.
1) Data coming from site visits is inconsistent and incomplete
Crews leaving the site and forgetting to collect key data? Expect extra truck rolls. Missed installation steps? Get ready to pay for costly troubleshooting. All too often, we found, field workers depend on outdated paper checklists—or worse, go by memory during site visits. This leads to incomplete and missing data, and leaves you susceptible to big impacts on your costs.
How This is Costing You
Let's consider a solar company with a team that:
Has 8 field personnel working on 150 projects a year;
Incurs about $300 in costs when they roll a truck; and
Neglects to collect complete site information 20% of the time.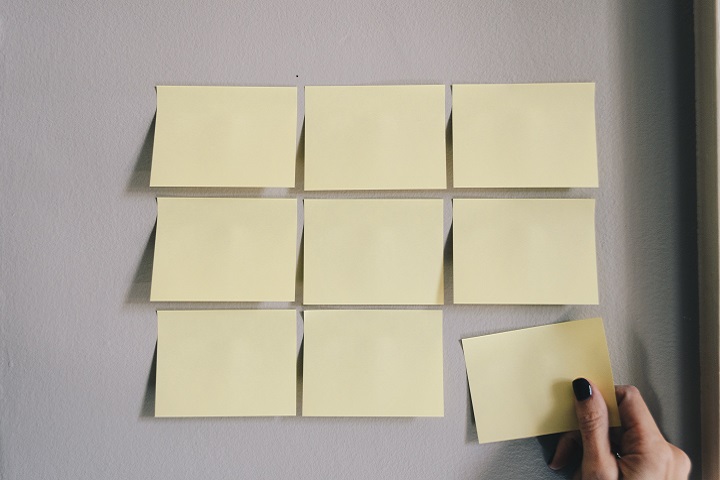 Based on customer benchmark data, we estimate that this company could pocket an additional $512 per project and add over $75,000 to their bottom line if they addressed this communication issue. That's huge when NREL estimates that the average profit margin on a $16,000 residential installation in the US is under $2,000.
How You Could Turn This Around
Today there are a number of solar-specific software tools available to prevent or correct data collection errors. Tools like Aurora lend themselves to creating accurate proposals remotely, while Scoop Solar's mobile software walks technicians through exactly what they need to do and record. This dramatically lowers the chances of human error when gathering data from sites or following sensitive procedures.
Choosing customizable solar project management software that suits your growing company's needs is well worth your time as a manager, given the payback is almost immediate. And, changing things up always gets harder as your team, projects, and contracts grow bigger.
Learn more about mobile checklists and forms
2) Solar customer communication delays snowball 
The second communication issue we heard frequently was the delay between when data was collected and when it was available to the rest of the team. With paper forms and phone cameras, field information has to be physically collected, transported, digitized and compiled.
When juggling several projects concurrently, employees, partners, and contractors can take a long time to send important information to you, or even forget completely. Not only does this drastically slow down projects such as PV installation or commissioning, but it also creates additional administrative follow-up tasks for you and your team.
How This is Costing You
Paper creates chaos; traditional office-bound project and workflow solutions do not make your operations more efficient. On the contrary, they often further slow down your team as hours are wasted with employees re-entering a backlog of stale field data into these systems—data that may not even be relevant any longer!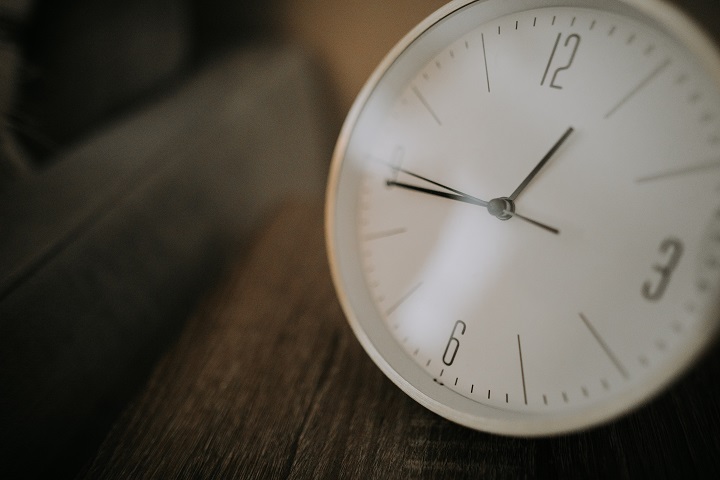 Consider the data entry costs alone. Let's say your team completes 100 field reports a quarter, and you're paying the equivalent of $35/hour for someone at the head office to digitize, compile, and format a report. Our customers report this manual process can easily take 90 minutes or longer, costing you almost $20,000 a year in administrative time for an employee who could have been doing something more valuable.
How You Could Turn This Around
Paper document-based workflows are ridiculously inefficient to scale. Instead look for mobile tools which connect your entire team to real-time, immediately-available data. This means they incorporate automatic data syncing from the office to the field and back, including comments and tasks as they are created.
Giving both office and field employees access to data in real-time is a significant solar project management time saver. It means that the next step in the project can start as soon as the data is collected (and not when it is reported), minimizing delays and speeding up project timelines. No more double data entry, no more stale data and no more 3-hour meetings to get everyone on the same page.
Learn more about integrated field communications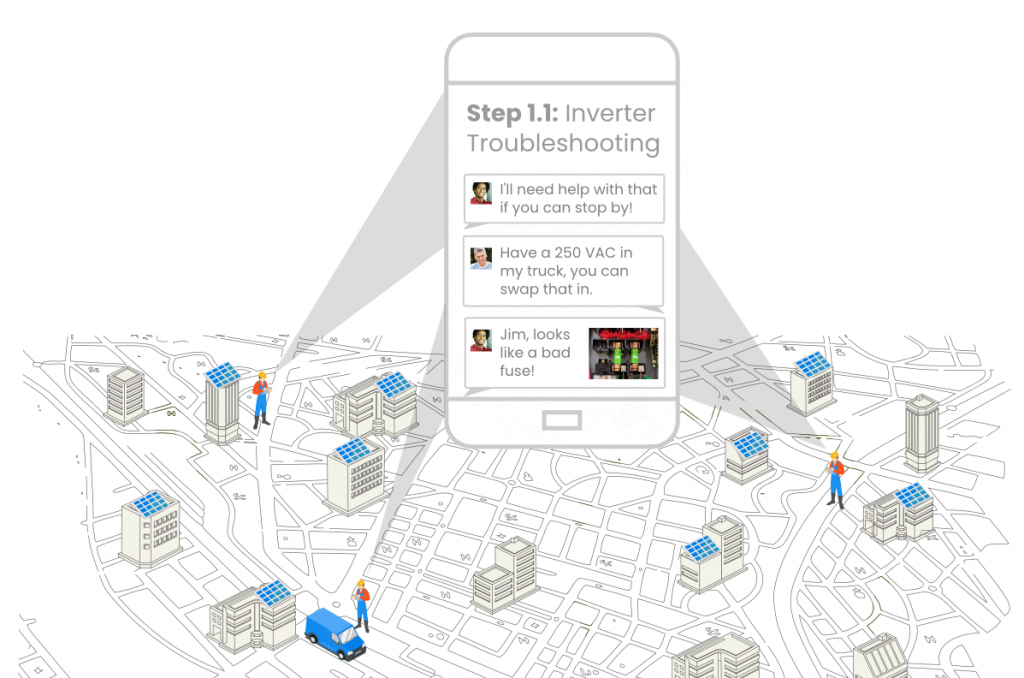 3) Long project status meetings sap the momentum from your team
O&M and installation solar project management teams said they found themselves constantly calling and emailing others—or worse yet, setting up lengthy all-hands meetings—to get the status of different projects and outstanding issues. Constantly reaching out to your employees is time consuming and annoying. At the same time, you and your team need to collaborate, and projects will collapse in an absence of communication.
Centralizing project activities in one accessible place is the starting point to making it easy for people to find what they need. But this is only possible if the tools have been designed purposefully for your mobile workforce from the ground up. Nearly 100% of work software today is designer for office users, leaving your field team in the dark.
How This is Costing You
If your software is only optimized for desktop or is limited to the office, then it simply isn't suitable for PV installation and O&M processes, which are field-based and distributed by nature. Symptoms of using the wrong tools include low engagement, missed opportunities to identify issues early on, and an inordinate amount of time spent in meetings communicating status.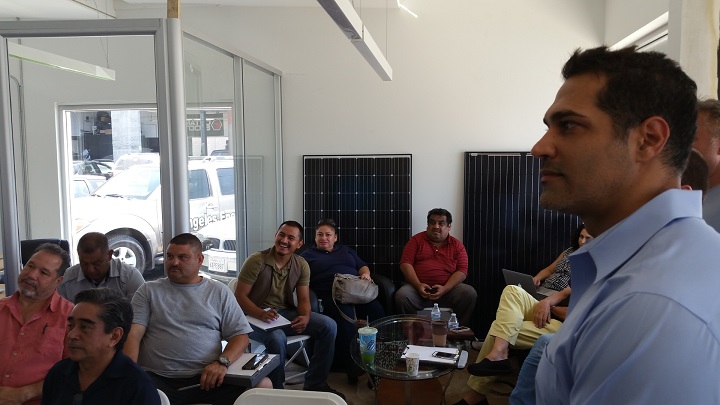 We have all seen examples of feature-rich software solutions that turn into very expensive virtual paperweights after a few months. Why? Because they were never adopted by people in the field, who account for up to 80% of the solar workforce. Open communication of project status to all isn't just essential to you—it's essential to the well-being of the team.
How You Could Turn This Around
You need a way to be able to communicate what's happening without the fuss and the frustration. Look for an operations management platform that takes a mobile first design approach, ensuring your data is just as accessible in the field as in the office.
With the right tools, your teams will shift into the mode of agile collaboration that you need to blow away communication bottlenecks. They can form micro teams on the fly to resolve issues immediately and can share data on demand and in context. At the same time, managers get a highly accurate picture of project status, and the ability to drill down into the details of what's going on if they need to. Technology should empower everyone; this is actually one of our CEO's principles of what makes great field software.
Your First Challenge: Getting Started
Many solar operations leaders admitted that optimizing data and operations management dropped down their priority list when work was piling in. However, they also agreed they were leaving money on the table, and that waiting to tackle the issue makes implementing a solution more difficult. Crews used to the current process will be reluctant to change over, and there will be a larger number of projects to update to the new system.
By getting started early, you have the opportunity to build the proper foundation and culture within the team.
The good news is that many software platforms allow you to get started with packages that are as small or as large as is suitable for your company. With Software as a Service (SaaS), there is no need for a huge capital expenditure upfront and you get the benefit of continuous updates and new features.
Are you ready to start tackling these communications challenges at your solar company? To help you take the first step, we've built an entire library of best-practice solar operations apps that you can get started with right away. From site surveys to job close out, there is something for every solar company.