The day many in the $29 billion solar industry had feared came and went: On January 22nd, 2018 U.S. Trade Representative Robert Lighthizer announced a 30% tariff on imported crystalline-silicon solar cells and modules.
Before explaining how this could actually be an advantage for your business, let's break down what the tariffs cover:
30 percent tariff on solar cells and modules
Tariffs kick in after the first 2.5 gigawatts' worth of imported capacity
Tariffs will decline by 5% over a 4 year period — 30% in Year 1, 25% in Year 2, 20% in Year 3, and 15% in Year 4
Considering that currently, 80% of US solar installations use imported panels, the tariffs will increase the cost of residential solar installations by around 3% whereas for utility scale solar this will likely translate to larger, roughly 10% increase in costs.
In addition to financial costs, the new tariffs could result in 29,000 jobs being cut from the solar industry.
So with all this (seemingly) doom and gloom, how can the new tariffs be viewed as an advantage? Simple. It's all about managing your soft costs!
What are Solar Soft Costs?
Soft costs in solar currently make up 64% of the overall cost of solar energy systems. Soft costs include permitting, financing, installation labor, and more.
Other costs include acquiring new customers, paying suppliers, and administration fees.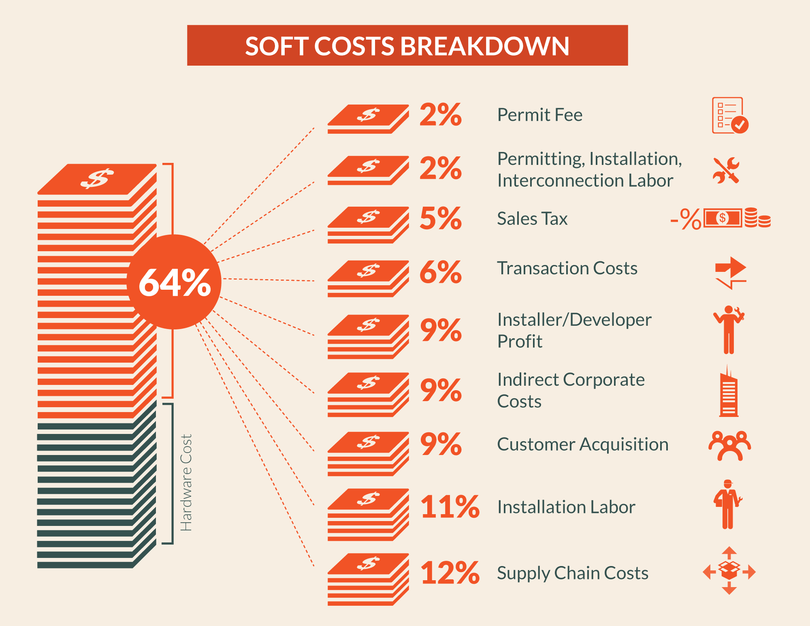 What are Hard Costs?
Think of hard costs in terms of hardware: the physical products that need to be installed to get a solar energy system up and running. They make up around 20-25% of your overall costs.
The good news, is the tariffs affect only the hard costs which represent a minor portion of your overall expenses.
Turning Solar Tariffs into a Competitive Advantage:
The new tariffs are encouraging (or rather forcing) solar companies to focus on lowering their soft costs by becoming much more efficient in their operations and automating their operational workflow processes.
Here are several examples where implementing the right platform can increase efficiency in your field operations:
A mobile-friendly platform the eliminates the need for double-entry of data and allows critical data to be captured at the source, in real time
A platform that ties all your operations together (from pre-sales, to inspections, to installations, and maintenance)
A solution that centralizes you project updates in one source and makes it easy to action errors to reduce project delays while ensuring all stakeholders are kept in the loop
A platform where reports and dashboards can be created automatically from information collected in the field
What are the results of implementing a mobile field automation tool for your solar operation? We have our clients reporting a reduction of their soft costs and operational expenses by as much as 30%.
Even though no one can deny the short term downward impact of tariffs on solar, by choosing to respond positively, solar leaders can turn this challenge into an opportunity and build a leaner more competitive business.
Like to Experience these Cost Savings First Hand? Simply Book a Demo of Scoop.
Next Steps
New to Scoop? Watch this overview video,  this product demo video, take this tour or contact us to schedule a free consultation and demo
Visit the Scoop Solar website for general information on how Scoop is helping empower today's new liquid workforce.