Scoop helps Amicus Member, Ipsun Solar Gear Up to Execute 100 Projects Every Month
Having implemented Scoop's mobile work Process Management & Automation (mPMA) technology, Ipsun Solar smoothly grows its operations from 1 crew to a team of 50 and achieves efficiencies that enable over 100 residential, commercial and battery projects executed each month.
Executive Summary
Herve and Joe founded Ipsun Solar in 2016, operating all areas of the business as they started with that first crew. Core to Ipsun is an unwavering value on quality installation service and a great customer experience. To uphold these values, they have proactively invested in technology and systems to maintain this quality through their rapid growth.
In it's first years of growth, Ipsun used niched office and site data capture tools across the field and office – these ended up being very limiting in their functionality, did not work as described and caused more inefficiency in duplicate data entry and manual processes.
Ipsun chose Scoop as the platform to help them grow to what is now a team of 50 poised to be executing over 100 projects a month in 2021.
Key Results
"With Scoop, our crews have everything they require at their fingertips in the Scoop App. It is reliable, easy to use and standardized across every job. Scoop has set up a customized integration from our CRM to Scoop to eliminate all duplicate data entry and Scoop's Customer Success team have become trusted advisors as we continue to grow"
– Herve Billet, CEO and co-founder, Ipsun Solar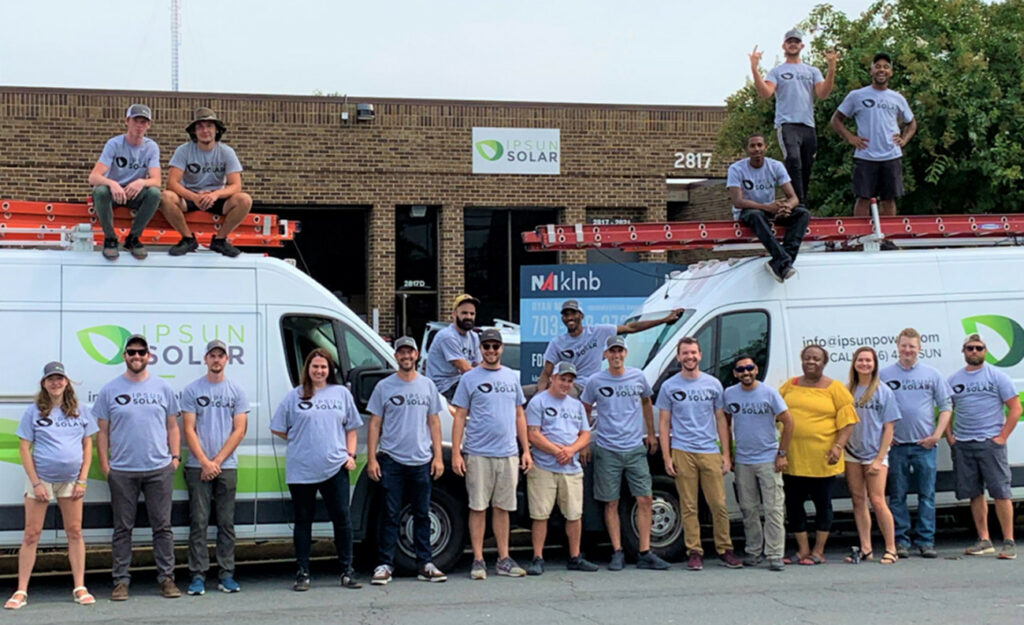 Growing Challenges at Ipsun Solar
Herve Billet and Joe Marhamati founded Ipsun Solar to provide a quality installation and customer experience to the growing number of home owners and businesses in the DC area that wanted to go Solar. Within a few years, they are one of the largest residential solar installers in Washington, DC.
Of course with growth, comes operational challenges as systems and processes that worked previously become constrained or altogether break. Herve and Joe have navigated these challenges proactively, always ensuring quality installation and customers experience are never compromised – ultimately this has led them to Scoop, where the key challenges below have been addressed.
Missing, Slow and Disorganized Data
In the beginning, Ipsun Solar's field crews used pen and paper to perform their Site Visits and Installs. As they grew, the spectrum of complexity in each project grew as well, making it more and more challenging to get handwritten notes back to the office and translate them back to the project record in an accurate and timely manner. From pen and paper, Ipsun moved to a handful of disconnected tools to take pictures, upload documents and complete forms. This created friction and frustration in the field and did not solve the issue of streamlining project execution and line of sight between field and office across dozens of ongoing projects.
Disconnected Systems
The most challenging obstacle Ipsun faced to scale, was the time it took for key updates, data, and pictures to get from various job sites back to the office. This was sometimes due to how hard it was for field techs to log in and out of several apps to execute their workflow, and often due to the tools themselves not living up to their promises. Ultimately this caused misalignment between field and office, confusion amongst the multiple stakeholders involved in any one project, a constantly outdated view of project progress, and multiple site visits due to skipped steps and undocumented issues.
Repeat Site Visits (Truck Rolls)
As the number of projects, employees and IT tools grew – the complexity grew of the operation grew and unfortunately with it came the added costs. Scoop has validated that a repeat site visit typically costs on the order of $500/visit. Include the time it was taking the field team to document their process and get it back to the office hours or days later, and the job of the office staff to try and re-establish context from that field update to move the project forward – and Ipsun – like the majority of growing solar installers today – were losing $700-$800 in soft-costs per project. As the company has grown to over 50 projects/month, those inefficiencies add up and have a major negatively impact on the bottom line.
Duplicate Data Entry
Most solar businesses we see today have more than one critical system as part of their technology infrastructure. Whether it is a CRM to manage sales and marketing teams, accounting for job costing, invoicing and commissions, or Proposal generation tools. These systems are necessary to manage a growing solar business, but time and time again we see tools that are entirely disconnected from each other, requiring a completely manual process to re-enter data and re-build the project context from one platform to the next.
Ipsun was struggling with this costly manual duplicate data entry process between their CRM and their project execution tools.  Along with this manually shuttling of project data between systems costing Ipsun hundreds of dollars in labour hours on a monthly basis, be errors and missed information was being introduced as well due to regular human error.
"Our entire process both between systems and in project execution was manual. Too much time & resource was going to manual, inefficient processes that could entirely eliminated with the right tool."
– Herve Billet, CEO and co-founder, Ipsun Solar
Scoop Solar Selected as the Software of Choice
After unsuccessfully trying a number of more niched and siloed task and photo capturing tools, Herve and Joe began to look for a fully featured solution that will help them not only sustain but thrive through the next chapter of growth. Hearing that Scoop is increasingly being adopted by industry leaders such as Ameresco, Nextera, SunSystem, MaxSolar as well as a number of strategic partners and associations like SunPower and Amicus – they decided to go through Scoop's fully facilitated Easy Launch Onboarding Program.
The Right Tool for Field Crews
We know your team in the field needs a single tool to equip them to execute their entire process. Every time you force them to switch between apps or execute their workflow through a poor mobile user interface 3 things happen:
Your team gets frustrated, disenchanted and eventually will stop following the process altogether.
The number of errors, skipped steps or major issues missed will increase (re-truck rolls).
Your team will find easier workaround ways to execute their workflow for themselves – at a direct expense of everyone else on the team and the entire project.
Scoop is the industry's only mobile-work Process Management & Automation (mPMA) platform. Our native mobile Apps on Android and iOS are built for teams in the field. They sync in real-time back to the office, work 100% offline and are most importantly, easy to use. Through deploying a reliable, streamlined App to their field teams, Ipsun finally overcame the challenges of a growing disconnected team between field and office.
Scoop's Easy Launch Onboarding
Every customer who signs up with Scoop is provided a dedicated Solutions Specialist who spends all of their day supporting dozens of solar operators who are improving their processes and operations to fuel growth. With Scoop now operational at over 25,000 client sites globally, we are able to bring our experience as solar operations advisors to help expedite account configuration. Herve was blown away by this process – "your team set up our entire account without our team having to do much more than provide access and lay out our vision – it was the best onboarding experience I have ever had.".
With Scoop, you get a partnership. We know if we set you up for success in your first 4-6 weeks (our Customer Trial period under a full 30 Day 100% MBG) everyone on the team is more likely to experience the exponential value Scoop provides to the entire organization. Today, Herve and the entire Ipsun team continue to work with Scoop on a weekly basis to make improvements to their account and drive further efficiencies with the platform.
Eliminating Low Value Data Entry & Duplicate Work
After getting the entire project workflow optimized in Scoop, from Site Survey to Final Inspection, Ipsun eliminated another major source of wasted manual time – moving data between systems. Using Scoop's proprietary GLOO Integration Platform, Ipsun built a fully customized integration between their CRM, Hubspot, and Scoop (Hubpsot is one of several dozen CRMs Scoop regularly integrates with).
Now, when a sales rep secures a signed contract and the project status is updated to "ready for Kickoff", through the GLOO Integration Scoop migrates all of the customer and client site information to Scoop, creates a new client site and kicks off the Site Survey, without anyone lifting a finger. At key points in the project, Scoop pushes updates, pictures and documents back to Hubspot programatically to keep the two systems completely in sync.
"It works exactly the way I envisioned it working – no other software partner we have worked with has been able to build an integration like this between our systems."
Results
Since implementing Scoop, Ipsun Solar has continued to grow their Residential and Commercial solar installation business and are now increasing their Battery Projects as well as beginning to prepare for Utility Scale work in 2021. All of this is made possible through Scoop's easy to use, fully configurable, platform.
Creating a new workflow or project template is a simple as building the phases of the project through Scoop Work Apps and subsequently connecting them with a Project Template in Project Tracker Live™. With unlimited users and data storage, Ipsun is able to have their growing team maintain real-time visibility and line of sight on the entire business through Scoop.
By providing their team with a single tool to use in the field and connecting those crews back to the office in real-time, Ipsun has eliminated significant inefficiencies and unnecessary expenses including redundant data entry and extra truck-rolls, Ipsun has realized savings over a quarter of a million dollars annually while successfully scaling their operations on Scoop's mobile-work Process Management & Automation platform.
Summary of key results:
Specific financial savings:
$32k / year saved in work execution process efficiency with the Scoop App, Dataflow & Workflow automations.
$103k / year in process management and internal & external reporting. 
$134k / year in drastically reducing repeat truck rolls. 
$13k / year in simplifying & streamlining their IT technology stack. 
TOTAL: $282k in overall financial savings per year (34X return on investment)
The Scoop team continues to work closely with Ipsun Solar as trusted advisors to ensure that the entire team across field and office are positioned to continue their aggressive growth trajectory in 2021.