Scale Up Your Battery Storage Installation Projects Efficiently
Leverage our proven tech platform to manage installation teams across highly distributed jurisdictions and sites.
Powering 25,000 project sites worldwide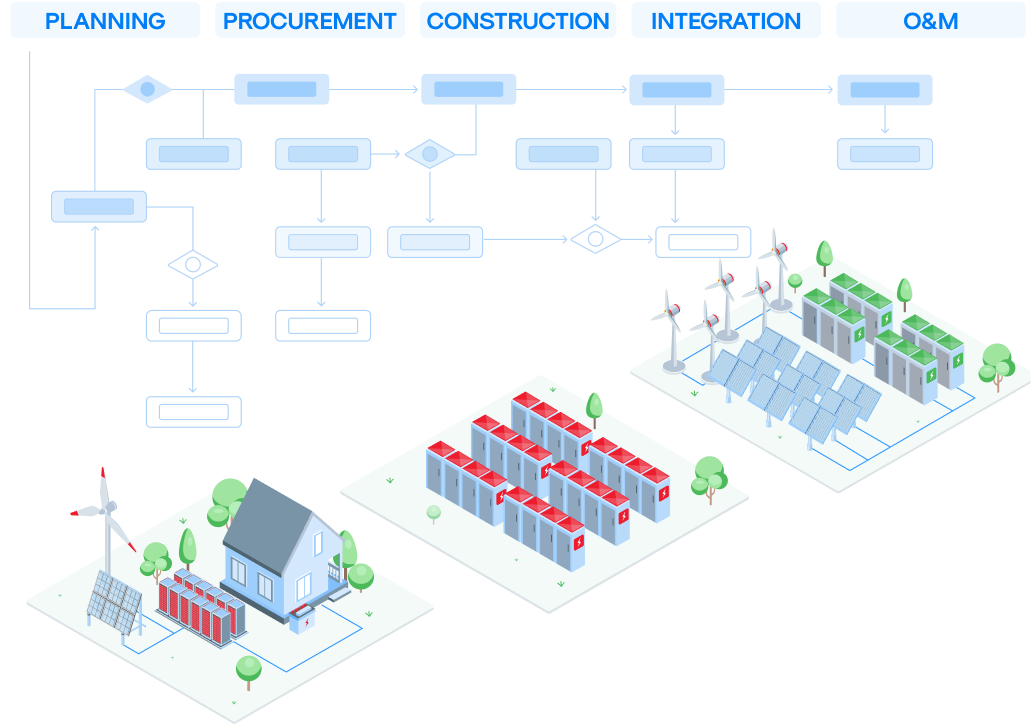 Use our industrial grade solution to manage battery storage installs across internal & partner teams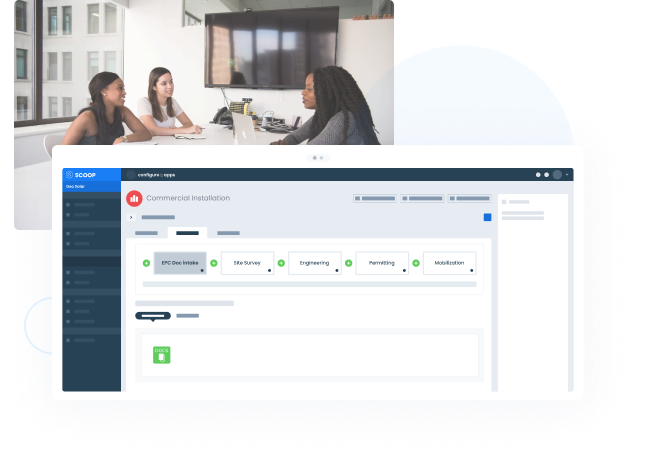 STANDARDIZE BATTERY STORAGE PROJECTS
1.

Standardize your battery storage installation project flows
Make it easy for project managers to follow best practices while having the flexibility to adjust to the specifics of each project.
Take advantage of the super intuitive Project Template Builder™ to define project phases & gates. Connect each phase to underlying Work Apps™ to facilitate field & frontline execution.
Not all projects have the same scope or requirements. Use Conditional Logic™ to adapt the project template to the needs of each project.
Scoop's advanced Project Performance Analytics™ (PPX) module continuously monitors each individual project's performance, compared to the thresholds you set and will flag projects needing attention.
MAKE IT easy to get quality work done
2.

Give each team member an easy app to get their part done efficiently
Our unique approach with atomizing projects into a series of easy to use Work Apps™ makes it easy for field & frontline teams to get work done efficiently & with quality.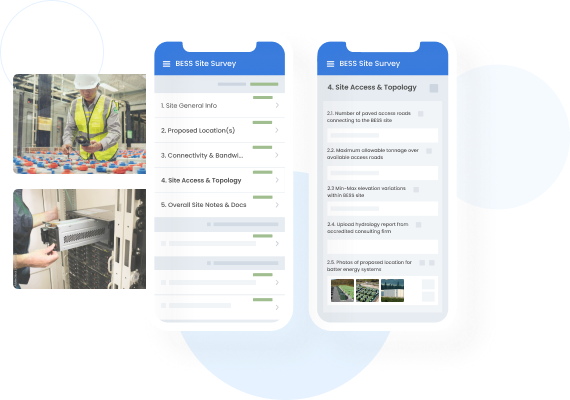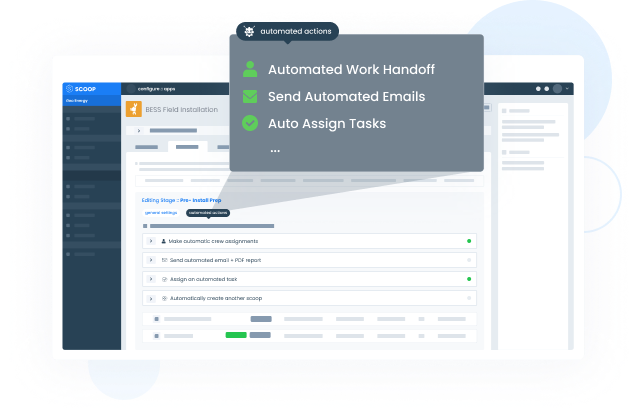 3.

Automate routine tasks to free up time for value-add activities
Automate the hundreds of time consuming data entry, communication and reminder tasks throughout your battery storage projects.
RELIABLE PULSE ON STORAGE INSTALLATIONS
4.

A project dashboard that's truly in sync with the actual work in progress
Accurate project progress is key to scaling your battery storage installation business. Eliminate the traditional hassles by tapping into Scoop's uniquely designed project dashboards.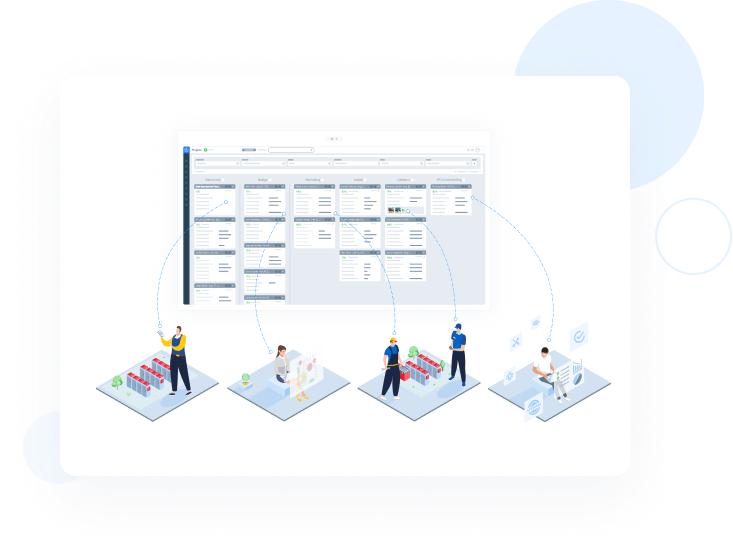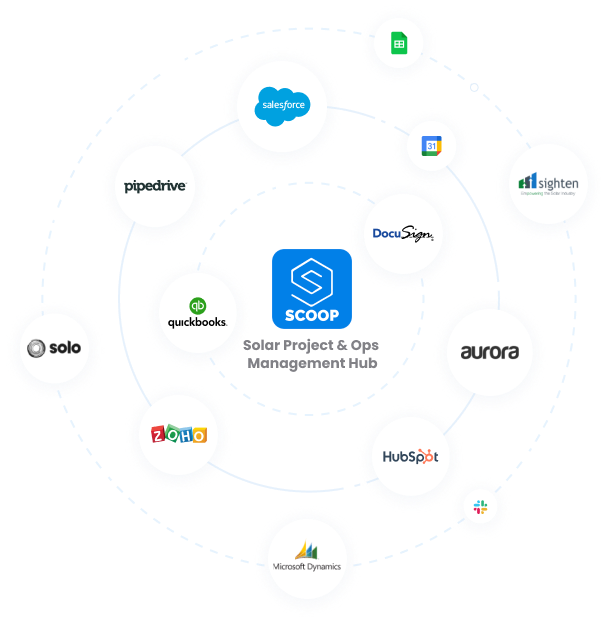 Senior Manager Operations
5.

Integrate with your CRM, ERP, finance and business tools
Automate the hundreds of time consuming data entry, communication and reminder tasks throughout your battery storage projects.
Transform your renewable operations with our industrial strength platform
Powering 25,000 project sites worldwide
"Scoop has helped us tremendously with organizing our work, not to mention being a major asset for my team in the field."
"As the EV industry evolves, Scoop is our go-to solution to systematically define scope of work, schedule campaigns, assign resources, and track project completion."
"For us, Scoop is an innovation platform. It allows us to easily create custom apps to streamline many parts of our operations."
"Not only has Scoop saved us on some of our CRM costs for having to pay per user, but it's also saved us from having to hire additional people."

"We love the instant visibility from folks on-site in the field to in-house engineers during the site survey process. This has already helped us with reducing return visits."

Your team deserves the best operations platform. Get started today.
25,000+ projects executed on Scoop
Get started easily with our unlimited user plans and dedicated customer support.
With Scoop you are not just saving time and money. You're also gaining a partner and a platform for creativity and growth.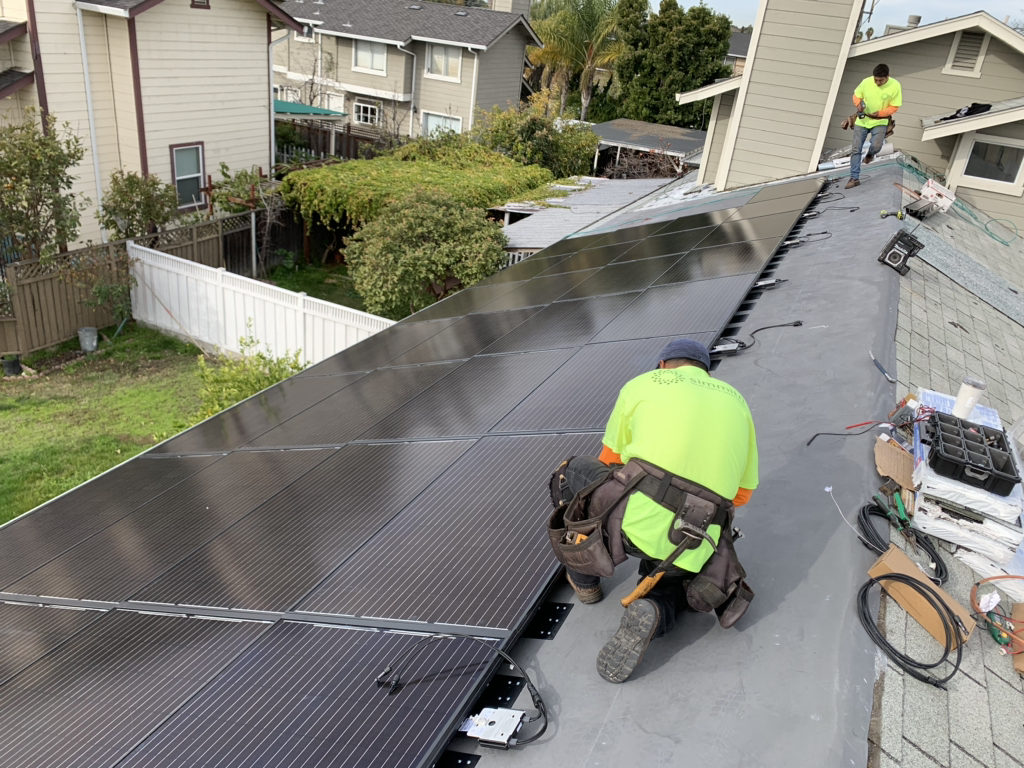 "We're using Scoop to manage projects that have been sold from start to finish. We use Scoop to manage roofing, solar batteries, smart homes and gutters. You can customize Scoop and create different workflows any way you want."
JASON WISWELL | COO, Simmitri Inc.
Discover More
Solutions

with Scoop
With Scoop your are not just saving time and money.
Solar Installation Project Management
Solar software that helps you automate and track projects easily to achieve volume while maintaining quality, safety and profitability.
C&I Solar Installation Project Management
View all installation and Manage the complexity of C&I projects with our industrial grade project management solution across field, office and partners.

Service & Maintenance Operations Management
Enabled fast and convenient service ticket scheduling, dispatch & notification for solar, storage & EV charging operations.

EV Charger Installation Project Management
Meet the intense demand for EV charging by standardizing your installation process across office, field and channel partners.
Get The Scoop Info Package
Package includes info on features, integrations, pricing and the onboarding process.
"Scoop is something that we knew that we wanted to move to immediately. We knew it was going to be able to help us manage all of our projects across the board."

"Scoop was the only thing that had the capability of doing what it does. We could use other tools and update customers but it's not the same."

"When I open Scoop, I'm getting a bird's eye view of all of the projects in progress. It has everything right there."

Achieve Success with Our Industry Leading Pricing Plans