Connected Dashboards for
Renewable Operations
Introducing the LOOXY™ Analytics Platform by Scoop
Stop managing your business with outdated and manually-built reports. LOOXY provides a bird's eye view of your sales, installation, and service operations and allows you to measure, compare, and forecast with real-time data.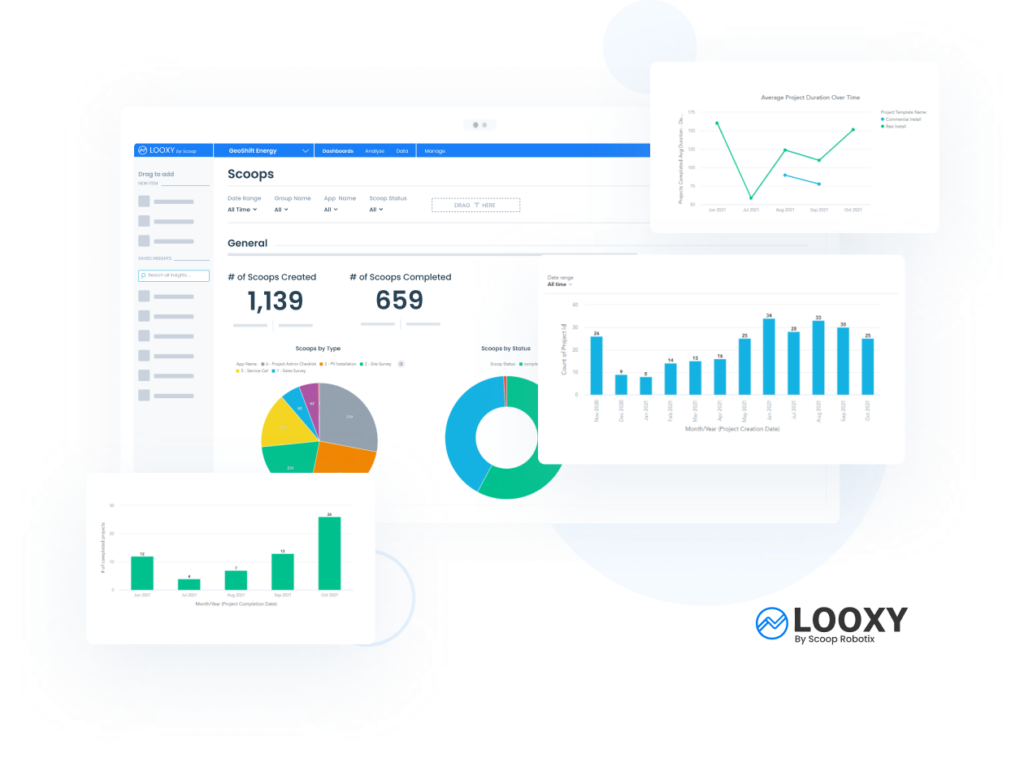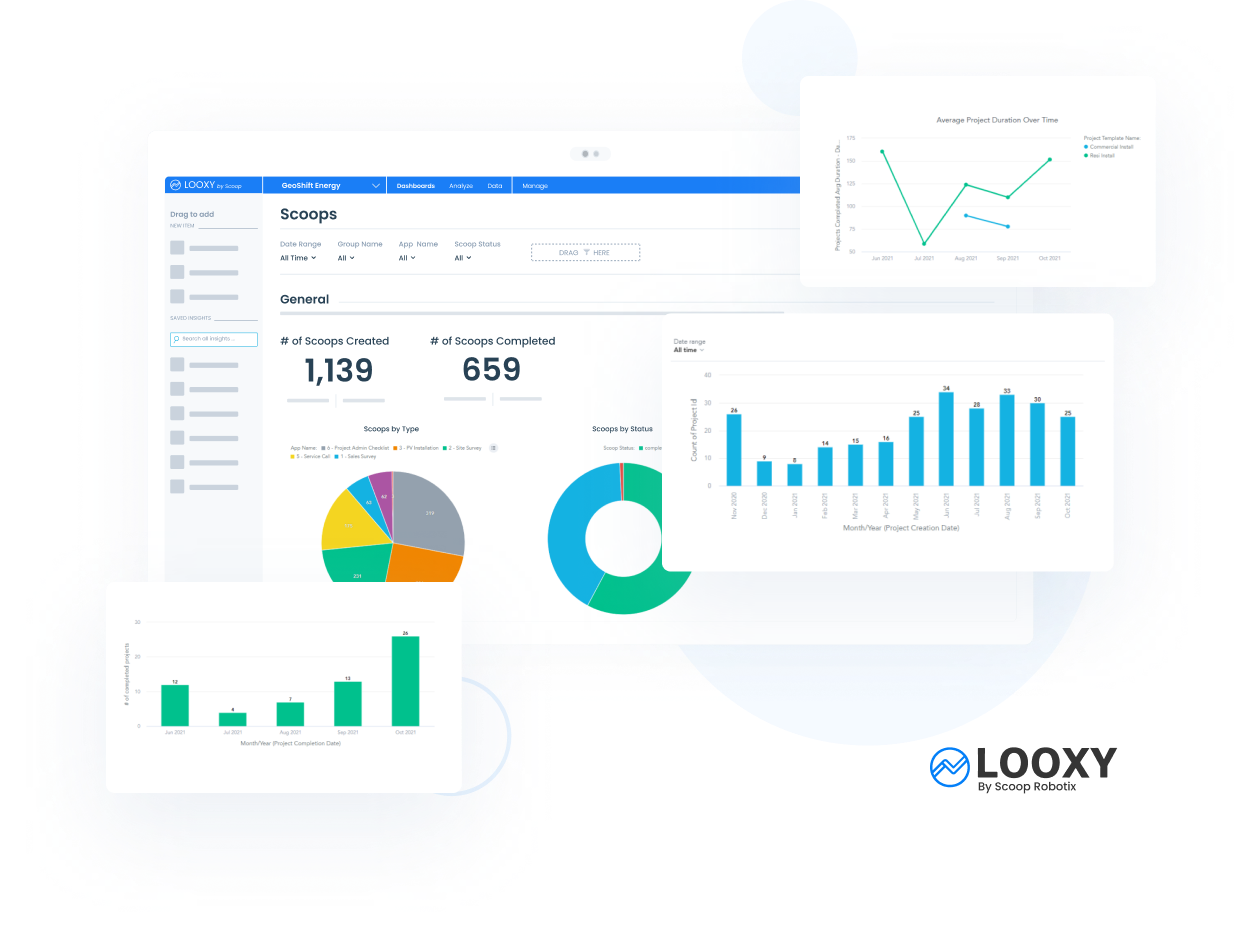 Access specific insights that speak to the unique challenges of your team
Sales Pipeline & Forecasting
Configure valuable dashboards to report on your sales operations including:
Pipeline reports by sales rep, partner & region
Number of deals created each period
Number of deals in various stages of funnel
Number of deals closed each period
Total contract value in each funnel stage
Trend analysis of time spent in each sales stage
Deals close rate by rep, partner, region & more
Installation Pipeline Reporting
Gain a better understanding of real-time installation pipeline metrics including:
Pipeline of installations by phase – site survey, design, permitting, field installation & closeout/PTO

Make, model and quantity of panels, batteries, modules & inverters for installations in various phases

Trend analysis of time spent in each installation phase by project manager, partner or region

Map visualization of installations by region and street address
Service Pipeline Optimization
Assess insights on your service & maintenance operations at a glance including:
Number of scheduled vs. unscheduled visits

Ratio of visits covered under warranty, services requiring part replacements and more

Average time to resolution by service type, rep, partners and region

The most frequently failing part makes and models

Trend analysis of time spent in each service stage

Scoop takes all of the data that you collect about a job and ties it all into a nice package that we can store for later use. 
Features of LOOXY Analytics
Watch the LOOXY Product Overview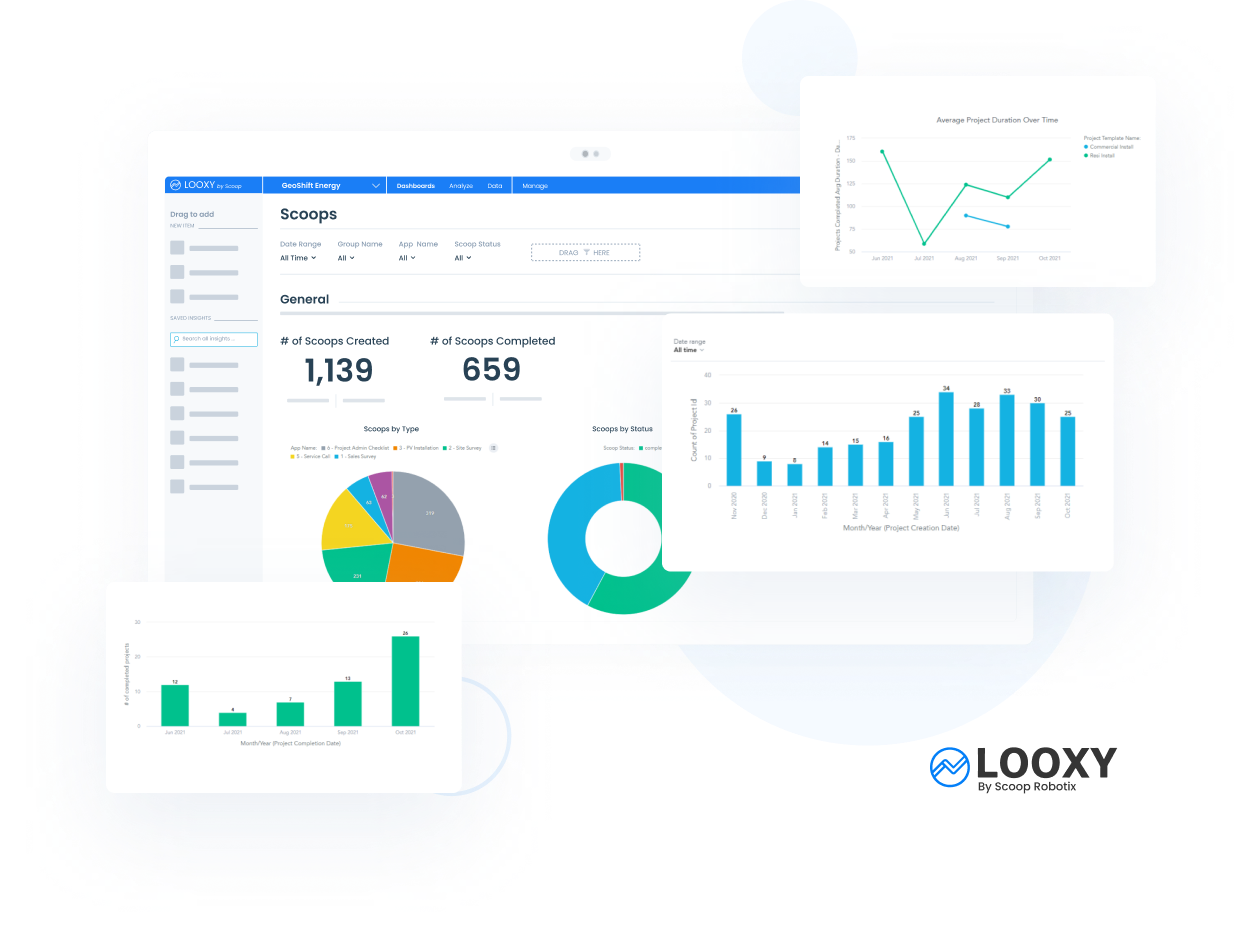 Please complete the form below and we will email you a link to the video.
Want to See the Tech? Book a 1:1 Demo Today
"Scoop has helped us tremendously with organizing our work, not to mention being a major asset for my team in the field."

"As the EV industry evolves, Scoop is our go-to solution to systematically define scope of work, schedule campaigns, assign resources, and track project completion."

"For us, Scoop is an innovation platform. It allows us to easily create custom apps to streamline many parts of our operations."

"Not only has Scoop saved us on some of our CRM costs for having to pay per user, but it's also saved us from having to hire additional people."

"We love the instant visibility from folks on-site in the field to in-house engineers during the site survey process. This has already helped us with reducing return visits."

Visualize Powerful Insights from Your Operational Data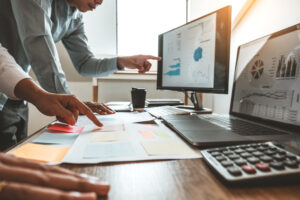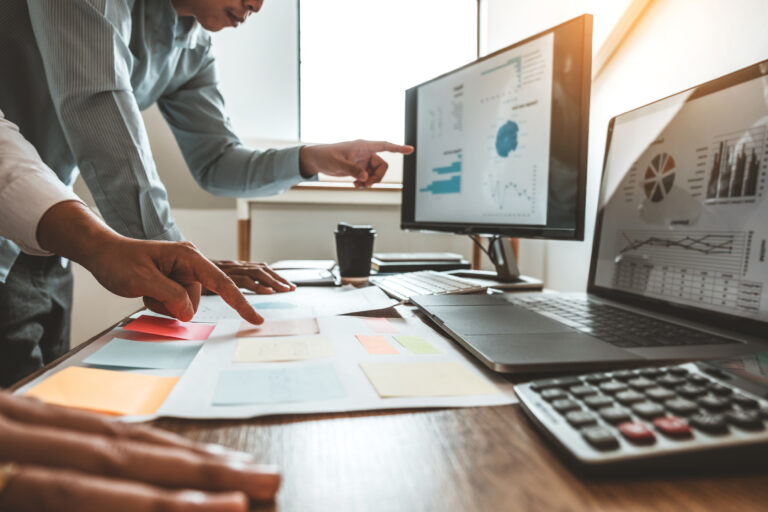 As a solar leader, do you feel your organization's reporting provides an accurate picture of your business operations or are disconnected and manual spreadsheets something you can relate to? If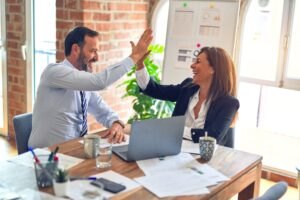 Every residential and commercial solar business executes some form of solar project management, tracking, and reporting. Are you confident that your team is following the right systems to track project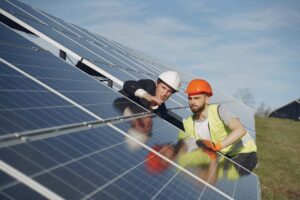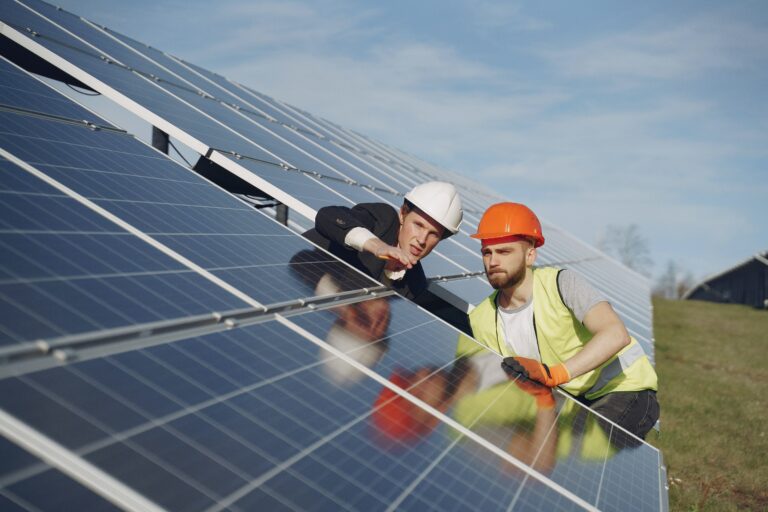 The solar industry has experienced massive growth in recent years and in the United States alone, the market is expected to quadruple in size by 2030. Other related markets such