Part 2 | Too many tools, impossible to log field stucks, time consuming manual office processes
In a recent post, we walked you through 3 avoidable sources of soft costs that are eating into your bottom line and how Scoop can easily eliminate them through its unique architecture for mobile field  work Process Management and Automation (mPMA). We examined:
The critical role of efficient and accurate information gathering during kickoff
The bane of site surveyors and techs arriving to projects without enough context
 The staggering number of hours spent sourcing, uploading, and distributing site images and inspection details to finance partners,  manufacturers or owners.
Now, you don't have to be a seasoned pro in the solar business to know that there are certainly more than 3 ways that inefficiencies can creep into your operations and begin to balloon into accumulating soft costs over time. In a continued effort to isolate, and resolve, the biggest pain points in the industry, we're continuing our series with another 3 areas in which deploying the right mobile work Process Management and Automation (mPMA) technology (such as Scoop) can help recover margins once lost to inefficiency
[Read about the previous 3 sources of soft cases in part 1 of this series]
4. Time wasted and frustration of your field crews having to access 5 different tools on their phone or tablet to complete their work 
In many solar operations, field teams are not set up for success in their ability to get everything required of them back to the project manager or the office in a timely manner. The more disjointed and unintegrated the process we require our field technicians to go through to close out a phase of the project, the higher the likelihood there will be skipped steps, inaccurate or incomplete data capture – and yet another repeat site visit is required. For the most part, field teams want to get on-site, go through their process, and move onto the next site as efficiently and quickly as possible.
A big enabler of this is them having access to information about the customer and project site, as well as a clearly documented set of steps or checklist items as to what they need to check, do or capture to close out their part pf the project. Now think about how these team members are being asked to access all of this information. They are being asked to search their inboxes and calendars to find addresses and appointment times, text or email the office to pull customer information from the CRM, locate the correct shared folder to (hopefully) access contract information and design documents and plan sets, capture site pictures on their phones and then re-access shared folders to upload all the information – hopefully in the right place, with a name that provides necessary context of what the picture is – if this context is missing there is a whole additional process the office team has to go through to re-establish this context. 
Worse if a picture or nugget of information doesn't get captured, there is now another repeat site visit in the works! What may only seem like a few extra minutes per step added to your team or contractor's workflow , can actually start to balloon out of control when you add these up and related soft costs across dozens of projects, and across your entire operation.
Scoop Solution
In Scoop, every phase of a project and each service order is executed as a "scoop".
What is a scoop and why should you care?
A scoop is where everything associated with a specific phase of the project or service visit lives-that is the whole story, the entire scoop. It is your interactive work order in mobile format for the field and desktop format for the office. For example, within the Site Survey scoop for ABC customer your team can: 
Provide the scoop to the field crew via our mobile App on Android and iOS – 100% functional with no data connection.
The field team can go through all checklist items, capture pictures, access documentation, signatures, complete mandatory fields, etc. 
The office team can access this scoop in real time to see progress.
Both office and field can comment/collaborate and even log tasks against specific line items of the scoop – so all communication is housed there.
The scoop will notify all key people involved and ensure the right folks are notified to review and sign off on the scoop. 
The scoop can send automated alerts and progress reports to customers or internal team members.
Each scoop can be treated as component or phase of an overall project and be created by the previous scoop (in this case perhaps a sales visit), and automatically start/assign/schedule the next phase (likely the design scoop).
This scoop-by-scoop project execution provides maximum visibility to answer questions like: where are we with this project? Which designer is working on the design scoop and where is she at with it? Which crew is doing the install (on the install scoop) for this project and what are the latest snags?
Each scoop can easily be shered to external contractors/stakeholders who will only have access to that part of the project and can independently execute their part while their progress rolls up to the overall project.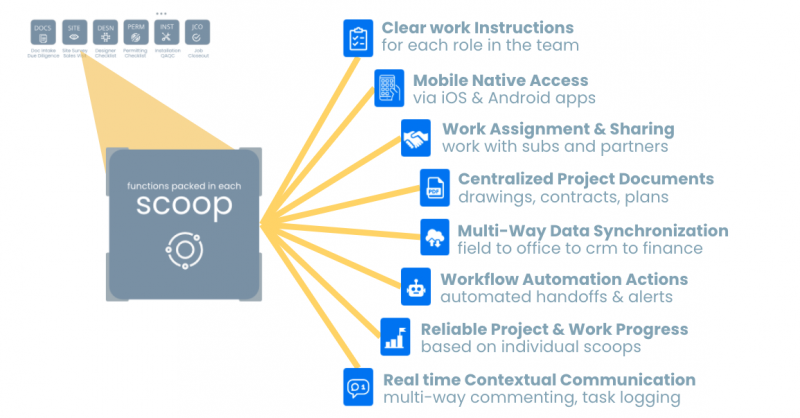 5. Crews cannot easily log ad-hoc issues in real-time from job site
One of the biggest frustrations we hear from PM teams is that they don't hear about issues or updates from the field until it is far too late. This is caused by field crews having no easy and efficient way of digitally logging or communicating certain tasks while in the middle of their process. Sure, they could take a picture on their phone and try to remember to send it to the right person along with a writeup of the context of the issue (the scoop) – or they could write down the issue in an effort to report back after they get back to their truck.
One of the biggest cons of having to track certain project information offline is that it runs the risk of never making it back to the central place your projects are being managed and reviewed. Only after it is far too late do those ad-hoc issues finally get logged by this point either requiring a costly repeat site visit or have caused the project to completely stall.  
Scoop Solution
Within the Scoop platform, anyone working on a project has the ability to add comments or tasks to specific phases within a specific project. In fact, we enable even more precision than that – because it makes a difference – if your site surveyor is going through their Site Survey scoop for a customer and they notice an issue while capturing a photo for field "3.4.1 Photos of the Main Subpanel" – they can log a task right there within that form field.
They are able to add whatever additional detail required to provide the context necessary to document the issue – be it a video, a picture with live voice-over and a visual markup, or simply a description. In Scoop, tasks can be assigned to other team members and given a due date to trigger an automated notification for that user who was assigned. Once logged the task will be sent via email, push notification and desktop alert to the person to whom it was assigned, in real time – allowing for the team to come together, collaborate on with comments on the task and solve the issue in a matter of minutes and hours versus days or weeks.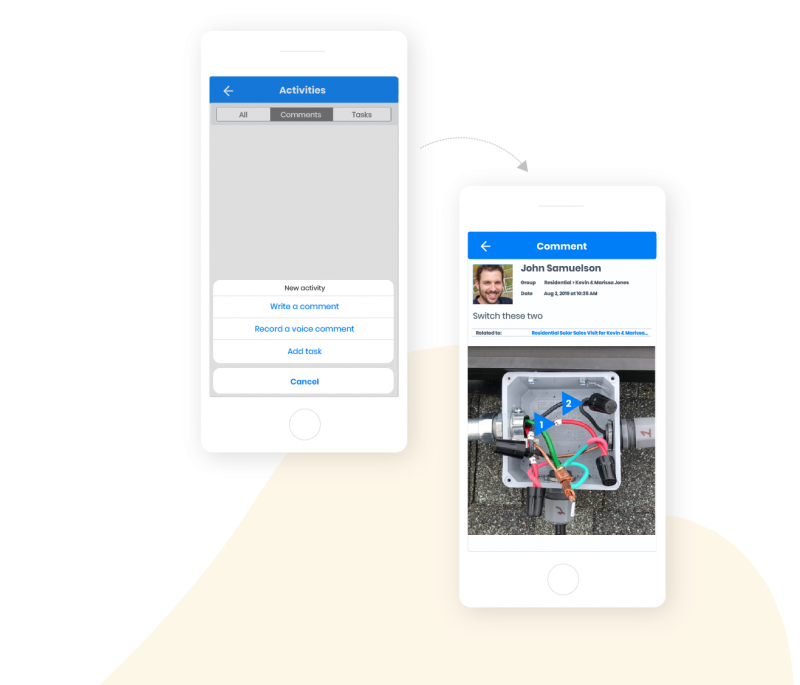 6. Manual administrative upload of site photos & measurements

The site photos and details that do end up making it from your field techs back to your administrative staff, still require more needless resources to process them. Because your crews do not have that interactive work order that allows them to do everything they need- their scoop-your admin staff now has to spend their time manually downloading site images from their inboxes, decoding the context that was provided (if any), then transferring them one-by-one into a shared folder on Dropbox or Google Drive where they will sit and wait until they have to be manually selected again when they need to be referenced for a future stage of the project or put into a report.
Consider the number of images taken by your field crews for every project or service visit, and all the administrative effort required to fulfill these needless demands.
Scoop Solution
As discussed in the previous solution – one of our founding beliefs at Scoop is to provide teams in the the field everything they need from the start of their day to clock-out (including literally, time tracking) within one App.
Within each scoop along with everything else we have covered, field crews can effortless capture photos with one tap directly within their scoop workflow – PMs can make these pictures mandatory if they want to ensure they are done before leaving the site. These pictures sync back to the office via our cloud-based platform every 30-60 seconds – allowing the team in the office to see real-time project and site data capture progress.